How to Compress ASF Files Easily on Computer
If you have some large ASF videos and have tried to compress those ASF files to save your computer storage, but after the compression, you may find that the images and audio are not synchronous, that's because the frame rate and resolution are not high enough. It is a severe problem if you want to upload ASF videos on the Internet to playback the live video or do distant teaching.
Normally, ASF videos with high quality should have more than 320x240 resolution and a 30 fps frame rate. Here you can learn two easy ways to compress ASF files with high quality, which will keep the image and audio in sync.

Part 1: How to Compress Large ASF Files with Good Quality and Synchronous audio and video
As mentioned before, the frame rate and resolution have a great effect on video quality. Thus Vidmore Video Converter is your best choice to compress ASF with high quality because you can use it to change all the video parameters when compressing.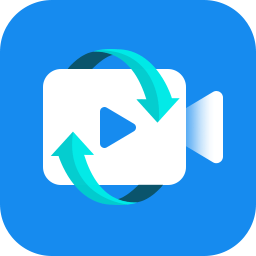 Vidmore Video Converter
Simple clicks to shrink ASF files.
Adjust the frame rate, and resolution freely.
Multiple output formats.
Preview the compressed videos.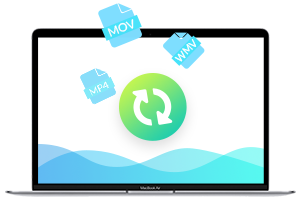 Step 1. Launch Vidmore Video Converter on your computer and click the Toolbox tab to choose the Video Compressor tool. Then click the Plus icon to add the desired ASF file.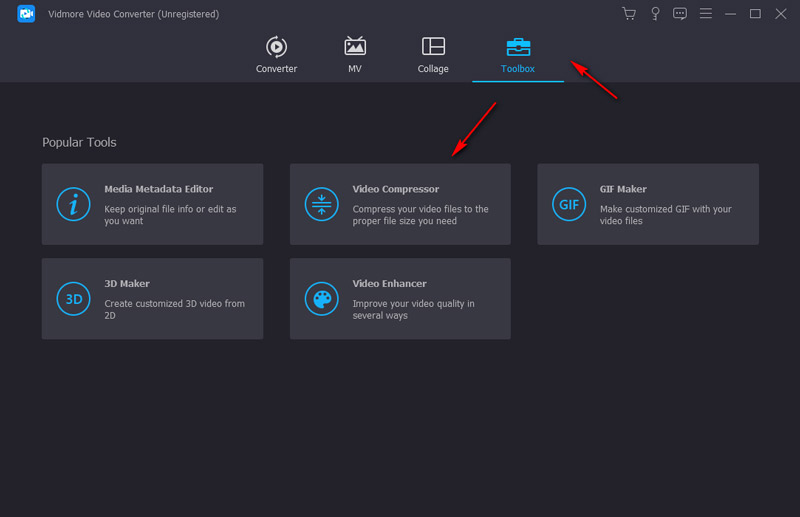 Step 2. Pull the value bar to reduce the ASF file size according to your need and keep the format as ASF. Then choose a smaller resolution, but please keep it higher than 320x240. If you want to keep high quality, you can choose the original resolution. Click the Compress button to save it on your computer.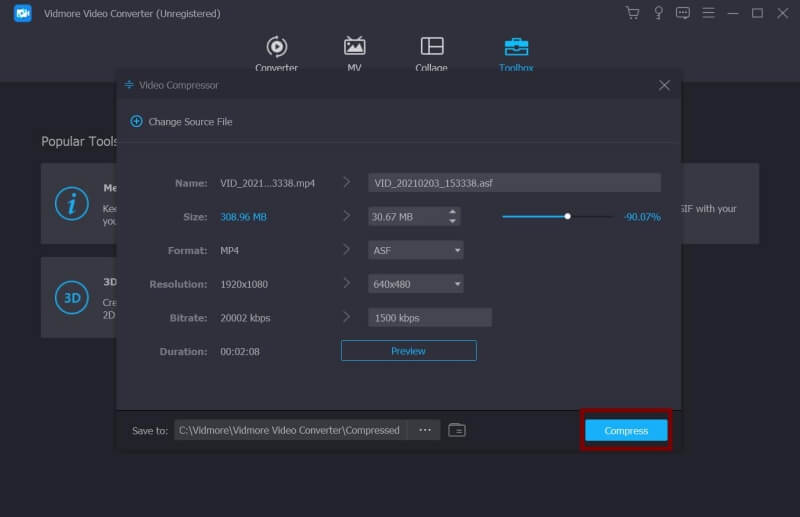 Step 3. To change the video frame rate and keep the video and audio in sync, you can use the convert feature. Click the Convert tab on the top menu and click the Add Files button to choose the ASF files. After clicking the Convert All to button and selecting the ASF format, you should click the Custom Profile icon.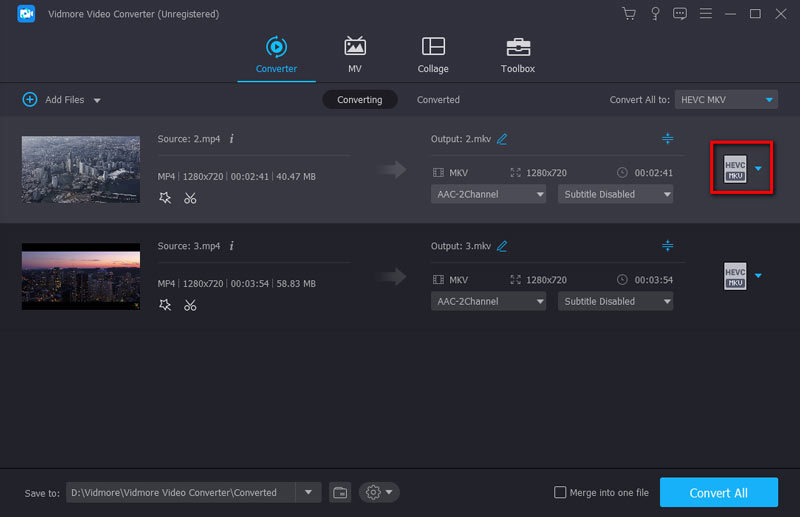 Then you can change the frame rate to 30 fps. Click the Create New button to save the changes. And click the Convert All button to output the ASF videos on your computer.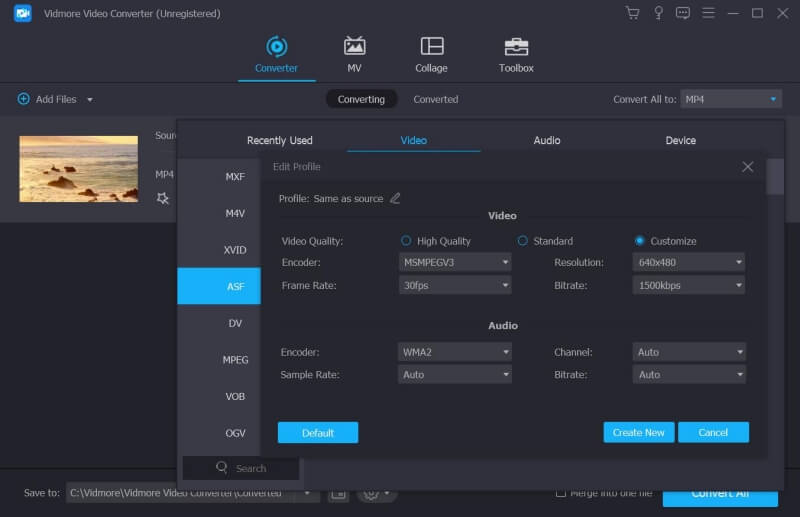 In this way, you can easily compress ASF video files and keep high quality and viewing experience. But regardless of the video quality, if you only want to shrink ASF without downloading any software, you can try the following way.
Note: It provides lots of output formats, so you can also use Vidmore Video Converter to compress WMV, MXF, and other uncommon formats.
Part 2: How to Free Shrink ASF Videos Using Free Online Video Compressor
Using Vidmore Free Online Compressor is a very easy way to compress ASF files because you don't need to download extra software. But it only provides 10 output formats, not including ASF. Because the data contained in ASF files are always in WMV format, so it's a good alternative choice to output.
Step 1. Open the website of Vidmore Free Online Compressor, and click the Compress Now button to install the launcher. Then click it again to select the ASF video you want to compress.

Step 2. Then you can reduce the ASF video size to any size by pulling the value line or clicking the downward arrow of the Size menu. As for the format and resolution, you should choose the best alternative WMV format and the resolution higher than 320x240. Then click the Compress button to choose the desired local file to save it.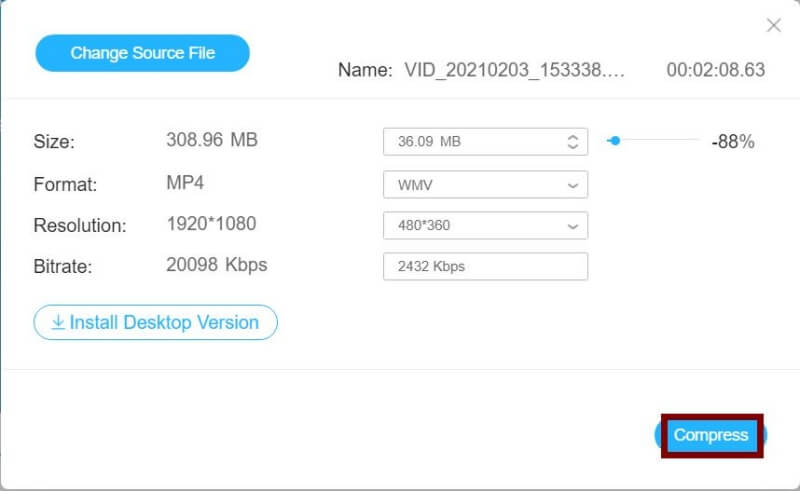 Part 3: General Knowledge about ASF You Should Know
ASF stands for Advanced Streaming Format or Advanced System Format that is a streaming multimedia file format invented by Microsoft. As its name suggests, it is especially suitable for transmission on an IP network. Thus, it always applied to live streaming, live playback, distant education, and so on. Moreover, it is also suitable for local playback. With its flexible encoding, every codec can code ASF files.
ASF is always regarded as a container format, and WMA and WMV are the two most common data stored in ASF files. It has the same compression algorithm as MPEG4, so with a smaller size, its quality is relatively high.
Part 4: FAQs of Compressing ASF Files
1. What is the best size for compressing ASF files for email?
Normally, the best size is less than 20MB according to the size limitation of most emails like Gmail, Hotmail, and so on.
2. Why the ASF files have asynchronous video and audio after compressing?
After the compression of ASF files, the videos will have low quality and frame rate, which can cause the images and audio asynchronous.
3. How to shrink ASF videos with high quality?
To keep high quality, you should keep the original ASF format and high resolution. Thus, Vidmore Video Converter is your best choice because it can change these two parameters freely. Besides, you can also use it to compress MKV, MP4, MOV, or other video files.
Conclusion
Compressing ASF is relatively complex and difficult because it will make the video and audio not in sync with low quality. The free online compressor is easy to use but the output videos may have some problems. Thus, you can download Vidmore Video Converter to shrink ASF files with high quality.