Instantly Resize Animated GIF Online, Offline, and on Mobile Devices
The rapid popularity of GIFs is evident. Many netizens are using them to showcase funny and great optical illusions. You can see them on social media sites, including Twitter, Instagram, Facebook, Vimeo, and other sharing platforms. But as we know, these social media platforms come with standards when sharing media files online. That also applies to GIFs we see on our feed. A set of standards is implemented, particularly on the size of the GIF.
So, before sharing your beautiful GIF files, it is important to know the standard size for a specific social platform and have a GIF resizer handy. In this post, we will review the six best GIF resizers to change the size of your GIF files effectively. You will have options for mobile devices as well as for desktops. Check them out to learn more.

Part 1. Top Two GIF Resizers Offline
Desktop or offline GIF resizers are perfect for those who do not always have access to the internet when doing tasks. Sometimes, the internet is just fluctuating, and you cannot work properly. There are also users who want a bigger and wider screen when editing some images, like GIF files. Reviewed below are the great programs to resize animated GIF files.
1. Vidmore Video Converter
Vidmore Video Converter is a multi-platform program for editing files like GIFs, images, videos, and audio files. It enables you to define the width and height of the GIF file. Besides that, you can edit the frame rate to your desired display, apply a loop animation, and cut the video. Also, you can apply effects to your GIF file for further enhancement. You have access to its video editor, allowing you to apply basic effects, rotate, zoom in/out, add watermark, and many more.
Before exporting the file, you can preview the result of your GIF after some changes. Therefore, you can determine if it still needs improvement. Furthermore, you can decide where the output will be put. Overall, it is a great and handy tool for every user with any level of experience.
Pros
User-friendly interface for easy tool navigation.
Add loop animation, cut the video length, adjust FPS, and more.
Preview the video result or output.
Access more video editing tools and apply them to GIFs.
Available on Windows and Mac computers.
Cons
The tools and options can be overwhelming.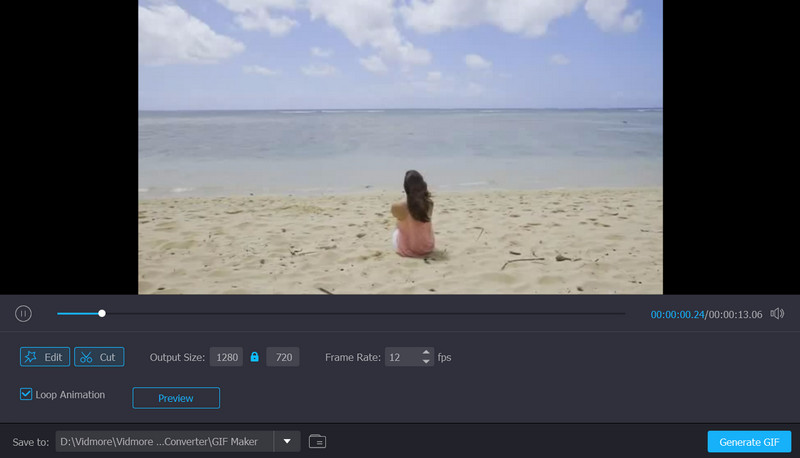 2. Easy GIF Animator
Easy GIF Animator is the best tool for resizing GIF images, banners, buttons, and GIFs. It is a strong GIF editor. It also allows you to quickly trim or resize GIF images. The unmatched image quality brought by the tool, the effects offered, and the extensive editing features are the reasons why Easy GIF Animator is a sought-after GIF resizer. Moreover, the tool is capable of converting your videos to GIF files. Therefore, if you have a funny video recording that you wish to share online, the tool will do the job for you.
Pros
Animations can be saved in SWF format with background music.
It can convert video files to GIFs.
Add visual effects to GIF files in an instant.
Cons
It only allows 20 usage trials.
It is only compatible with Windows operating systems.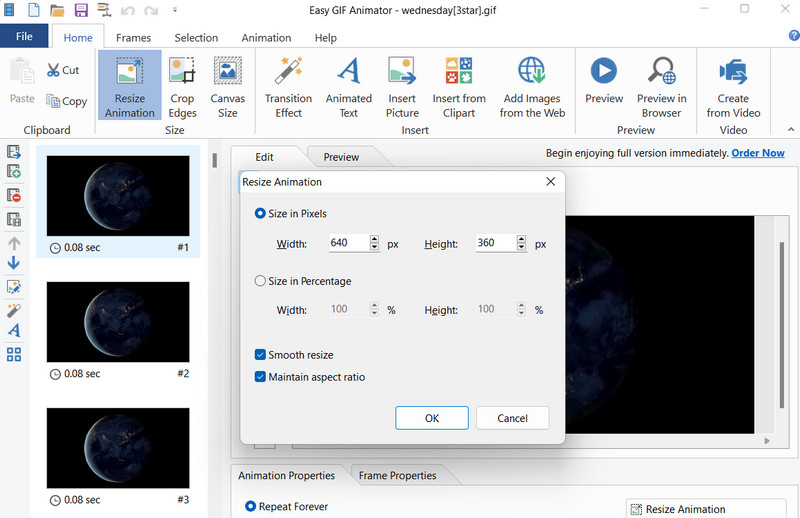 Part 2. Best GIF Resizers Ideal for Mobile Devices
Now, if you are the type of user who spends most of your time doing tasks with mobile devices, then you can rely on these mobile GIF resizer applications. These are convenient because you can resize your GIF files at your fingertips. So, there is no need for a computer to do the task of resizing GIF files. Check here for more to learn about the best GIF resizers for mobile devices.
1. GIF Studio
Android users can rely on GIF Studio to edit the size of their GIF files. This tool can do amazing tasks, such as cropping, editing, adding stickers, controlling timing, creating a GIF collage, and so much more. Besides these, you may also change the background color of your image file or GIF. For adding stickers, you can choose whether to add an animated GIF to a photo or vice versa. That means you can add a static photo to an animated GIF. On the other hand, here is a list of advantages and disadvantages you should watch out for if you plan to use this tool.
Pros
Create a photo slideshow animation with many effects available.
Merge multiple GIFs into one or create a collage.
Reduce the size of a GIF file by cropping it.
Cons
The interface is not user-friendly.
Users cannot navigate to the folders.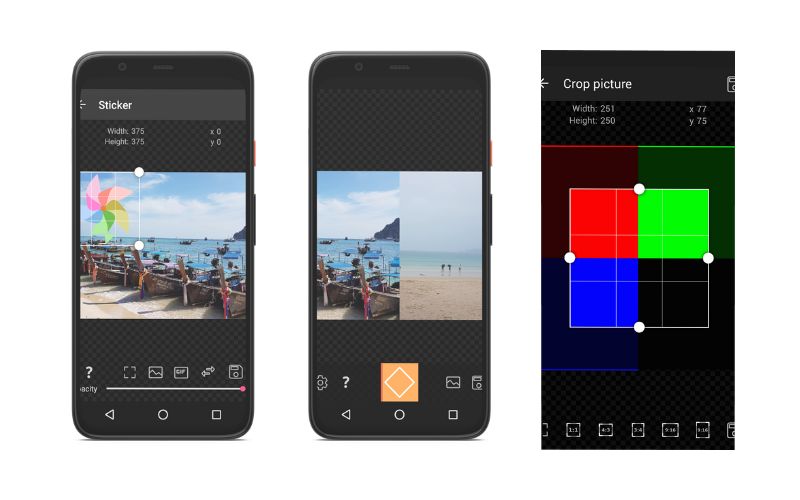 2. ImgPlay - GIF Maker
For simple GIF compression and resizing on iOS, download ImgPlay, a freeware GIF dimension resizer. This program can handle the work successfully without fussing with GIF optimization because it is compatible with various iOS versions. With this app, you can split, edit, and convert GIF and video files. Whatever floats your boat, you can make the most out of social media platforms. You can also upload it immediately to Facebook, WhatsApp, Instagram, Twitter, and Tumblr while adding fantastic captions. GIF Maker enables the generation of GIFs or videos from live images, burst photos, slideshows, etc.
Pros
Create and combine captions directly to social media sites.
Effectively resizes, converts, and splits GIF files.
A free GIF creator application for iPhone.
Cons
Loading videos or GIFs can sometimes take time.
It automatically adjusts the speed of the GIFs.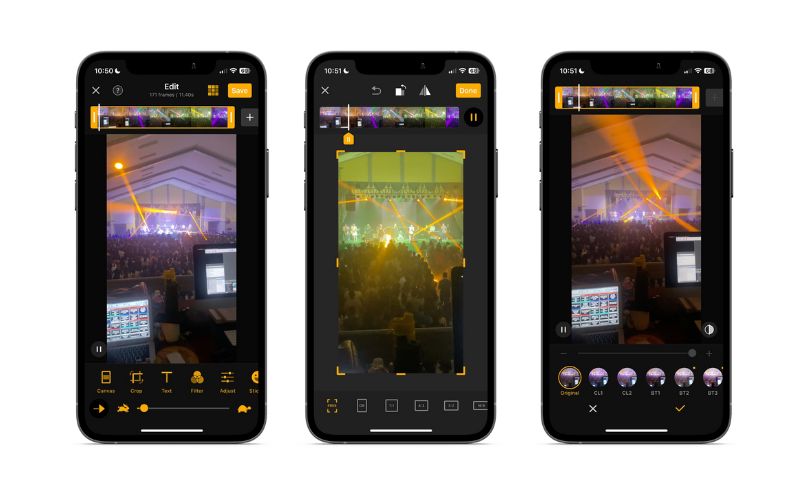 Part 3. Great GIF Resizers Online
Many users also want to use web-based programs to resize their GIF files without having to download and install an application. Using this method will help you save memory space on your computer and time in the installation of the programs. Also, anytime, anywhere, provided you have access to the internet, you can resize your GIF files using these online GIF resizers. Take a look at them below and begin resizing GIF files online.
1. RedKetchup.io
RedKetchup.io is an online based GIF resizer that can change the size of your GIF files in bulk or in batches. Additional things can be done before exporting the GIF. One is by cropping the GIF, and another is by making a GIF, allowing you to edit, add stickers, etc. Well, aside from GIF, it also supports image file formats, like WEBP, HEIC, TIFF, ICO, and SVG. Now, if you wish to reduce the size of your GIF file, you can take advantage of its image compressor. All in all, it is a great online GIF resizer with lots of amazing features.
Pros
Convert animated GIF to video or vice versa.
Adjust play speed, change background color, resize, etc.
Optimize GIF files to the smallest file size or high-quality display.
Cons
The website of the program comes with ads.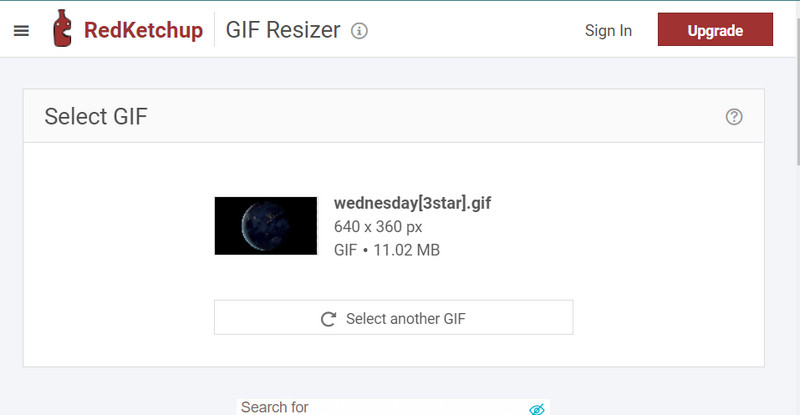 2. EZGIF Image Resizer
EZGIF Image Resizer is a no-cost GIF resizer you can use on your browser. The program offers the capability to resize your GIF files, provided you have a browser and access to an internet connection. Due to the user-friendly interface of the program, users do not have to be tech-savvy or go into technicals to navigate the program. Moreover, the tool supports other image files, including BMP, PNG, JPG, and a lot more. You may also access other tools like crop, split, cut, etc.
Pros
It supports many image file formats.
Installation and downloading programs are not required.
Compress GIF files to reduce file size.
Cons
It does not have an interactive user interface.
It cannot exceed the maximum file size of 50 MB.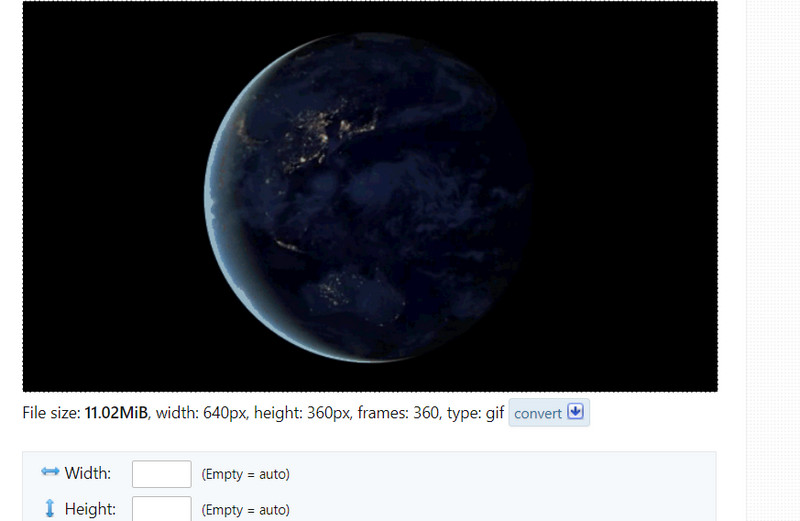 Part 4. Tutorial on How to Resize GIFs
So, you want to begin editing your GIF files and resizing them to share them on your social media accounts finally. If that is the case, we have ready a step-by-step tutorial using the Vidmore Video Converter to change the size of your GIF files. Therefore, if you want to learn how to resize a GIF, see the guide below.
Step 1. Download and install the app
The first thing you need to do is to obtain the program. You can do this by clicking the Free Download button below. Once the tool is downloaded, install it on your computer and launch it. After that, you can circumnavigate it to familiarize yourself with its interface and functionalities.
Step 2. Access the GIF Maker
Next, you need to launch the GIF Maker of the program. From the main interface of the app, you will notice the four major tabs at the top portion. Choose Toolbox and look for GIF Maker. You can also use the search bar to find this option. Tick this option, and another panel will appear.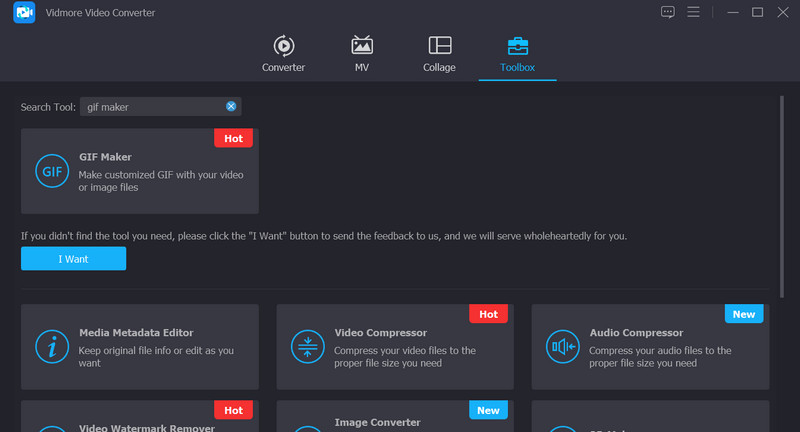 Step 3. Add a GIF file
This time, tick on the Video to GIF file and add the GIF file that you wish to resize. Your Finder or Explorer should open up, allowing you to choose which GIF to load into the tool. Then, you should be directed to the main interface of the GIF Maker afterward.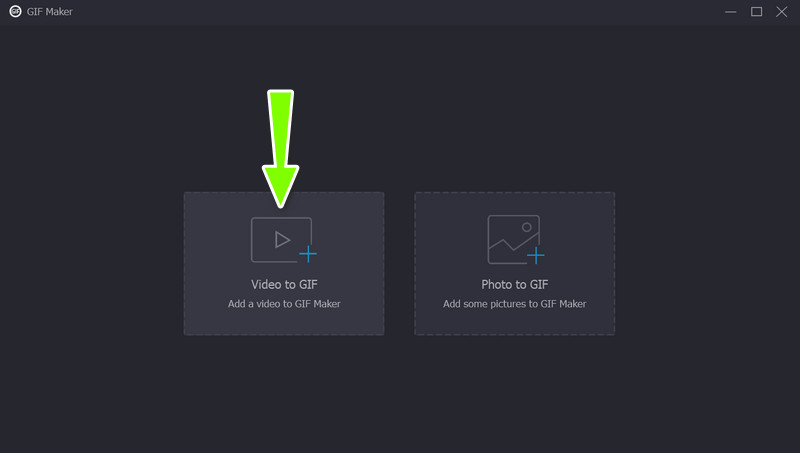 Step 4. Resize the GIF file
Below the preview, you will see a section that says Output Size. You can edit the pre-populated value to your desired size. Toggle the Lock Ratio icon if you wish to switch to Free Ratio. Also, you can modify it by ticking the Edit button. Then, check the result by ticking the Preview button. Once done, hit the Generate GIF button at the bottom right corner.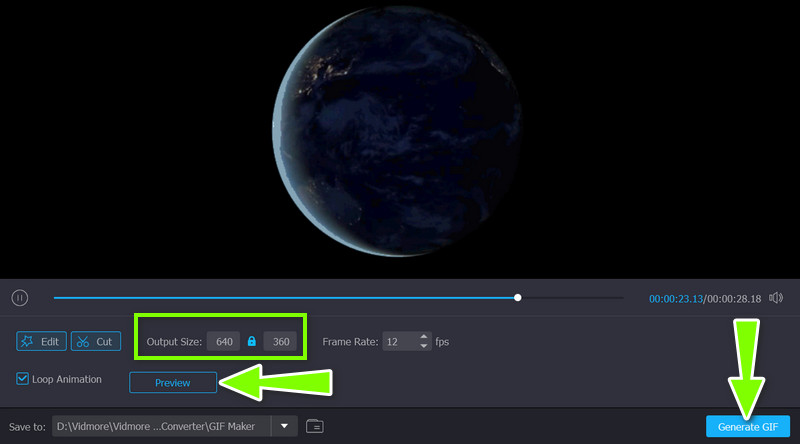 Part 5. FAQs about Resizing GIFs
Can I resize GIFs in Photoshop?
You have to open the Image Size menu of the tool to edit the size of your GIF file using Photoshop. After identifying the size, ensure that the Resample Image checkbox is unchecked to maintain its original quality.
How do I resize a gif file without losing quality?
You need to use a reliable tool, like Vidmore, to help you edit any GIF or video file without losing quality.
Are online GIF resizers safe to use?
Yes. However, you need to be vigilant about what you click on online. They might inflict harm on your computer. Also, beware of online tools that ask for your personal information.
Conclusion
There you have it! A review of best GIF resizers online, offline, and for mobile devices. Using these programs, you can share memes and funny GIF files without worrying about the standard size of your select social platform. Let us know what you think of these tools, and share your experience.