Review of the Feasible Video Compressor Online Programs You Should Master
Many online users desire to upload quality or HD videos across different video-sharing platforms. If you are one of these netizens, you may also encounter upload problems. That is especially true when the video exceeds the maximum limit of the site's standard for the video's file size. Often, you will be blocked when that is the case. Actually, it is easy to handle.
With this in mind, it is a common thing to compress video files. Well, how do you compress a video file? Here, we will unveil the best free online video compressors for large files that will help you significantly shrink video size. Read on to get the necessary information and learn further.

Part 1. Top 8 Online Video Compressors
1. Vidmore Free Video Compressor Online
From the name itself, Vidmore Free Video Compressor Online is totally a free program with no pricing or subscription plans. The tool comes with a simple interface to easily maneuver and compress your MOV files conveniently without the quality being contaminated. It enables you to reduce 4K videos into smaller sizes in addition to 3D, HD, and SD videos.
You can also utilize the video compressor online to reduce the size of formats, including MP4, MOV, AVI, MKV, with blazing compression speed. Another highlight of this program is that you can efficiently process single and multiple files. There is no size or number of file limits at all. Best of all, the tool does not add a watermark to the output video.
Pros:
It supports single and batch compression.
There are no registration or subscription plans to avail.
It can process 4K, 3D, HD, and SD videos.
Cons:
The performance solely depends on the status of the internet.
Need to download a web launcher.

2. Clideo
Another yet adequate video compressor online is Clideo. With it, you may upload files from online cloud storage services such as Google Drive, Dropbox, and even from your computer. In case the video is published online, you may use the video's URL to upload it. Regardless of the platform you are using, you can easily compress videos. Whether you are using iPhone, Mac, Windows, Android, or iPhone.
Furthermore, the tool is available for offline compression of videos. Specifically, you can utilize it on your iPhone or iPad device. In addition to that, the compression settings are highly customizable. That allows you to come up with your desired output.
Pros:
Compatible with almost all browsers.
It allows uploading from Google Drive and Dropbox.
Use the video's URL for uploading.
Cons:
Relatively slow video uploading.
It can only accept 500MB for a single session.
Adds watermark on the video output.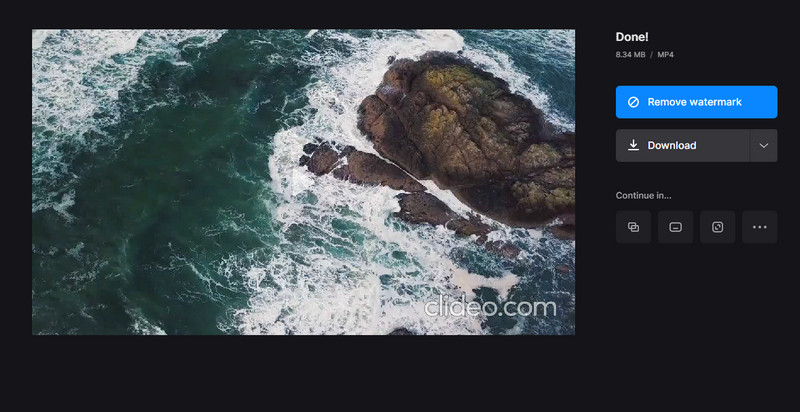 3. Online UniConverter
Next on the list is Online UniConverter. This program perfectly works as an online MP4 video compressor free program. Yet, no matter the video format, you can expect to get a decent video quality after processing files with this online video compressor. In a similar manner, you can import files from Dropbox and Google Drive. Therefore, everything is done through your browser and without downloading an application.
Over and above, you can choose between the file size and variable bitrate compression methods. Also, for further customization, you can adjust the video resolution and format according to your liking.
Pros:
Compress videos using a browser and internet connection.
It does not add watermarks to the output video.
Broad range support to resolutions and formats.
Cons:
A limited number of compressions.
Speedy compression happens only under a stable internet connection.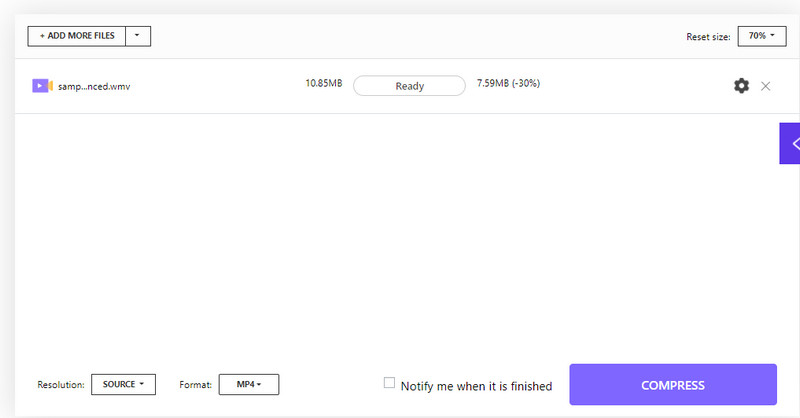 4. KeepVid Online Video Compressor
With KeepVid Online Video Compressor, you shrink the video's size on the web page directly for different purposes. Besides compressing video files, the tool is also helpful for converting and recording. Whether your videos are saved in MP4, AVI, or MOV file formats, the tool can handle them for you.
Apart from that, it also offers customized settings allowing you to choose from high, medium, and low video quality options. The tool is so good because it lets you compress video files for Email. Hence, if you are accustomed to sending videos via this platform, you can take advantage of the tool.
Pros:
Available in various output quality
Compress videos for sending on Email.
Available in different resolution settings.
Cons:
It does not provide settings for bitrate.
Support for video file formats is limited.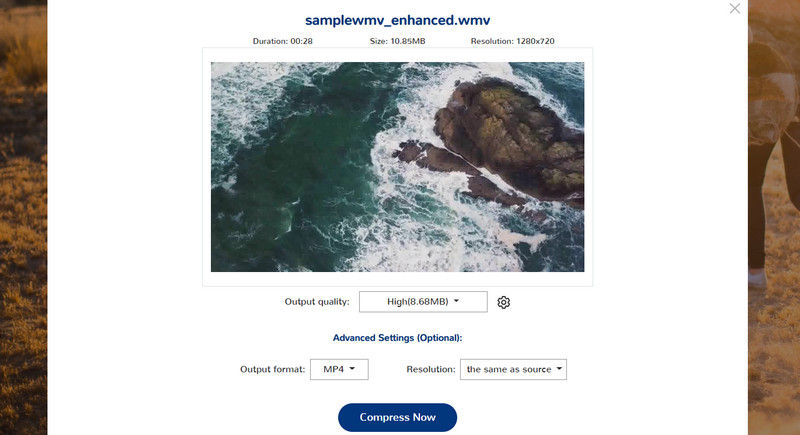 5. Aconvert
You can also rely on Aconvert as your free online video compressor for large files. It is a web-based program that packs a bunch of media and document manipulation tools. Similarly, it lets you add files from file hosting services and your computer hard drive. Best of all, there is a variety of output video file formats to choose from.
Furthermore, you customize the bitrate, frame rate, video aspect, and video size according to your needs. Also, you can mute the audio recording in the video as you please. The rich resolution template library is one of the highlights of this tool, making it desirable for many online users.
Pros:
Import videos from Google Drive and Dropbox.
A vast selection of resolution presets are available.
It comes with other document processing tools.
Cons:
It only allows a maximum video size of 200 MB.
Limited file-sharing capabilities.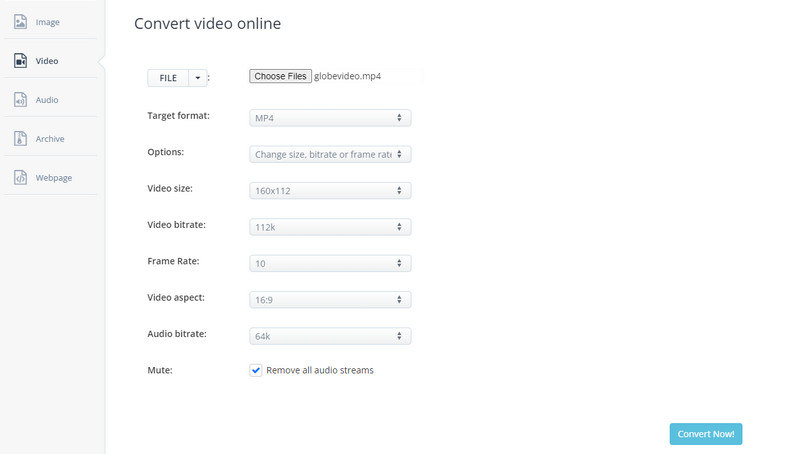 6. YouCompress
This list would not be complete without YouCompress. The program offers a quick and easy compression of video, audio, and image files. Moreover, the program does not add a watermark on the video output even after processing the file. It does not matter how long the video is because the tool will operate regardless. In other other words, there is no limitation to the number or size of the video you want to compress.
Furthermore, you can use it as an online MP4 video compressor for free. Not only for videos, but you may also use the program to compress files, including GIF, JPEG, MP3, and many more. Indeed, it is a beneficial program for different compression purposes.
Pros:
It comes with a simple and easy-to-understand interface.
Videos processed with this tool do not come with a watermark.
It automatically compresses videos without additional settings.
Cons:
Users cannot configure the parameters of the video.
Lack of support for video formats.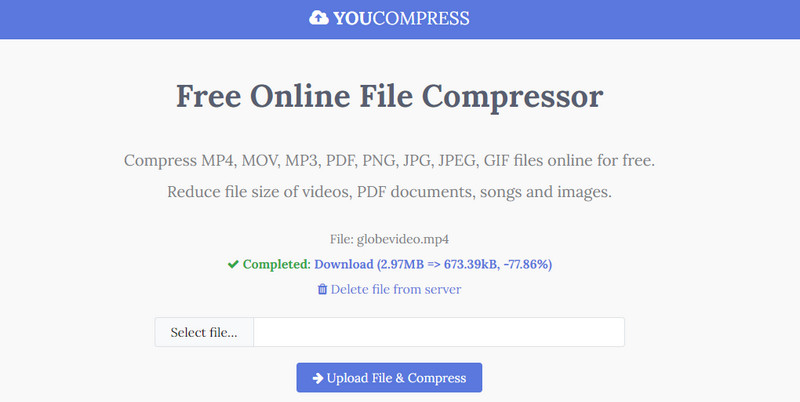 7. PS2PDF
Compressing a video file conveniently on a web-based app can be realized using PS2PDF. It is a handy tool because it offers several different compression methods to reduce the size of a video file. Depending on your personal preferences, you may opt to preset quality, variable bitrate, percentage, and constant bitrate. Likewise, there are no video file size limitations.
What is more, the online video compressor enables you to adjust the dimension of the video output. In that way, you can play it on your device in your most suitable viewing preference. For best results, it is best to opt for slower compression speeds. However, the time is compromised. Alternatively, you may opt for speedy compression but quality is at stake.
Pros:
Supports batch file compression.
Available in different compression methods.
Upload from file hosting services like Google Drive.
Cons:
Video outputs are exported to MP4 alone.
No support for file-sharing.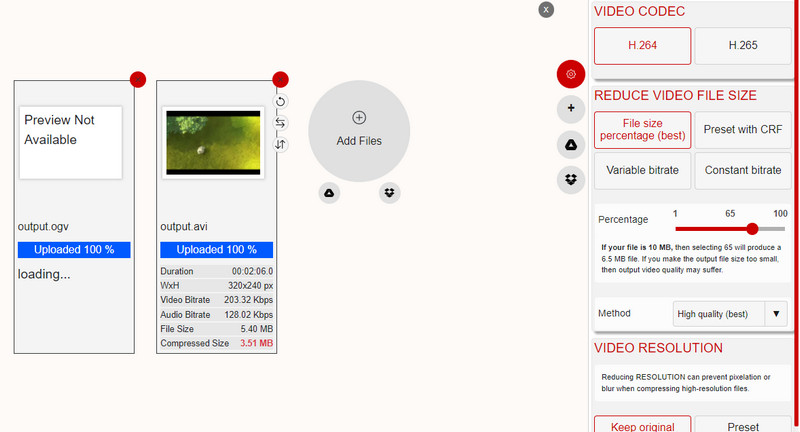 8. Zamzar
Last but definitely not least is Zamzar. This video compressor online works perfectly on all web browsers. Primarily, the tool is developed to convert files supporting a thousand file formats. Yet, another valuable feature of this app is the compression capability. You may upload from your hard drive directly and using the URL of the video.
Just keep in mind that the duration of the compression process depends on the length of the video. The longer the video, the longer it takes to finish. Nonetheless, there is no watermark added in the video.
Pros:
No limits to the daily file compressions and conversions.
Basic compression options are offered.
Smooth uploading process.
Cons:
The maximum video file size is limited to 50MB.
A limited number of concurrent file processing.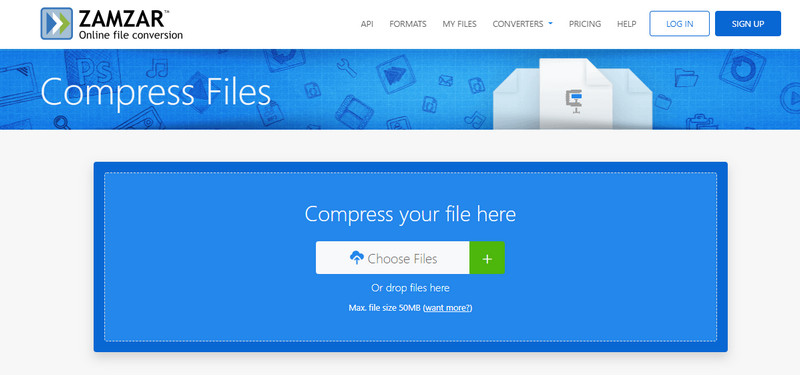 Part 2. FAQs of Online Video Compressors
Why are my compressed files sometimes bigger?
This situation usually occurs because of the configuration you set for the compression. Say the bitrate is still high. Most likely, the output will be bigger as well.
Can I compress files below 100 MB?
Yes. That is definitely possible using file applications like 7Zip or WinRAR. On the other hand, Vidmore Video Compressor Online can compress up to 90% resulting in a smaller file size.
How do I compress video files on an iPhone?
iOS mobile devices do not have a default compression application. Yet, you may cut the video to reduce the overall size of the video. For a dedicated program, there are a lot of available compression tools on the App Store.
Conclusion
The eight video compressor online tools above can help you compress videos on your computer. Now, you can quickly reduce the size of your videos. Whether compress them for Email or for social media platforms. All these can be handled using the programs mentioned above.