3 Best Ways On How To Make A Movie
Creating a movie is a form of art for many filmmakers. It is an excellent way to express your creative ideas, perception, stories, or feelings through the use of moving images. Furthermore, creating a movie requires much hard work and money for props, settings, backdrop, and talent fees for actors. It would be best if you also had a great video editing tool to produce a high-quality movie. But, when you get your viewers' attention and heart, all your hard work will be paid off. Moreover, suppose you are a student or a starting filmmaker. In that case, you can start practicing editing a video through different video clips. With that, you can enhance your editing skills until you can make your own movie. Luckily, in this article, we want to introduce various video converters with built-in editing tools to help you achieve a professional-looking movie. Without further ado, keep on reading and learn how to create a movie quickly.

Part 1. How to Make a Movie from Video Clips on Your Windows PC and Mac
Vidmore Video Converter
Best for: Converting and creating excellent-looking movies and other types of videos.
Price: $29.95/year.
If you wish to make your own movie, Vidmore Video Converter can help you. It is a powerful and comprehensive video converter that enables you to convert and edit any video file. You can export your video files to more than 200 output formats like MP4, AVI, MKV, etc. With Vidmore Video Converter, you can convert your videos at 50x faster speed, so there's no need to worry about how long does it take to make a movie. Furthermore, you can enhance and make your movie using various video clips with its MV feature. You can trim, put background music, adjust the ratio, add texts, titles, and many more. Additionally, you have complete control of the video quality, wherein you can save your movie in 4K-resolution. To further know how to make movies on your PC and Mac computer, follow the simple steps below.
Step 1: Download and Install
First, hit the Free Download button above and make sure to click the suitable button based on your operating system's compatibility. Then, follow all the instructions on the prompt to download it completely. Once done, launch it to access its main interface.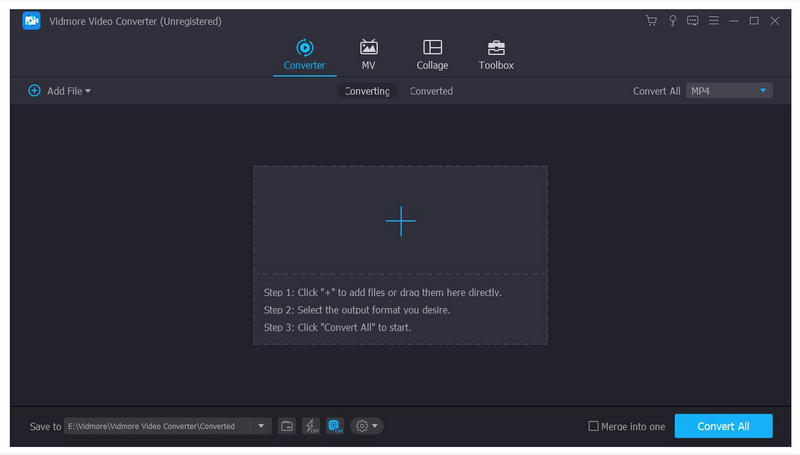 Step 2: Add Video Clips
Next, go to the MV panel and click the Add button to add your video clips. After that, choose the video clips you want to edit from your output folder. Put the video clips in the sequence that you prefer to make it more convenient when you start editing.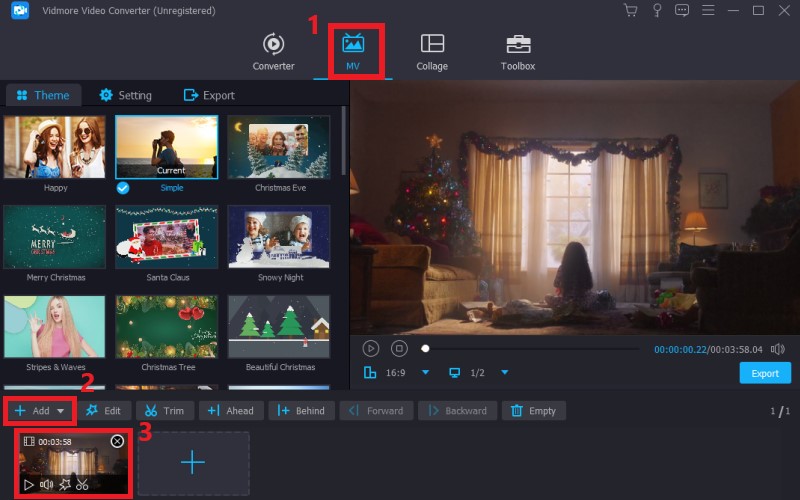 Step 3: Edit the Video
Once done, you can now edit your video clips using its editing tools. You can choose your preferred theme, trim unwanted parts, rotate, add filters, etc. or click the Star icon to adjust its effects. Be creative and maximize all its editing options so you can create a fantastic movie output.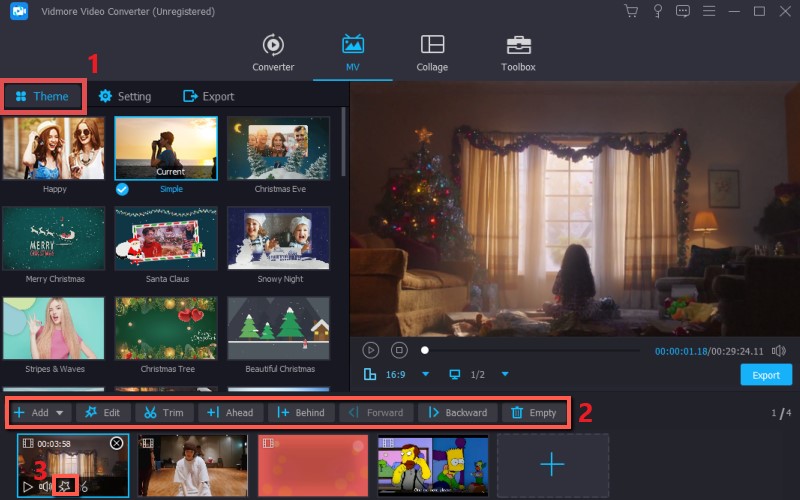 Step 4: Adjust the Settings
You can add your start and end title on its Settings or adjust the background music volume in your video. Once you are satisfied, click the Export button to access all its quality settings.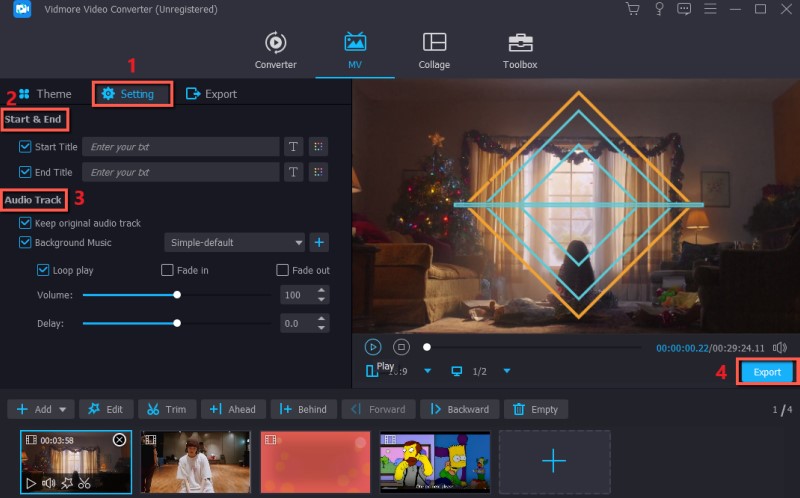 Step 5. Choose the Quality and Export
Lastly, rename your video and select the output format you prefer. After that, choose the highest quality for the resolution and quality to produce a professional-looking movie. Then, you can also set the folder where you want to save it. Finally, hit the Start Export to ultimately save it. So if you still wonder how to create a film, make sure that you follow the easy steps provided above.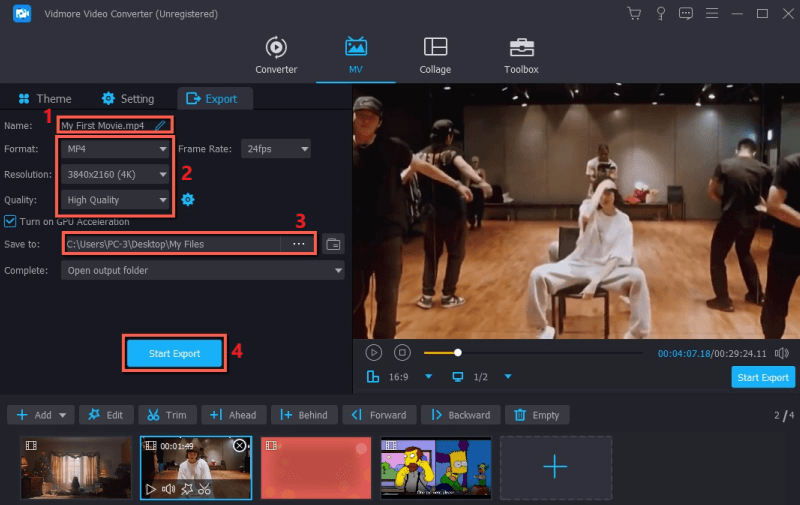 Part 2. How to Make a Movie on an iPhone/iPad
iMovie
Best for: Personal use, especially for iOS users.
Price: Free
For iOS users downloading a video converter and editing tool is complicated. This is due to Apple Inc.'s restrictions on downloading an app that the company does not authorize. With that, Apple Inc created its built-in video and movie maker, which is the iMovie. In iMovie, you can create 4K-resolution movies, trailers, and other types of videos. Moreover, you can add animated titles, music, filters and edit your clips together. iMovie helps you to tell your story in a professional style. Additionally, you can easily share your movies on different social media sites like YouTube, Facebook, and more. If you want to know how to create movies from videos using your iPhone or iPad, follow the easy guide below.
Here is a simple guide on how to create a movie from video clips using an iOS device:
Step 1. First, launch your iMovie app on your iPhone or iPad. Then choose the video clips you want to edit; you can add as many clips as you want.
Step 2. Next, tap the setting icon located on your screen's right side to access and edit the theme's soundtrack, filter, and speed. You can also edit out unnecessary parts, add texts, etc., based on your liking.
Step 3. After that, you can add your background, insert images, voiceover, and add sound effects by hitting the plus icon (+).
Step 4. Once finished, tap Done to save your movie. Also, your film will stay on your iMovie app so that you can edit them again anytime you want to. After following all the simple steps above, you can now enjoy your movie or share it with others.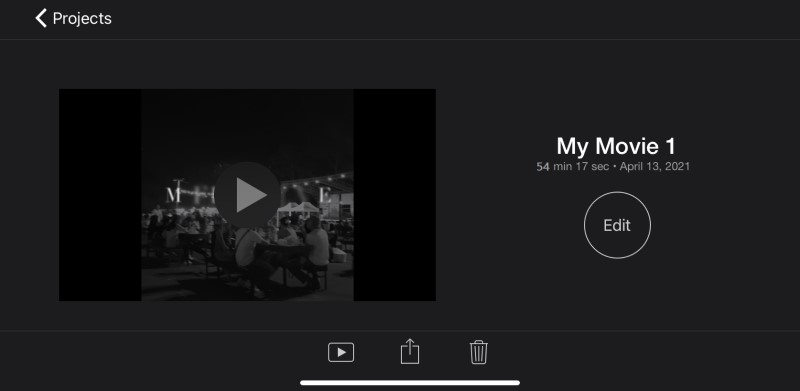 You may be interested in: How to record screen with iMovie
Part 3. How to Create Your Own Movie on Android Devices
InShot
Best for: Students and quick editing of videos.
Price: $14.99/year
There are various movie creator apps on Google Play Store for Android users, and one good example of these is InShot. InShot is a powerful video maker and editor with professional features that help you achieve creative videos and movies. Furthermore, you can take advantage of its editing tools; you can use them to trim, add sound effects, texts, merge video clips, edit transitions, etc. With InShot, you can custom video resolution for up to 4k quality and save it to MP4 format. Then, you can instantly share your movies on various social media platforms, including YouTube, Instagram, Facebook, or share them with your friends. So if you wonder how to make a film using Android, read and follow the quick steps below.
Here are the easy ways on how to make your own movie with an Android device:
Step 1. On your Android device, install the InShot app from Google Play Store. Then, launch the app to access its interface.
Step 2. After that, tap the Video button to add your video clips. You can add any amount and length of a video clip.
Step 3. Next, you can now edit your movie using its editing tools. Be creative and enhance the movie by adjusting the volume, add stickers, subtitles, or remove unwanted parts.
Step 4. Lastly, choose the highest quality available and tap the Save button to save it completely. That's how quick and easy you can create a movie with your Android smartphones.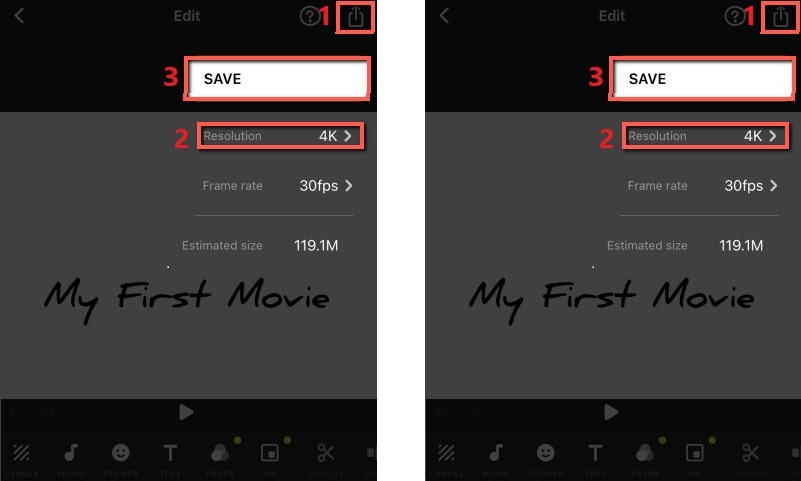 Part 4. FAQs of Making a Movie
1. How do you make a good movie?
To create a high-quality movie, you must consider the acting, script, directing, cinematography, and overall production value. It is also essential to use a video converter and editing tool that provides professional features. An excellent example of this is Vidmore Video Converter. With this, you can create high-quality movies and export them to 200+ output formats.
2. Can you make your movie online?
Yes, there are various online video makers and editors that you can search online. However, since they are online software, you need a strong internet connection to access them completely. So it is still best to download a video converter and editing tool to create a movie offline.
3. What makes a movie interesting?
Movies have always entertained their viewers, whether in cinemas or at home. When the produced movie is good and high-quality, you love to watch them over and over again. You even think of the characters and actors after watching. There is a lot of creativity and talent going on in creating a great movie.
Conclusion
Whether you are a filmmaker or not, you can try the 3 methods to make a movie on your computer, iPhone and Android device. The MV feature in Vidmore Video Converter helps you make splendid movies with powerful video editing options. You can also explore more features like trimming, rotating, watermarking, video enhancing and more. Just download and have a try.