How to Increase Brightness of the Video in Premiere Pro [with Alternative]
Nowadays, videos or movies are the trends wherein numerous people are engaged in this. Also, it is more satisfying to watch when the video or movie has an excellent and balanced video color quality. Do you have a dark video and want to lighten them up? Then this informative guidepost was meant for you. This article will give you the best methods on how to brighten a video in Premiere. In addition to that, you will also learn the best alternatives to this application. This way, you will get the easiest way to edit your video. So, if you want to learn the trick in enhancing your video color, read this article.

Part 1: Best Alternative Way to Brighten A Video
The best alternative to lighten up your video is Vidmore Video Converter. This offline software can easily make your dark videos brighter and more precise. This application offers a Color Correction tool that is responsible for editing your videos' brightness. This tool can make your video darker or brighter depending on your preferred color. Also, it is the best way to balance the color of your video. Aside from adjusting the brightness of your video, you can also modify the video's hue, contrast, and saturation. You can still utilize this application if you are a user without enough skills to edit a video. It has a simple interface and straightforward procedures for changing your video's brightness. This way, you won't encounter trouble making your video better.
Here is a straightforward method to brighten your video on your computer using Vidmore Video Converter.
Step 1: Access The application by clicking the download button below. You can download the Windows and Mac versions based on your operating system. Afterward, proceed to the installation and launch the application.
Step 2: If the interface is already on your monitor, navigate to the Toolbox option and select the Color Correction tool.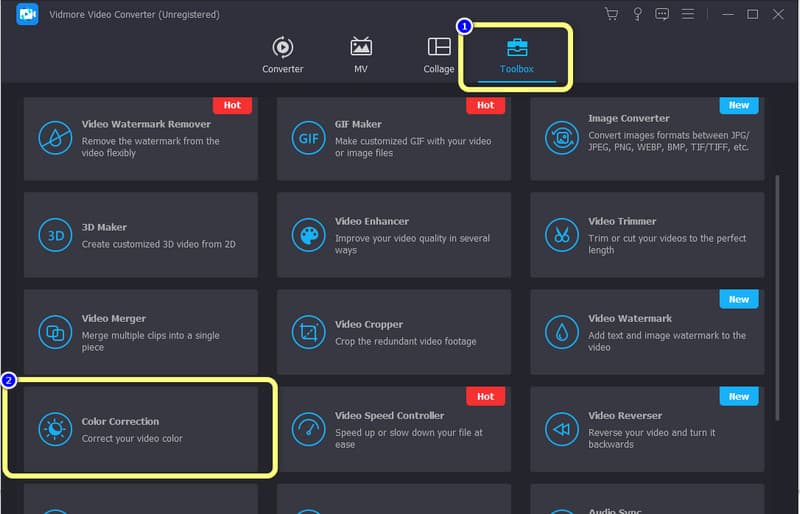 Step 3: Expect another interface to appear after clicking the color correction tool. Then, press the Plus icon to insert the video you want to brighten.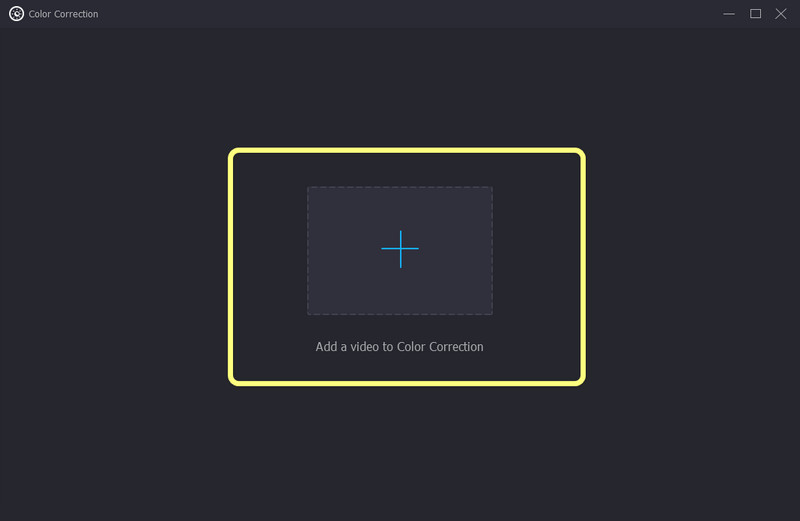 Step 4: Adjust the video's brightness by controlling the sliding bar from the brightness option. You can also control the contrast and other parameters to balance the color.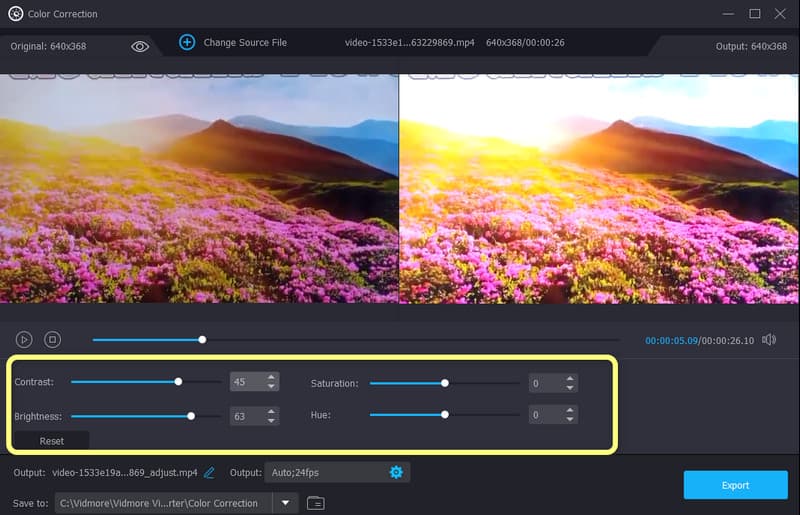 Step 5: Go to the Output settings if you want to change your video's format, resolution, frame rate, zoom mode, and your audio's bitrate, sample rate, channel, and encoder. Then click the OK button if you are done with the changes.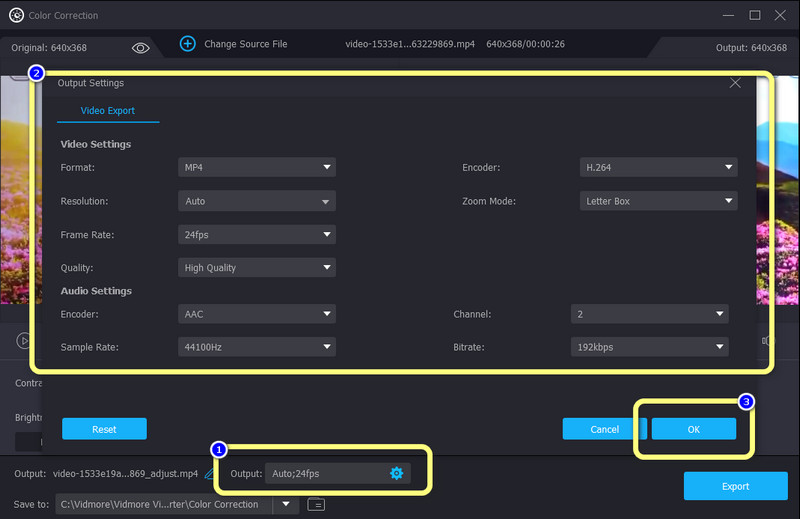 Step 6: For the final step, please click the Export button from the lower right corner of the interface. Wait for the process and save your final output on your computer.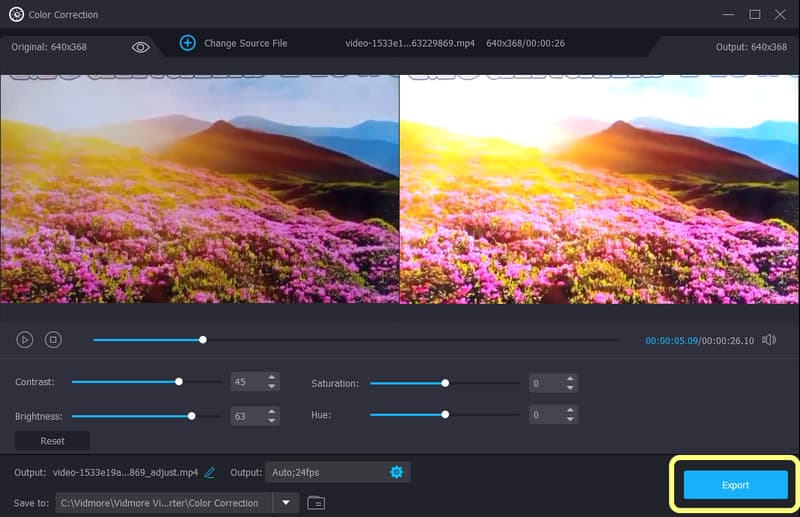 Part 2: How to Brighten A Video in Premiere
Do you desire to learn how to make a video brighter in Premiere Pro? If you want to lighten up your video using Adobe Premiere Pro, read this part. This application is capable of making your dark video brighter. The first method that we used above was quite simple. All you had to do was change the video's brightness, and you were ready to go. But the process in Premiere pro is a bit different. Although it is a little more complicated than the first method, it is still worth trying. Suppose you are creating a video with a dark background and few lights. Then, maybe increasing the video's brightness won't be enough. In that case, you need to make another procedure for making your dark videos more transparent. So you can use an advanced technique to make your movie brighter and more visible. However, this tool is only suitable for professionals or advanced users since it is an advanced procedure. So beginners will find it complicated. Also, this application requires a subscription to operate, though it has a 7-day free trial. Use the process below to learn how to lighten a dark video in Premiere Pro.
Step 1: Install the software on your computer. Add the video you want to edit and drop it on the timeline.
Step 2: Click the Effects option on the left part panel of Premiere Pro. Then search for the Lighting effects in the search box, and click it.
Step 3: Drag the lighting effects on the clip. Afterward, navigate to the Effects Control option at the upper part of the interface, and click Lighting Effects.
Step 4: You will encounter numerous options on your screen. Select the Light1 button to view the dropdown menu and see the Spotlight option. Then change the spotlight to Directional.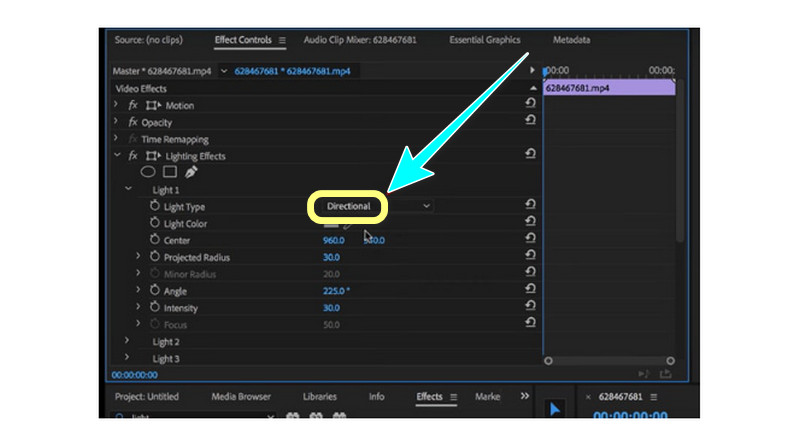 Step 5: You will see that the dark sections of your video will brighten instantly. After that, you can save your final video on your computer and watch the brighter version.
Part 3: FAQs about How to Brighten A Video in Premiere
1. Is there an excellent way to lighten up a dark video?
Absolutely, yes. Lighten up a video is possible now with the help of various applications. You don't need to worry if you have a bad camera or lighting. You can easily lighten up your video using Vidmore Video Converter. It has a color correction tool that you can utilize to make your dark videos brighter.
2. How much does Adobe Premiere Pro cost?
After the 7-day free trial, you must purchase a subscription to utilize the application continuously. Adobe Premiere costs $20.99 per month. If you prefer to purchase the subscription for the whole year, it costs $239.88. It is quite expensive but worth it.
3. Does Adobe Premiere Pro easy to utilize?
The difficulty of this application depends on the users. If the user is skilled, then this application might be easy. On the other hand, if the user has no skill yet, this application is unsuitable.
Conclusion
As you can see, this article tells you how to brighten a video in Premiere. But this Premiere is too advanced for beginners. In that way, if you want a simple method to lighten your video, use Vidmore Video Converter. It has a user-friendly interface and simple procedure, which is perfect for non-professional users.