How to Adjust the Color of the Video [Complete Guides]
To all viewers, we know it is really satisfying and pleasing to watch a movie or short video with excellent quality, including the perfect color. It gives more impact and emotions to the video itself and its viewers. So, the real question is, are you interested in improving your video by fixing its color? In that case, it is the best day for you because this guidepost is about enhancing the video's color. You will discover a lot of things here regarding the enhancement of your video. Moreover, this article will offer you the best color adjuster you can utilize on your computer and browsers. In that way, read this article to find more essential details.

Part 1: Easiest Way to Change A Video Color
The easiest method to change the color of the video is to use Vidmore Video Converter. Fixing the video's color is challenging because you must balance its colors to make it more attractive. But this application will make the procedures more straightforward and uncomplicated. Vidmore Video Converter offers a user-friendly interface and complete simple instructions. This way, all users can instantly enhance their video color using this application. You can directly adjust your video's saturation, hue, brightness, and contrast based on how you want it. In addition, if you are a Mac user, you can utilize this application because it is accessible on both Windows and Mac.
Now, let's follow the simple instructions below to enhance the color of your video using Vidmore Video Converter.
Step 1: The important thing you have to do is to download Vidmore Video Converter on your device. The Windows and Mac versions are available below. Click the download button to access the application easily.
Step 2: After installing the application, launch it on your device. Then, select the Toolbox panel from the four options on the upper part of the interface. After that, look for the Color Correction tool, and click it.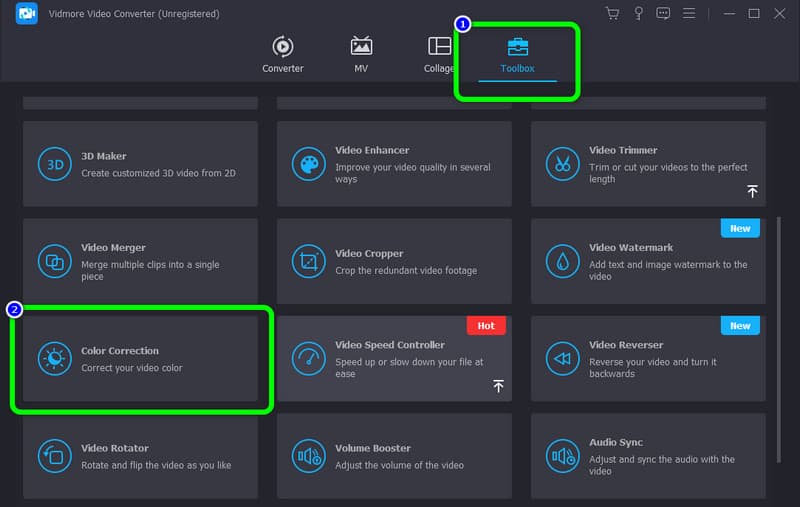 Step 3: To add the video you want to enhance, press the Plus icon on the center of the interface.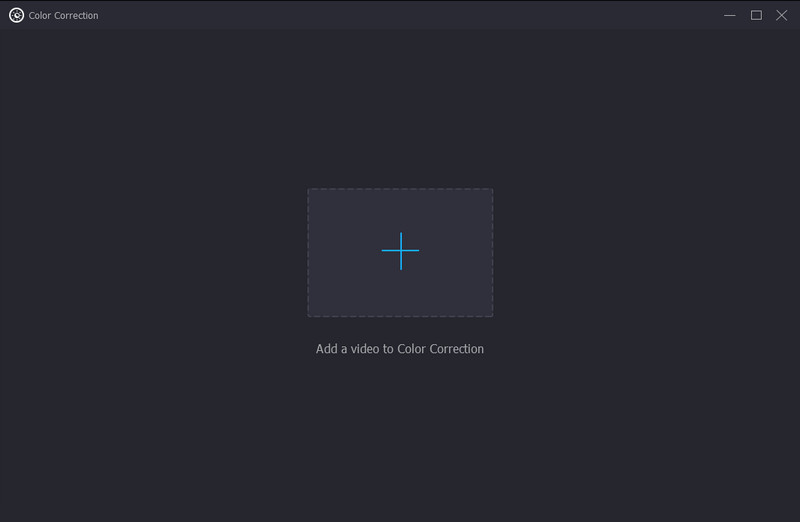 Step 4: In this part, you can adjust the sliders to change your video's saturation, brightness, contrast, and hue.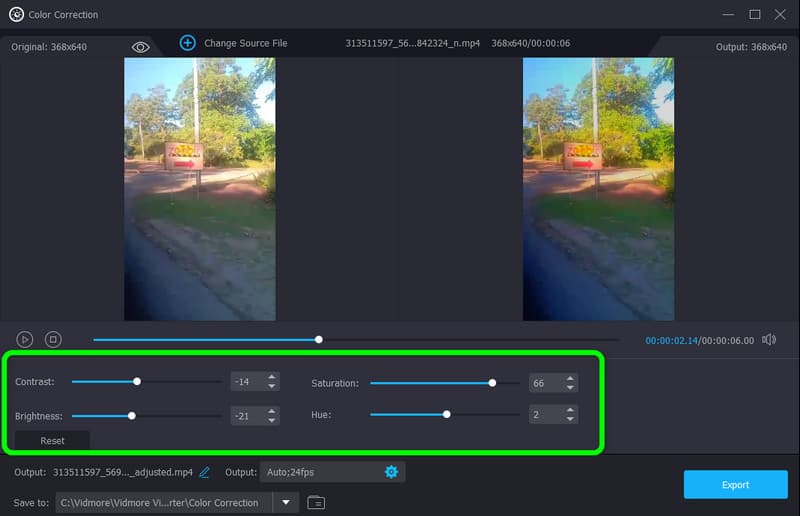 Step 5: Afterward, when you are done editing the color of your video, click the Export button. Then, save your final video on your device.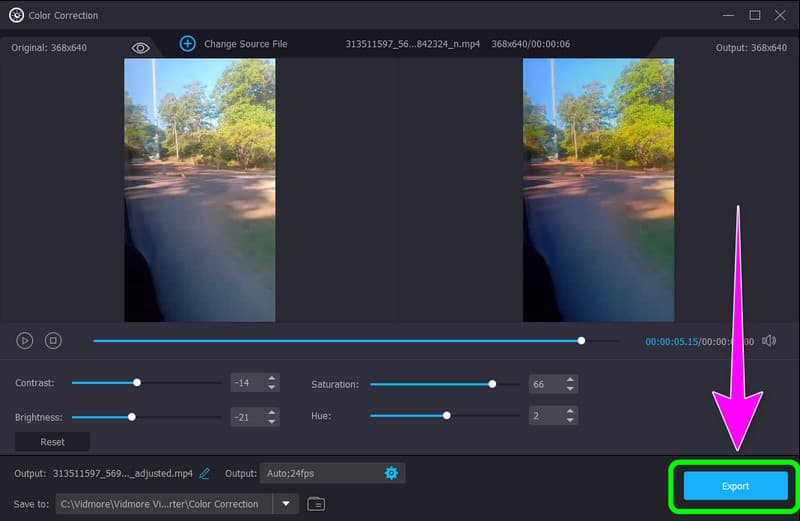 Part 2: Best Method to Change Video A Color Online
Clideo is an online software you can use when correcting the color of your video, especially if you have a rather boring video. It may be too drab, or the colors are not standing out as much as they should. The best option you can do is to modify the video's color. This way, you can easily adjust your video saturation and make your movie/video more pleasing. Clideo is an application that doesn't require installation because you can edit your video directly to your browsers. In addition to that, this online tool has a straightforward process, which means editing your video color won't be complicated. The interface is also understandable that is perfect for beginners.
However, if you are editing your video with a more than 500MB file size, you must purchase a subscription plan. The free version of this online tool allows you to edit your video with less than 500Mb file size. In addition, make sure that you have internet access. It is a web-based application, and an internet connection is highly recommended.
Use the steps below to change the color in the video using Clideo.
Step 1: Visit the official website of Clideo on your browser. Then, click the Choose File button. Your desktop's folder will appear on your screen and choose the video you want to enhance.

Step 2: After the uploading process, you can already adjust your video's brightness, contrast, saturation, and hue by controlling the sliders.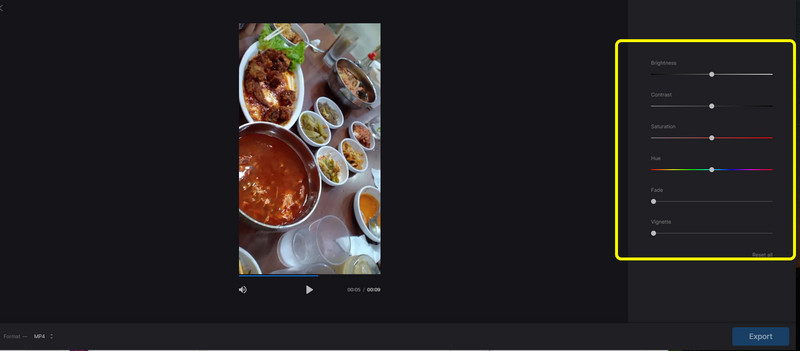 Step 3: If you finish modifying your video's color, hit the Export button on the lower right of the interface.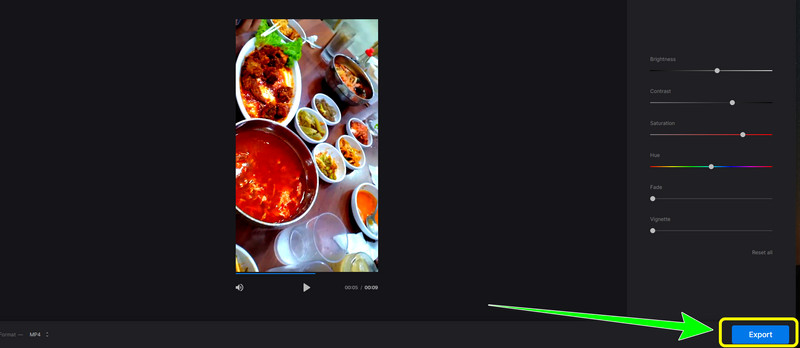 Part 3: How to Change A Video Color in Adobe Premiere
Do you want to learn how to change the color of black video in Premiere? Then read this part carefully. Using Adobe Premiere Pro, you may improve your video's color quality. If you have this program, your issue will be resolved, so you won't need to worry about how to modify your movie. In addition, this tool can be used to improve your films in ways other than color. There are numerous capabilities in Adobe Premiere Pro, including direct publishing, motion graphic templates, multiple video kinds and supports, VR editing, transitions, effects, and labels.
However, if you decide to purchase it, the program is pricey. Also, non-professional users are unsuitable for this tool because it has advanced tools which are only suitable for advanced users.
To change the video color to black using Adobe Premiere, follow the instructions below.
Step 1: Download Adobe Premiere on your desktop. Run the application after the installation.
Step 2: Go to File > Open to attach your video. Then, right-click on the project panel. Click the New Item option and select Adjustment Layer.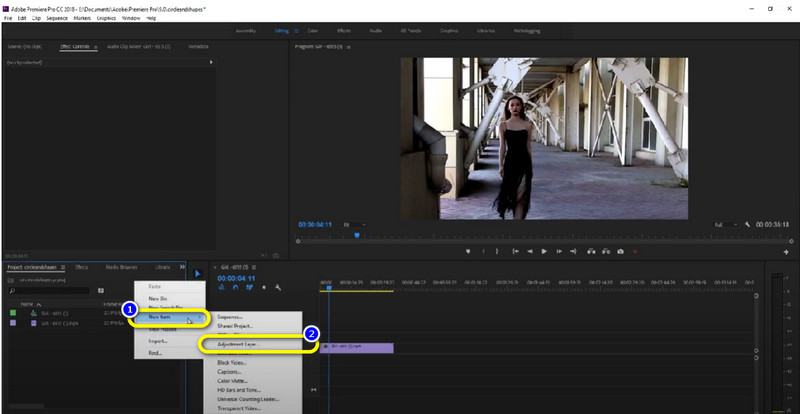 Step 3: Drag the Adjustment layer on the top of the video clip.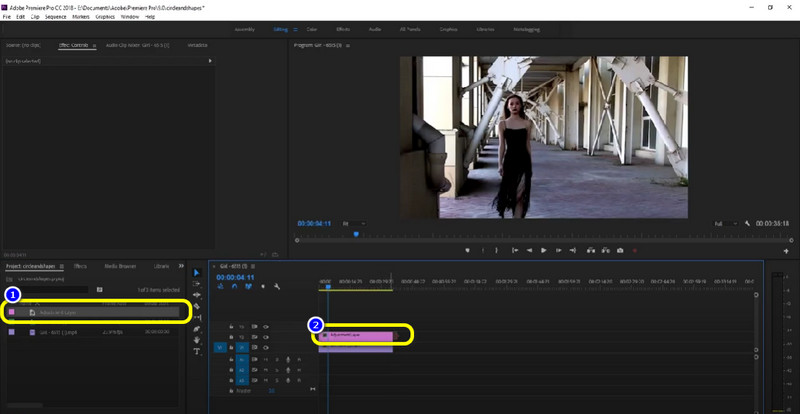 Step 4: Next, go to the Effects panel, type "Tint," and drag the tint on the adjustment layer. This way, you can see that your video is already in black color. Then save your video.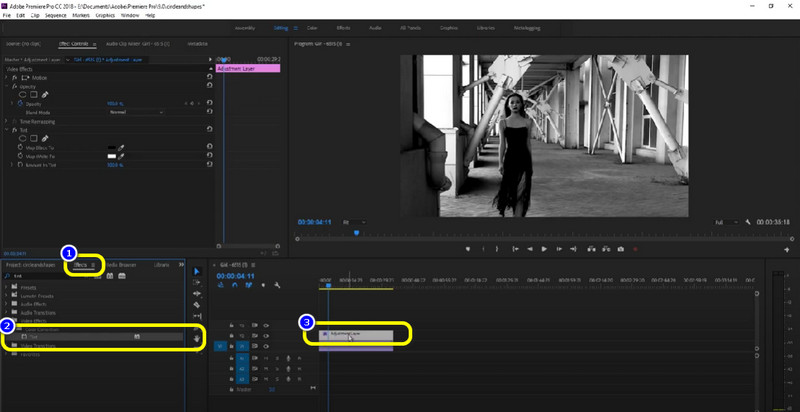 Part 4: FAQs about Changing A Video Color
1. How to change the color of an object in a video online?
You can use numerous online software to change an object's color. You can use the application mentioned above, which is Clideo. You can also use, Flexclip, Flixier, Kapwing, and more.
2. Why is color important to a video?
Color is the best way to bring emotions and impact to a video. When there is color, it can catch the attention of the viewers. Video with various colors can also make it more lively and attractive.
3. Is there an application I can use to fix my video's color for free?
Yes, there is. You can use Vidmore Video Converter. It is a free download application. You can change the color of your video without purchasing any subscription plan.
Conclusion
Now you have learned how to change the color of a video. This article introduces both online and offline ways you can try. However, to enjoy their full features, you must purchase a subscription plan, and there are some difficult methods you can't follow. But if you want a free and easy method, you can try Vidmore Video Converter. It has an intuitive interface, and you can use its exclusive features as you want.