How to Freely Brighten a Video Online: Complete Guidelines to Perform
Boosting the brightness of a video is one of the standard video editing procedures that most of us use. Whether it is a recorded video or a part clip of your favorite movie, it makes us comfortable to watch it with perfect brightness. We cannot deny that even if we exert some effort to produce a well-lit video, there will really come a time that it turns out to be dark. Hence, if this happens, you don't need to fret or become problematic because there are solutions for this circumstance online. Thus, come and allow us to walk you through the comprehensive procedure to increase the brightness of video online for free that you will read in the content below.

Part 1. How to Brighten a Video Offline
Before we present you with the online tools we are about to introduce, we generously present the best software you can use offline: Vidmore Video Converter. You can use this software even without the internet due to being a standalone tool. Furthermore, this special software can fix your dark video files ultimately using its color correction tool. Moreover, this function allows you to edit your video's brightness, saturation, contrast, and vibrant via the hue setting. Not to mention its capability to edit numerous videos at the same time, making you save more time for your other task. Likewise, it enables you to cut, split, and enhance your clips using AI-powered tools while working with your files. On top of that, you can increase the brightness of video similar to online for free since it provides a free trial.
You will be surprised at how many powerful features and tools this Vidmore Video Converter offers. Therefore, by giving you the procedures on how it works to brighten your video below, you will also have a sneak peek at its features.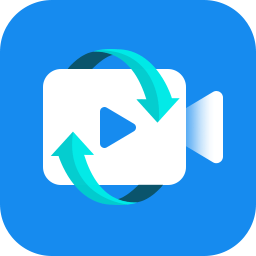 Vidmore Video Converter
With advanced AI technologies, edit video files excellently.
It supports and produces up to 4K videos.
Workable on more than 200 various video formats.
Infused with ultrafast and hardware acceleration technology.
Optimizable presets for the betterment of the video.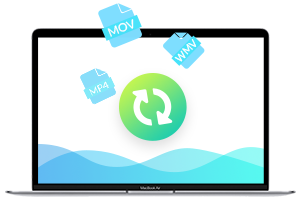 How to Use Vidmore Video Converter to Brighten Video
Step 1. Acquire the Software
The first thing that you got to do is to download and install this software on your computer. To make this step faster, click the Download buttons given above.
Step 2. Import the Dark Video
After installing Vidmore, launch it and on the main interface, go to its Toolbox icon. Then, click the Color Correction option on the new window and import the video with a dark display.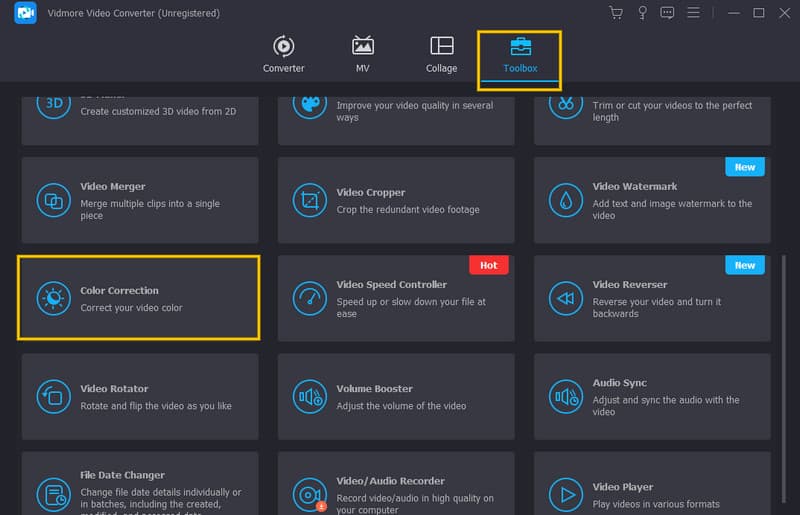 Step 3. Brighten Video
The tool will bring you to its adjusting window when you upload the video. From there, hover over the Brightness option under the preview. Slide the slider to the right to increase the brightness of the video. Also, feel free to adjust the other available options there according to your needs.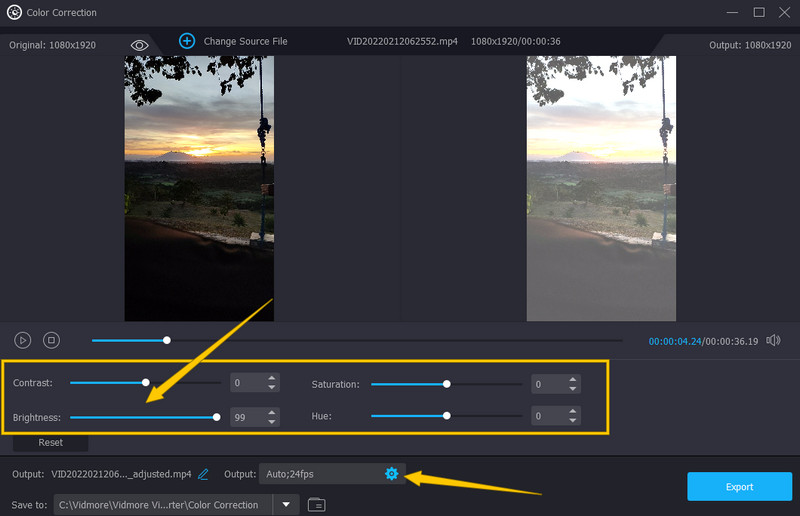 Step 4. Output Settings (Optional)
After that, if you want to see the additional settings for your video, hit the Coggle symbol that you see under the brightness presets. After clicking, a popped-up window will appear where you can start navigating the output settings available. Don't forget to hit the OK tab after.
Step 5. Export the Brightened Video
Consequently, hit the Export tab at the bottom of the interface to start the exportation process. Then, see the video output on its destination.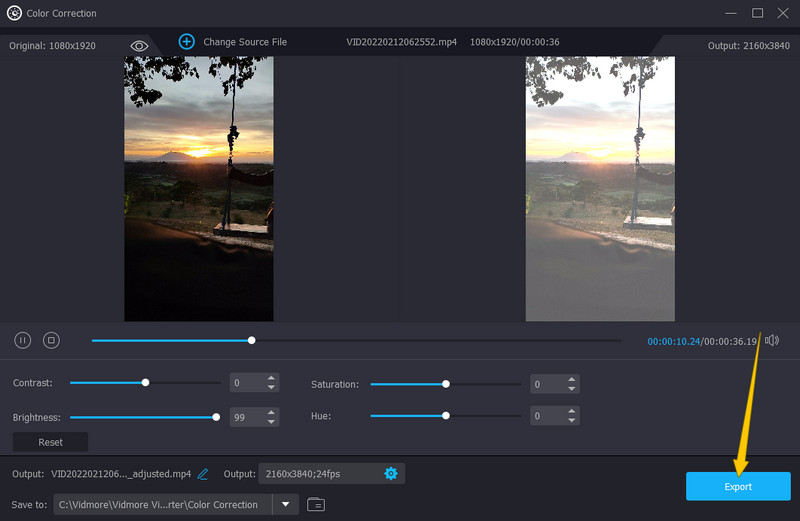 Part 2. How to Brighten a Video for Free with Online Programs
1. Clideo
The first on the list to brighten videos online is Clideo. This web program is a fully packaged tool that will let you increase the brightness of your video while working on other tasks like sharpening it as well. Furthermore, this online video editing program allows you to obtain a transparent video for your output. On top of that, Clideo lets you enjoy using it without requiring a dime while it allows you to control the brightness, saturation, hue, vignette, contrast, and fade of your dark video. However, this being said, Clideo will only provide you with watermarked outputs for its free version. Otherwise, if you are not okay with a watermark, then feel free to upgrade to its premium versions. Meanwhile, below are the steps that you can follow to make your video bright.
Step 1. On your computer browser, go to Clideo's official website. Then, start to upload your video file by hitting the Choose File tab.
Step 2. After uploading the video, you can start making adjustments to brighten your video. Start by adjusting the brightness, then follow it with the other sets available on the page.
Step 3. When all is good, then you can already click the Export button. Then, download the video file that you brightened.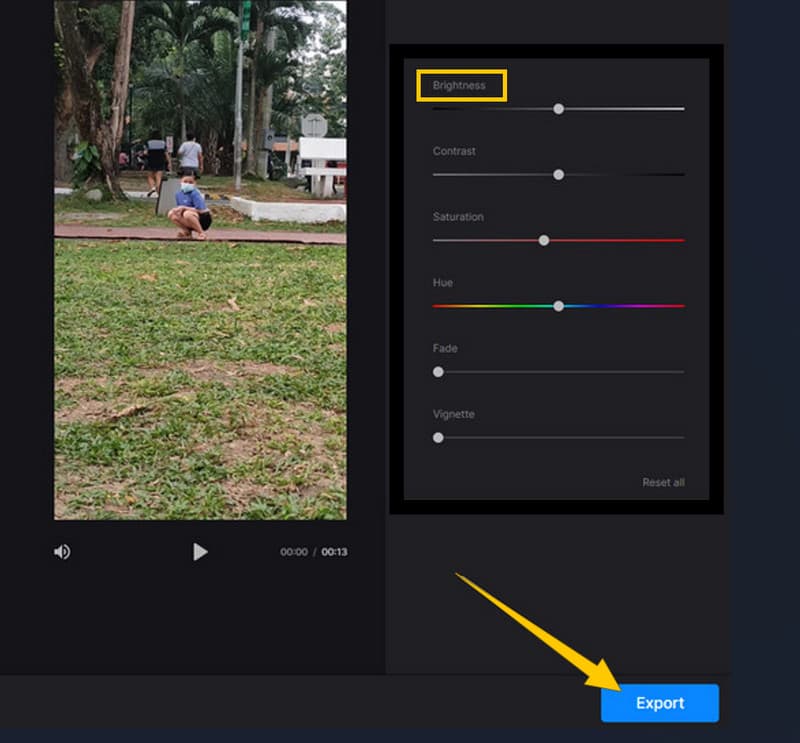 2. Kapwing
Another tool that you can use to brighten videos online for free is Kapwing. This online tool has the capacity to lighten your video fifteen times from its original darkness. At the same time, it enables you also to modify your video's opacity, contrast, saturation, and so on. Along with this functionality are its other powerful features, such as the record, subtitles, elements, layers, templates, transitions, text, and many more. However, like all online tools, Kapwing also comes with banes that others might not want to consider, like its free version only produces MP4 outputs. Still, if you want to try using Kapwing, then feel free to follow the steps below.
Step 1. Visit Kapwing's website and click the Start Edit button.
Step 2. On the main interface, import the video that you need to edit. Once it is uploaded, click the Adjust button to access the settings.
Step 3. Optimize the Brightness option and adjust accordingly. Then, hit the Done Adjusting tab for you to access the Export Project selection.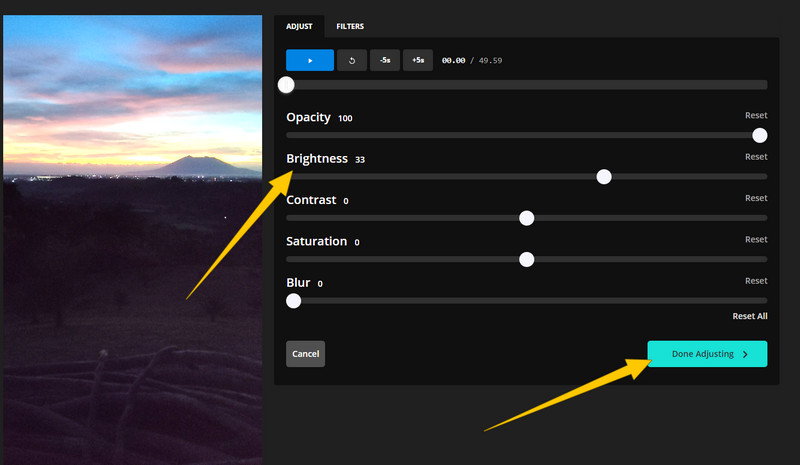 Part 3. FAQs about Making the Video Bright Online
Is brightening videos online always free?
No. There are online tools that don't offer free service.
Will I retain the exact quality of the video after brightening it online?
It depends on how great the brightness is applied. The higher the brightness is, the bigger the possibility of lowering the quality.
Can I brighten a full movie online?
No. Unfortunately, online tools only cater to short videos.
Conclusion
No matter how great we are at recording videos, we will never avoid having dark videos. This is especially if the place is not adequately lit. Therefore, if you need to work on dark videos quickly, increase video brightness online for free. However, if you are planning to acquire professional software for this task, use Vidmore Video Converter.