MKV Metadata Editor You Can't Miss: Offline and Online Programs
It is just inevitable that many users anywhere duplicate the work of others. It is rampant, and it seems like nobody cares enough. That is why tag embedding and editing are considered to protect the invention of the inventor. If you have video files like MKV videos and wish to protect them from the illegal reproduction of copies, you should learn how to change the metadata of your MKV files.
To cut to the chase, we will show you how to edit the MKV metadata using the best MKV metadata editor programs. We sorted out tools for both offline and online users for your convenience. Check them out below.

Part 1. Optimal Way to Change MKV Metadata Offline
If you are just like other users who wish to work offline for focus and concentration, then the offline programs are right-fit for you. There are just times that the notifications popping up on your computer or device interrupts you, losing your momentum on your work. Hence, we researched programs that will enable you to work offline. You may refer to the list of offline MKV tag editor tools beneath.
1. Vidmore Video Converter
First off, we have the Vidmore Video Converter. The application is primarily made for converting video, audio, and image files. But it is not solely made for that purpose. It features useful tools that include editing metadata of video and audio files. You heard it right. The program has a wide variety of file formats to carry. Editing the metadata of your MKV, MOV, MP4, and other video file formats is possible.
Additionally, you can specify the title, artist, album composer, genre, year, and track of your MKV video file. What is more, users may add an album cover to the video for it to be easily recognized. Therefore, when you play it on any screen or player, you can quickly distinguish them. So, without further discussion, here is how to change the title of the MKV file and other metadata.
Step 1. Get the program and install it on your device
Get the program on your computer before you do anything else. Just click any of the Free Download buttons below. Once you are done, use the setup wizard to make sure the program is set up right. Then start the program to see how its interface works.
Step 2. Get to the editor for metadata
Take note that the tool's upper interface has four tabs. Go to the tab called Toolbox to see a list of programs you can use depending on what you need. Here is also where the metadata editor would be. Now, click on the Media Metadata Editor option. Then there will be a dialogue box.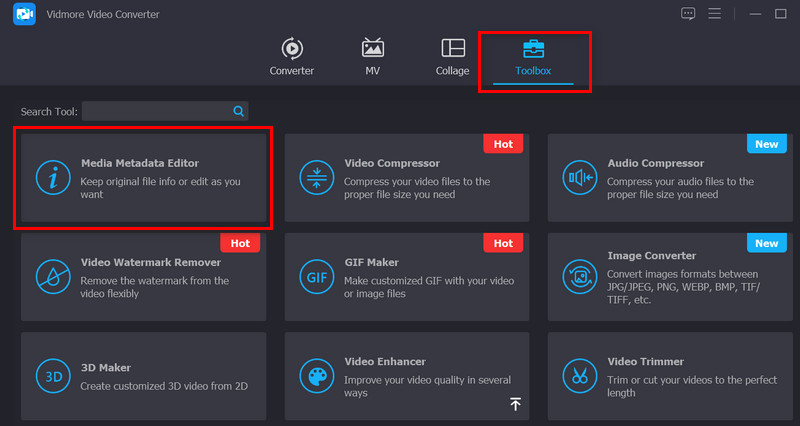 Step 3. Insert the target MKV file
The add icon will display in the pop-up window. To bring up the file manager on your PC, click the add button. Find the file you intend to use and click edit. Then, the software will launch a new tab or window.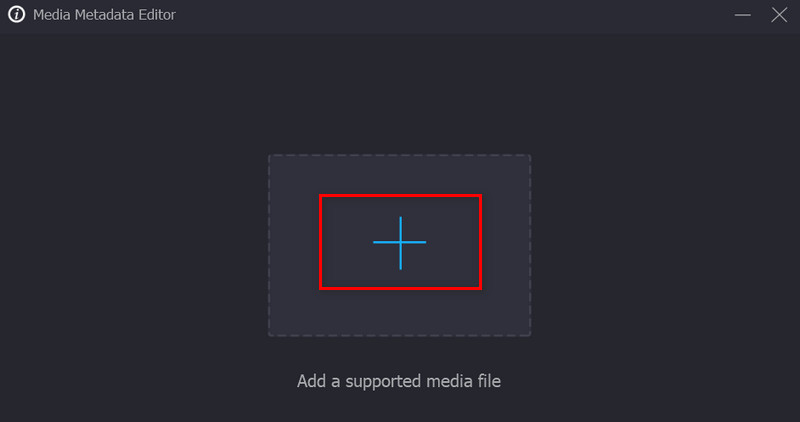 Step 4. Edit the MKV metadata tags
Take note of the metadata on tags you can change in this section. To fill up the tags, simply select the text box next to their respective category. After adding the appropriate tag, make sure to click the Save button to commit your work.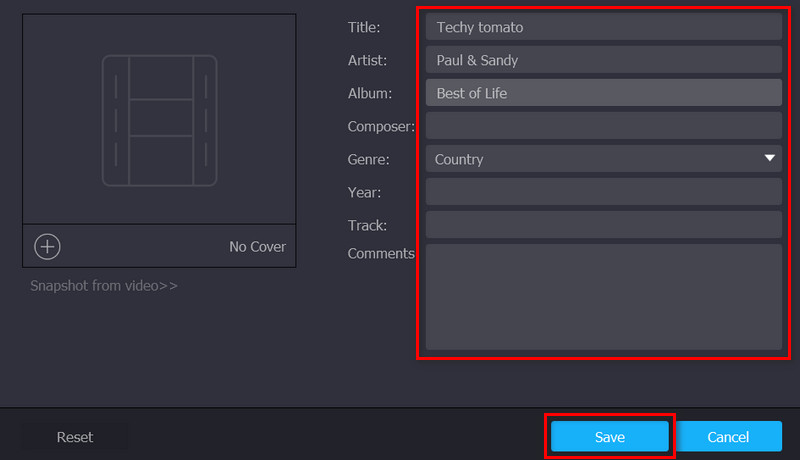 2. Metadata++
If you are looking for a lightweight yet effective and efficient tool to change MKV metadata, look no further than Metadata++. What makes it unique is that it is merely for editing metadata, making it easier for you to edit or change the properties of your MKV files, such as metadata. Furthermore, different hotkeys are available to help individuals complete their metadata editing jobs more quickly without having to continuously click the mouse. On top of that, it enables you to export metadata to various formats.
On the other hand, here is how to edit MKV metadata using this program:
Step 1. First and foremost, obtain the program from its official website and install it on your computer.
Step 2. Next, launch the program and find your target MKV file from your computer directories.
Step 3. On the right portion, you should see the metadata or properties you may edit. Double-click on the property, and a dialog box will appear.
Step 4. Then, you can add the correct information to the metadata of your MKV file.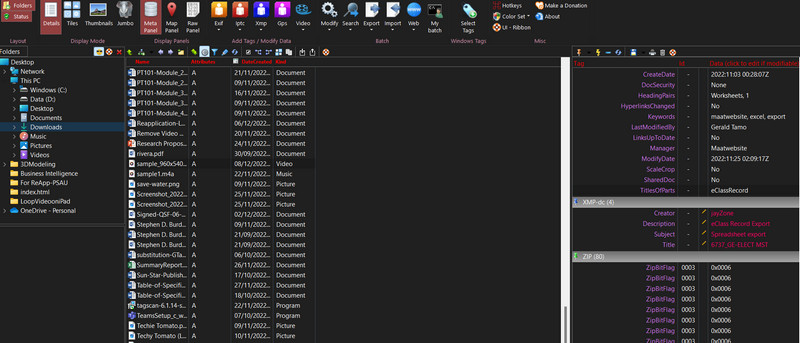 Part 2. How to Change MKV Metadata Online
If accomplishing tasks online is your thing, we also have a program prepared for you to use. The tool is called GROUPDOCS. The tool is best for viewing and exporting MKV properties. Additionally, it comes with a drag-and-drop interface for everyone's convenience. It works on all platforms based on your browsers. Likewise, it is simple to customize the search and update the tag to reflect the necessary properties. Find out how to use this MKV metadata editor for free.
Step 1. To use the tool, visit the official website of the program first using any browser on your computer.
Step 2. Then, upload your MKV File by ticking the upload icon from the page. You may also drag and drop the MKV file as you please.
Step 3. This time, customize the properties of the metadata to input the right information. Hit the Save button followed by the Download button to get the modified file.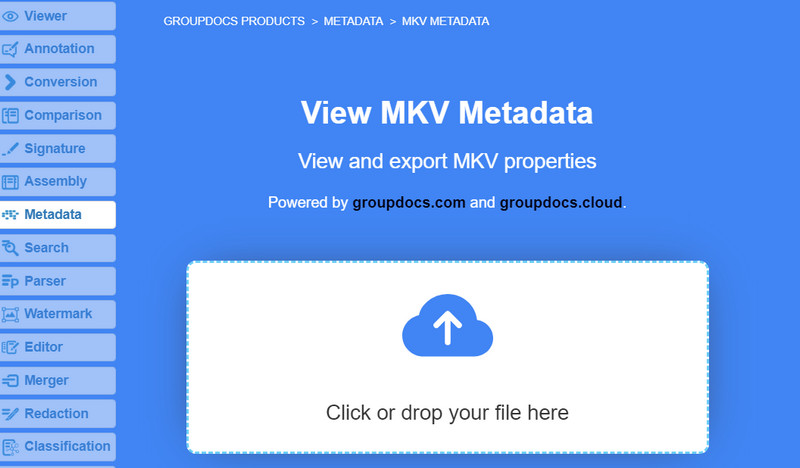 Part 3. FAQs about Changing MKV Metadata
How can I batch edit MKV metadata?
Numerous programs offer this feature where you can edit the tags of your MKV or other video files in bulk. One example of such an application is TigoTago.
Can I edit metadata on my iPhone?
Actually, you can view the metadata of pictures on your iPhone using the Photos app. On the other hand, there are applications you need to use to edit the metadata.
How can I edit metadata on Mac?
Definitely! The first application is helpful for both Windows and Mac systems. You can edit on the mentioned operating systems without any problem using Vidmore Video Converter.
Conclusion
All the programs listed above are worth MKV metadata editor programs. There are programs for each user. Whether you are an online or an offline user, you can choose the right tool for you. Still, it would be best to try which fits well with you.