Quick Tutorial to Compres Vide with VLC to Compress Large Videos
VLC Media Player is a famous and flexible media player developed by the VideoLan project. It exceeds the expectation of most users due to the myriads of functions it offers. It can help users transcode multimedia files, record screen activities, and cut or trim videos more than playing media files. On top of this, you can utilize its video size scaler to compress videos to a smaller size.
Having said that, you will not have a problem uploading videos on video sharing sites, social media sites, or any site or application that implement file size video upload limits. For your convenience, we collated the basic and several ways in using VLC to compress videos. Apart from that, this post included a great VLC compressor substitute. Read on to learn more.

Part 1. How to Compress Videos with VLC
It is mentioned earlier that VLC Media Player. Indeed, you can use it to shrink the media sizes of a video. Besides, it offers various ways to compress videos. Here are two of the most commonly used methods. Continue reading below.
Methods 1: Change the Video Bitrate to Shrink Media Size
As we know, the video comes with different parameters, and some of them affect the video size. That includes the resolution, frame rate, or bitrate. With VLC, users are given the ability to adjust the bitrate/frame rate to reduce media size. That way, you will be able to secure more disk space on your device. On the other hand, here is how to shrink media size using VLC to compress videos.
Step 1. Get the app downloaded by going to its official website.
Step 2. After that, navigate the Media option and select Convert/Save.
Step 3. Now, choose the video files you wish to compress and click on the wrench icon to configure some video parameters.
Step 4. Go to the Video Codec and look for the bitrate and frame rate options. Adjust the parameters to meet your requirements and hit Save.
Method 2: Change the Video Format
If you have a huge video, the format might be responsible for the large media size. That is the case for formats like MKV and AVI. To this end, you could convert them to smaller formats like WMV, FLV, and MP4. To assist in converting video file formats using VLC, refer to the instructions beneath
Step 1. Download and install VLC on your computer. Soon after, launch it.
Step 2. On the upper corner of the interface, click on the Media option and choose Convert/Save
Step 3. Another option will appear, allowing you to upload your target video. After that, tick on the Convert/Save button.
Step 4. From here, you will see the Profile option. Expand the drop-down arrow to see the list of available formats. Once you have selected, click on the Start button to confirm the operation.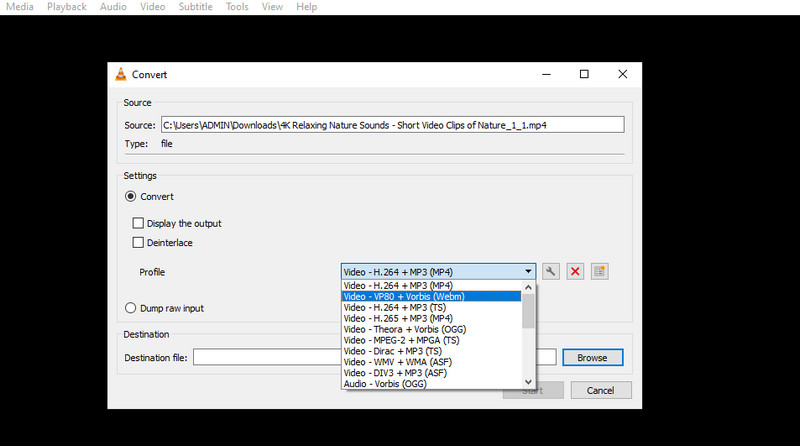 Part 2. Much Easier Ways to Compress Videos
It may seem good to work with VLC Media Player to compress videos. Still, many find it idle and complicated to use. Good thing some options can be much easier and more effective. To show you what we mean, you can look into the programs we will introduce.
1. Vidmore Video Converter
For those who wish to compress large and multiple files, perhaps Vidmore Video Converter will do the trick. It is a multi-faceted program allowing you to compress even larger videos to a smaller size. In fact, you can shrink the video size of a 300MB file to 100MB with little to no quality. Also, this app allows you to modify various parameters that affect video size, like resolution and bitrate. Moreover, it enables users to convert video/audio formats. Additionally, you are granted the ability to convert multiple files and choose the video quality you prefer. Here is a detailed step-by-step procedure to help you compress videos with a VLC alternative.
Step 1. Install and launch the program
To start, get the tool by clicking the Free Download button corresponding to your device's OS. After downloading the app, open the package and install the program by following the setup wizard. Right after, launch it on your computer. That means you can compress video with the VLC Mac alternative,
Step 2. Access the video compressor
Now, go to the Toolbox tab where the advanced functions are found. From this panel, click on the Video Compressor and upload a video by clicking the Plus sign button. Locate and upload your chosen video afterward.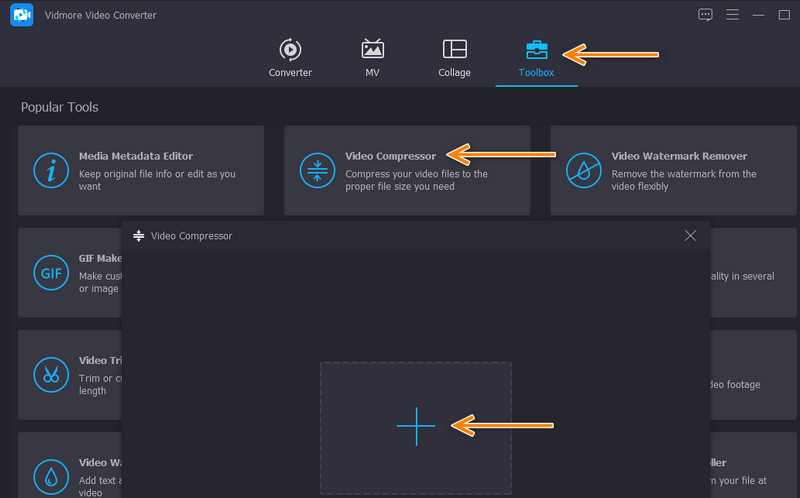 Step 3. Compress the video
The compression settings will appear after uploading a file. Move the slider to compress the file. On the other hand, you can modify other parameters like resolution and output format to reduce the file size. Then, you can check the size from the Properties option and play the video.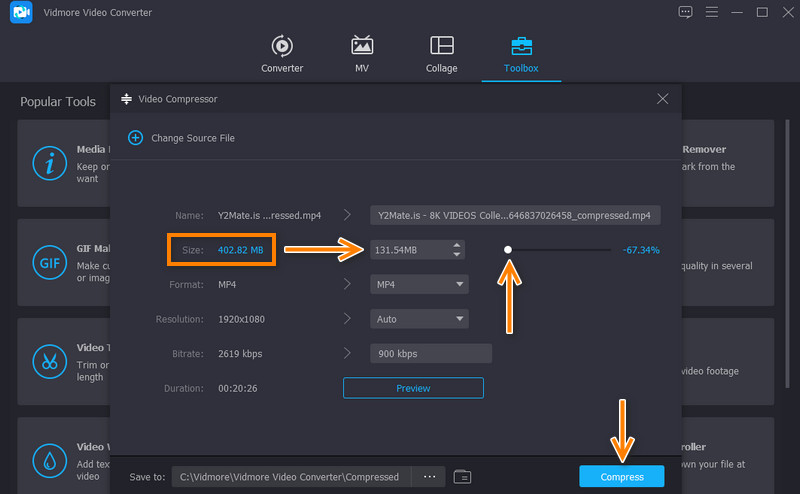 2. Vidmore Free Video Compressor Online
If you only intend to compress a handful of videos, you better accomplish it with Vidmore Free Compressor Online. The program runs on any browser, and it is free. Also, it can compress many video formats from your local drive. Best of all, the tool is equipped with smart output settings. One of the things you can modify is the output format. You can choose from MP4, FLV, M4V, AVI, WebM, TS, VOB, etc. Compress videos using this online program by following the guide below.
Step 1. First, visit the official website of Vidmore Free Video Compressor Online using any browser you prefer.
Step 2. Hit the Compress Now button from the main page and import the video you like to compress.

Step 3. Once the video is uploaded, a new window will show up. From this window, you will be able to alter the compression settings.
Step 4. Move the toggle button to meet your desired media size. Then, change the video resolution and format. Finally, click the Compress button to commence the compression process.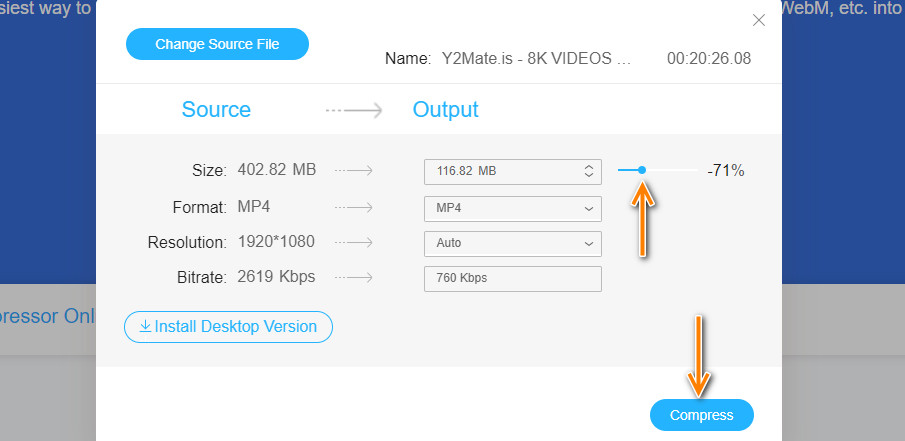 Part 3. FAQs on Compressing Videos with VLC
Can VLC compress videos on Mac?
Yes. VLC is compatible with Mac and Windows. You can follow the procedure above to help you compress in Mac using VLC. Also, this tool can be used on your mobile devices.
How to compress a video without losing quality in VLC?
Aside from changing video bitrate and converting files, you can use VLC to cut videos. That is the only way for you to compress or reduce the video files without losing their quality.
Is it possible to compress 1GB to 10MB?
Yes. However, the quality may be compromised. In compression, you will need to reduce the size by lowering the bitrate. Lower bitrate may result in lower quality of the video.
Conclusion
Considering the upload file size limit on different websites or your device's disk space, you may want to compress videos. One of the programs you can use is VLC. Aside from streaming audio and video files, you can compress videos in VLC in different ways, as shown above. On the other hand, you may use the latter options if you find the VLC idle and complex.