How can VLC Media Player Rotate Video and Helpful Alternatives to Use
VLC is one of the most renowned media players that almost every device utilizes. It caters to various platforms including Windows, Mac, Linux/GNU, Android, and iOS. Also, it works perfectly on the said platforms without experiencing any problem when playing media content. But it's more than just a media player. You can also use VLC to rotate and flip video clips.
Therefore, if the video you have downloaded is playing sideways or upside down, you don't need to install special software to correct the orientation of the video. That's what this post is written for. Here we will demonstrate how you can achieve VLC rotate video and save it consequently. For a detailed walkthrough, you may take the following instructional guide.

Part 1. How to Rotate and Flip a Video in VLC on Windows and Mac
As mentioned, VLC works on both Windows and Mac computers. So no matter the OS your PC is running you can exploit the features offered including the video rotating capability by the VLC media player. That said, you might be wondering how this is done for each platform. Continue reading to learn how VLC players rotate videos on Mac and Windows.
Rotate Videos on Windows Using VLC
To play the videos in VLC in the right orientation, you can use the guide below to learn how this is done for Windows users.
Step 1. Download and install VLC on your Windows computer and make sure to follow the setup wizard to properly install the program. Afterward, launch it.
Step 2. Now that the tool is installed, you can then upload a video that you want to rotate or flip in VLC. Go to Media > Open File and select your target video from the file explorer.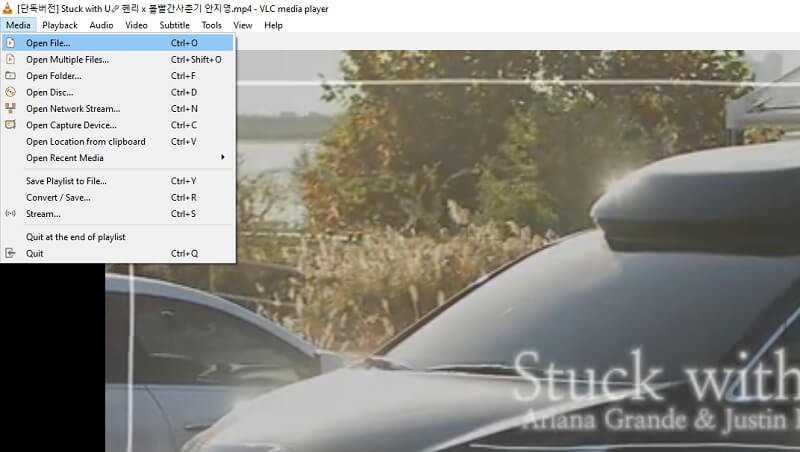 Step 3. Once the video is loaded, click the Tools tab from the toolbar and navigate to Effects and Filters > Video Effects > Geometry. Then you should see various playback options.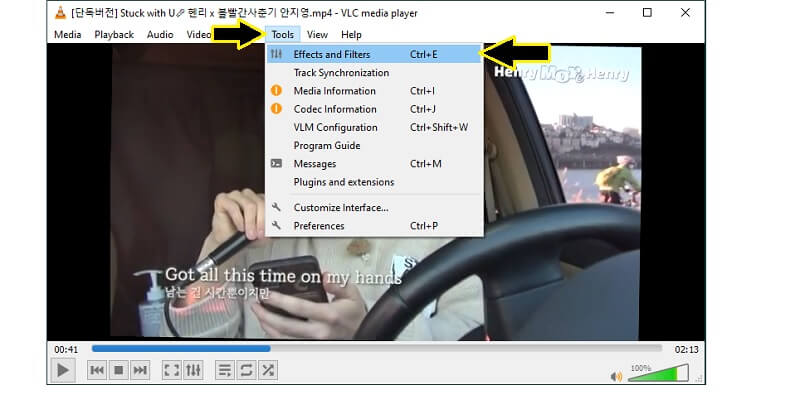 Step 4. Now tick the Rotate checkbox and the rotate function will be made available. Now move the circular icon below the Transform option. You can rotate the video either clockwise or counterclockwise and at any angle you selected. Then it should display the right orientation for the video you are playing in VLC Media Player.
Rotate Videos on Mac Using VLC
If you are using a Mac computer and need to rotate videos with the help of VLC app, you can do so by following the steps of VLC on how to rotate a video below.
Step 1. Run the VLC Media Player on your Mac and play a video by going to File > Open File. It should open your file explorer where you can locate the video you are trying to rotate.
Step 2. Next, navigate to Window > Video Filters > Video Effects to access the effects menu of VLC player.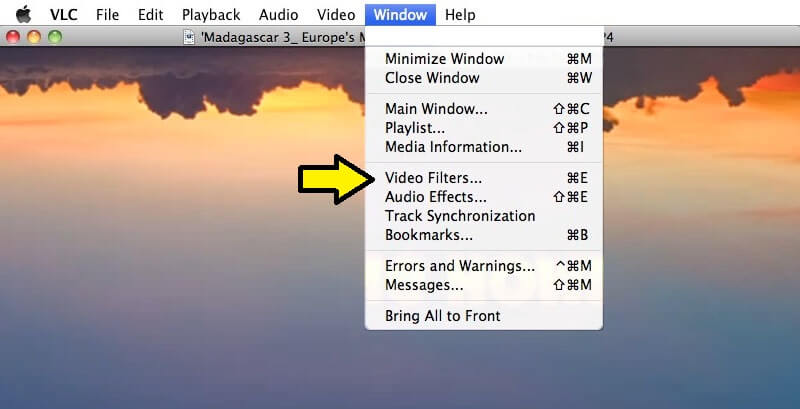 Step 3. Click the checkbox for Transform to access the option for Rotate. Now click the drop-down menu and select among the options. With it, videos can be rotated by 90 degrees, 180 degrees, and 270 degrees clockwise. After selecting an option, it should instantly reflect the changes you made.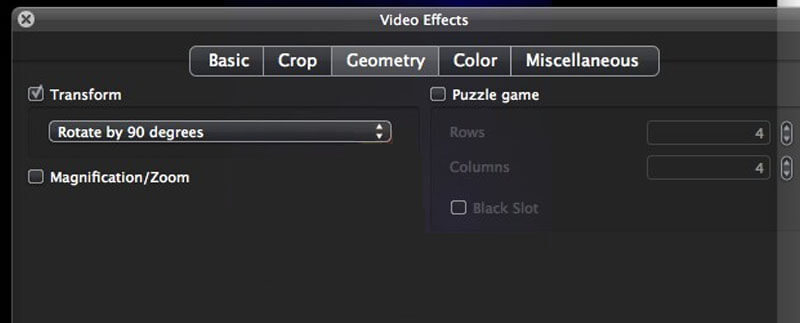 Part 2. How to Save Your Rotated Video
True enough, you were able to rotate the video on VLC. However, this filter or effect will remain in place when using a VLC player. The video clips won't play with the same projection in other media players. We prepared a guide to help you save the orientation applied to the video permanently to address this issue. The only drawback is that this feature is only applicable for Windows computers. Learn how a VLC player flips video and saves it permanently by reading the steps below.
Step 1. To save the video rotation permanently, make sure that the video is loaded into the program. Click the Tools tab and then select the Preferences option or press Ctrl + P.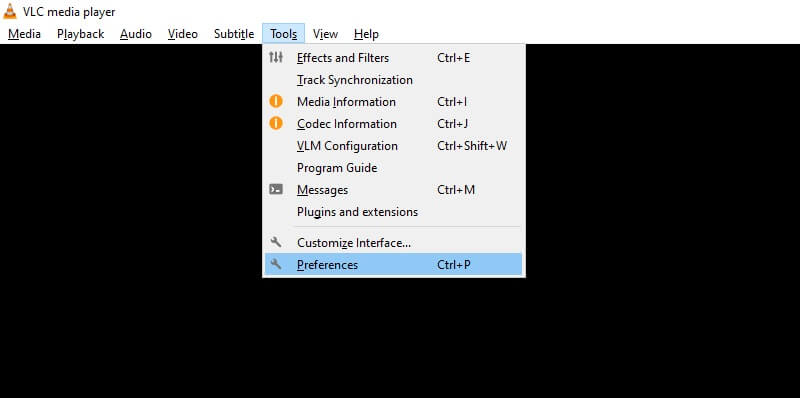 Step 2. From the Simple Preferences window panel, tick the radio button for All to have access to advanced settings.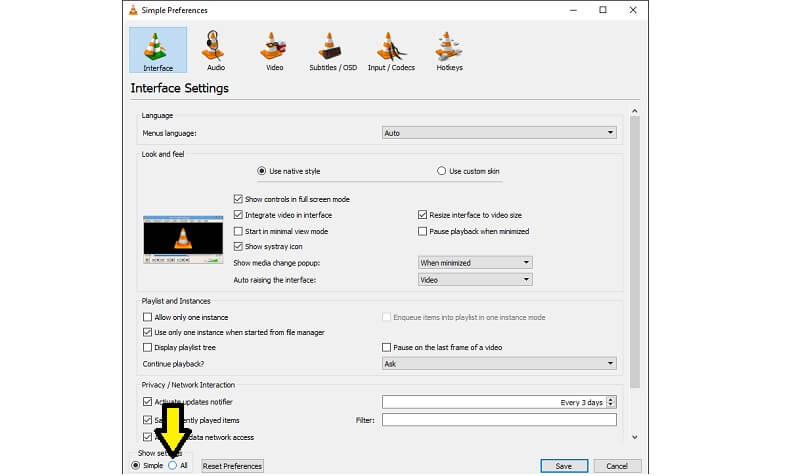 Step 3. On the left-side panel, look for the Video option and unfold the drop-down option. Now click the Filters menu and put a checkmark on the Video transformation filter checkbox.
Step 4. Finally, hit the Save button at the bottom of the interface so the changes will remain in place even if you play the video on other media players.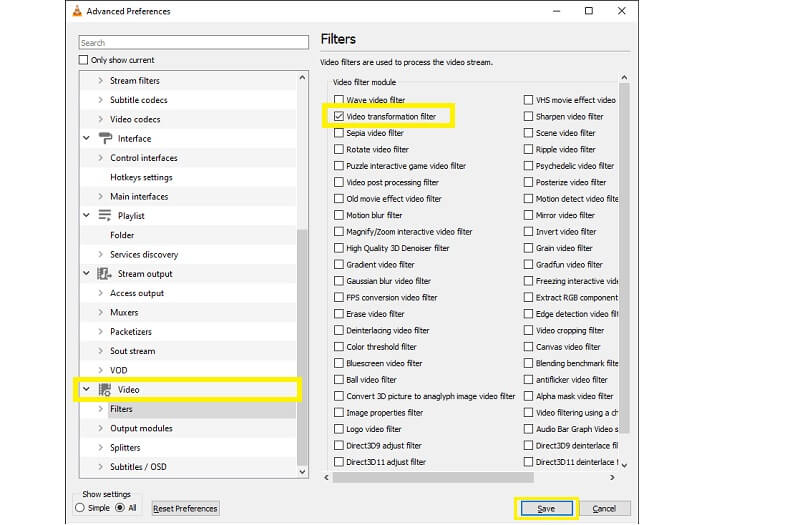 Part 3. Alternative Ways to Rotate/Flip Videos
1. Vidmore Video Converter
When looking for a permanent solution to rotate your videos and have the freedom to play it on other media players with the same orientation, Vidmore Video Converter is the right tool for you. It provides users with useful editing features for various kinds of video editing needs. This works for rotating a video clockwise and counterclockwise in just a click. Additionally, you can flip videos that are upside down or sideways to correct the orientation. To learn how to flip video in VLC player permanently using this notable alternative, you can check the following instructions.
Step 1. Install Vidmore Video Converter
Click the respective Free Download button for your computer OS to acquire and install the program. Run the tool afterwards.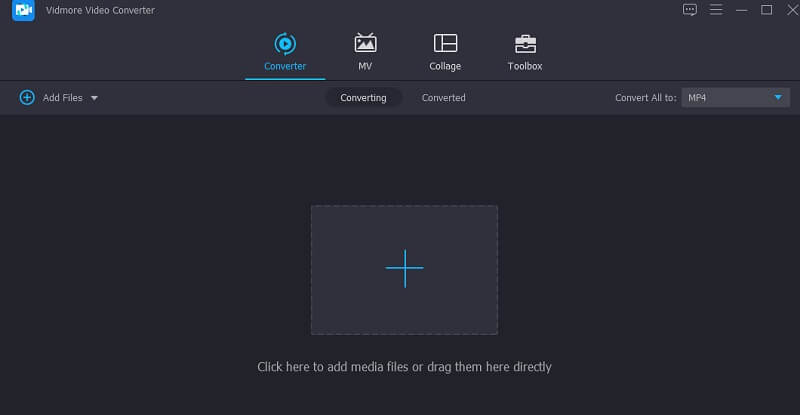 Step 2. Load a video file(s)
Click the Plus sign and select a video file from your local folder which you want to flip permanently. You can add more video clips by clicking the Add Files button.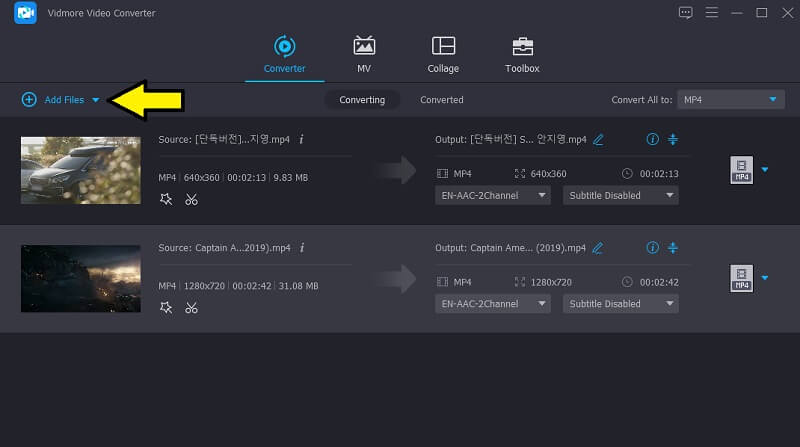 Step 3. Flip the clip
Click the icon of Edit to start editing the video. Then it will take you to the editing panel of the tool where you can utilize various editing tools. From the Rotate & Crop tab, click the Left Rotate or Right Rotate button to change the direction of your video then press the OK button to confirm the configurations you made.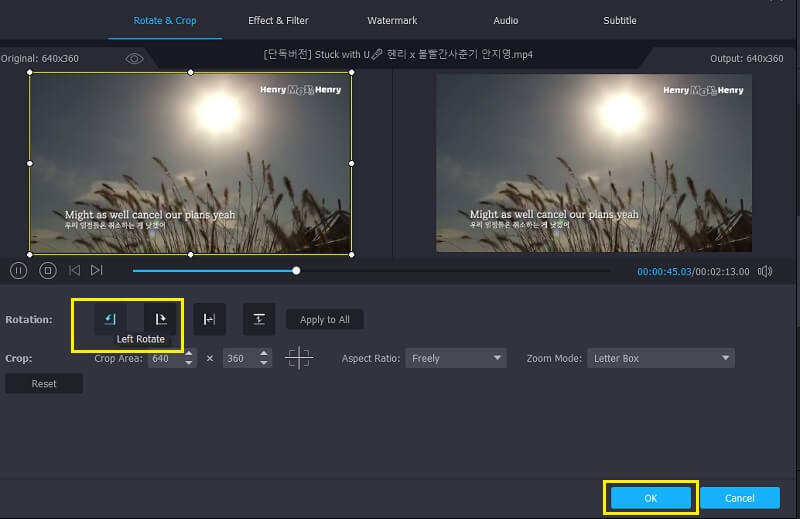 Step 4. Export the file
Once all modification is done, resume to the main interface and go to the Profile section to select an output format. Press Convert All to process the file and preview it from the folder that will show up.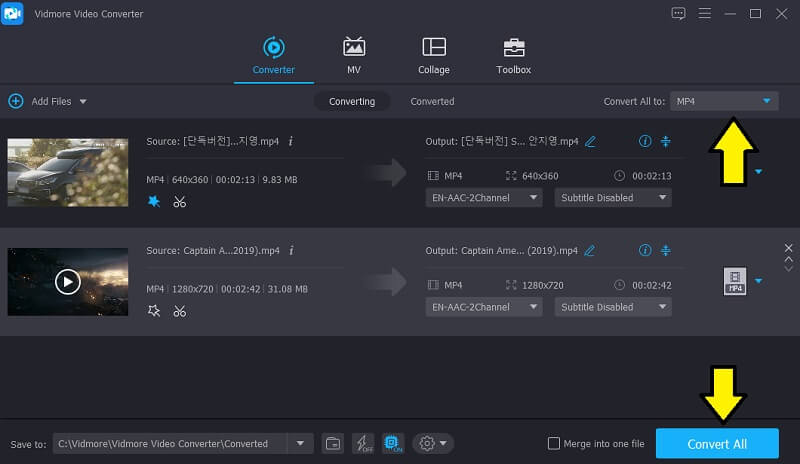 2. Kapwing
Kapwing is a simple video editor that allows you to edit your media content online. The tool comes with an intuitive interface that allows you to grasp and easily do your video editing jobs. With it, you can flip videos, accelerate and slow down video speed, add visual effects, and many others. To see how this tool works, you can check the following.
Step 1. Launch Kapwing on your web browser.
Step 2. Click the Start editing button from the main page.
Step 3. Press the Click to upload button to import a video from your local folder.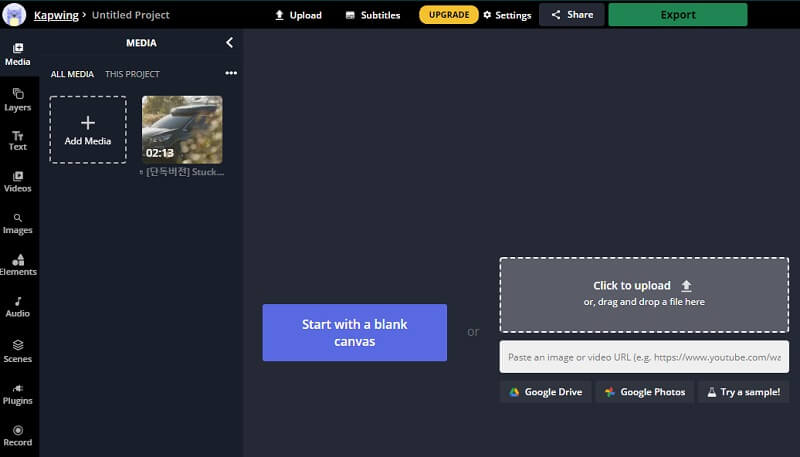 Step 4. You can click the Rotate button to move the video sideways or use the Rotate icon attached to the video on the right-side menu. Finally, click the Export Video button at the top menu to save the video file.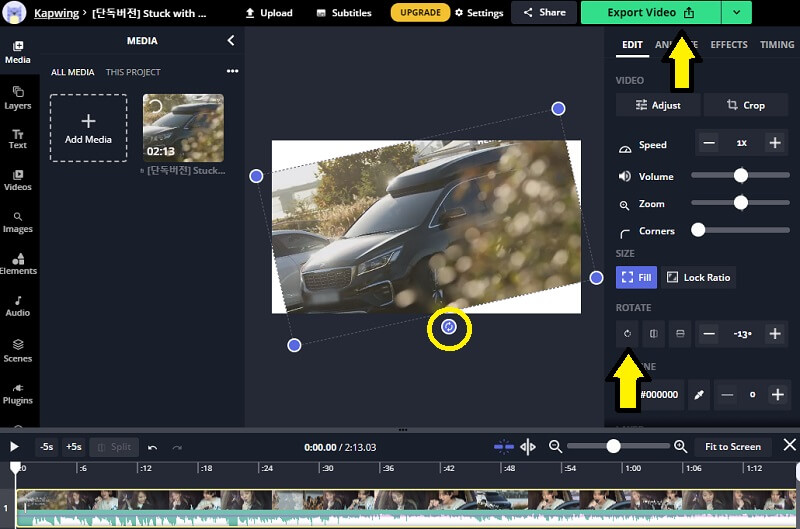 3. Ezgif
In case you want to learn VLC Android rotate video for free, you can rely on Ezgif to help you get this job done. This tool runs smoothly on almost all web browsers including mobile.
Moreover, it is a convenient way to export video to GIF offering support to input formats but not limited to MP4, AVI, and WebM. Well then, let's proceed to the guide as follows.
Step 1. Go to the official page of Ezgif.
Step 2. Click on the Video to GIF option and choose the Rotate video tab.
Step 3. Then click the Choose File button to load a video file. Next, click Upload video! to start processing the video.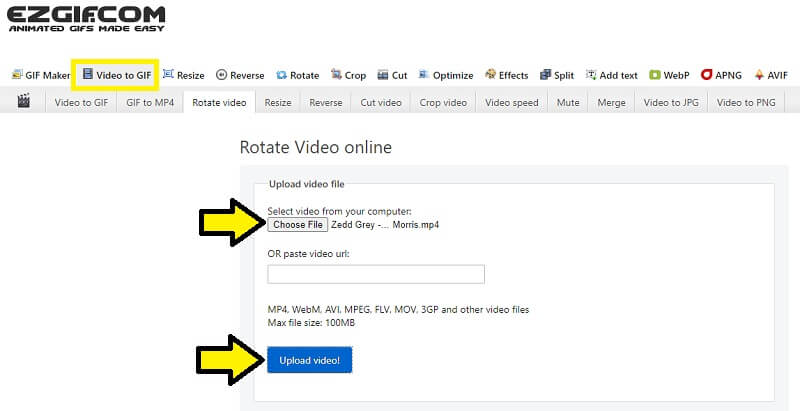 Step 4. There are checkboxes that you can tick according to the rotate angle of your choice. Once decided, put a mark on the checkbox and click the Rotate video! underneath and wait for the preview to come out.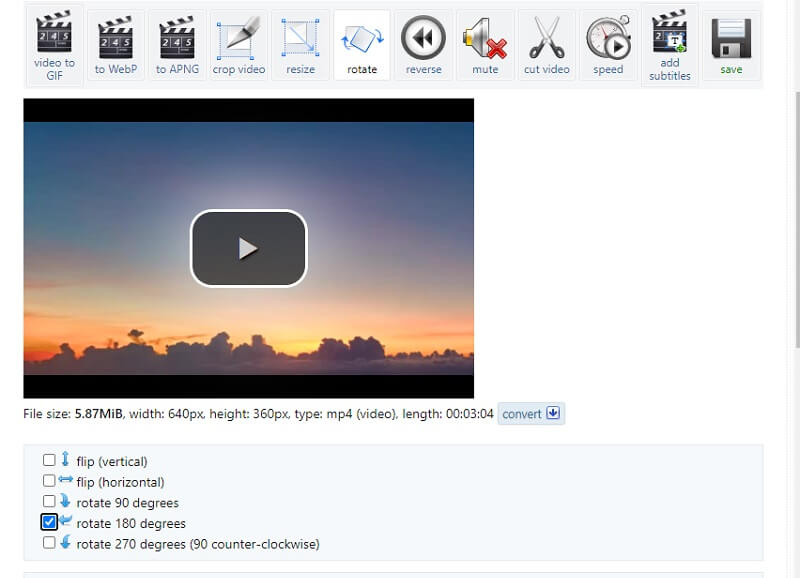 Step 5. Click the Save button if you are happy with the results.
Part 4. FAQ of Rotating Videos on VLC
How do I rotate a video in the VLC media player permanently?
This is possible. Though you may need to tweak some configurations on VLC Media Player. You can follow the steps discussed above for saving the rotated video permanently. Yet if you want an easy and simple way to do this, you can turn to Vidmore Video Converter which permanently saves the changes you made on the video.
How to flip a video on VLC media player?
VLC does not only allow you to rotate videos but you can also use it to flip videos horizontally or vertically. To do this, go to Tools > Effects and Filters > Video Effects > Geometry. Then put a checkmark on the Transform checkbox and click on the drop-down menu. From here, you will be able to access the rotate and flip functions.
Can I rotate videos on Mac/Windows without using a third-party app?
Yes. There are pre-installed video editors on both OS that will enable you to rotate videos left and right. On Windows, you may use Video Editor while on Mac, QuickTime Player is your solution to rotate videos without using third-party software.
Conclusion
Discussed in this post is how VLC rotate video works for both Mac and Windows. There are also online alternatives in case you want to rotate videos without installing additional apps. Looking closely at each tool, it is recommended to use Vidmore Video Converter which allows you to rotate videos and save the effect permanently. There are also advanced functions compared to online and similar programs.