How to Crop Video in Windows Movie Maker [Complete Tutorial]
There are many people who are looking for answers to your question if Windows Movie Maker crops video. It is why, once and for all, we will provide you with the best answer to this matter. Our main mission for constructing this article is to enlighten you with the truth behind the capabilities of Windows Movie Maker. Hence, after reading this post, you will gain enough knowledge on the right and efficient way of cropping your videos using your Windows-based desktop. So, without further adieu, let us already get to our main agenda and continue to read the content below.

Part 1. The Best Way to Crop Videos without Windows Movie Maker
Before we learn how to crop video in Windows Movie Maker, we want to provide you with the best tool to use in the absence of WMM. Folks, make way for Vidmore Video Converter, an ultimate software that offers numerous video editing tools, including the video cropper. We ensure that you will be amazed at how powerful yet simple its cropping method is. It allows you to crop your video straightforwardly, making you rid of the unwanted parts of your videos freely and standardly. Yes, the cropping tool will let you crop your video via a dragging procedure and by entering a standardized size for cropping. What is more impressive is that Vidmore Video Converter allows you to crop multiple videos at once and apply the cropping changes to all your uploaded videos.
In addition, if you also have this how to zoom in a video on Windows Movie Maker question in mind, you will be glad to know that the zoom mode is also part of the presets of Vidmore Video Converter. Notable, isn't it? What is more remarkable is the other features and tools added to its toolbox, like the video enhancer, 3D maker, video watermark, watermark remover, color corrector, merger, speed controller, and many more. On top of that, it can also be your powerful moviemaker to make your own movies. Therefore, acquiring this software in the absence of Windows Movie Maker is such a treasure. On this note, add to your excitement by watching the complete tutorial on using this great tool to crop your videos.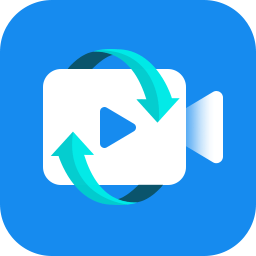 Vidmore Video Converter
The best alternative movie maker and video cropper of Window Movie Maker.
It best suits Windows desktops and MacBooks.
Many powerful tools and features to utilize.
AI technology and Hardware acceleration are empowering..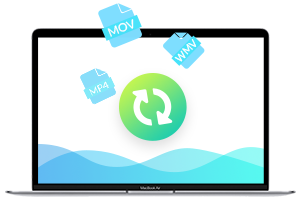 How to Crop Video in Windows Movie Maker's Alternative
Step 1. Access the Video Cropper
First and foremost, you need to download and install this software on your desktop by hitting the download buttons presented above. Launch the software after installing it and begin to access the Video Cropper tool when you click the Toolbox menu. Then, on the new window, just simply click the Plus button to select the video you want to crop.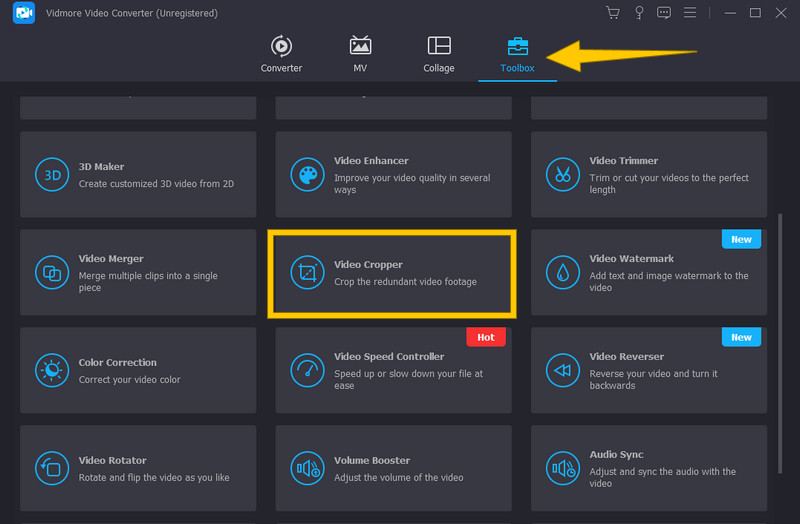 Step 2. Start Cropping the Video
After uploading the video, you may begin to crop it. You may start cropping the video by dragging the yellow cropping bar that you can see on the video in the timeline. Also, you can navigate the Aspect Ratio and the Crop Area according to your preferences.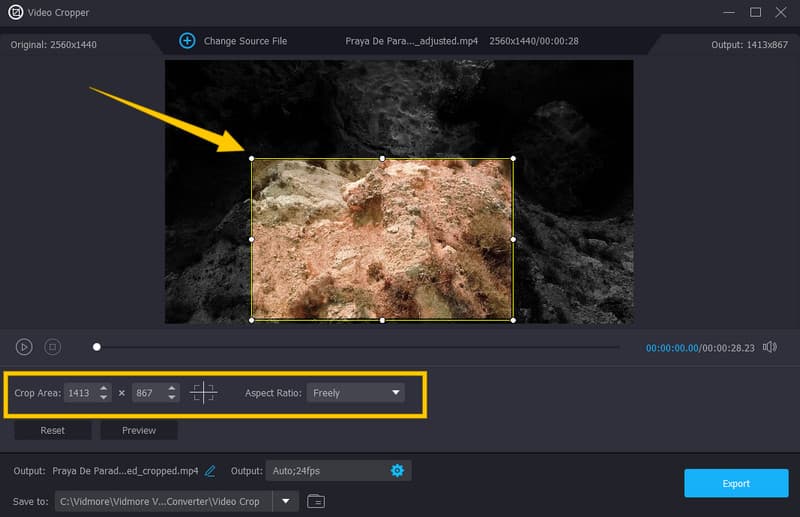 Step 3. Access the Output Settings
When you finally achieve your desired crop, you can optimize the other presets for your output. To do so, click the Coggle symbol in the Output section. Then, on the popped-up window, start tweaking the output setting according to your wants. Apply the changes by hitting the OK tab.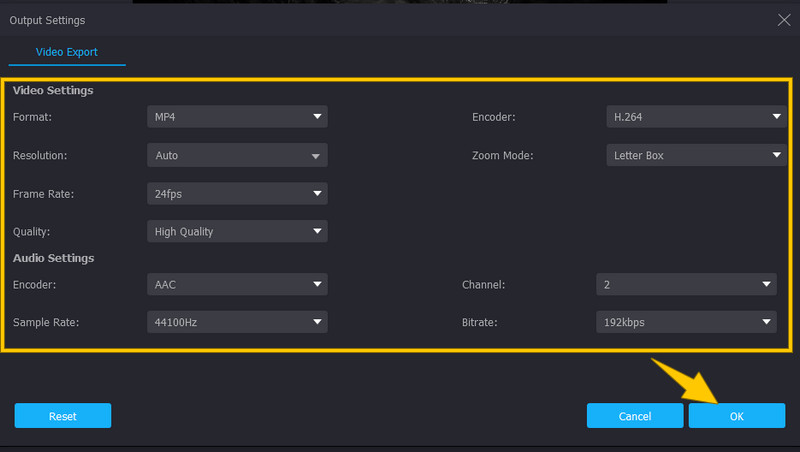 Step 4. Pre-destine the Output
After that, select a destination folder for your output by hitting the drop-down button from the Save To section. Then, click the Browse and Select Folder option and choose your preferred folder.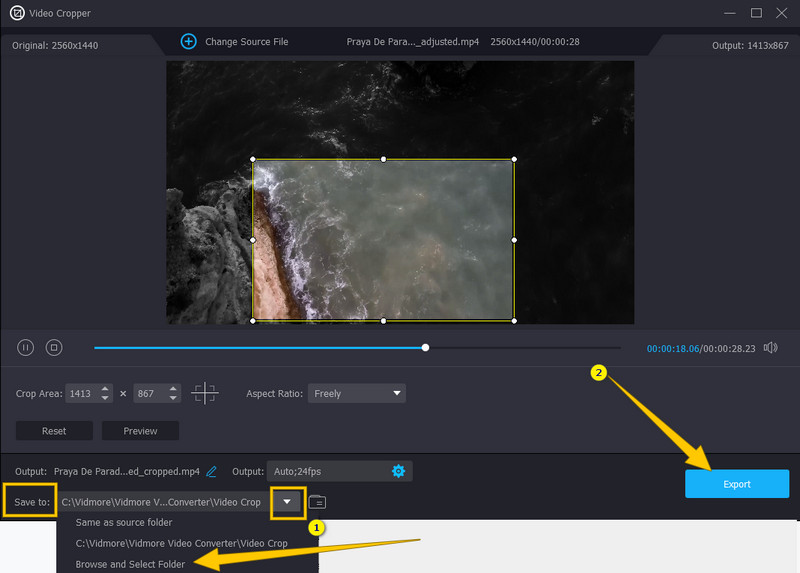 Step 5. Export the Cropped Video
Finally, you can now hit the Export button and enjoy watching your cropped video after a couple of seconds for the exportation process.
Part 2. How to Crop Videos Using Windows Movie Maker
To answer your question of can Windows Movie Maker crop videos, you must know now that there is no cropping option to locate on this tool. However, there are other ways you can use Windows Movie Maker to crop your video's frame size somehow, and that is through its zoom animation. This may not surprise you since this software was discontinued a decade ago. Therefore, its features now are just the original features and tools that got developed when it was still rising. Nevertheless, there are still many essential functions that you can enjoy with Windows Movie Maker, such as its capability to take snapshots of a project video and publish videos to various social media platforms, including Facebook, Vimeo, Flicker, etc. And not to mention, its good ability to play media files for it has a built-in media player. However, to stick with our agenda, let us now see the instructions below.
How to Zoom in a Video on Windows Movie Maker
Step 1. Launch the Windows Movie Maker on your Windows 7, 8, and 8.1 desktops. Then, import your video by clicking Add Video and Photos on top of the preview.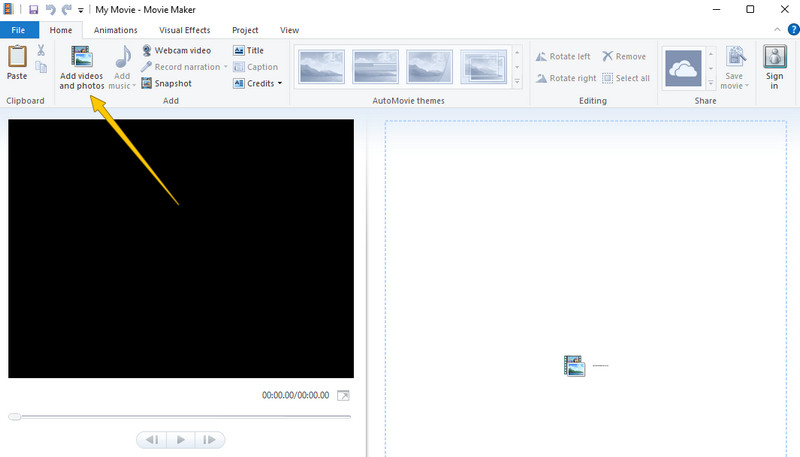 Step 2. When the video is uploaded, go to the Animations tab and click it. Then, select your desired option from the Pan and Zoom selection. By applying this effect, you can get rid of unwanted frames from your video.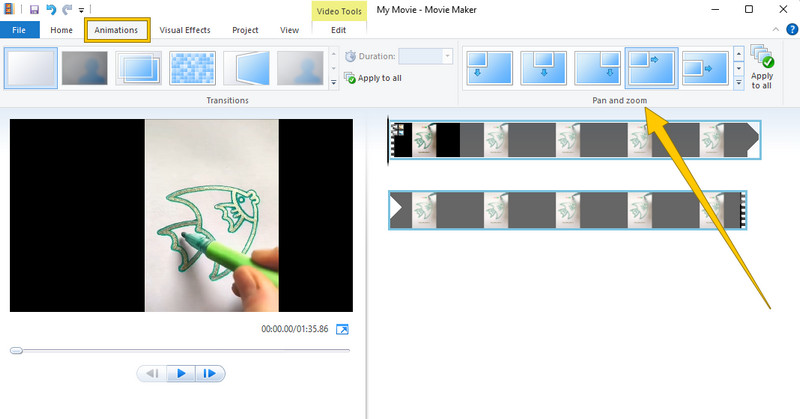 Step 3. After that, you can already save your video. How? Go and hit the File menu, and select the Save Project selection.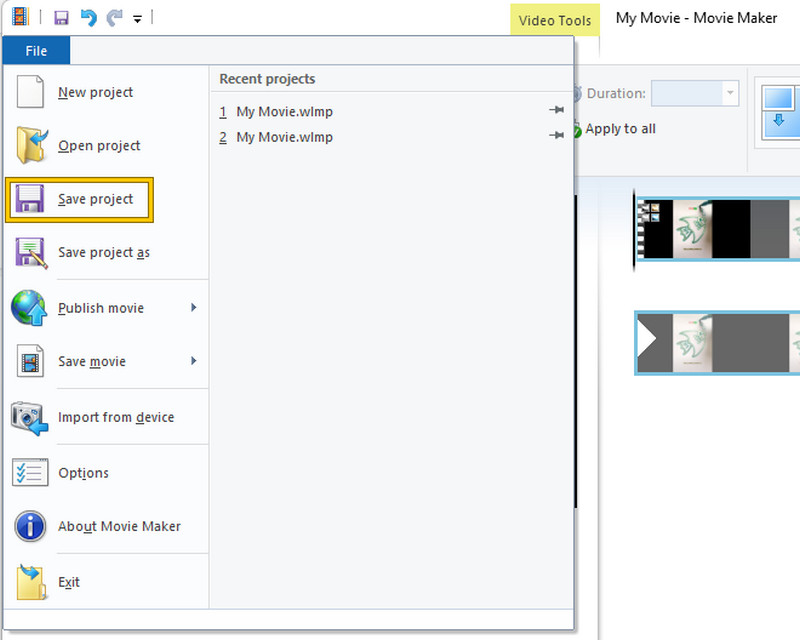 Part 3. FAQs about Cropping Videos Using Windows Movie Maker
Can I crop my video on Windows Media Player instead?
No. The Windows Media Player is also not a video editor like the Windows Movie Maker. This, too, is not capable of cropping your videos.
Can the Windows Movie Maker custom aspect ratio?
No. Windows Movie Maker cannot customize the aspect ratio of your video. However, it allows you to watch your project in a widescreen (16:9) and standard (4:3) aspect ratios.
How can I crop my video on my Windows desktop without installing software?
Unfortunately, you need the help of third-party software to crop your videos using your desktop. Therefore, to succeed in a nice cropping process, you will need nice and powerful video editing software like Vidmore Video Converter.
Conclusion
There you have it, the answer to your question of can Windows Movie Maker crop videos. Windows Movie Maker could have been an excellent built-in software if it had only continued development. Hence, you can still be glad that we provided you with the best alternative, the Vidmore Video Converter, to meet all your expectations on video cropping and other video editing tasks.