The Ultimate Guide to Cut Out Clips in After Effects
If you have a video piece and want to know how to trim paths in After Effects, all you have to do is continue reading below. Since After Effects is not in line with those video editors you can use, you can still cut out parts that you don't want on your clip utilizing this program. Please focus on the three easy steps we will provide below. And to add up, you can also see the most alternative video cutter for Windows and Mac devices.

Part 1. How to Cut a Clip in After Effects
You can read the following section to understand the After Effects program more. Adobe After Effects is a software application for creating computer animation and digital effects that you may use in video production, online content creation, and presentations. It was initially developed by Adobe and is still in development today. It is mainly utilized in developing visual effects, animations, and video combining, among other applications. The After Effects is a software program that you can use on both Mac and Windows devices. A fantastic tool for filmmakers, this program is a must-have. The software is considered to be one of the finest commercially available.
Pros:
It is capable of handling any form of complicated editing.
It can include additional extensions into this program in line with project needs.
You may animate title, text, and object with relative ease.
Cons:
Because the scroll bar at the bottom of the timeline has been removed in the most recent version of Adobe AE, it is challenging to remain zoomed in and navigate through a project slowly.
It doesn't have a mobile version app.
Steps on How to Cut a Clip in After Effects
Step 1: To begin, drag your clip into the timeline and then pick it from the Layers panel in the Effects panel. After that, duplicate your layer by hitting the Ctrl + D keys on your computer's keyboard.
Step 2: After that, position the movie film to the beginning of the part you want to remove. Then, use Ctrl + ] to choose the bottom of the two layers. The next step is to set the movie film after the segment you want to delete and select the two layers.
Step 3: Finally, use Ctrl + [ to remove the beginning on your keyboard. Then drag the higher layer along the timeline until it intersects with the first, and the trimming of the segment is complete.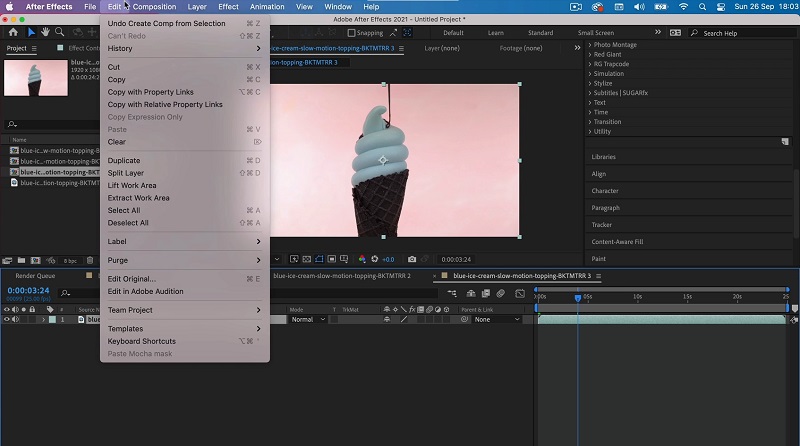 Part 2. Best Alternative to Cut a Clip Quickly
Since we know that After Effects is not capable of doing many simple editing tasks such as cropping, cutting, and trimming a video in a matter of seconds, we may turn to Vidmore Video Converter. It is the most highly recommended program for editing and cutting video clips from your movies. If you wish to remove undesirable chunks from your video files, this is a very professional tool that can help you do it rapidly. Because of the program's user-friendly design, it is doubtful that you will encounter any issues when navigating through its interface. You can operate this multi-featured on both Mac and Windows operating systems with no problems. It also means that you will have no trouble uploading and exporting your media files here since it supports practically all of the most famous music and video file types now available on the internet. Following the steps outlined below, you should be able to begin trimming your video recordings immediately.
Pros:
It is capable of supporting more than 200 audio and video file types.
It is pretty easy to use, making it an excellent choice for novice folks in editing.
There is no interruption in service even if there is a problem with the internet connection.
Cons:
You can't find this tool on the App Store or Play Store.
Step 1: Acquire the After Effects Alternative
Please choose one of the Download icons listed at the bottom of the page to begin installing the file cutter application on your computer and getting it running. After the installation procedure has been finished successfully on your device, you will access the software.
Step 2: Add Video Clips
You will find the Add Files button in the top left corner of the screen, and clicking on it will enable you to begin uploading files from your Folder instantly after clicking on it. Additionally, you may easily submit your files by choosing the Plus button, which is placed in the window's center interface, and clicking on it to offer them.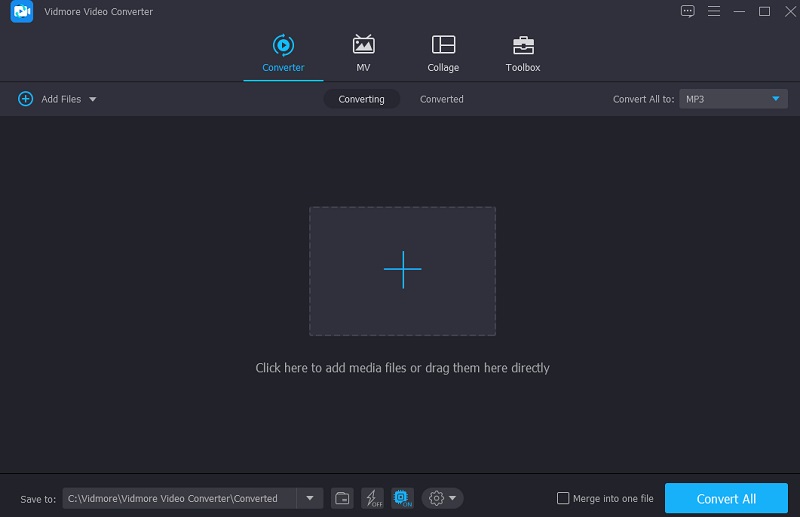 Step 3: Cut the Video Clip
After you've loaded the videos, you may cut them by selecting the Scissors symbol from the menu on the left. To begin, move the left and right sliders to the left and right of the screen, respectively. Additionally, you may manually input the start and finish timings. Then, click Save in the bottom right corner if you're satisfied with your modification.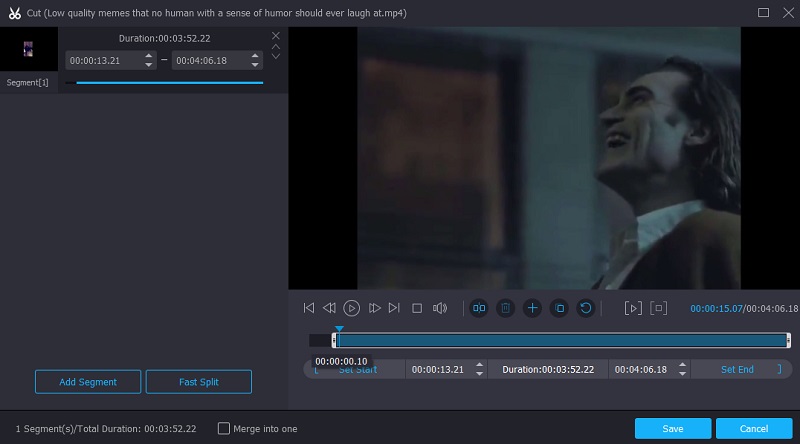 Step 4: Start the Conversion Process
Once you've completed all the steps indicated, click the Convert All button in the bottom right-hand corner of the page to make all the changes to your file permanent.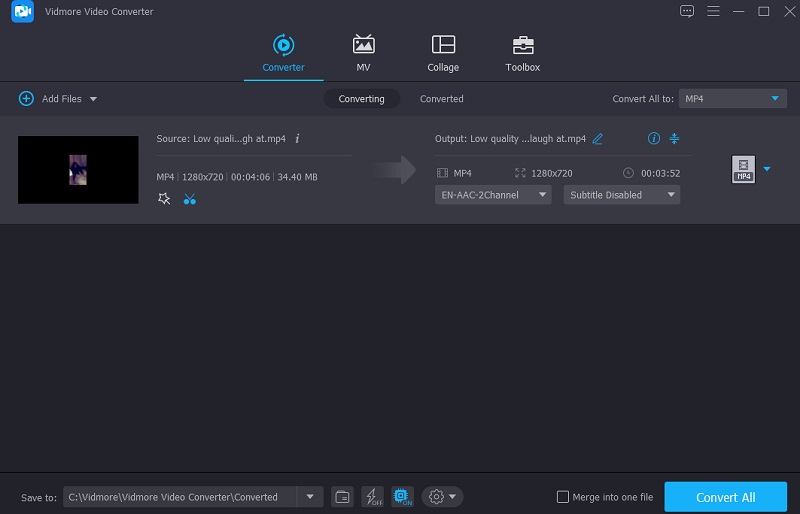 Part 3. Comparison Between After Effects and Vidmore Video Converter
A clear illustration of the similarities and differences between Adobe After Effects and Vidmore Video Converter, a popular alternative to Adobe After Effects, can be seen here.
Features

Support Both Mac and Windows

Supports basic editing tools

Great for beginners
| | |
| --- | --- |
| Adobe After Effects | Vidmore Video Converter |
| | |
| | |
| | |
Part 4. FAQs About Cutting a Clip in After Effects
Is there a free online alternative to After Effects that I can use to trim my videos?
Yes! There are a variety of video cutters available online, such as Clideo and 123 Apps, that you may utilize.
What is the best way to divide video in After Effects?
If you are using a computer, the best thing you can do is hit the CTRL + SHIFT + D keys together. Next, press CMD + SHIFT + D to open the document if you are using a Mac. The film will be divided into two layers at the point you have picked.
Does Adobe After Effects support MKV video?
Some media players and video editors do not accept MKV files since they are not an industry-standard file format. Adobe After Effects is one of these apps that does not support MKV files.
Conclusion
There you have it! Now that you know how to cut a clip in After Effects, you will have difficulty navigating this tool anymore. All you have to do is pay attention to the step-by-step procedure given. On the other hand, since After Effects is not really for beginners and doesn't support essential editing tools, we suggest that you go to the alternative tool, which is the Vidmore Video Converter.