How to Trim a Video on Snapchat: Fastest and Easiest Way
Another app that is being famous nowadays is the Snapchat app. Snapchat is a phone app you can install on iPhone and Android. Snapchat was primarily centered on personal, individual picture sharing. Still, you can now have it for various things, including sending videos and streaming video conferencing. On the other hand, if you recorded a video and you want to know how to cut a video on Snapchat, you can use this article as a reference.

Part 1. How to Cut a Video on Snapchat
Here is a simple and easiest way to trim a Snapchat video.
Step 1: Access Snapchat and record a video with your camera or import one from your camera roll or snap library by pressing on the screen icon.
Step 2: Once you are finished taking a video, you can now trim it by tapping the clip on the lower part of the screen. Then, move the slider on the part where you want to trim the video.
Step 3: If you are okay with the result of your trimmed video on Snapchat, you can now click the Save icon below and check the final output on your Camera Roll.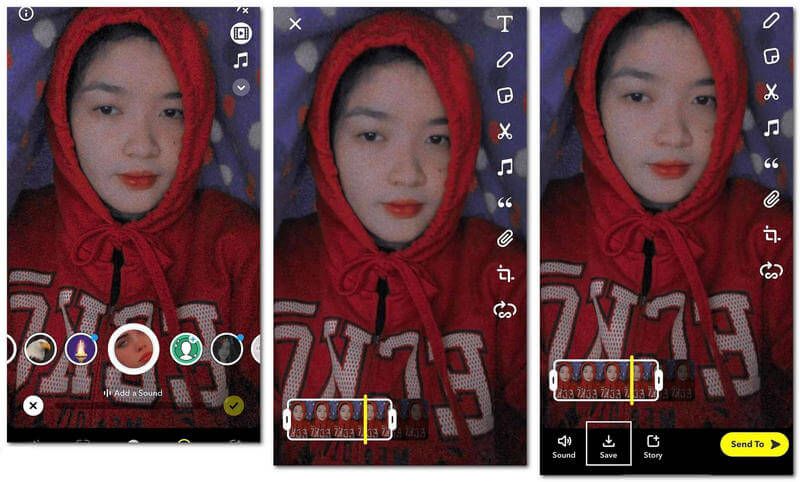 Part 2. Best Alternatives to Cut a Video for Snapchat
In this portion, we will present the other ways to trim a Snapchat video. See which one is more convenient.
1. Vidmore Video Converter
Vidmore Video Converter is worth a try if you've captured a video on Snapchat and want to cut it on your Windows or Mac device. Due to its versatility, this item is a must-have when exploring with your device. Vidmore works on both Mac and Windows-based computers. As a consequence, they will work flawlessly with both devices. What's more remarkable is its capacity to transform any user into an instant editor, owing to its intuitive editing tools.
Additionally, you will be able to convert any kind of content, including videos, images, and audio clips, to any format. Numerous people are attracted to Vidmore due to its ability to adapt to video files being played on the computer. If you're wondering how to trim a Snapchat video using this user-friendly program, the methods are below.
Step 1: Download the Video Cutter for Snapchat
You may install the software by choosing the appropriate Download option from the list below. Before the software works properly on your computer, you must first install a launcher.
Step 2: Add the Video Clip You Want to Trim
When you click on the Add Files button on the upper left side of the screen, the process of adding video material for editing begins. Or, you may press the Plus symbol in the middle of the screen.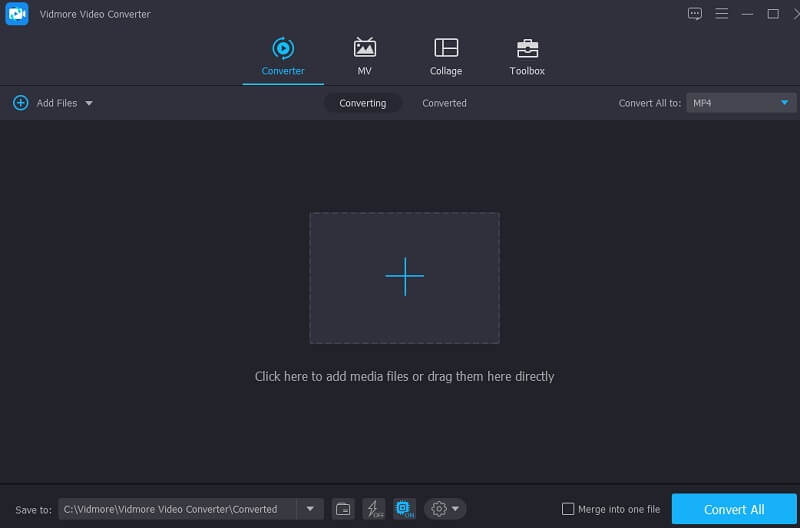 Step 3: Proceed to Trimming Section
To access the video's cutting area, tap on the Scissors icon below the video. You may see the cutting tools in the new window after clicking on the symbol. Next, you'll need to set your video clip's start and end times. To save your work and dismiss the window, click the Save button.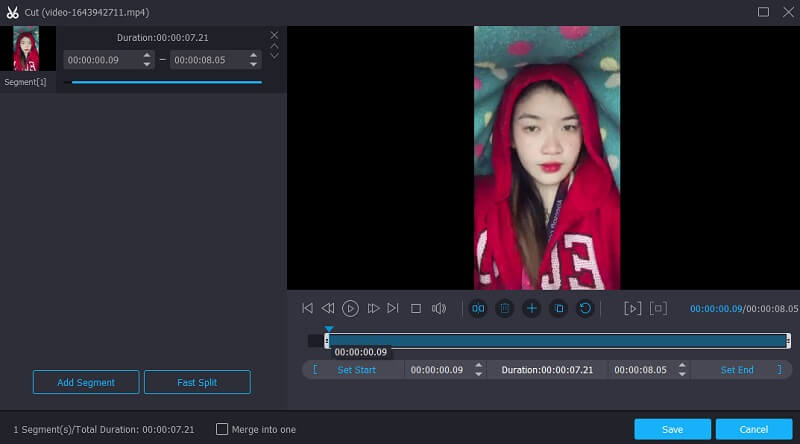 Step 4: Save the Trimmed Snapchat Video
Once you're pleased with the outcome output, you may save the trimmed video by selecting it and hitting the Convert All icon located in the bottom portion of the Timeline.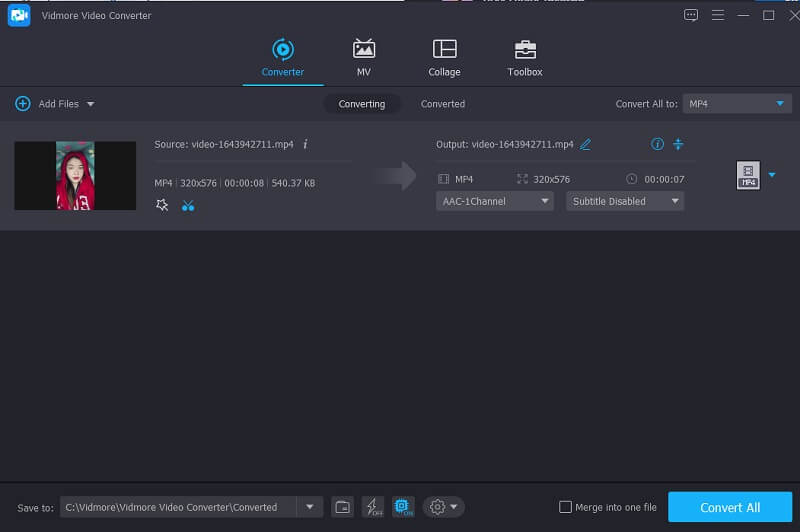 2. CapCut
CapCut is also included in the top video editors available on the market today. It may be used as a substitute tool to assist you in trimming a Snapchat video, if necessary. It gives you a choice to boost the attractiveness of your videos to viewers by using several techniques. When using this tool, editing films is a snap because of the various filters and seamless visual effects that are accessible. You can also use it to alter your video clips since it provides a variety of alternatives for you to pick from while editing them.
It should come as no surprise that most users are captivated by this video editor. You may follow the three simple steps shown below to discover how to trim a Snapchat video using CapCut with ease.
Step 1: Get the CapCut app from the Google Play Store. After you've opened it, choose the video you want to cut by clicking the New Project icon on the bottom of the screen.
Step 2: Afterward, click on the video clip on the right to make it available for editing. If necessary, adjust the play head of the video clip and drag it to the duration that you want after it has been enabled.
Step 3: Finally, after you have completed cutting the video clip, click on the Save option to make the changes permanent on your computer.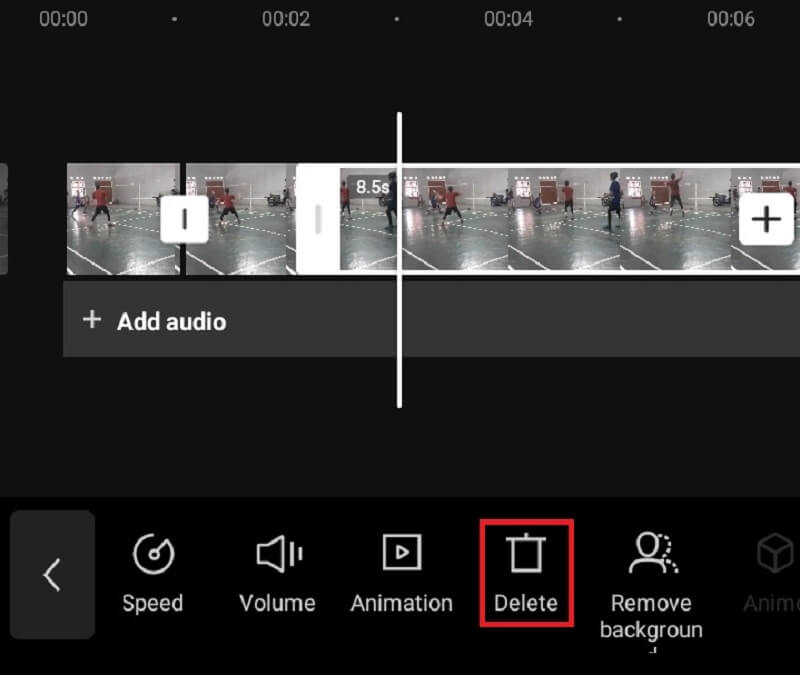 3. KineMaster
Install the KineMaster software on your Android smartphone to learn how to cut a Snapchat video. It is popular with those who like upgrading their video footage. Nowadays, it is a well-known application. KineMaster is an excellent alternative to explore if you are new to video editing. Additionally, just for the fact that this application contains editing features like trimming, cutting, and rotating, it's worth checking out.
A range of built-in filters enables you to enhance the overall quality of your video clip, and you may customize the settings to meet your specific demands. With that in mind, use the instructions below as a guide.
Step 1: On your phone, download the KineMaster app. Afterward, click the Plus symbol and select the video you want to trim once the software is loaded.
Step 2: After downloading the video to the Timeline, locate the Scissor symbol by clicking the Check sign on the side of the screen. After that, touch and hold the video below until it becomes yellow.
Step 3: After it becomes yellow, drag the slider left or right until the desired cut is achieved on your video. That is all! You may now save the trimmed Snapchat video.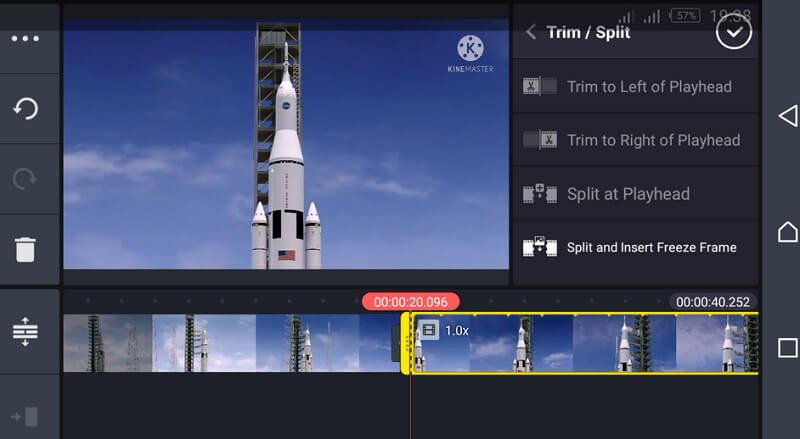 Further Reading:
Notable Ways to Add Music to Snapchat Video: Step-by-Step Guide
How to Split MKV Files on Mac and Windows: Online and Offline Ways
Part 3. FAQs on How to Trim a Video on Snapchat
What is the maximum duration of a Snapchat video?
A single Snapchat video can last up to 60 seconds.
Is it possible to use Snapchat on a computer?
Yes, but Snapchat, as we all know, is primarily designed for smartphone users and has been optimized for usage on iPhones and Android devices instead of on a PC.
Is it possible to trim a Snapchat video online?
Yes, you can trim a video online. Some of these programs are Clideo, 123 Apps, and ClipChamp.
Conclusion
You will now know how to trim a Snapchat video by following the procedures through the provided information above. However, since Snapchat has limited editing tools, you can try the alternative video trimmer for Snapchat video.