Best Way to Trim Video Length in Windows Media Player
You may also have the inquiry, "How can I trim video in Windows Media Player?" As its name suggests, Windows Media Player is a multimedia player developed for Windows computers. Apparently, you can only use it to stream video/audio files on your Windows PC. Yet, another helpful feature of this program is to trim multimedia files like video and audio.
Instead of downloading a separate tool to cut videos, you can take advantage of this feature to shorten your video files. The thing is, you need to tweak some settings to enable its cutting feature. That being said, this article will show you the steps to cut a video in Windows Media Player to shorten the length. Also, a great substitute is reviewed for your perusal.

Part 1. How to Cut Video Length in Windows Media Player
Windows Media Player is designed primarily to play video and music files exclusively for Windows systems. However, many users would also like to directly trim or cut video files directly. As a matter of fact, this feature can not be accessed upon launching the program from the get-go. It is only made available by integrating the plugin called SolveigMM WMP Trimmer.
Only a few users, though, are aware of this. So, if you ask how do you trim a video in Windows Media Player, we sorted out the steps for you.
Step 1. To get started, download the plugin SolveigMM Trimmer Plugin from its official website. Then, install the program on your Windows system by following the prompts and wizards to finish the installation process.
Step 2. Once installed, launch the Windows Media Player and infuse the plugin to enable the trimming feature of the program. Navigate to Tools > Plug-ins > SolveigMM WMP Trimmer Plugin. Then, you should see another option at the bottom of the panel's interface.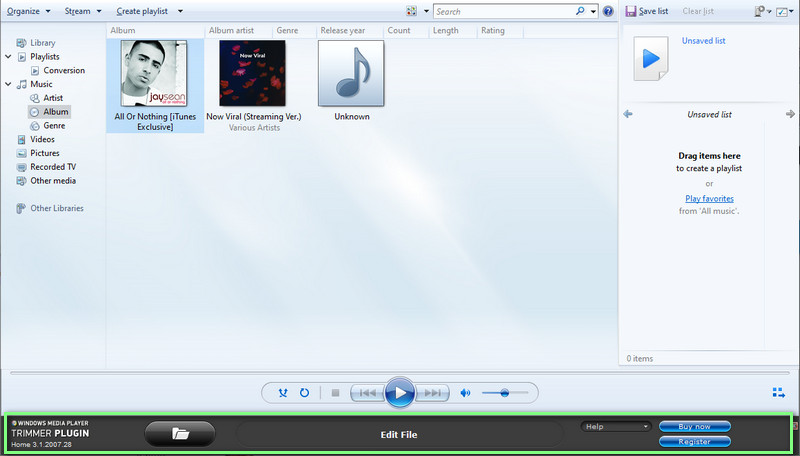 Step 3. Now, add a video that you would like to trim. To do this, click the Folder icon, browse the video and select it to add to the software. It should automatically play the video. Next, hit the Edit File button to begin trimming the video.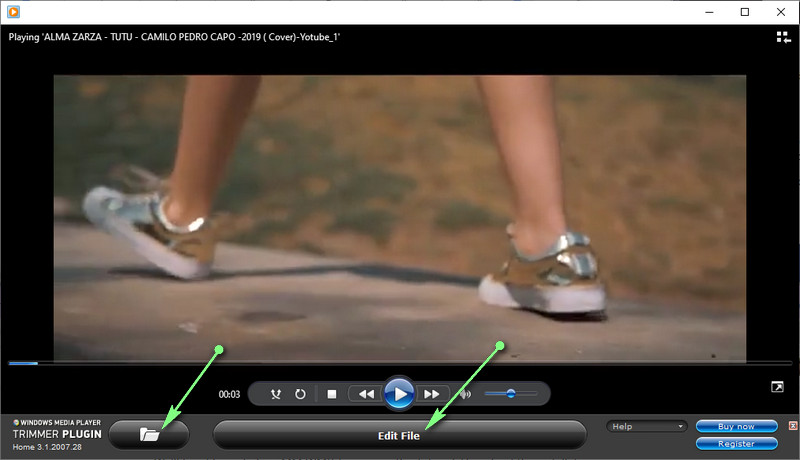 Step 4. After that, find the exact point or duration you want to trim. You may also refer to the time indication to set the starting and ending spots. Once decided, hit the Trim button to finish the process. After completing the above process, preview the video to see if the changes took effect.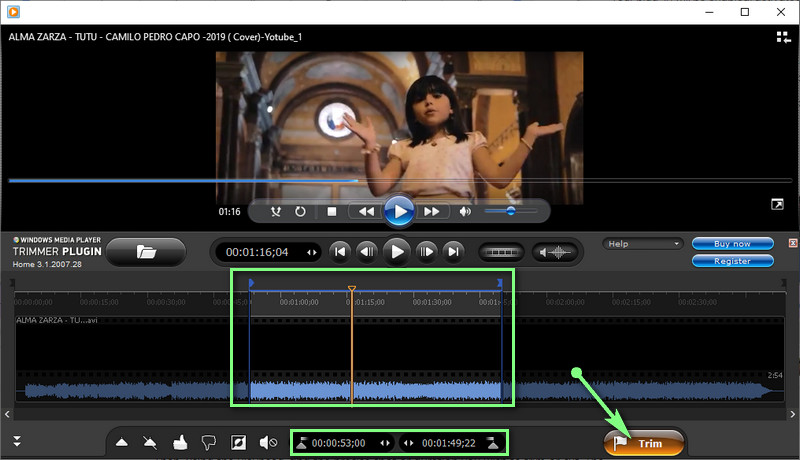 Part 2. How to Cut Video Length on Mac/Windows
Windows Media Player is indeed helpful to amend video files, explicitly cutting the video length. Beyond that, it has one major drawback. That is the lack of support for Mac systems. You need to learn how to cut video length in a Windows Media Player alternative named Vidmore Video Converter.
It packs exclusive video editing tools that enable users to split, cut, trim, merge, crop, and more. Above all, users are given options for reducing the video shaking, removing noise, adjusting brightness, and more for enriched video output. If you are captivated in knowing how to cut and merge videos in Windows Media Player substitute, read along with the instructions.
Step 1. Run Vidmore Video Converter
To use the program, you need to download it first on your device. Simply hit one of the Free Download buttons below. Then install using the on-screen setup and run it.
Step 2. Add a video to trim
At this point, go to the Toolbox tab and open the Video Trimmer function. A dialog box will appear upon clicking this option. Next, click the Plus sign button to open your computer folder. Then, find your target video and select it to upload into the software.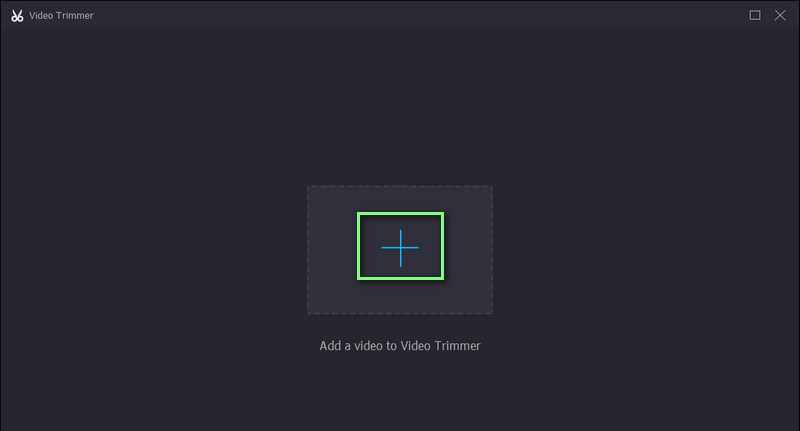 Step 3. Trim the chosen video
Once the video track is added, you can start trimming the video. You may trim using the Playhead to cut the beginning parts of the video. Drag the slider if you wish to select a range for video cutting. Preview the video to see the changes.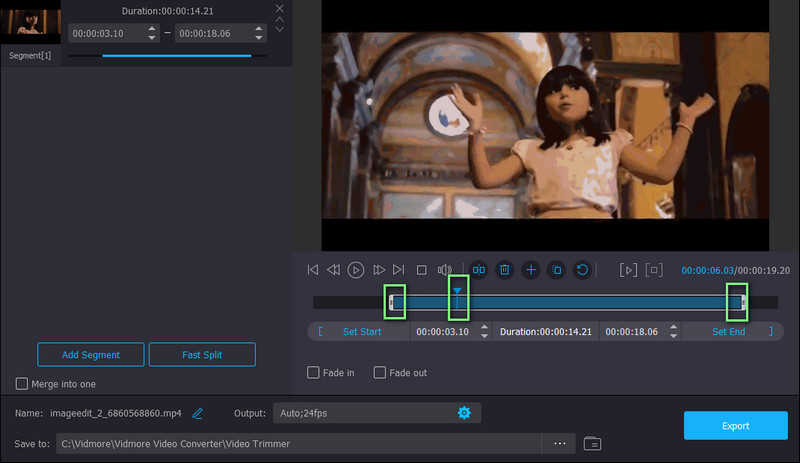 Step 4. Save the trimmed version
If you are pleased with the video results, click the Export button for the changes to take effect. You may also alter the output settings before saving the trimmed version of the video. Simply open the Output option and then tweak the necessary settings. Then proceed with saving the video by hitting the Export button.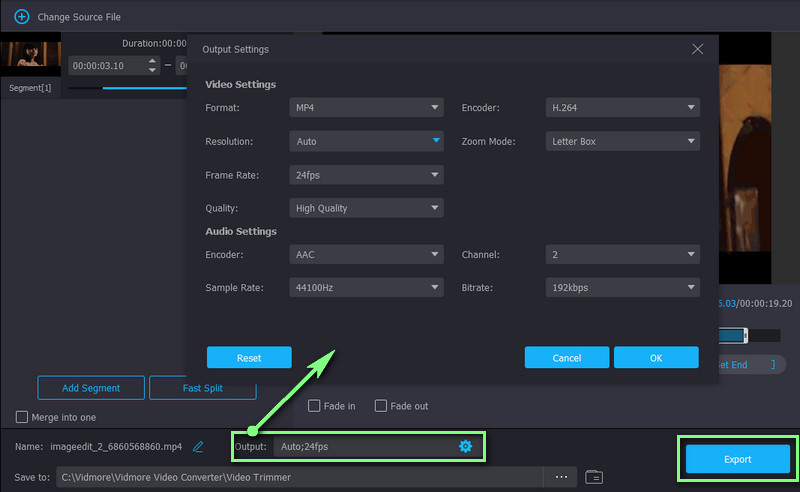 Further Reading:
5 Troubleshooting Tips for Windows Media Player Not Working
How to Cut a Music on iMovie on Both Mac and iPhone Device
Part 3. Comparison Chart of Video Cutters
Below is a comparison table for the two incredible ways to shorten videos. We sorted out essential aspects of these two programs. Check it out.
Tools

Windows Media Player

Vidmore Video Converter
| | | | | |
| --- | --- | --- | --- | --- |
| Supported OS | Supported Format | Intuitive Interface | Video Effects | Editing Tools |
| Windows only | WMA, WMV, MP4, AVI, etc. | | Not supported | Cut or trim |
| Windows and Mac | MKV, WMA, WMV, MP4, MOV, AVI, etc. | | Supported | Cut, trim, merge, crop, rotate, and more. |
Part 4. FAQs on Cutting Video Length
Can I edit videos in Windows Media Player?
You can edit videos in Windows Media Player. However, the function is only limited to cutting or trimming videos. If you wish to add filters or effects, you may need to use a separate app for your needs.
Can I use Windows Media Player for free?
Yes. Windows Media Player is available for free on all Windows PC allowing you to stream video and audio files with support to its cutting feature. In other words, you can cut videos without having to pay even a dime.
Can I trim black sidebars videos in Windows Media Player?
Unfortunately, Windows Media Player does not support cropping videos trimming sidebars in the video. But with the help of Vidmore Video Converter, you can achieve trimming black sidebars as it supports cropping capability. This feature will let you cut only the selected aspect ratio removing the unwanted parts of the video.
Conclusion
The post covers how to cut video length in Windows Media Player. Indeed, you can not directly edit videos on this media player. Yet, with the help of the plugin named SolveigMM WMP trimmer, the trimming task is possible. Aside from that, this also outlined the best alternative that you should consider using, in case you need to edit or cut on your Windows or Mac computer system. You can easily manipulate your video files through the options mentioned in this post.