3 Best Methods on How to Edit WebM Metadata | Walkthrough Guide
If you have a collection of WebM files and they are all over the place, it will be beneficial for you to add tags or metadata information for organization purposes. Additionally, accurate information allows you to recognize the video you are playing. The good news is there are a lot of tools that will help you to edit the metadata of video or audio files easily. However, finding the right solution though can be a challenging task.
On the other hand, we are here to give a hand. This post will show you the best programs to edit WebM metadata. Check them out below to learn more.
Part 1. Recommended Ways to Edit WebM Metadata
Here, we will look at the effective tools you can use to edit WebM metadata. You will learn how to edit WebM metadata with and without installing a program. Find out what programs or methods these are after the jump.
1. Vidmore Video Converter
First on the list, we have Vidmore Video Converter. This program has a wide-range file format support, allowing you to upload and change the metadata of your WebM, MP4, RMVB, and many more video files. With it, you can modify the title, artist, track, genre, and album of the video. Additionally, it grants users the option to add thumbnails or cover art to their video files, making the video easy and quick to recognize.
Apart from that, you can use the tool either on your Windows or Mac computer with the same performance and ease of use. No complicated setups and a fast process of finishing the tasks because of its easy-to-navigate user interface. Meanwhile, learn how to edit WebM metadata through the following steps:
Step 1. Obtain the tool and launch
To get started, you need to download the program using the Free Download buttons below. Yes, you can freely get the app. After that, install the application by following the setup wizard.
Step 2. Launch the metadata editor
After launching the software, go straight to the Toolbox tab in the interface's upper portion. Then, more options for editing and modifying media files will be given. Under this tab, you will see the Media Metadata Editor option. Click on it to launch.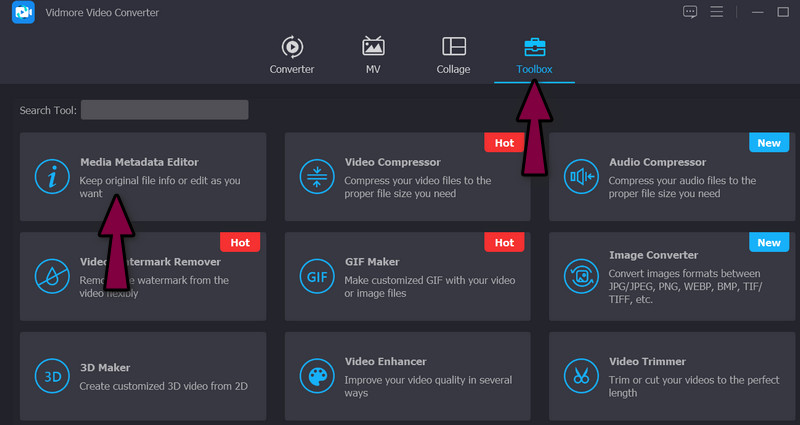 Step 3. Add a WebM file to the program
Now, hit the + icon to add a WebM file from your computer file folder. Right after, you will be redirected to the actual metadata editing panel.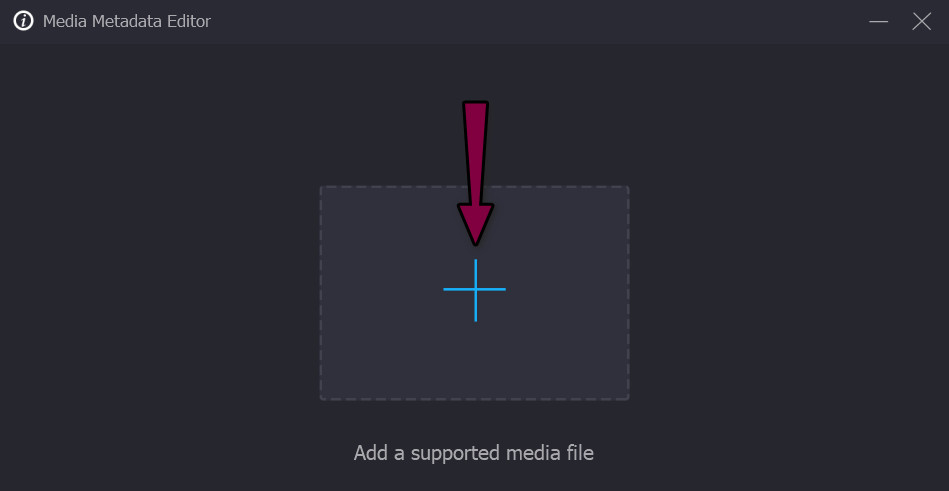 Step 4. Edit WebM metadata
At this point, key in the information to the respective text boxes for every property. In case you want to add a thumbnail, hit the plus icon and add a snapshot. Once all is set, hit the Save button at the bottom right corner, and you are done.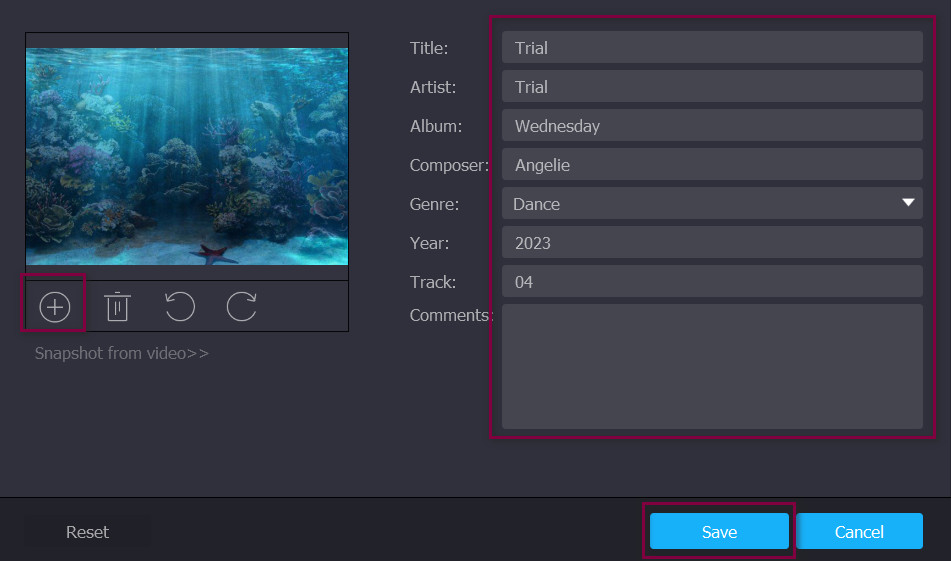 2. VLC Media Player
You can also consider using VLC Media Player to edit as a tag editor for your WebM files. You read it right. The tool is capable of editing metadata information, including the title, album, genre, date, etc. Additionally, you can input copyright to protect your original work from unauthorized access. Moreover, users may view the statistics of their media file, such as the audio, video, and input/read. To get started on how to edit WebM metadata using VLC, check out the step-by-step process below.
Step 1. Acquire the tool from its official webpage and install it. Right after, launch it on your device.
Step 2. Then, go to Media > Open File and look for the WebM video you desire to modify. Once the file is opened, you can edit the metadata of your WebM video.
Step 3. Now, go to Tools and select Media Information. From the pop-up, you will see the tag information you can edit. Under the General tab, you can edit the title, genre, album, publisher, etc. Hit the Close button if you are done.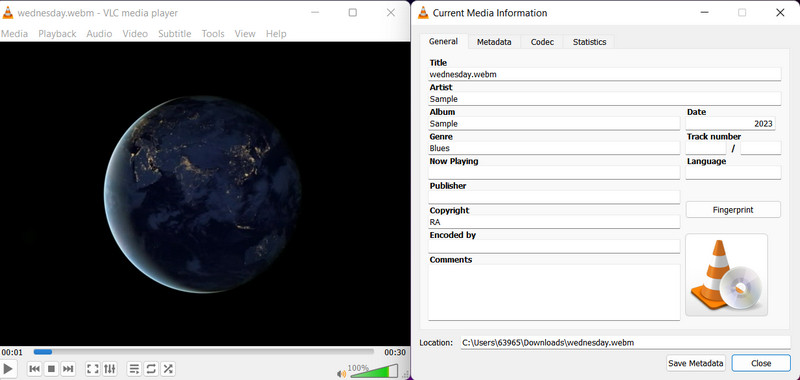 3. TagSpaces
Last but not least is TagSpaces. This is compatible with almost all platforms, including Windows, Mac, and Linux. This means that whatever system your computer is running, you can edit the metadata of your WebM files. Meanwhile, TagSpaces is not your usual tag editor. It enables you to tag a file using tags or descriptions. It works by creating a separate file called a sidecar file. Therefore, if you want a completely new approach to tagging videos, you should go with TagSpaces. On the other hand, here is how to edit WebM metadata using this tool.
Step 1. First, go to the official website of the program and download its latest version. Launch the tool and circumnavigate it to get yourself comfortable in using the program.
Step 2. Link the folder where your WebM file is located and select the video file you want to edit the metadata of. You can also use the search bar to look for your target video.
Step 3. Next, hit the Toggle Properties icon that looks like the i icon. Next, add the tags to your WebM video, and you are through. The changes will be automatically saved.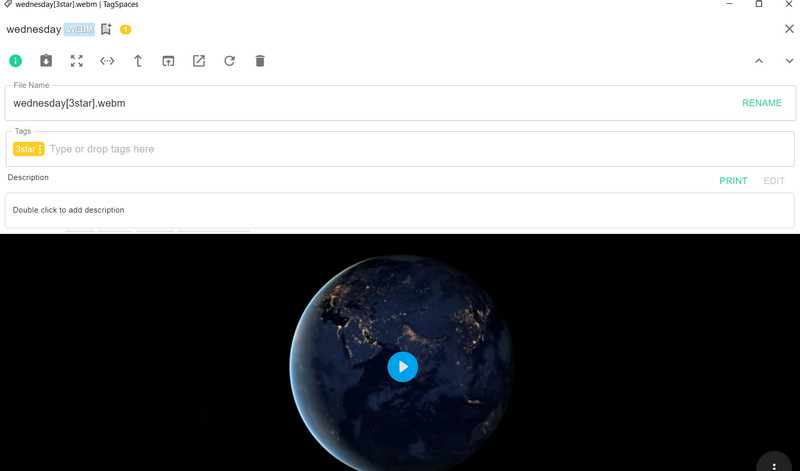 Part 2. FAQs about Editing WebM
How can I edit WebM metadata on Mac?
There are dedicated tools that offer the ability to edit WebM or other video file formats. For this task, you may rely on programs like Amvidia and Subler.
Which is better, MP4 or WebM?
The answer depends on the purpose of using these formats. Compatibility-wise, MP4 has the upper hand. But when in terms of online sharing, WebM will be more beneficial.
Can I edit WebM files?
Yes. It is possible to edit WebM videos. You can merge it with other WebM files, cut, or rotate it. With Vidmore, all these tasks are possible.
Conclusion
Through these programs, you are able to edit WebM metadata. All of them are reliably working and true. However, if you are choosing among the three and you are considering usability, Vidmore Video Converter is a better choice. Its interface is user-friendly, and there is no need for you to tweak many settings to edit metadata. Nevertheless, the reviews of each tool are provided for your further scrutiny.