Cut Video WebM Online and Offline with Best Video Cutters
Are you one of those folks who are having issues with lengthy videos? How about videos with unnecessary or unwanted parts? This is often the case for WebM videos from online video-sharing sites. You found an interesting WebM video and want to edit the video you downloaded from a video-sharing site.
If you have the same sentiment and need help, you are definitely in the right place to be. In this post, we'll share with you some of the best and practical programs to cut WebM files so you cut them into smaller pieces.

Part 1. Best Way to Trim WebM
Vidmore Video Converter is a powerful WebM trimmer packed with features for editing video and audio files. With this application, you can cut or trim a wide range of video formats while providing several methods for cutting videos. Moreover, it has a straightforward and easy-to-use interface that allows you to cut and trim videos quickly without any complicated settings. Other basic videos/audio editing tools in this program include rotating, cropping, adding effects and filters, and so much more. Explore more of this program by following the steps to trim WebM below.
Step 1. Grab the WebM Trimmer
You can possess the app's installer by clicking any Free Download buttons provided below. After downloading, install the program, then run it once the installation is done.
Step 2. Upload a WebM video
Next, click the Plus sign button in the tool's main interface. Browse the WebM video you wish to cut from your file folder. Alternatively, you may drag and drop the video to upload media files easily.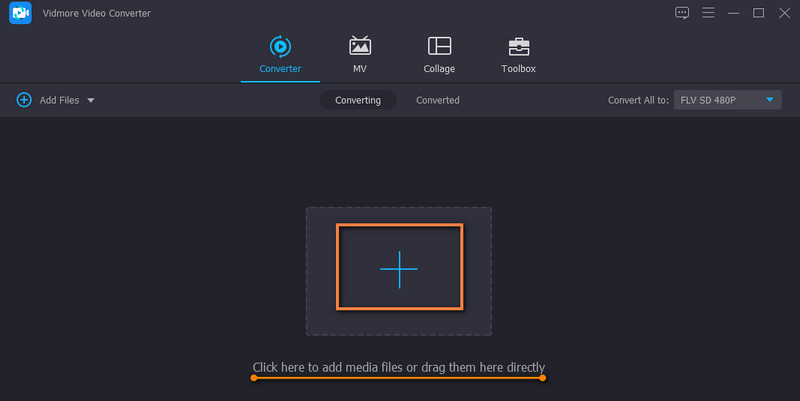 Step 3. Trim the WebM clip
You should see to video's thumbnail after successfully uploading the WebM video. Now, click on the Cut button to start editing the video. Move the Playhead and decide which part of the video you would like to trim the WebM. After that, click the Split button below the preview. Hit the Save button at the lower portion to apply the changes.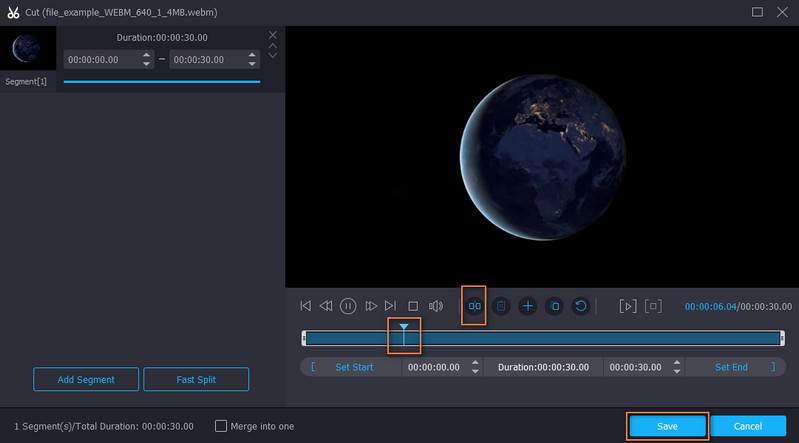 Step 4. Save the trimmed WebM file
You can choose to change the video format by selecting another video format from the Profile menu. But it's best to keep its original format by choosing the same video format. Lastly, hit the Convert All button to confirm all the changes. Once the process is done, you should receive the final output of the file presented in a folder.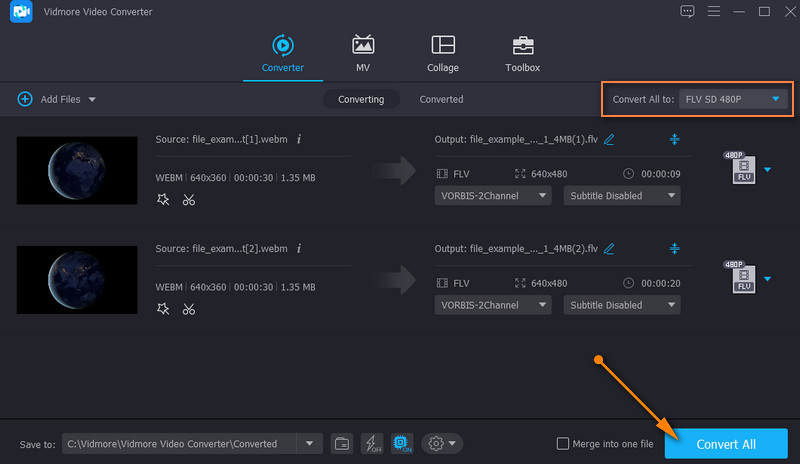 Part 2. How to Trim WebM for Free
1. FFmpeg
If you are looking for a practical solution to cut WebM files, FFmpeg is a nice program to use. Aside from being a cross-platform program, it is also a good tool to record, cut, trim, and convert videos. However, if you are not accustomed to a command-line interface, you may not find this tool user-friendly. Now, here are the steps to trim WebM in FFmpeg.
Step 1. Download and install FFmpeg on your computer.
Step 2. Next, browse the WebM video from your local folder, type CMD on the file path, and hit Enter. It should open the CMD afterward.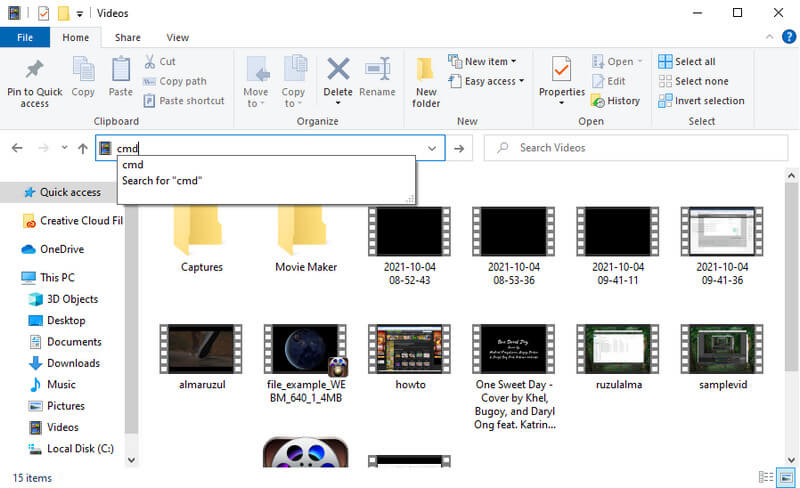 Step 3. To trim WebM, use this syntax: ffmpeg -ss 'time' -i 'inputvideo'. In actual command, the syntax should like ffmpeg -ss 00:00:10 -i inputvideo.webm -t -00:00:20 -c:v copy -c:a copy output.webm. This parameter instructs FFmpeg to trim video starting at the 10th second and ending at the 20th second.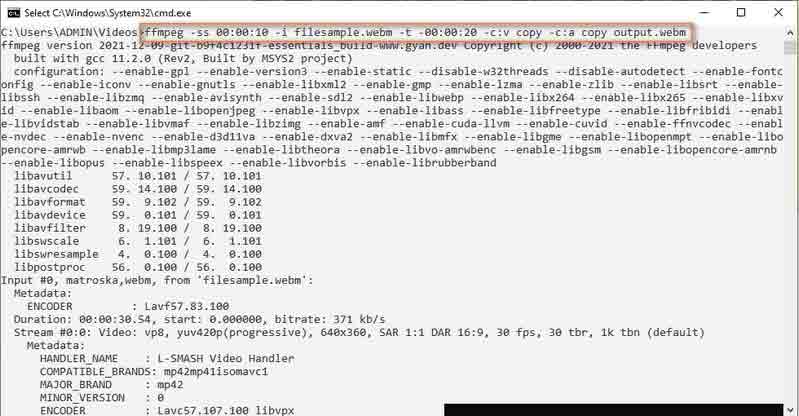 Step 4. The output file will automatically be saved in the same folder where the WebM is located.
Part 3. How to Trim WebM Online
1. Online Video Cutter
Online Video Cutter is a free online tool that can cut trim WebM without installation. It can trim videos like WebM, AVI, MP4, MKV, etc. It can also rotate videos, cropping, add text and subtitles, stabilize, and even record videos. To learn the process of trimming WebM online, you may refer to the guideline below.
Step 1. Access Online Video Cutter's webpage using a browser and import a WebM video file.
Step 2. After uploading, you should arrive at its editing interface.
Step 3. Now move the left and right grabbers to select the part of the video which you want to cut. You may also trim the end of a WebM file by changing the mode from cutting to trimming. Just click on the Trim/Cut button and move the track bar according to your requirements.
Step 4. Finally, click the Save button to confirm and apply the changes.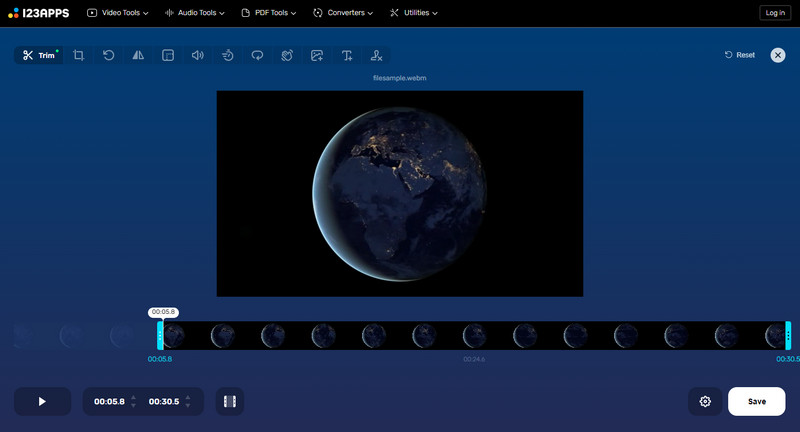 2. Aconvert.com
You should also consider using Aconvert.com when you need to trim WebM online. It is a simple yet effective program that lets you do more than just video cutting. The tool can also rotate videos, crop, merge, and convert. The only downside is that there is no preview for the video you edited. Dig deep into the program by following the instructions on using it.
Step 1. Go ahead and open any browser you like. Launch Aconvert.com and select Video on the left side menu. Then choose Cut from the top menu.
Step 2. Click the Choose File to upload the WebM video file.
Step 3. After that, enter the start position and the duration by following the format provided on the page.
Step 4. Hit Submit to finally cut the file and save it by downloading the output.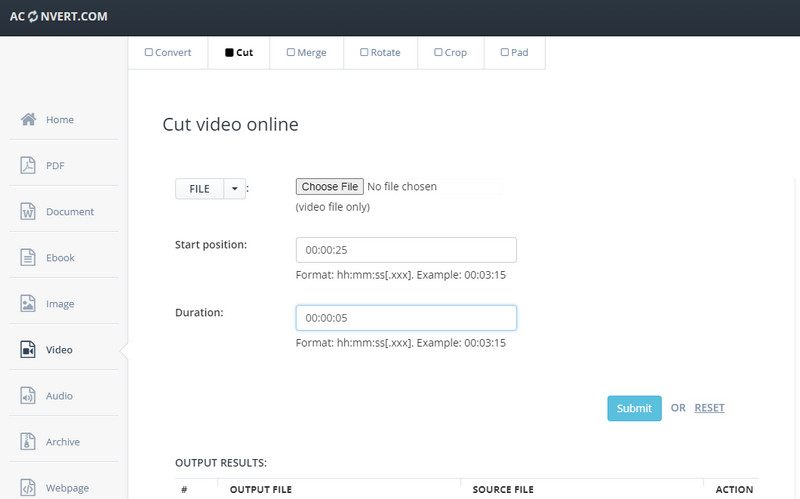 Part 4. FAQs on Trimming WebM
How do you cut WebM videos?
Cutting videos is simple when using the right tool. Moreover, there are various ways to cut WebM videos. Some offer the tracking bars, while other apps let you enter the exact time for video cutting.
How to trim WebM video on Mac?
You can consider the likes of VLC and Vidmore Video Converter videos on Mac as they support Windows and Mac OS. Yet, you can opt for iMovie for an app made specifically for Mac. Just select the part of the video you wish to trim off, right-click and select Cut from the options.
Can I edit a WebM video?
You can definitely edit WebM videos using any video editor as long as it supports this video format.
Conclusion
All in all, these solutions are helpful to trim WebM video files. You can choose to do it offline with desktop tools or use the online programs to cut videos without installing anything. Just select which is more convenient for you.