How to Convert WebM to GIF - 8 Excellent Methods You Should Use
You bumped into a WebM video clip online and want to incorporate it into one of your social blog posts. However, WebM videos are rather dull or too plain. In this case, you should consider using GIFs that are more fun and appealing to watch than a plain video. Yet if the video is in WebM format, you will need to convert it first. Hence, in this article, we will cover mentionable solutions that will help you convert WebM to GIF online free and using premium desktop software.

Part 1. How to Convert WebM to GIF on Mac and Windows
Vidmore Video Converter is a multi-purpose video converter that allows you to create GIFs from WebM video easily. It can process HD quality videos and lets you personalize a video using its Video Enhancer feature. Aside from that, this application is developed to have a comprehensive user interface that shows exactly what you need right from the main panel. Even a non-tech-savvy user with no prior experience can navigate the tool effortlessly. You can explore more about this amazing tool by following the guide to convert WebM to GIF.
Step 1. Get this WebM to GIF Editor
First things first, get the app from its official website. Install and launch it afterward. Click the Add Files button to import the WebM from your hard drive.

Step 2. Trim the WebM video
To trim the WebM file, click the Cut menu. Another window will then appear. Drag the trim control to the part of the video that you want to retain. Once done, click the Save button to apply the changes.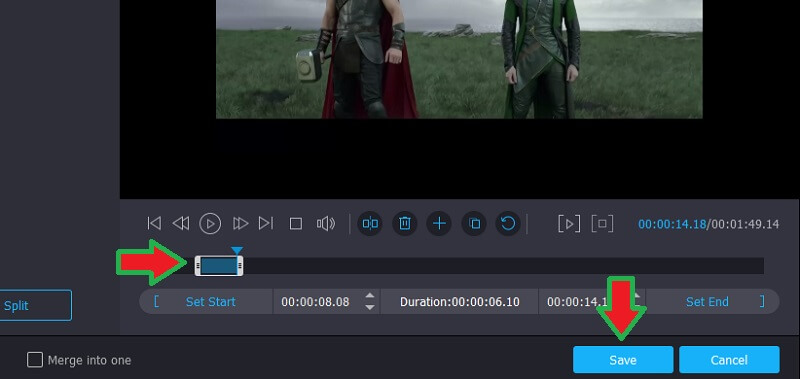 Step 3. Choose the GIF as the output format
From the Profile drop-down menu, choose the GIF option under the Video tab. By default, there is a small GIF, medium GIF, and large GIF which comes with different parameters. Just choose according to your needs.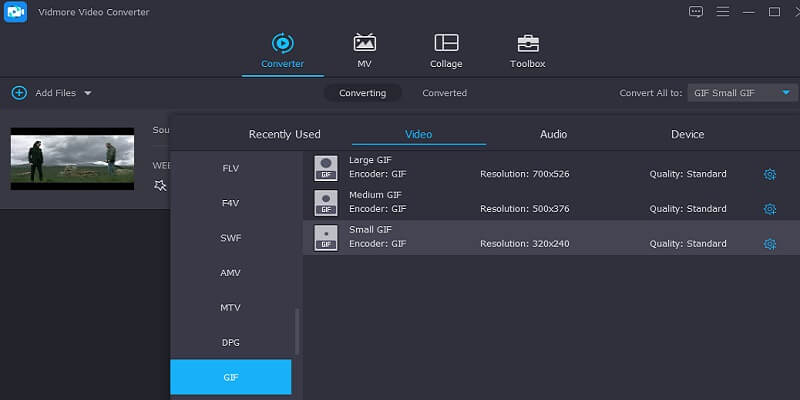 Step 4. Convert to GIF
After all the settings, specify the destination folder where you want to save the GIF file and hit the Convert All button to finally turn WebM to GIF. You can preview the converted file by clicking the Open folder button when the process is done.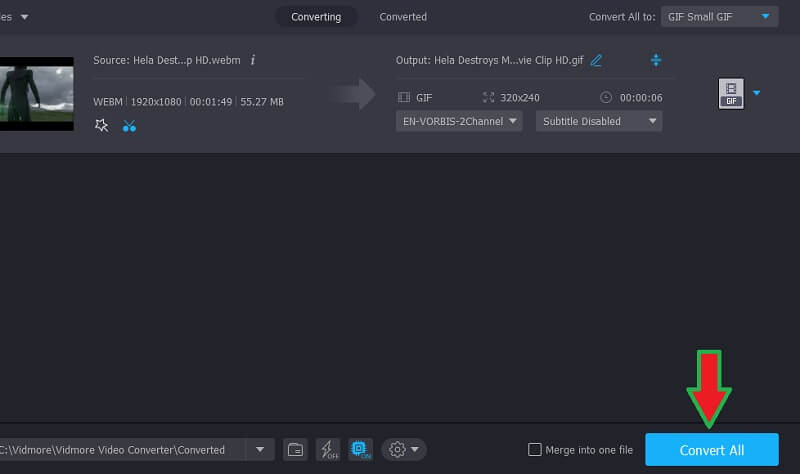 Cross-platform video converter (Mac and Windows)
Pros:
1. Convert multiple MOV to GIF in batch.
2. Crop, trim or cut a MOV file before conversion.
3. Merge several video clips into a single file.
4. Has built-in media player for preview.
5. Supports massive video and audio output formats.
Cons:
1. Requires upgrading to premium version after free trial.
Part 2. How to Convert WebM to GIF for Free and Online
1. Vidmore Free Online Video Converter
If you are into practicality, you would probably prefer to use Vidmore Free Online Video Converter. With this tool, you don't have to download an app. As the title suggests, it is an online application that allows converting videos or audio to any format. To convert WebM to GIF online using this software, here are the steps to follow.
Step 1. Visit the tool's website and click the Add file button to upload the WebM file.
Step 2. To access video settings like bitrate and video resolution, hit the Gear icon next to the video.
Step 3. Once satisfied with the settings, choose GIF from the menu list and click the Convert button to complete the process.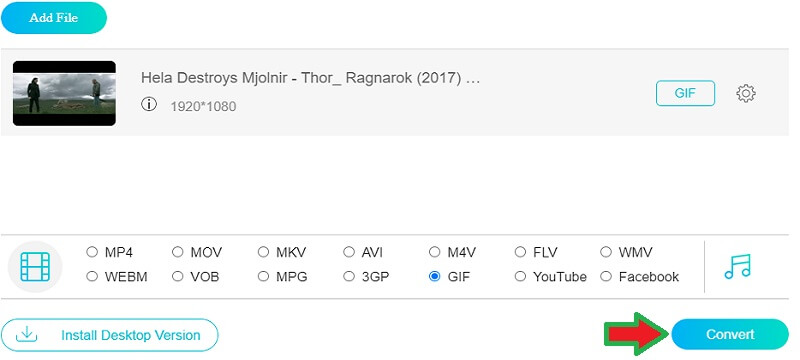 2. AnyConv
Another mentionable application to get GIFs out of WebM video is AnyConv. Unlike other programs whereby the files you upload are in public, this tool keeps them in private so that no one can access them. Moreover, it automatically deletes the files after the conversion process. Kindly follow these steps to change WebM to GIF.
Step 1. Open the website using your browser and then click the Choose File button to upload a WebM file.
Step 2. After importing the WebM file, select GIF from the drop-down menu.
Step 3. Finally, click the blue Convert button and wait for the conversion process to finish.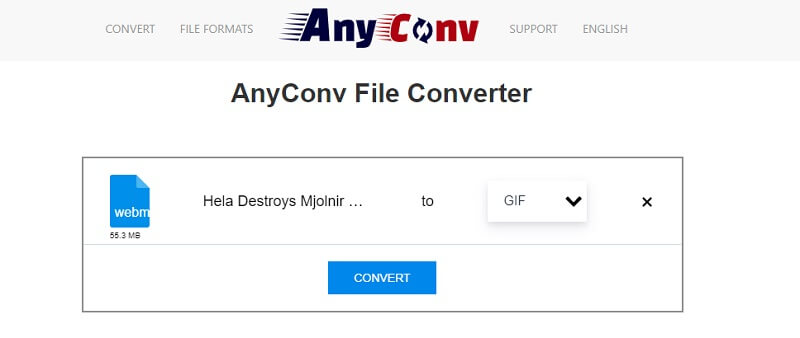 3. Ezgif
Ezgif is a well-known GIF maker online. If creating and editing GIFs is your thing, you have stumbled upon this web-service app. What's so good about this tool is that it's simple yet provides the basic features to convert from video formats to GIFs with very minimal effort. You could also split a video or apply effects to GIF as you wish. To use this Web to GIF online converter, refer to the instructions below.
Step 1. Go to Ezgif website and choose Video to GIF from the main interface of the web app.
Step 2. Click the Choose File button followed by the Upload video! button underneath.
Step 3. Now click the Convert to GIF button and hit Save to download the output.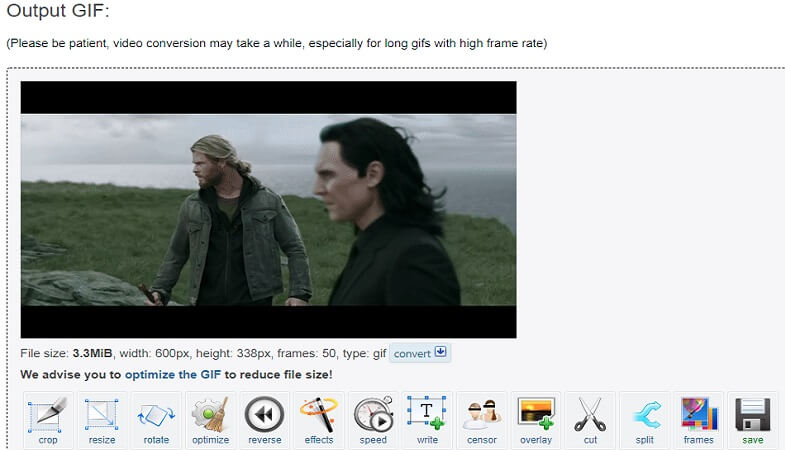 4. Zamzar
If you are looking for a flexible converter online that provides quality output, Zamzar is a nice choice. It works as a video converter, image converter, or audio converter. Just be mindful of the length of the video. The longer the video the longer it will take the video to convert and download. Check the steps below to learn how to use this WebM to animated GIF converter.
Step 1. Open Zamzar and upload a WebM file by clicking the Add File button.
Step 2. Select GIF from the format menu then hit Convert Now.
Step 3. When WebM is processed, click the Download button to save the GIF file.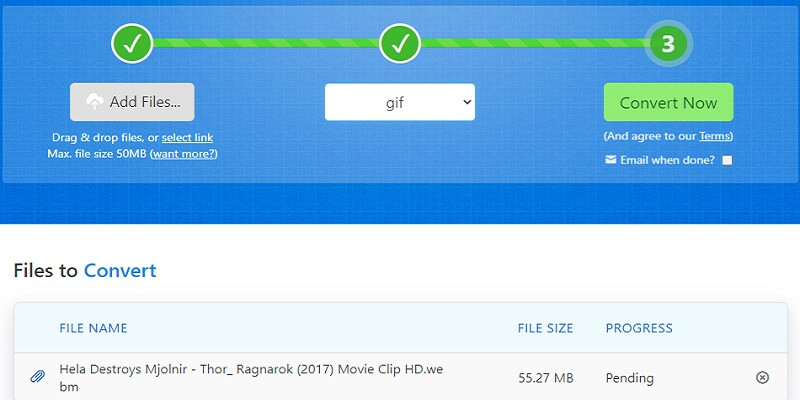 5. Online-Convert
Online-Convert is another program that you can use to turn your WebM file into a GIF. It's lightweight and can quickly convert files. Suppose that you need to import files from the cloud, this tool allows uploading from Google Drive or Dropbox via URL. To get the job done, here are simple steps you can follow.
Step 1. Open a browser and access Online-Convert.
Step 2. Choose Image Converter and click the drop-down list. From here select Convert to GIF then click the Go button.
Step 3. Upload the WebM file by clicking the Choose Files button. Now click the Start conversion button to initiate the process.
Step 4. After following the above steps, you can choose to download and save the file on the cloud or locally.

6. CloudConvert
CloudConvert is a famous web-based application for converting WebM to GIF online. The tool can automatically detect the format of the media file you uploaded. What's special about this tool is that you can convert multiple files simultaneously. You refer to the following guidelines to use this tool.
Step 1. Navigate to the site of CloudConvert and click the Select File button.
Step 2. From the menu list, choose GIF as an output format.
Step 3. To start the converting task, simply hit the Convert button.

7. Aconvert
Aconvert is a good program that allows you to do conversion directly on the webpage. Just like the above solutions, this WebM to GIF online converter allows you to upload from cloud storage using the URL of the file. Also, you can configure some video settings such as frame rate, bitrate, size, and video aspect. You can do the steps as follow to use the program.
Step 1. Visit the site of Aconvert using a browser.
Step 2. Hit Choose Files to upload a WebM file and drop down the menu for the Target format.
Step 3. Select GIF from the list and click the Convert button to initiate the conversion task.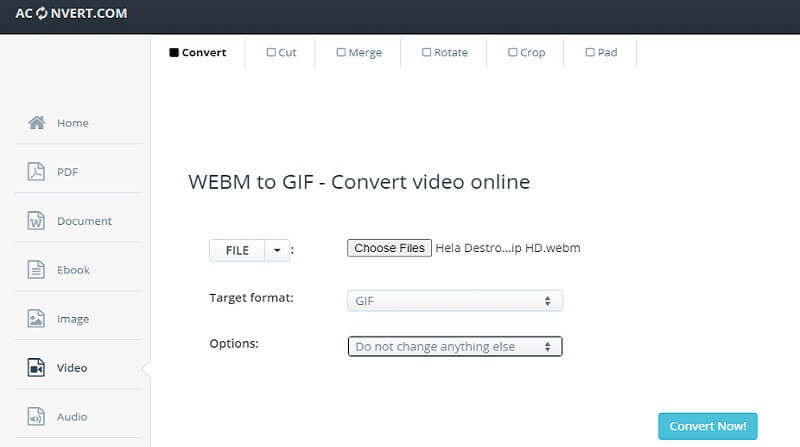 Part 3. FAQs of WebM to GIF
How long does it take to convert WebM to GIF?
It totally depends on the size of the WebM video you are trying to convert. The larger the video, the longer the process of conversion will take. Yet if you want to use fast conversion software such as Vidmore Video Converter which is arguably faster than similar programs.
How to Convert WebM to GIF on Android/iOS?
We suggest using a mobile-friendly tool like Convertio which is a web-based tool. This also works for converting WebM to GIF no matter the smartphone you are using.
Can I upload GIFs to social media sites directly?
Some social media sites like Facebook, Twitter, or Pinterest support sharing GIFs over the web. However, for Instagram, you need to convert the GIF to MP4 to successfully post it on your Instagram account.
Conclusion
Those are the tools that you can use for converting WebM to GIFs. Overall, your methods for converting. One is using a desktop app and the other is by converting on the website directly. If you want a convenient way, online tools are a decent choice. On the other hand, Vidmore Video Converter is a great choice when talking about converting and video editing capabilities.