How to Export HitFilm Express Without a Watermark: 3 Easy Process
When it comes to video editing, HitFilm is one of the programs that is utilized by the vast majority of pros. On the other hand, if you do not pay for the premium license of Hitfilm Express, you will not be able to remove the watermark from the movie. You will be relieved that the HitFilm Express watermark may be removed in several different and very effective methods when the project is being exported. To know how to get rid of the Watermark on HitFilm Express, go to the end of this post to get the necessary information you need.

Part 1: Steps to Remove HitFilm Express Watermark with Payment
You will need to purchase a license to remove the watermark from your videos while still working inside Hitfilm express if you want to avoid having to exit the program. In addition, after you have acquired the license, the following steps need to be taken to remove watermarks from your films using Hitfilm Express:
Step 1: You can download Hitfilm Express for free on your smartphone. You will be required to pay to access the premium features such as removing watermarks, more complex VFX tools, and many more. Launch the program after you've arrived at your destination, and then apply filters or edit options to your video.
Step 2: You must go to the Effects tab below the timeline to remove the watermark shown at the movie's end. You will see a Lens Distort checkbox that must deactivate to remove the watermark.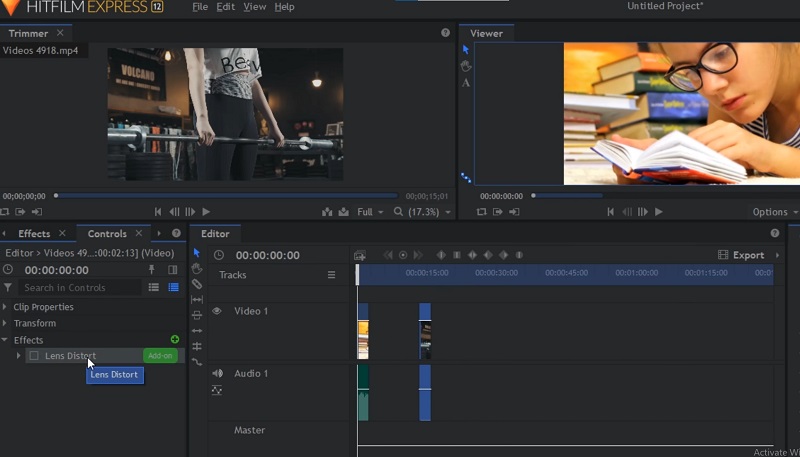 Step 3: Once you remove the watermark, you will notice that there is still a shadow shaped like a triangle. Then, proceed to the Effects and uncheck the Action Cam Crop to remove the excess watermark.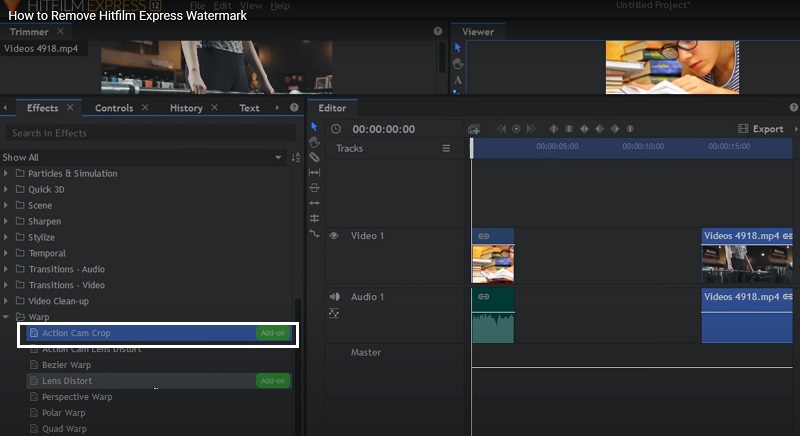 Part 2. How to Remove HitFilm Express Watermarks for Free
1. Vidmore Video Converter
If you don't want to purchase the premium account of HitFilm Express, you may consider using Vidmore Video Converter. This program has a free trial which allows users to remove the watermark of their video clips. It is software that is made initially for converting audio and video files. But because of the powerful features it has, it contains a lot of additional features. You can obtain this software on both Mac and Windows devices.
Vidmore Video Converter has a powerful yet friendly interface. And it is beneficial for beginners because the timeline is so easy to understand. Aside from that, you won't also have problems with the type of video you will upload because Vidmore doesn't focus on one format only. Instead, it supports more than 200 file formats. This program doesn't bother if there is no internet connection because it can still produce a quality video. That is why there is nothing to be afraid of regarding the video's resolution being compromised.
If you only subscribe to the free plan of HitFilm Express and want to get rid of the watermark, here is the best alternative solution.
Step 1: Visit Vidmore Video Converter's website and click the option labeled Free Download to have the app installed on your computer. You must download the installer directly before the program may operate properly.
Step 2: After setting up the program, check out the Toolbox to get a feel for its capabilities. The Video Watermark Remover is located in the Toolbox and may be selected by clicking on it with the mouse.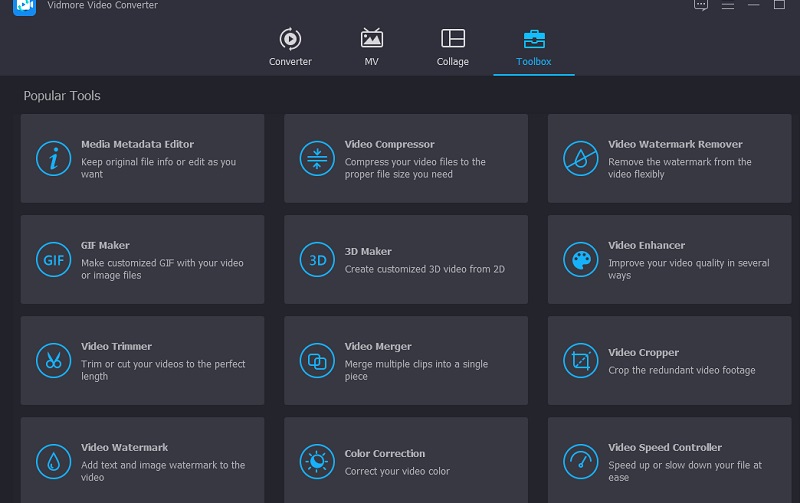 Add the video file from which you wish to remove the watermark by clicking the Plus symbol after selecting the Video Watermark Remover option.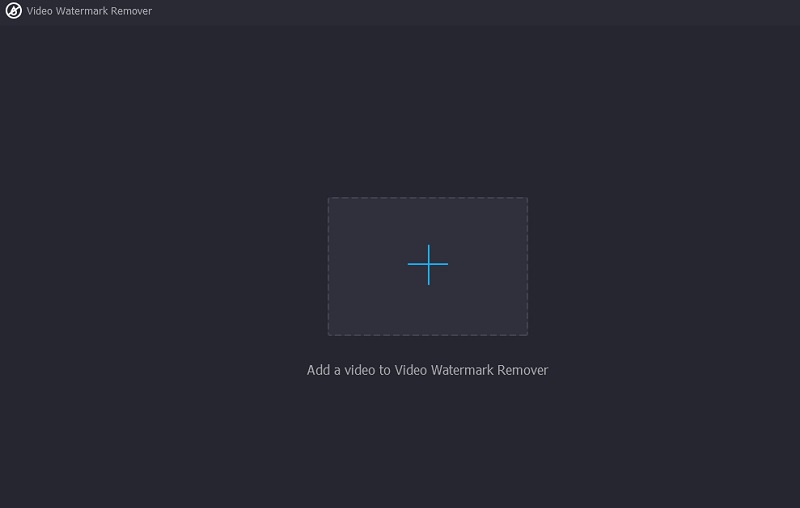 Step 3: Add the portion where you may erase the watermark to the timeline once the video has been correctly uploaded. When that's done, you'll see a little message box on your screen in the top right-hand corner. Affix the box to the watermark's specified place.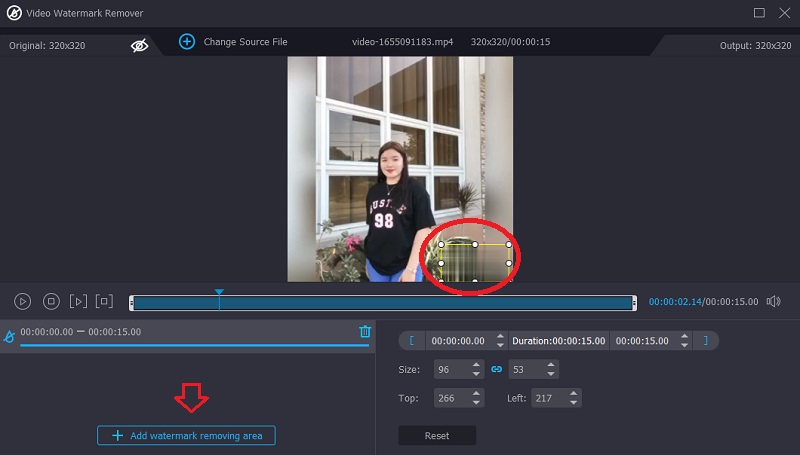 Step 4: You will have the opportunity to select the Export button after you have removed the watermark from the post. It will allow you to save the video to your desktop so that you may watch it at a later time.
2. HitPaw Online Watermark Remover
The HitPaw Online Watermark Remover website is ad- and virus-free and offers a free service to remove watermarks. Because of its intuitive layout, even complete novices will have no trouble removing watermarks from videos available online for free. In addition, it functions as a video editor, allowing users to clip, combine, convert, and annotate videos, among other things.
The following is some information on it, as well as the procedure to utilize it:
Step 1: Visit the HitPaw Online Watermark Remover website to remove online watermarks. To import your video that has been watermarked, please click on Remove Watermark Now and then click on Choose File.
Step 2: You should adjust the length of time the logo appears on the timeline and the size of the rectangle box. They are adjusted to correspond to the same amount of time as the logo.
Step 3: Once everything is finished, click the Save button.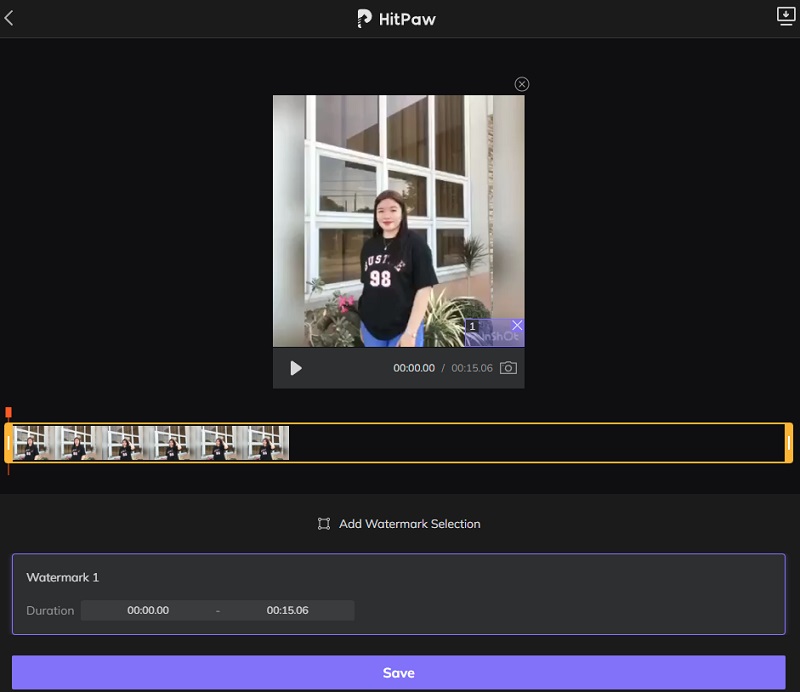 3. Video Watermark Remover Online
Video Watermark Remover Online is an essential online watermark remover that is free and simple to use, thanks to its uncomplicated user interface. You are limited to processing a maximum of 5 videos for free every month. Suppose you need to handle many films each month. In that case, you will need to purchase either the Standard or Unlimited plans to access additional features.
Step 1: Click this link to a video watermark removal website.
Step 2: You may import a file by clicking on the blue rectangle.
Step 3: Click Remove Watermark after you are done.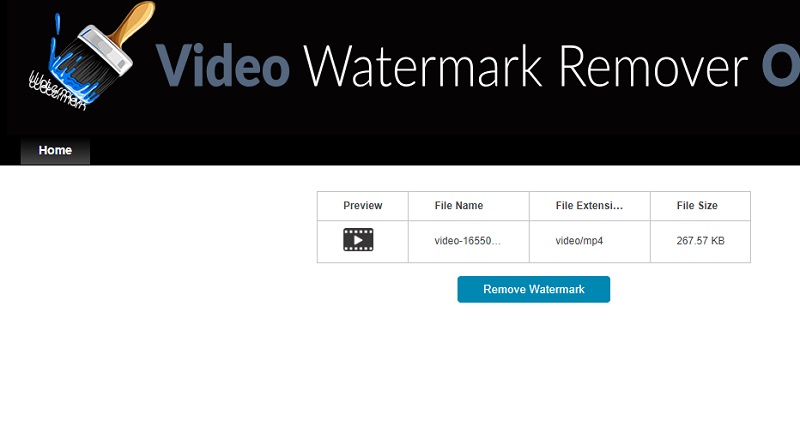 Part 3. FAQs About Removing the HitFilm Express Watermark
How can I remove the Hitfilm watermark from exported videos?
Using the approach we have described, you can erase the watermark Hitfilm places on films after exporting them. It is possible to remove watermarks from videos that have been altered in other programs and exported using Vidmore Video Converter, an excellent piece of software.
How much does the HitFilm Express cost?
HitFilm Express's video editing software is not available for a free trial. Instead, the customer must purchase the program once for $299, with no further subscription fees for the next 12 months. The cost of HitFilm Express includes complimentary software upgrades and tech assistance.
Is HitFilm Express the same as HitFilm Pro?
No, because HitFilm Pro receives new effects before Express, often months ahead. HitFilm Express's new effects and functionality need add-on packs. Some consequences took years.
Conclusions
You need to get the paid plan if you want to make your video in Hitfilm Express export without a watermark. But suppose you don't like to purchase the premium plan. In that case, you may consider the alternative tools above, such as Vidmore Video Converter and HitPaw Online Watermark Remover.