Google Photos Movie Maker – Create Movie with Pictures and Videos
Google Photos is a picture sharing and storage service developed by Google. This application enables users to back up their photos to the cloud service, which turns into an accessible photo-sharing platform for all devices. Moreover, this application is a photo storage device and a perfect tool to use as a movie maker. Thus, this article gathered and collected feasible ways on how to make a movie in Google Photos, illustrated below.
Part 1. How Google Make Video from Photos
Price: In the US, the price starts at $1.99 per month for 100 GB of storage.
OS supported: Android, iOS, Web.
Before we tackle Google Photos as a great photo movie maker, let us indulge first in its functional and valuable features. Google Photos has three storage settings that users can utilize; High Quality, Original Quality, and Express Quality. High Quality can store photos up to 16 megapixels and video up to 1080p maximum resolution. On the other hand, Original Quality retains the original quality and resolution of videos and photos. Furthermore, its editing feature on creating a movie or video photos is simple and straightforward. All of its editing features like inserting music clips, adding and deleting, etc., are shown on its editing interface. Moreover, Google Photos supported various video and photo formats such as MP4, MPG, DIVX, JPG, PNG, etc. Below are the listed steps on using Google Photos as a moviemaker on different devices such as Android, iPhone, and PC.
Step on How to Make a Movie in Google Photos on an Android and iOS
If you are asking 'how do I make a movie on Google Photos,' these steps are your answer. Since the steps of making a movie on Google Photos are almost the same for Android and iOS devices. We curated both of their steps in one listed walk-through, which is illustrated below.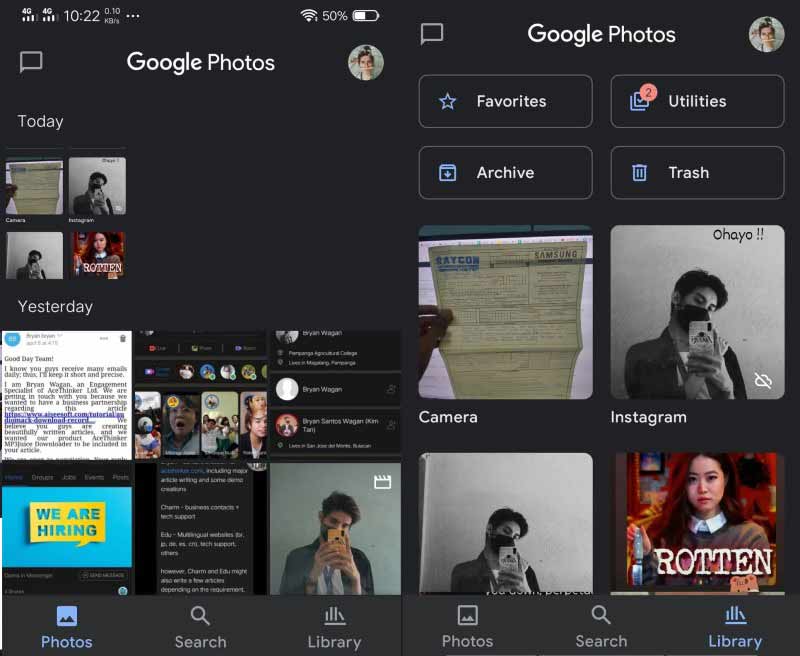 First, on your device (smartphones and tablets), open the Google Photos application. Then, sign in on your Google Account.
Once already signed in, go to the Library tab, located at the bottom part of the application. Tap the utilities, then under

Create New

, tap

Movie

.
Then, select your photos or videos that you want to input on your movie. You can input music or recorded clips on your videos. Just tap the Music icon; when you're done, tap Save.
To see your newly created movie, tap the Play button or wait to be notified when the movie is ready.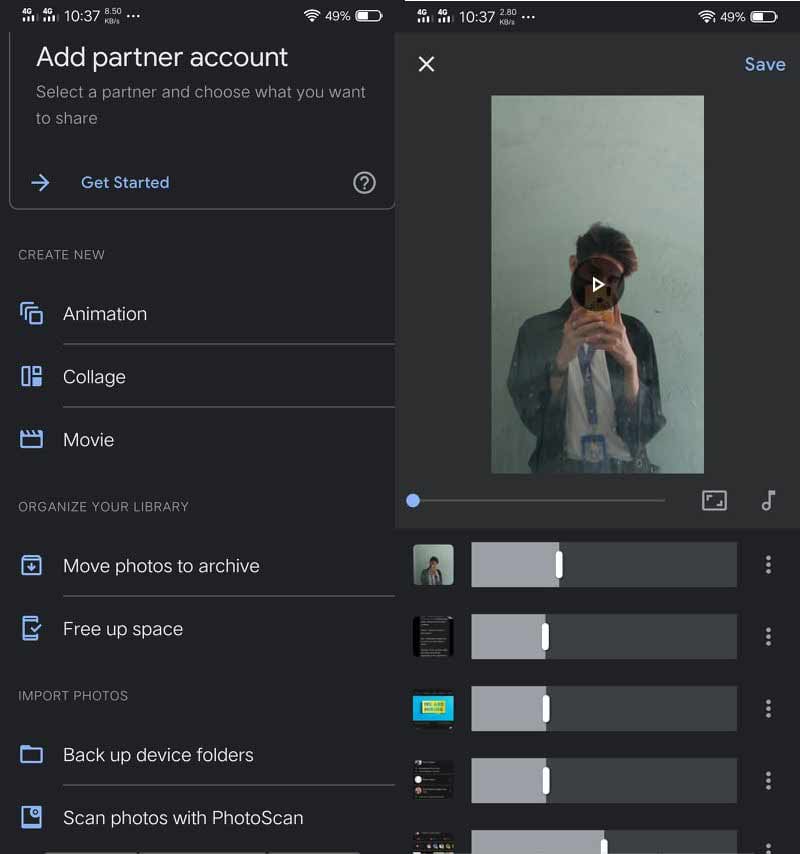 Step on How to Make a Movie on Google Photos on a PC
If you are asking yourself, 'Can I make a movie with Google Photos on my PC?' the answer is here. As of now, users can only make a movie on their smartphone or tablet. However, they can also make a movie out of a unique theme on their PC device.
First, on your computer, go to Google Photos' official site. Then, sign in on your Google account.
On the site's interface, in the left menu, click

Utilities

. Then at the center part, you can see a menu bar named

Create New

. Under this, Movies.
Then, select a movie theme, then click

Get Started

. After that, select preferred photos and videos on your device. Once, done click save, and your video will automatically save on your Google Photos storage.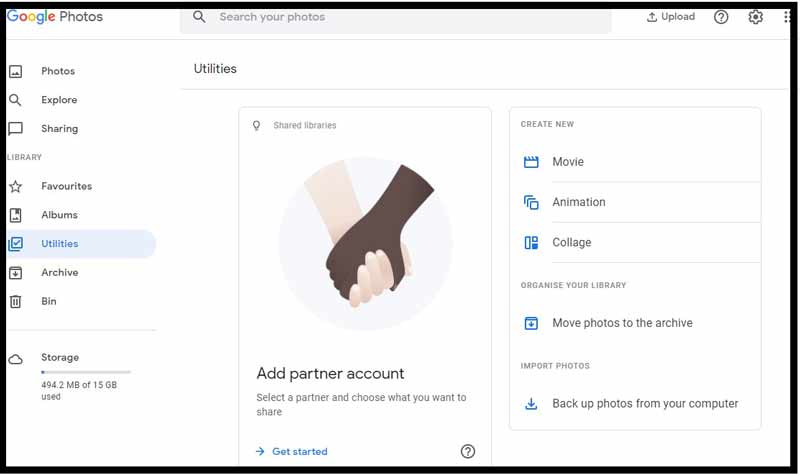 After making a movie, you can sync with Google Drive and play the videos on Google Drive directly.
Part 2. Pros and Cons of Google Photos
Below are the listed advantages and disadvantages of using Google Photos as a photo movie maker.
Pros
It can save maximum videos of 10GB.
Videos higher than 1080p can be resized to high-definition 1080p. Also, a video with 1080p or less will look close to the original.
Each Google Account has 15 GB of free storage.
Well designed, ad-free interface.
Cons
Unlimited storage is going to be removed starting June 1, 2021.
Inadequate features for video editing options.
No built-in sharing from different video sharing platforms like Instagram and Flickers.
Part 3. Best Alternative to Google Photos to Create Your Own Movie
Price: IFreemium service, premium service starts at $19.95 per Month/1PC
OS supported: macOS (macOS X), Windows
Since Google Photos has only pretty straightforward video editing features, if you are looking for extensive video-making software, Vidmore Video Converter has a stand. Vidmore allows users to take advantage and fully control its video editing features with its comprehensive and understandable navigation. What's more important, its MV feature can make a movie with photos, videos and music automatically with ready-made themes. Thus, it is a perfect software for newbies and non-professional video creators and editors.
It has various features that it can provide for a user, such as trim, rotate, crop, etc. Additionally, it allows users to apply an effect and filters to their videos. Furthermore, it enables users to merge several clips into one single video output.
Pros
It can save video output without watermarks
It uses high-speed video processing algorithms.
It creates video presentation automatically with the MV feature.
Users can create side-by-side videos easily.
Cons
Not yet available on mobile devices.
Step 1: Install and Download Vidmore Video Converter
First, users need to go to the official website of Vidmore Video Converter and download the software. Alternatively, click the download button above to proceed with the process. Let the system run and analyze the software. Once installed, a pop-up window will appear on your desktop.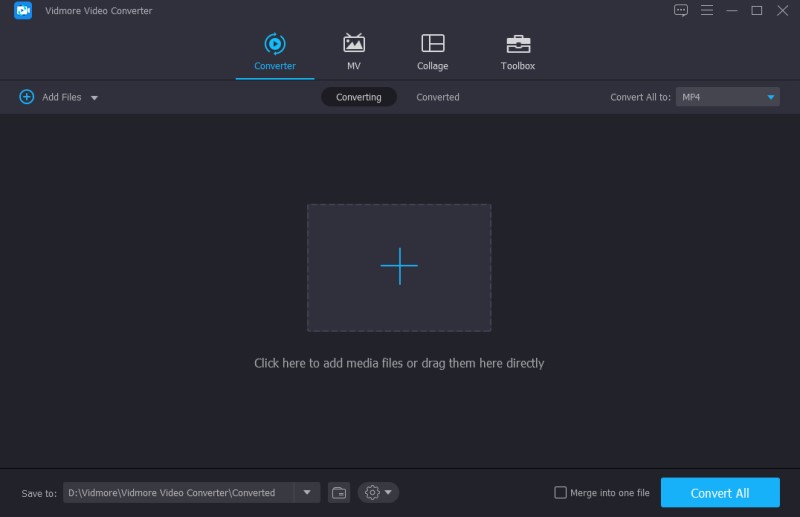 Step 2: Collect and Import your Photos
Once the software has been installed, go to MV, which is located at the top center of the software's interface. On that tab, you can click the + icon to add your desired photos and videos. Then, once all files are selected, click the Open button to import your media files.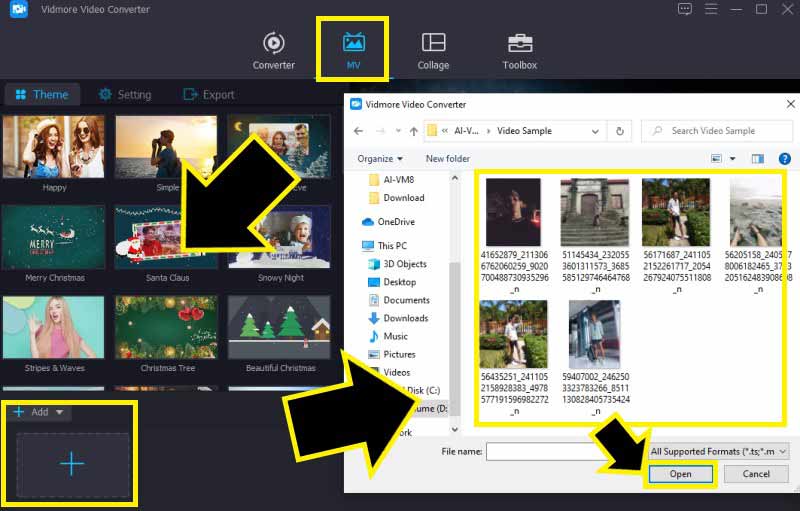 Step 3: Create Photo Video
Next to that is to utilize the editing features of Vidmore Video Converter. Users can exploit its features like video resolution, filters, clip duration, etc. Also, you can add and delete media files on your video. Once all is settled and done, click the export button to save your newly created videos.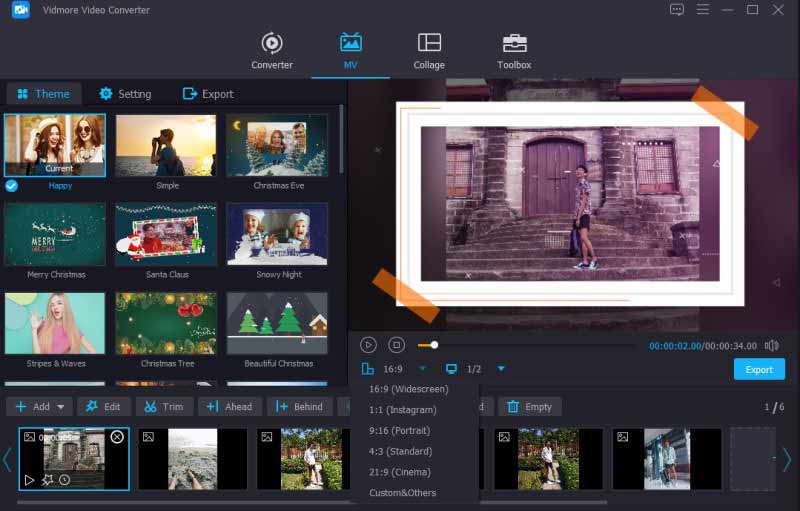 Step 4: Locate and Play Video
After exporting and saving the video, locate it according to the file location that you have selected. Click and play the video to enjoy. If you want to create a new video, follow the detailed steps above.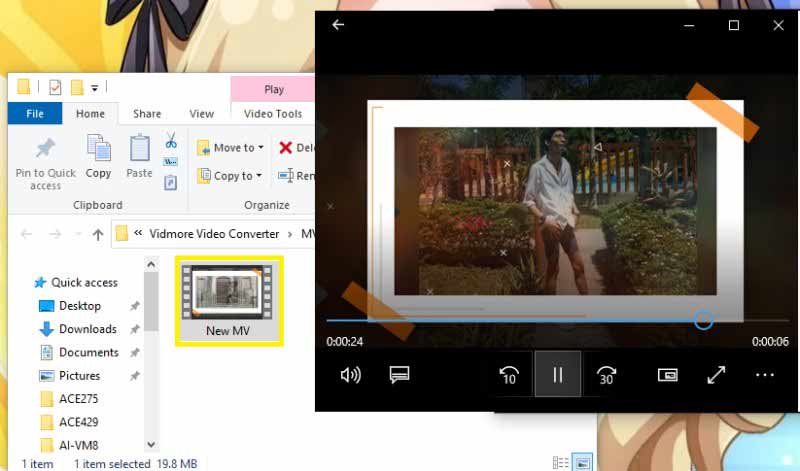 This software has other powerful features to enhance video quality, compress video size, convert 3D videos, and more.
Part 4. FAQs of Google Photos Movie Maker
1. Does a movie created by Google Photos take up space?
Yes. The movie you created in Google Photos will be saved in the Album folder, which will take up your Google Photos storage.
2. Is it safe to use Google Photos?
Indeed! Google Photos is relatively safe and secure from any malicious virus or threats. Additionally, it does not automatically post your photo from any sharing platform, so people won't be able to Google them. It is only viewable for your eyes only.
3. Does Google Photos is the best movie maker application?
Its editing features and tools are fairly good enough. But if you want to create a well-polished video, Vidmore Video Converter is much suitable for that. It has various features like FPS alteration that Google Photos does not have.
Conclusion
Google Photos is not only an image backup service, but also a movie maker. It can create movies with photos and videos stored on your Google Photos. However, it is not a professional movie maker program for users, you Vidmore Video Converter is recommended to help you create videos with ready-made themes and customized themes. Just free download this movie maker with photos and start your video production now.