How to Add Emoji to Videos to Convey Emotions in 3 Ways
Imagine if your videos could show what you are doing and what you feel like. That is exactly what happens when you add emojis to your videos. Those little smiley faces and hearts bring new fun and meaning to your videos. Are you planning to create a video with emoji?
This post will present various ways to add emoji on video using various devices. With that, whatever devices you use, you have a guide to count on. To learn more about these, please check out the following details.

Part 1. Add Emoji on Video on Computer
Do not worry if you are not a tech wizard - Vidmore Video Converter has made it simple. You do not need special skills; with just a few clicks, you will have those emojis dancing in your videos. Get ready to turn your videos into emoji-filled masterpieces with Vidmore Video Converter! Learn how to add emoji on video on a computer using the steps provided:
Step 1. First and foremost, visit Vidmore Video Converter's official website to download the program. Once downloaded, install the program on your computer and run it to get started.
Step 2. Go to the MV tab, where you will see an (+) button. Click that button to import the video you want to add emoji from.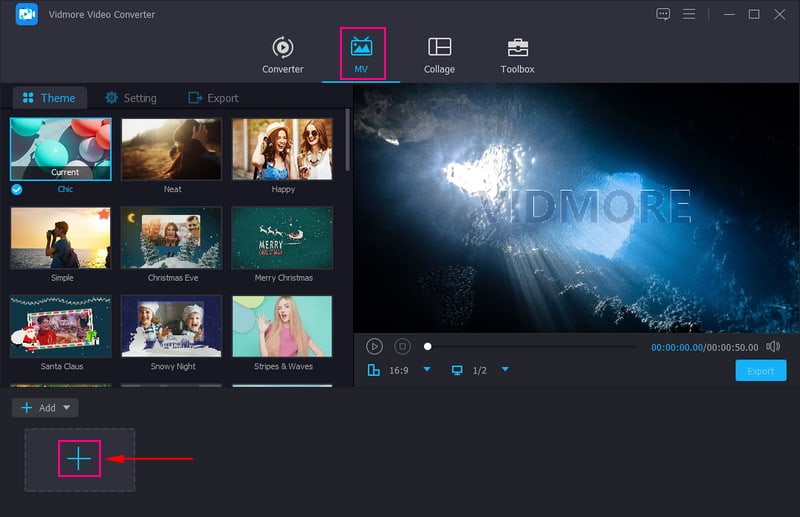 Step 3. When the video file is uploaded, hit the Edit button to open the program's editing feature. You can correct your video and leave out unnecessary parts from your video on Rotate & Crop. If you want to modify the basic effects and apply a specific filter to your video, you can go to Effects & Filters.
Head to the Watermark, select Image, and click the (+) button to import the emoji you want to add to your video. Once uploaded, place the emoji in your desired position on your video.
Note: Ensure to click the OK button to apply the changes you made.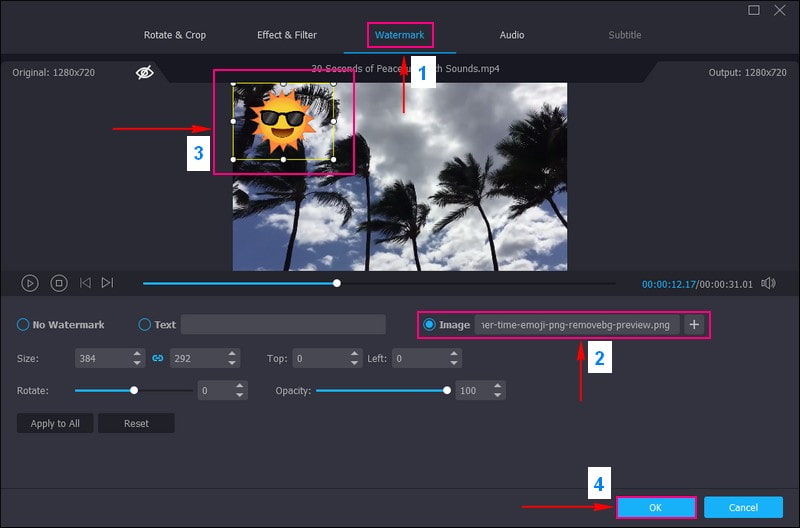 Step 4. If you want to add theme, text, and background music, you can enable them on the Theme and Settings.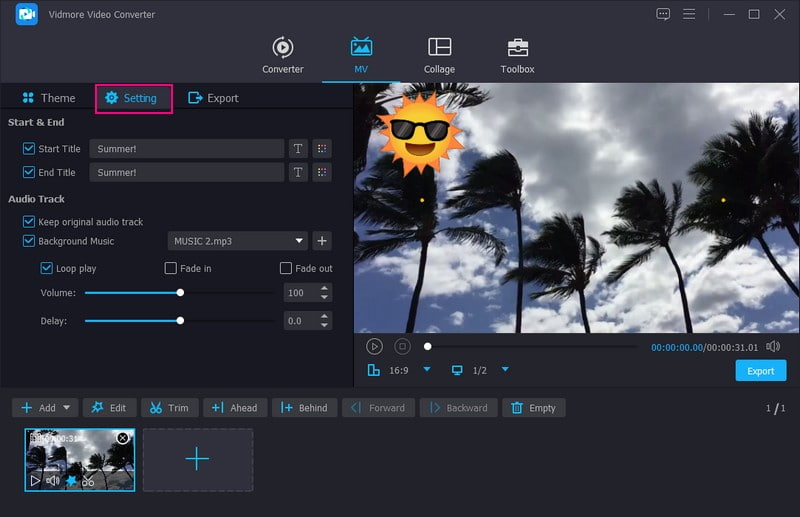 Step 5. Lastly, go to Export, and modify the Video Settings according to your preferences. When satisfied, hit the Start Export to process and save your video with emoji.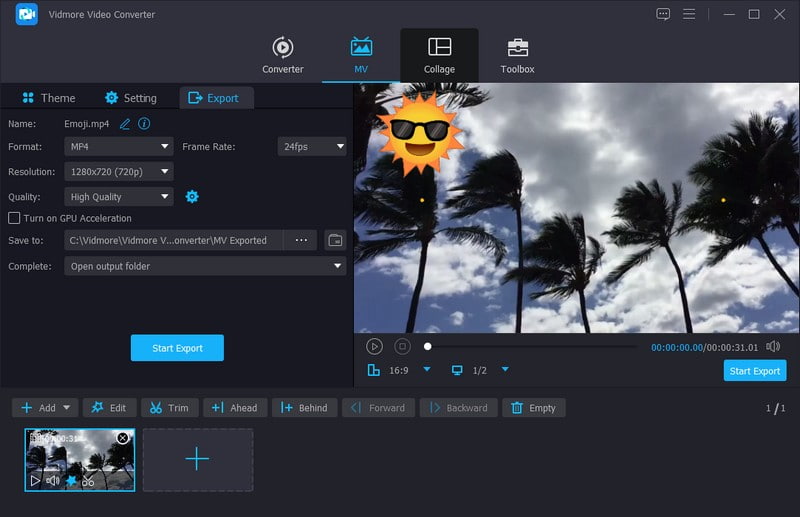 Part 2. Add Emoji to Video Android
If you are an Android user and like to do editing tasks on your device, we got you covered. Vid.Fun is an all-in-one video editor and movie maker commonly used to edit, modify and create stunning videos. The main features are video trimming, picture cropping, content rotating, background changing, video filters, text, stickers, etc.
This application has a section offering numerous stickers and emojis you can embed on the video you are working on. Do you want to know how to add one to your video? Discover how to add emoji to videos on Android using Vid.Fun:
Step 1. Install Vid.Fun from your phone's play store. When installed, proceed to run the application.
Step 2. Press the + Start Editing button and select the video from which you want to incorporate an emoji.
Step 3. Under the preview screen, you will see various editing functionalities, including the Sticker. Select the Sticker option, which will display countless stickers and emojis you can pick from. There are stickers and emojis for interactions, cover, cute, love, animal, nature, food, festival, travel, mood, daily, people, and more.
Once you have chosen, place the sticker or emoji into your preferred position in your video. Afterward, press the (✔) button to apply the emoji you added.
Step 4. If you want to edit your video further, open each editing feature and do your thing. When satisfied, click the Export button to save your video on your phone gallery.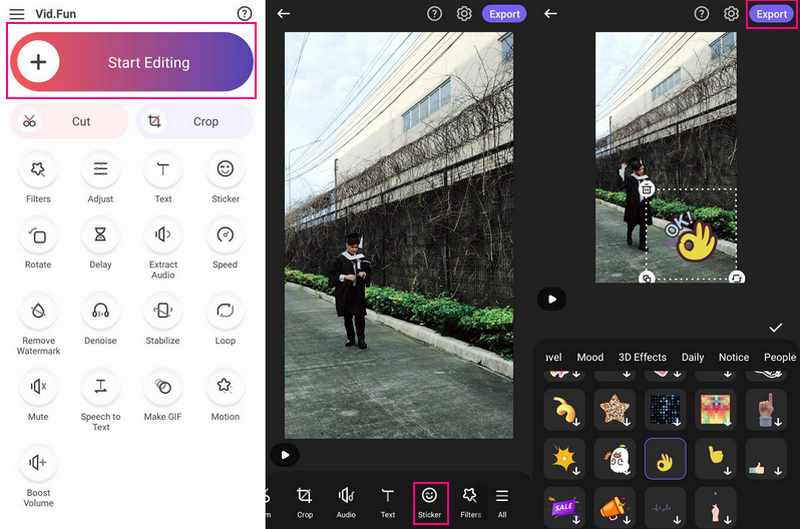 Part 3. Add Emoji to Video iPhone
Whether sharing a moment with pals or having fun, iMovie allows you to add emotion to your videos with emojis. With iMovie on your iPhone, you can add those cool emojis to your videos. Imagine if you could make your videos even more remarkable by adding emojis. So, when something funny happens, you can add a laughing emoji. Or, if you want to show how much you like something, pop in a thumbs-up emoji.
Get ready to emoji-fry your videos and tell your stories in a new way with iMovie on your iPhone. Find out how to add emoji to videos on iPhone using iMovie:
Step 1. Before you start, ensure you have the emoji to add to your video. To add an emoji to your video, you must make a still image with the emoji overlaid. You can use any image editing application for this purpose.
Step 2. Launch iMovie on your iPhone and create a new project or open an existing one. Click the (+) button to import your video in the project media area. Next, click the (+) again to import the still image with the emoji from your Photos.
Step 3. Tap and hold the emoji image in the timeline until it is highlighted. Afterward, drag the emoji image above your video clip in the timeline to overlay it.
Step 4. Modify the emoji image overlay's duration to match the video's portion where you want the emoji to appear. Besides that, you can drag and position the image overlay to your desired spot on the video.
Step 5. Play the video in the preview area to ensure the emoji appears as intended. Press the Done button to return to the project screen when everything looks good. Then, tap the Share and select the Export options you prefer.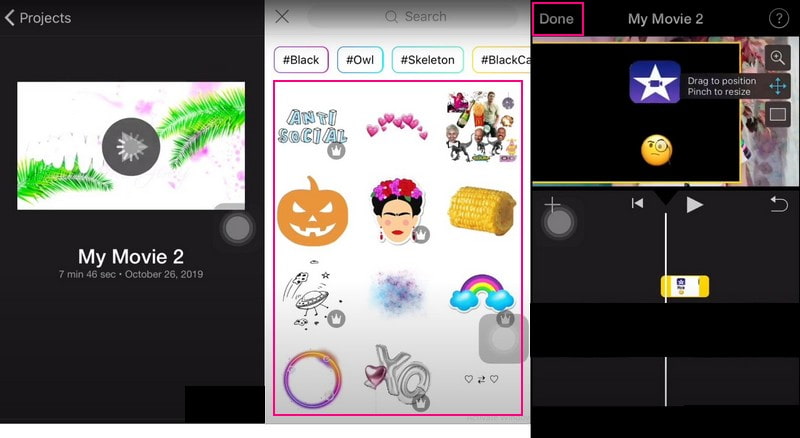 Part 4. FAQs about Adding Emoji on Video
How to add emoji to videos online?
First, go to VEED.IO Add Emojis to Videos official website. Select a video to import, click Choose Video and double-click on the file. Click the Elements on the left menu and pick an emoji under Add Emojis on the left pane. When satisfied, click the Export button, and download it.
What is the best app to add stickers to videos?
YouCam Video is the most convenient sticker editing application for quickly adding stickers for all occasions and styles to your videos. It offers 450+ animated stickers for videos to select from in more than 15 categories and collections.
How do you make a Tiktok video with emojis?
Open the TikTok application, make a video, and plan where you want your emojis to pop up. Select the red Tick button and then the Smiley button to access the stickers. Then, select the Emoji option and select an emoji from the list which will appear in your video.
Are there any copyright issues with using emojis in videos?
Emojis are generally considered part of the public domain and are widely used in various forms of media, including videos. However, checking the terms of use is a good idea if you use branded or specialized emojis.
Do emojis add value to my videos?
Emojis can improve the engagement of your videos by conveying humor, feelings, or reactions. They are a creative way to connect with your audience and make your videos more relatable.
Conclusion
So, there you have it! Adding emojis to your videos is like giving them a secret code of emotions. It is a fun and easy way to show your personality and make your videos even more awesome. If you use a computer and plan to add emoji to the video, consider using Vidmore Video Converter. Give it a try, and watch your videos light up with emojis!