Best Denoise Apps for Video to Remove Grain Effect
Have you ever seen a video that looks grainy and has excess filters that make the video hard to watch? And for some other reasons, it makes your eyes hurt, making it difficult to see what is happening in the video. Nowadays, videos are usually incorporated with effects and filters to make them look good on screen. But it only looks unwanted at some point and makes your video unlikeable, mainly if you use a noise effect filter. Noise is a mix of different variations of brightness or color presented in a video.
Suppose you have a video that appears like that on the screen, so you want to remove it. The best thing you can do to remove that is by denoising the video. It will remove the dirt-like video noise to make your video look cleaner. With that, you can provide your viewers a natural and excellent viewing experience. What are you waiting for? Proceed to the following parts to learn how to denoise video in different ways.

Part 1. How to Denoise Video on Computer
1. Vidmore Video Converter
Are you looking for an application that can work without an internet connection? That has a beginner-friendly interface that is easy to use and control. And has built-in features that can help you accomplish your task? In that case, you can count on Vidmore Video Converter as it checks the list. It has a converter, ready-made themes, collage makers, and additional tools in one section. Even if you are a beginner or professional in this field, you can quickly master the built-in features and editing tools.
This program can help you remove noise from your video with a few clicks and not consume your time. It has a built-in tool that enables you to enhance the quality of your video in different ways. One of the ways is to remove video noise to remove the dirt-like presented in your video and make it cleaner. Proceed to the steps provided to learn how to denoise video using the best denoise software for video.
Step 1. Download and Install Vidmore Video Converter
To have complete access, download and install the program to your desktop. Once the installation is done, open the program to get started.
Step 2. Select Video Enhancer
Click the Toolbox tab from the top menu bar and locate Video Enhancer from the applied list. Once you open the tool, click the (+) icon to add the video you want to denoise. It will open your desktop folder and choose the video you want to undergo the video-denoising procedure.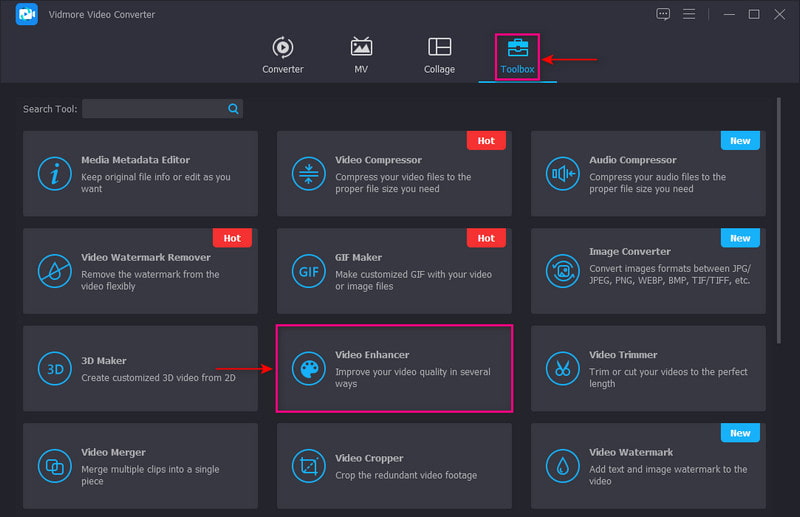 Step 3. Remove Video Noise
You will see the following options to enhance video quality on your screen. Put a check on the box beside the Remove Video Noise option. This function can help you remove the dirt-like video noise that can make your video cleaner. Additionally, you can cut out the unnecessary parts from your video using the Cut option.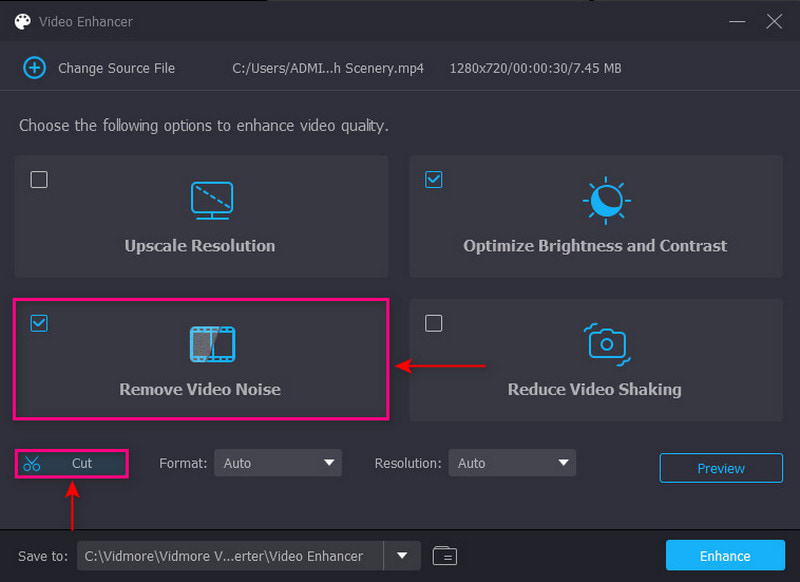 Step 4. Export Video File
You can select your preferred format and resolution below the enhanced video quality options. Once done, click the Enhance button on the lower right of your screen to save your denoise video to your folder.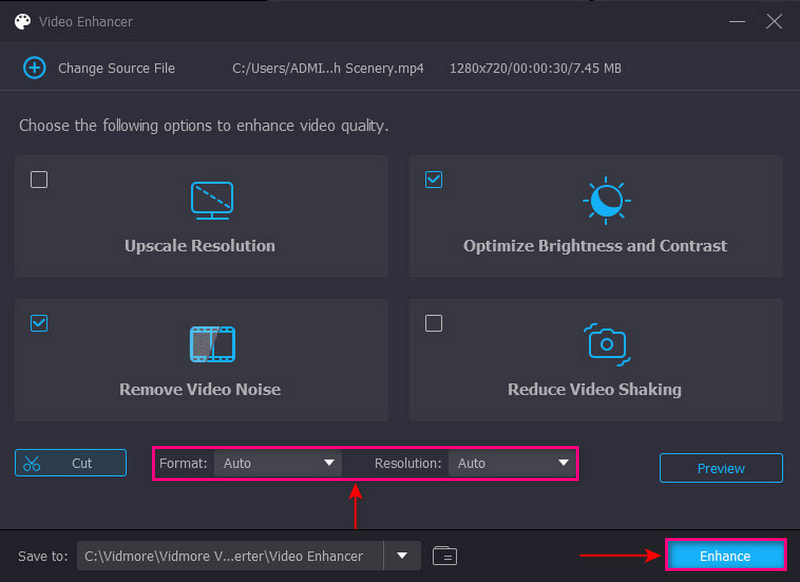 2. Adobe Premiere Pro
Adobe Premiere Pro is a video editing platform that enables users to make and edit professional-looking projects. It has built-in features that combine animations, audio, images, text, transitions, and videos. It has easy-to-use features and tools that can help you to start your project quickly and hassle-free. This program is capable of denoising video using an effect called the Median. To learn how to use Adobe Premiere denoiser video, refer to the following steps.
Step 1. First and foremost, open the program on your desktop. Next, upload your video to the Timeline and head to Effects Panel, where Median is located. Afterward, drag and drop the Median effect to your video.
Step 2. Choose a mask in a rectangle, circle, or pen shape on the Effects Control panel. Next, move the mask around the screen and resize it based on the covered area. Afterward, change the Feather setting to 100, and the effect will not have a visible edge and smoothness. If you want to cover all the grainy areas of your video, you need to repeat the process.
Step 3. Modify the effect settings to reduce the noise of your video. The effect does not leave out the graininess but helps you to blur it.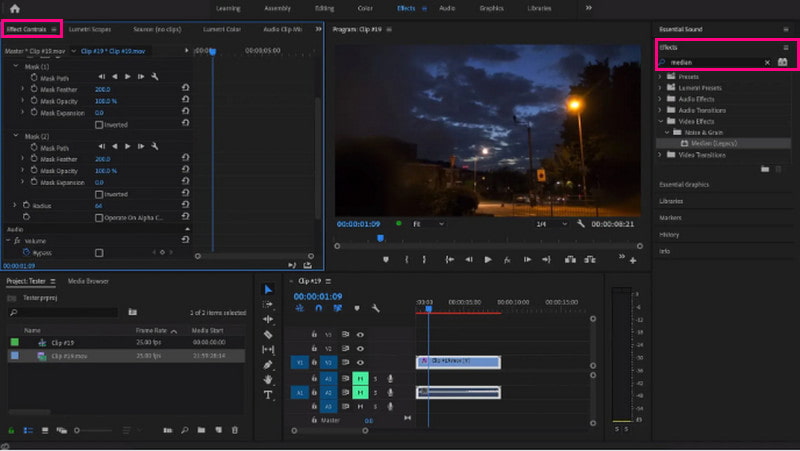 Part 2. How to Denoise Video on Android and iPhone
Do you prefer to edit using your smartphone? If yes, you can rely on PowerDirector. This mobile application is accessible using Android or iPhone devices. It is commonly used for cutting, editing, refining, and sharing videos. It has a built-in feature to help you remove or reduce noise and grainy video. That enables you to produce the high-quality video you wish to have. To begin the process, rely on the steps given.
Step 1. Open the application using your mobile device. Next, add your video to the main timeline track. Click the Media icon, proceed to the Video section, and select the video you want to denoise.
Step 2. To denoise your video, tap your video, and select Skin Smoothener from the menu options. From there, increase your video's amount of Skin Smoothness up to 100. Afterward, proceed to the Adjustment, then Sharpness, and increase the amount of Sharpness up to 100.
Step 3. Once settled, click the Save icon to save your clean and without grainy effect to your file folder.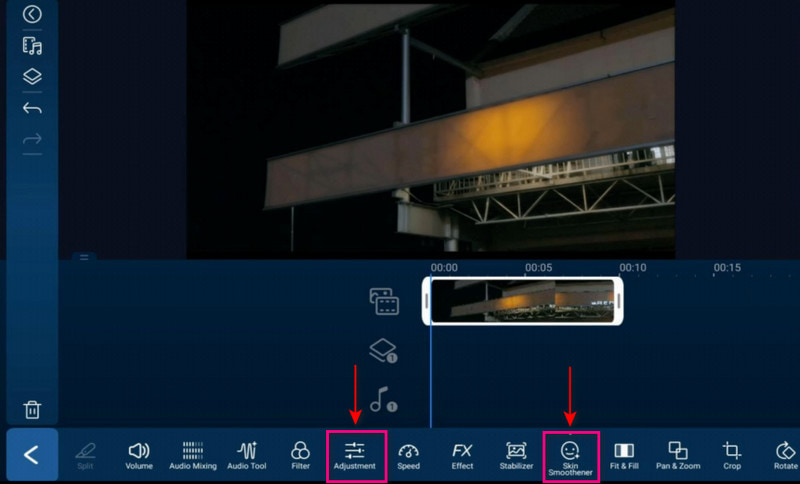 Part 3. FAQs about Denoise Video
What is denoise in video editing?
The video-denoising process is a method used to remove the noise presented in the video. The methods are divided into two: spatial video denoising and temporal video denoising methods. The spatial video denoising method is where image noise reduction is applied to each of the frames. In contrast, the temporal video denoising method reduces noise between the frames.
What is the purpose of denoise?
The process of denoising is to remove noise from a noisy image to restore the picture. The image might lose some details once it undergoes the denoising process. Noise, edge, and texture are hard to distinguish in denoising as these are high-frequency components.
What is grain in video editing?
The speckles that are randomly scattered on your screen are called film grain. These tiny particles are distributed artifacts throughout the picture.
What is the use of grain in video?
Applying and using grain in the video will make it appear more natural on the screen. Also, it will make your footage more believable, which can entice more audience. With that, it will look like the video is unedited and untouched.
Conclusion
There you have it! You have learned how to remove grain from video using several video editors. With that, you can improve a viewer's quality of experience when watching your video. If you want to remove noise or grain from your videos, you can use the abovementioned method. Most importantly, you should use an application that meets your needs and expectations. And so, better to use Vidmore Video Converter to accomplish your task.