Kapwing Online Video Trimmer: Highlights and Its Promising Alternative
Cutting videos is one of the essential editing skills a media practitioner must be an expert in. You must have an excellent tool that will help you fulfill all your editing purposes to accomplish this. You will have to consider the ease of use, convenience, and other helpful features that will enhance videos even more. Taking these needs into consideration, Kapwing may first come into mind.
Almost everyone in every field would need a tool like Kapwing for their video editing needs. Whether you are a beginner, a professional, or a typical user, Kapwing should help you turn your essential videos into brilliant and appealing worth-sharing videos. On the other hand, it's crucial to have an in-depth review of the tool to scrutinize it well and explore more of its features you might not know to exist. Buckle up and brace yourself for the gripping review of the Kapwing video Trimmer.

Part 1. Kapwing Video Trimmer Review
Kapwing is originally a video editor that makes editing easier for almost all users with different experience levels. It comes with an adequate supply of editing tools, from uploading features, video enhancing, audio editing, voice recording, and converting media files.
Proving its flexibility, you can now conduct your editing tasks at your fingertips. It supports both iOS and Android mobile devices. Thus, it is also spot on when it comes to portability. Not to mention, sharing on social media platforms is also supported. That means it grants users the freedom to share their favorite edited videos on social media platforms. Learn more about Kapwing cutter as you dig deep into its key features.
1. Graphic User Interface
One of the things to consider when using a program is the user interface. This will determine whether the tool is easy to maneuver, allowing you to accomplish your tasks quickly. As far as the Kapwing cutter is concerned, you will notice various tools with a professional look as if you are seeing hardcore editing software. Its interface comprises a toolbar on the left menu, a preview section in the middle, a timeline, and property settings on the right portion. Overall, the tool is straightforward, and anyone who gets to see it for the first time can get the hang of it instantly.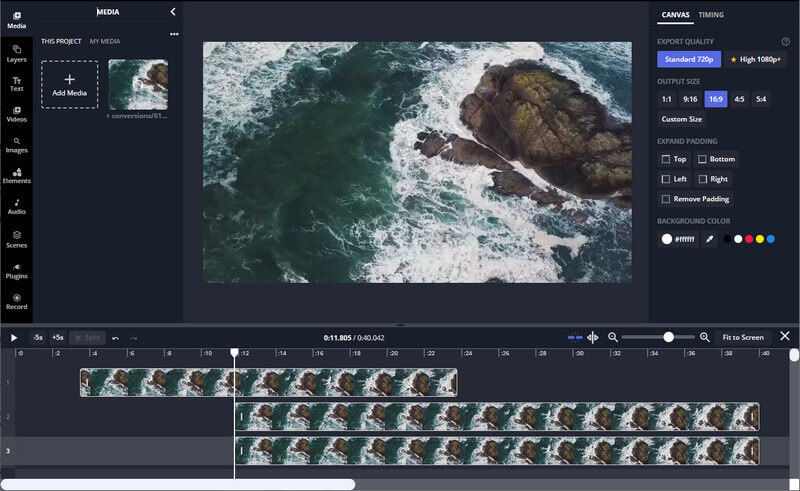 2. Uploading Capability
Uploading capability can also be of great help, especially if you are saving files from different sources like cloud storage services. That includes importing from Google Drive, Dropbox, or other means like video URL. Fortunately, this online video trimmer Kapwing is infused with such capability. This program lets you upload from Google Drive, Google Photos, and the local drive. Furthermore, it features a drag-and-drop ability to upload files to the online tool conveniently.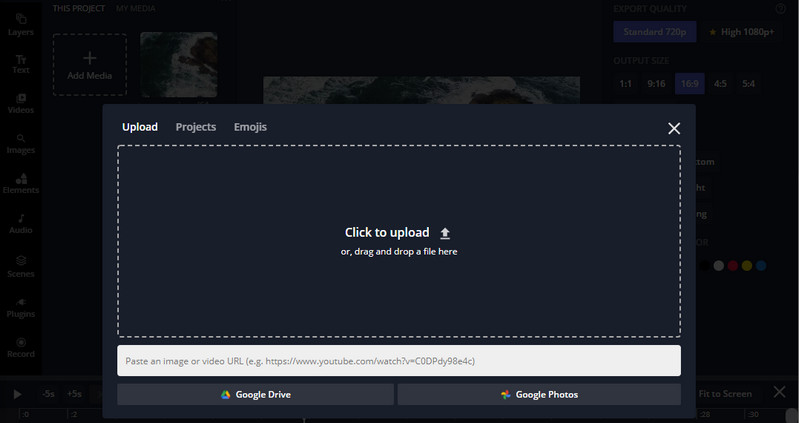 3. Split, Cut, and Merge Video Tools
Now, the Kapwing video trimmer does not fall behind in furnishing, editing, and polishing jobs. Although it is an online program, it has powerful tools to split videos into your desired segments, cut out unwanted parts, and combine several video files. Hence, it is known as one of the best Kapwing trimmers and mergers online.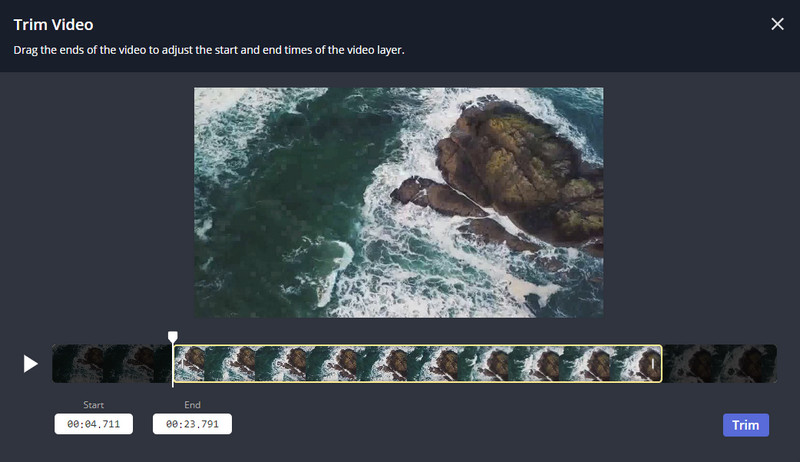 4. Audio Tools
Aside from video, the tool also offers audio editing tools. It's not much, but you can mute the video file to pave the way for the new music track that you wish to add to replace the existing audio. Moreover, you can add a recording of the sound on your microphone. Besides, the Kapwing cutter lets you add from its collection of free music for different genres and sound effects library.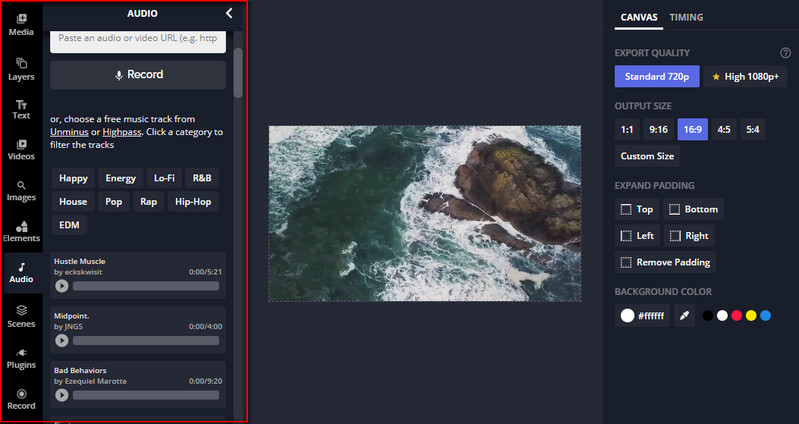 Pros:
Efficiently trim, split, cut, and merge videos.
It does not need to be installed to use it.
User-friendly interface making suitable for professionals and beginners.
Select from a collection of text effects and animations.
Extended features like GIF maker clip resizer, supporting different social media platforms.
Cons:
Needs internet connection before using it.
It can not preserve the 4K HD quality when exporting or saving the video.
Leaves watermark on the video output.
Very few options for editing audio files.
See the guideline to learn how to use the Kapwing online video trimmer to cut and edit your video files.
Step 1. At first, you need to go to the official website of Kapwing using any browser available on your computer. Click the Start editing button from the main page to begin with the tool.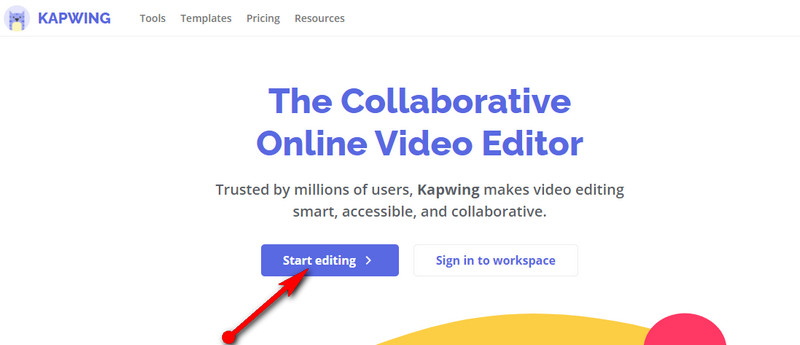 Step 2. Then, you will arrive at the uploading page. From here, import and add the video you wish to cut, or you may also start with a blank canvas.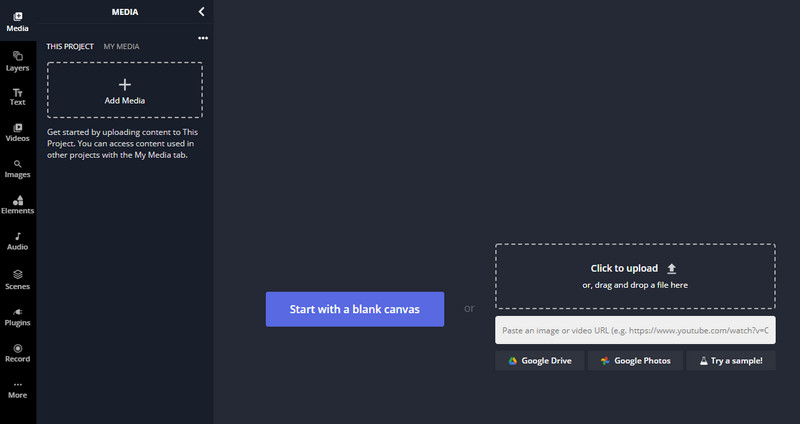 Step 3. After loading the file, the tool displays a toolset for you to cut and edit the video. Place the video Playhead to your desired position and hit the Split button on the timeline section to split the video.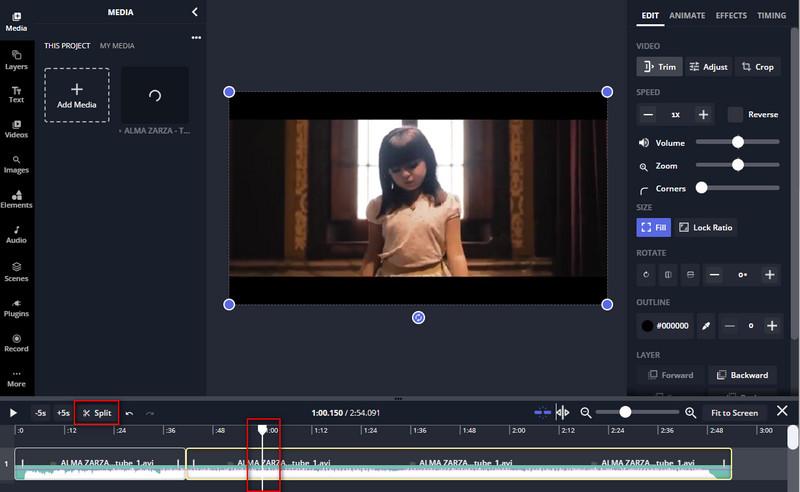 Step 4. Select the video from the timeline and choose Trim from the menu on the right side of the interface. A dialogue box will appear that will grant you access to the trimming function of the tool. Now adjust the slider or set the start and end times. Finally, hit the Trim button to confirm the process.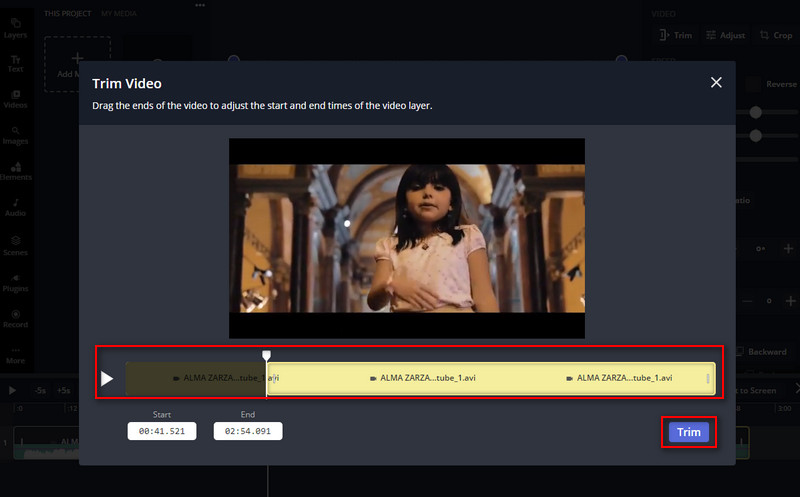 Step 5. Save the file by clicking the Export Video at the top right corner. When the process is through, you can then download the video output.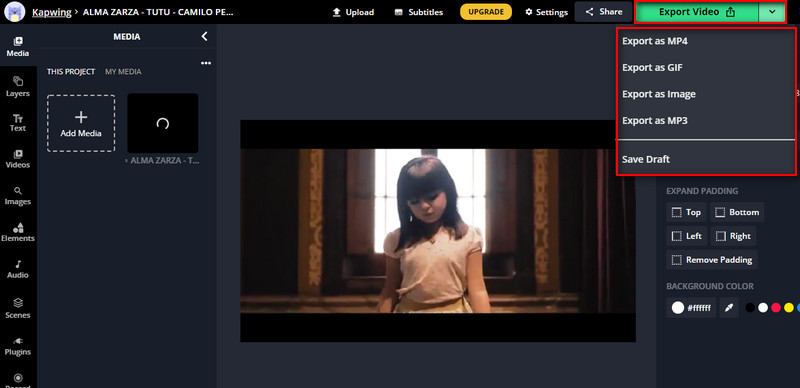 Part 2. Best Alternative to Trim Videos
As we know, the Kapwing trimmer also shares its disadvantage. You can not use the tool unless you are connected to the internet. What's more, it can not preserve the 4K HD quality of video you intend to cut. Allow us to introduce a capable tool to help you cut videos with or without an internet connection named Vidmore Video Converter.
Also, the tool retains the original quality of the video. Hence, you can cut or edit any video without compromising the quality. On top of that, it also possesses extra features that will help you furnish and enhance your videos producing professional and good-looking media content. Please get to know more about this wonderful Kapwing cutter alternative by referring to its key features.
1. Wide acceptance of video and audio formats
The tool supports a wide range of video/audio formats. This app enables you to trim MP4, MKV, AVI, MOV, and other video file formats. It also supports device formats for Apple devices, Samsung, Huawei, HTC, consoles, smart TVs, and so much more.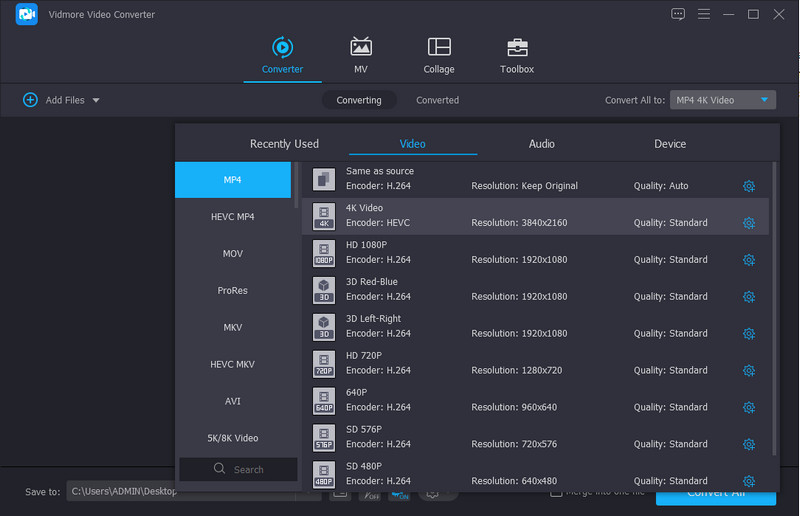 2. 4K UHD video support
If you are cutting your 4K UHD video, you can do so with the help of this program. Also, you don't need to worry if the file is too large or small. What's more, you can upload as many video files as you wish without being restricted.
3. Offers various video and audio editing tools
Aside from the mentioned features, the tool is jampacked with useful tools for editing your media files. It helps you rotate, crop, cut, split, and merge video or audio files. Furthermore, you can apply different filters to the video and adjust basic video settings such as hue, brightness, saturation, etc.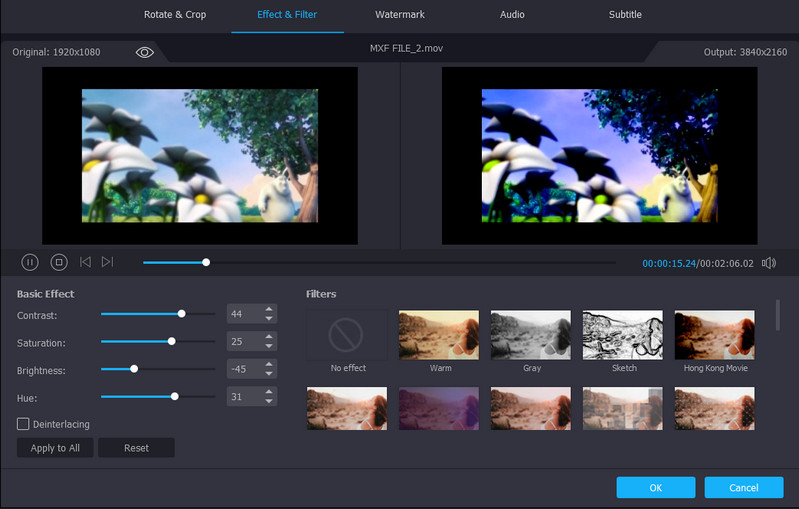 Pros:
Support to 4K UHD videos.
Add subtitles and text and image watermarks.
Apple video effects and filters.
Offers video trimmer, merger, GIF maker, etc.
Video enhancer offers advanced video editing tools.
Has toolbox for extended features and functions.
Cons:
Free version restricts some premium options.
Performs well under a computer with mediocre resources.
Follow the walkthrough underneath to cut videos using this tool:
Step 1. Download and install Vidmore Video Converter on your computer.
Step 2. Open the program and upload a video that you like to cut. Simply click the Plus symbol and select your target video.
Step 3. This time, click the Cut button on the video thumbnail to start cutting. Adjust the slider or enter the exact starting and ending time to select range. Hit the Save button once done.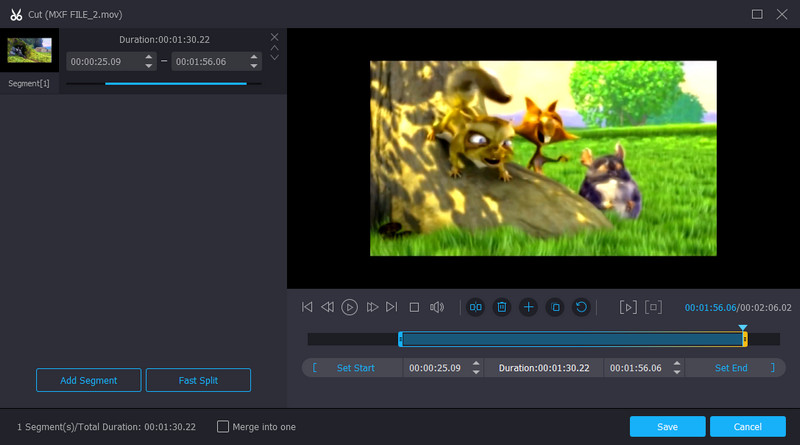 Step 4. Now, go to the Converter tab and select a video format for the video file. After selecting a video format, click the Convert All button to produce the final output.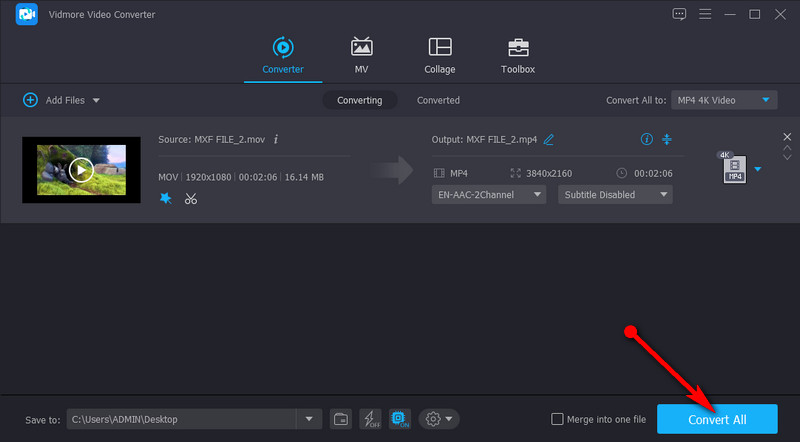 Further Reading:
How to Trim a GIF: Best 4 GIF Cutters for Online, Desktop, and Mobile
5 Best Ringtone Cutter to Edit a Song for a Ringtone
Part 3. Comparison Chart
If you wish to evaluate these tools in-depth, we have created a table for you to compare and contrast these two fantastic video trimmers.
Kapwing

Vidmore Video Converter
| | | | | |
| --- | --- | --- | --- | --- |
| User-friendly | Platform | 4K support | Editing Tools | Best for |
| | Web | | Cut, split, merge, apply effects, etc. | Beginners and professionals |
| | Windows and Mac | | Split, cut, trim, merge, crop, rotate, audio editor, and more | Amateurs, advanced, and professionals |
Part 4. FAQs on Kapwing Video Trimmer
Is Kapwing video trimmer free?
Yes. Just like any web-based tool, Kapwing is workable on nearly all browsers allowing you to freely use the tool's service free of charge. However, you need to sign un an account and upgrade to its premium version to access the advanced features.
Is Kapwing sage to use?
Apparently, most online programs are subject to malware that might infuse viruses into your computer. Some programs also ask for confidential info, which makes it malicious. But with Kapwing, we could say that it's safe since there are no ads or plugins that the tool is forcing you to integrate with your system.
Does Kapwing lower the video quality?
Unfortunately, yes. Suppose you want to edit or cut high-quality videos, such as 4K UHD. In that case, you can expect the same output because it only supports a standard resolution. Besides, there is only one format option for the video, which is MP4.
Conclusion
The content reveals the bells and whistles of Kapwing trimmer that you might not know to exist. There is a video cutter, splitter, merger, and a lot more to help you make brilliant videos. However, suppose it did not meet your expectations for editing videos, or you find it lacking in many aspects. In that case, Vidmore Video Converter is an excellent alternative for you. Try them for yourself and tell us how your experience was upon using these programs or share it with others.