How to Make a Day in the Life Video for Social Media Content
Ever wondered how to show people what your is really like? A Day in the Life video is an excellent way to do it! These videos are like your time-travel journals, showing everything you do daily. You make a video from waking up to winding down, and you get to share your life story with others. Do not worry; it is not hard. Keep reading to discover how to make your awesome Day in the Life video!

Part 1. How to Make a Day in the Life Video
Making a Day in the Life video is like making a movie about your regular day. You record all the normal and exciting things you do, like waking up, eating, going to school or work, and relaxing. It helps others see what your life is like. It is like inviting people to spend a day with you through video.
How to Make a Day in the Life video
Step 1. First and foremost, decide which day you want to record. Think about what activities you will be doing and what parts of your day you desire to show in the video.
Step 2. Get a smartphone or camera and ensure it is charged and has enough space to record your video. When your day begins, begin recording. You can talk to the camera to introduce your day and explain what you will do. Record the different activities you do throughout the day. It could be getting ready in the morning, going to school or work, spending time with family or friends, etc.
Step 3. Record moments that stand out or are interesting, like trying a new activity, meeting someone special, or doing something you like.
Note: Act like the camera is not there. Just be yourself and do what you commonly do. It will make the video feel real and relatable.
Step 4. Instead of recording continuously, make shorter video clips. It will make it easier to edit later. Remember to take breaks from recording if you are doing something private or need some personal time.
Step 5. Keep recording until your day comes to an end. Show how you wind down and prepare for the night. When your day is over, stop recording. You can talk to the camera again to say goodbye and wrap up the video. That is how to make a day in the life video!
How to Edit a Day in the Life Video
To make your Day in the Life video look compelling, consider using a program that helps you edit your video clips. That is where Vidmore Video Converter comes in to help you make your content better. This program has the magic touch to transform your video clips into captivating stories. With its user-friendly interface and powerful editing functionalities, it is like having a professional video editor at your fingertips. Correct your video presentation, remove unnecessary parts, embed a watermark, and modify volume and delay. In addition, you can incorporate theme, text, and background music and change the video settings based on your liking. Indeed, Vidmore Video Converter is the best Day in the Life of a video editor you can access.
Step 1. To begin with, go to Vidmore Video Converter's official website to download the program. Install the program by following the on-screen instructions to have complete access when downloaded. Once installed, proceed to open the program to get started.
Step 2. Hit the MV tab from the top menu bar. Afterward, press the Add File button on the lower-left corner of the interface to import your video clip. When your desktop folder is opened, please select the Day in the Life video file you want to edit.
Note: You can add as many video clips as you want and arrange them according to their position order.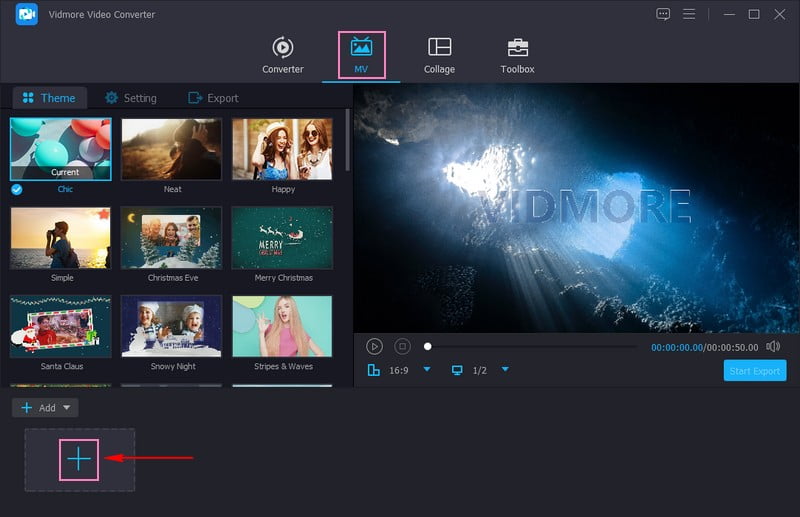 Step 3. Click Edit to access the editing features that the program provides. You can use Rotate & Crop, Effects & Filters, Watermark, and Audio here.
You can rotate your video clip on your desired presentation and remove unnecessary video frames from the Rotate & Crop. On Effects & Filters, you can modify the basic effects, such as contrast, brightness, saturation, and hue, according to your preference. On the right side, please pick a filter suitable for your video content. For instance, If you want to embed a Watermark, whether Image or Text, you can do that too. On Audio, you can modify the volume and delay based on your liking.
Note: Hit the OK button to apply your changes in each editing feature.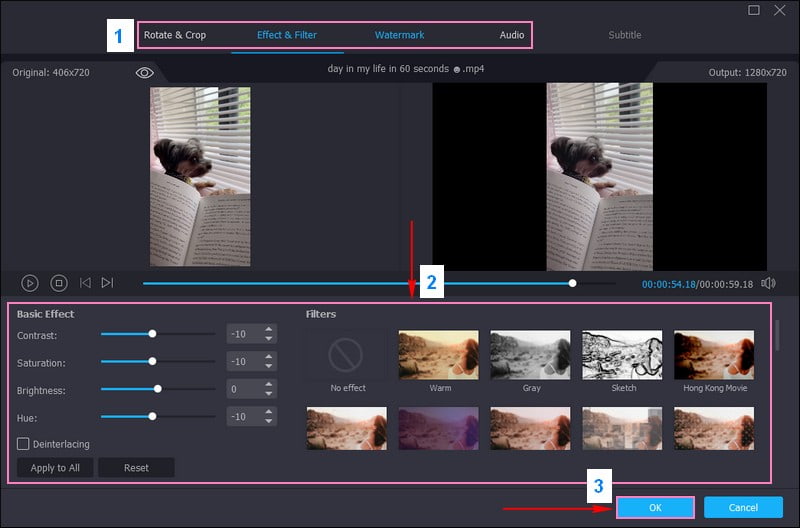 Step 4. On Theme, pick a desired one from the list of samples available. You can choose Neat, Happy, Simple, Romantic, Travel, Business, Wedding, Old Times, Sport, Holiday, Colorful Life, and more. Once picked, you can see that the theme is applied to your video clip from the right preview screen.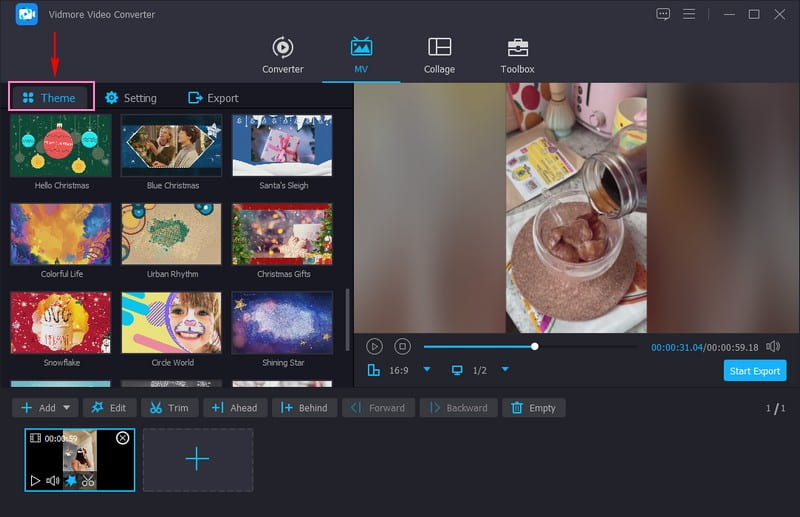 Step 5. On Settings, you can add Start & End Titles to incorporate text, which will appear on your video's starting and ending parts. You can modify the text's duration, font, type, size, and color here. Put a checkmark beside each option, allowing you to enter a text. In addition, put a checkmark beside the Background Music and click the (+) button to import an audio file.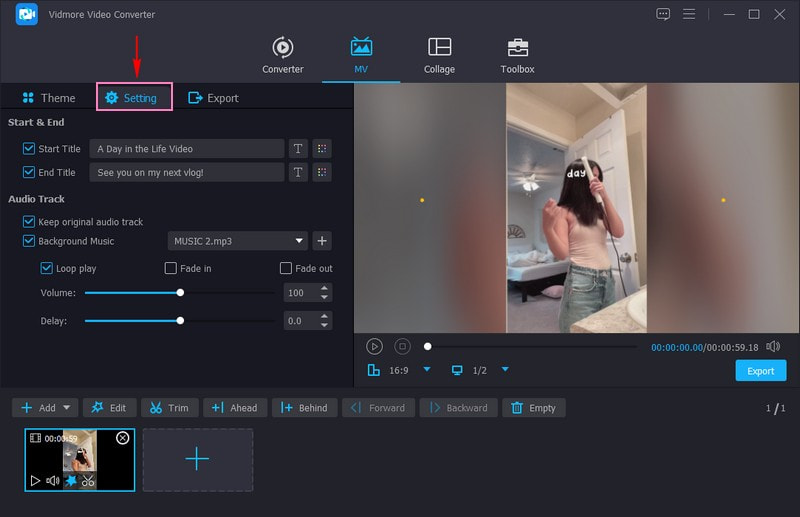 Step 6. When done, go to Export, change the Video Settings according to your requirement, and click the Start Export button. Afterward, your edited Day in the Life video will be saved on your local drive. Check it out; it is ready to be uploaded on your social media platforms and seen by many viewers.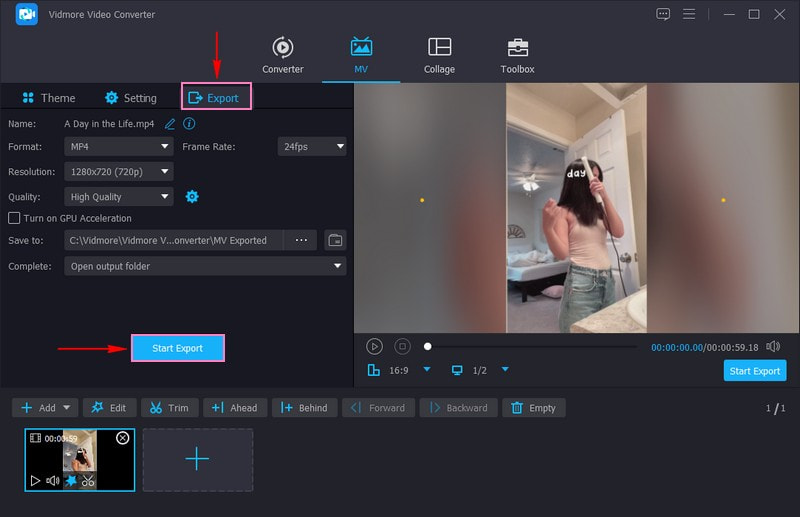 Part 2. FAQs about Making a Day in the Life Video
How do you record a day in the life on TikTok?
First, choose the day you want to show and consider what moments you want to capture. Then, run the TikTok application on your mobile device. Click the (+) button to start a new video, and hold the record button to capture short clips of your day's activities. Select a song from TikTok's music library to play in the background. Add filters and stickers from the effects menu and rearrange clips by dragging them on the timeline. You can incorporate captions with the Text button. Ensure your video tells your story well.
Why do people like day-in-the-life videos?
It allows viewers to learn about you through your daily routines. For content creators, a day in the life video helps built trust with the audience, grow more followers, and gain profit.
How do you film a daily routine?
Please make a list of activities and their order. Get a camera or mobile device with space and battery. Put the camera where it sees well and record from different angles for interest. It would be best to act normal, like the camera is not there. Stay focused on key moments to keep viewers engaged.
What are the day-in-the-life video ideas?
You can show a typical day at school work, fitness routine, cooking meals, special moments with family, self-care routine, and more.
How long should my day in the life video be?
You can record a day in the video between 3 to 10 minutes. Shorter videos are generally more captivating, but it depends on the content.
Conclusion
When making a Day in the Life video, you show everything you do, from morning to night. With this post, you have learned how to create a day-in-the-life video. All you need to do is to decide what to film, use a camera or smartphone, capture your activities, and edit it. To edit your video content, you can use Vidmore Video Converter to make your video more captivating and lively. When it is ready, you can share it with others. Remember, it is your story, so make it fun and exciting!