Best Video Collage Makers to Put Videos into One Screen
We often take videos whenever we are having a night out or a simple occasion and share it to our stories on our social media accounts. But sometimes, we want to show more because we think a simple video won't tell the whole story.
Therefore, we need to merge several video clips together and that is where the app to put videos together enters. That is why in this post, we will share with you the most suggested online and offline apps that will help you to collage your videos.

Part 1. How to Make a Video Collage Offline
Admit it or not, we are creating and posting video stories because we want to show to our social media friends how happy we are, how our day was. But sometimes, one video clip is not enough. That is why you want to combine several clips into one screen. And in this part, we will share the applications that you can download on your system. See below what these applications are.
1. Vidmore Video Converter
First on the list of the app to make a video collage is the Vidmore Video Converter wherein this app is downloadable on both Windows and Mac. This tool has a user-friendly interface that is why you can easily combine your videos with ease. Aside from that, it also offers different themes which are in their music video section.
Their MV feature will surely help you gain more viewers on your stories on social media due to its attractive designs. That is why users can't help but to love this app due to the creative editing tools it offers. And to finally share how this application works, here is a step-by-step process below.
Step 1: Get the Video Collage Maker
As a start, download the collage maker by means of clicking one of the buttons below. After that, install the app and launch it on your device.
Step 2: Add Video Clips
Once the app was launched on your system, click the Collage section on the upper part of the main interface. After you were led to the Collage section, choose the Template that you want and add the video clips that you want.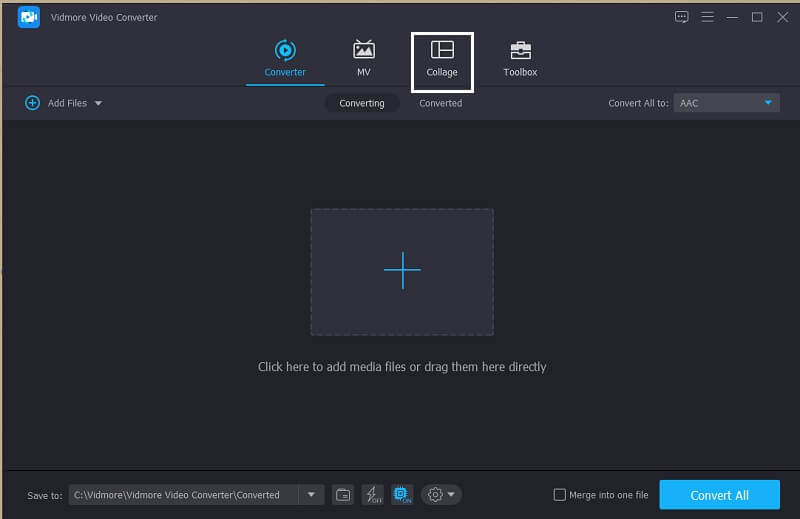 Step 3: Edit Your Video Clips
After adding the video clips on the layout that you have chosen, you can make your clips be more attractive by trimming or rotating them. Or you can click the Filter panel to apply any effect that you require. And if you want to add background music, you can do it by clicking the Audio tab along the Filter.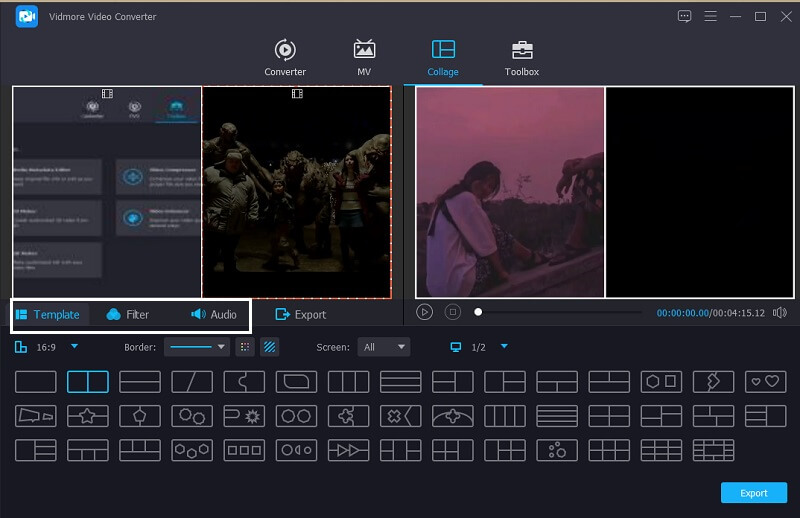 Step 4: Export the Video Collage
Once you are satisfied with the changes, click the Export tab on the right lower part of the tool, then choose the format, frame rate, resolution, and quality according to your need. Click Start Export to successfully upload the file.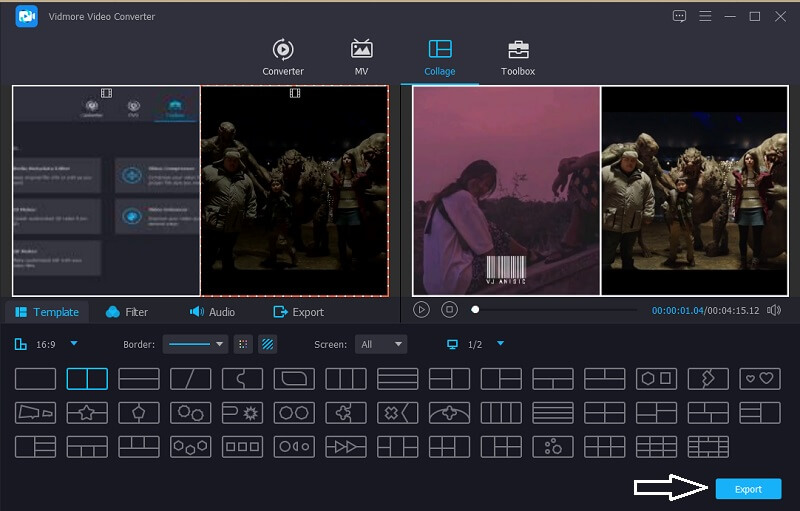 2. Win Movie Maker 2021
Another video collage maker that you can count on is Win Movie Maker 2021. This may be a new app but it has rich editing features like video and images maker, adding text, animations and even mosaic to your videos. But it will be a bit complicated for people who are not used in editing because of the tool's technicalities. For a better understanding of how to use this software, here is a simple guide on how to make a video collage. See the steps indicated below.
Step 1: Download and Install the Win Movie Maker 2021 and launch it on your device.
Step 2: After that, click Project Media then add the files that you want. After that, click the Templates option and choose from the available templates for you to make a video collage.
Step 3: Once you are decided on the changes that you made, click the Export button on the right lower part of the tool. And that's it!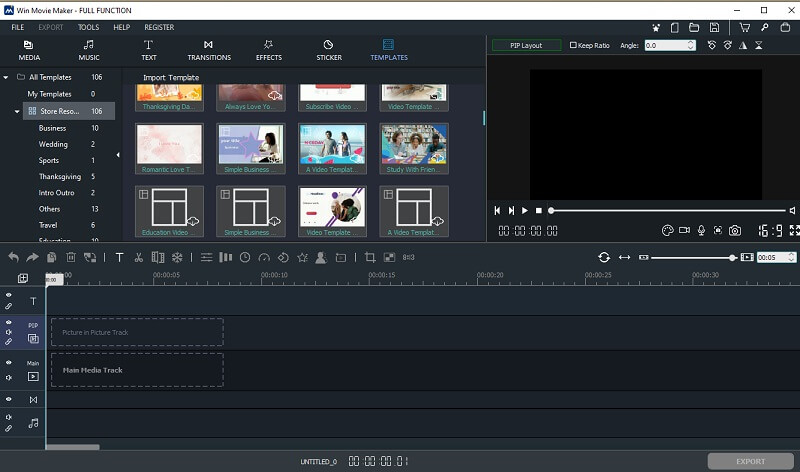 Part 2. How to Make a Video Collage Online
Online tools are more space-saving. And they're much easier to operate. And in this part, we will give you the top 3 online tools for you to create a video collage. Check them out here on the given tools below.
1. Kapwing: Online Collage Maker
First on the list of the video makers that you can use online is the Kapwing. This tool allows you to put your images, videos and GIFs according to what you require. Even though it is a web-based app, it has rich editing features which makes video clips even more masterpiece.
Step 1: Go to the official page of the Kapwing then, click the Add Media and upload the files that you want to collage.
Step 2: For you to be able to make a collage, drop the file on the main on the interface of the online tool then adjust its size through the four dots at the corner of the videos.
Step 3: Once you are okay with the collage that you have made, click the Export Video tab and after it has been processed, click the Download tab and you have now a video collage.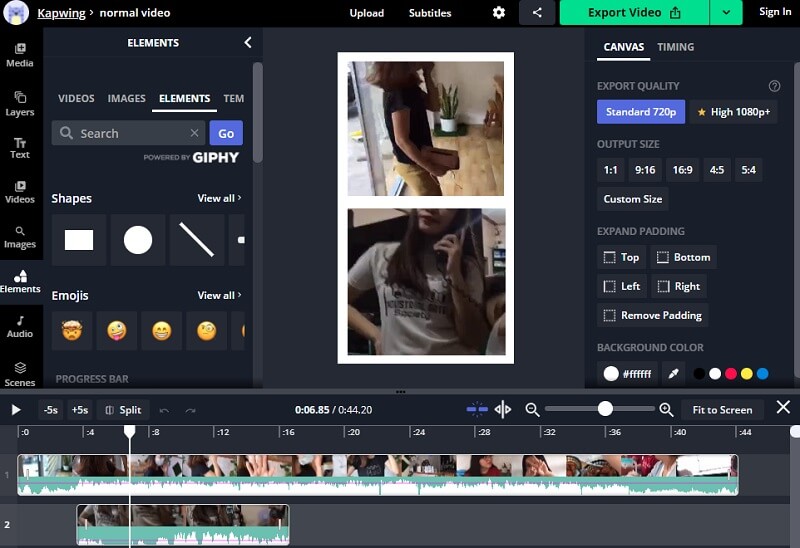 2. Canva
Another browser-based video maker application is the Canva. It is one of the well-known online tools that help you make a video collage through different layouts. Here is the step-by-step procedure below that you can follow.
Step 1: Go to the page of Canva then look for the Video Collages and choose the kind of template that you require.
Step 2: Upload your favorite video clips, then drag them down on the template.
Step 3: After you are done applying the changes, click the Download button above to successfully get your video collage.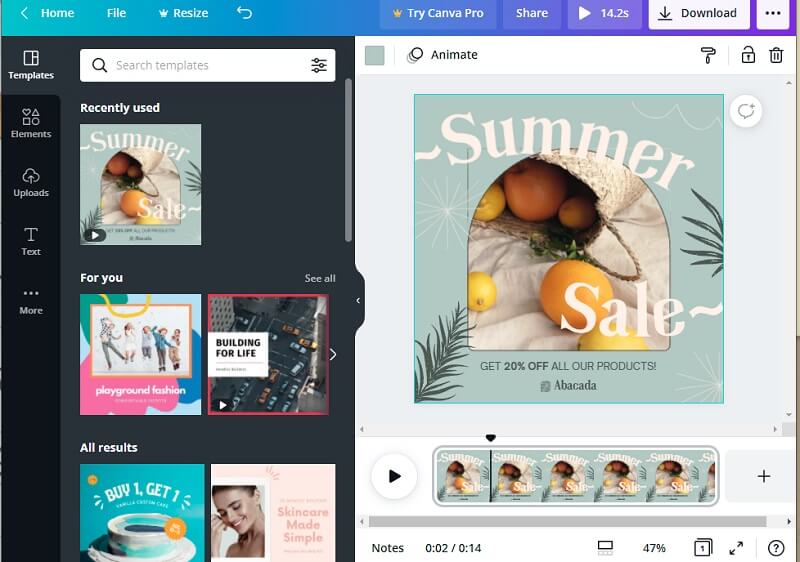 3. Typito
If you want to know how to make a video collage with music without downloading any app, try using the Typito. It is a web based tool which offers an easy way to combine your video clips. Feel free to follow the given data below on how to make a video collage using this app.
Step 1: Make an account on this app first then upload the video clips that you want to make as a collage.
Step 2: Arrange your video clips by trimming, cutting or changing the size of the video. After that, add music and text to add a flavor in your video clip.
Step 3: Once you are done, click the Export button at the right upper part of the tool's interface. And you can now share your video collage on your social media stories.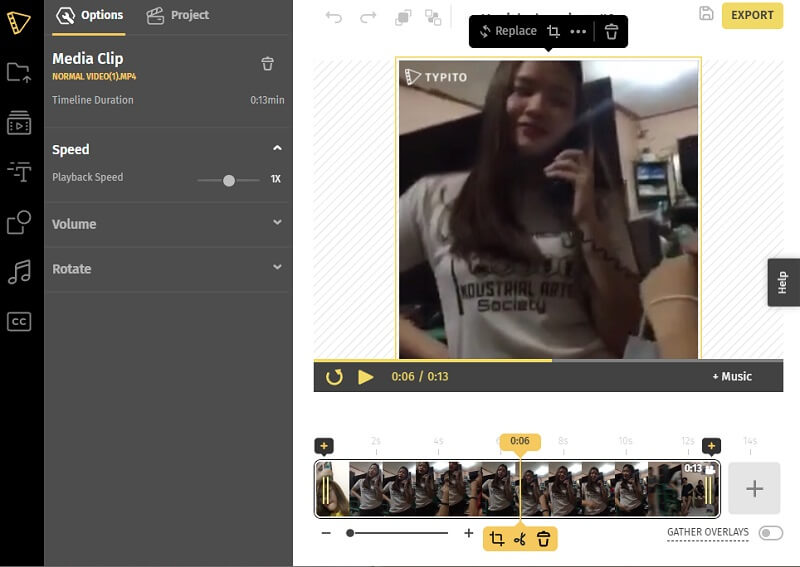 Part 3. How to Make Video Collage with Apps
The following apps you will see in this post are the video collage maker for mobile devices. It can help you instantly combine your videos and upload them to your stories in an instant. Check them out on the list below and choose your bet.
1. KineMaster
One of the most popular photo and video editors is the KineMaster. This is a free downloadable tool which helps you easily make video collage according to what you desire. This app has a rich editing feature wherein you can add effects, filters and texts on your clips.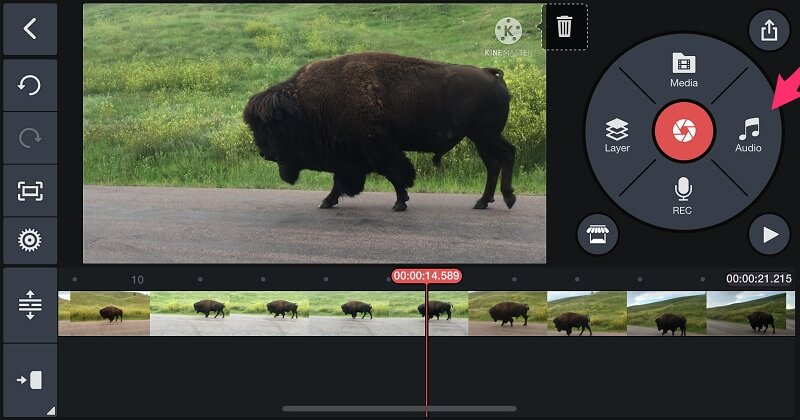 2. VivaVideo
Another famous collage video maker that you can acquire on your mobile device is the VivaVideo app. It has a user-friendly interface which makes it easy for users to easily create slideshows, custom videos and even video collage. No wonder it is one of the most patronized apps when it comes to making a collage on mobile devices.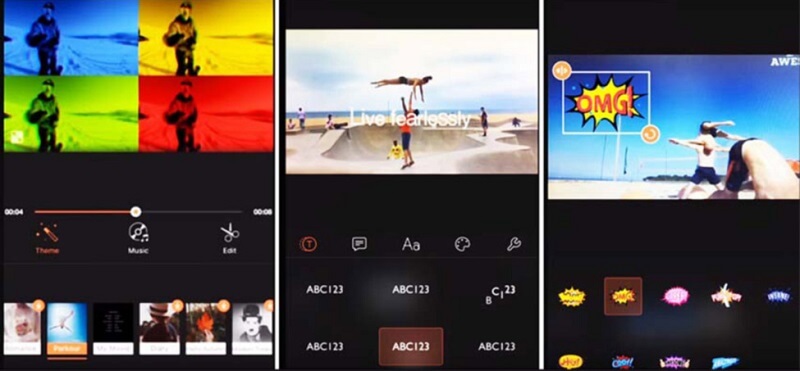 Part 4. FAQs How to Make a Video Collage
1. What app does support in making a video collage on iPhone?
If you are looking for a video collage maker, you can count on the iMovie app. It's pre-installed on your iPhone so you don't need to download it.
2. Can I use the Canva without the need to sign up on their page?
Unfortunately no, for you to proceed in the editing features, you are required to sign up first to open the features that this app offers.
3. Can I add music to my video collage in Vidmore even if it is not in the MP3 format?
Yes, you can still add background music even if it is not in the MP3 because Vidmore supports almost all audio formats.
Conclusion
Through the seven video collage maker applications indicated above, you will not have a hard time anymore in combining your favorite video clips because you can count on them to make a video collage. So, what are you waiting for? Choose which tool you prefer and start making attractive video collages!