Top Album Art Mac, Windows, iOS, and Android Changers (100% Working)
There are instances when you wish to see the album artwork of your songs playing on your car or digital player. The album cover helps you to recognize a specific song, especially when you just downloaded it. As we know, the song's cover is closely associated with the song itself. On the other hand, some users get attached to the appealing image cover. Meanwhile, not everyone is familiar with attaching the cover to their songs or tracks.
Allow us to uncover the list of reliable mobile and computer album art changer software for Windows 7, 10, 11, and even mobile devices. Read on to learn more.

Part 1. Recommended Album Art Changers for Mobile Phones
For sure, your Apple and Android devices have a collection of songs. However, not all songs in your collection are attached with cover artwork. Taking this problem into consideration, we reviewed the tools that will help you change the art cover on your mobile phone.
1. Album Art Changer Pro
The Album Art Changer Pro is an effective tool that works best in altering the artwork of your music files. The program allows you to album artwork for each song without complications. You can add album artwork from your gallery, search for art, or clear art. Moreover, users may edit and update the tags of the music files. On top of that, it is possible to preview the artwork after the process. However, the program is loaded with a bunch of ads. Sometimes, you can only edit three songs at a time, and an ad pops up. Having the Art Changer Pro APK download is recommended in this case. Learn more about the tool through the pros and cons below.
Pros:
Search, edit, and update tags.
Organize a collection of songs with their album art.
Choose art from your phone gallery.
Cons:
The ads in the program can be annoying.
It cannot set an album artwork for multiple songs.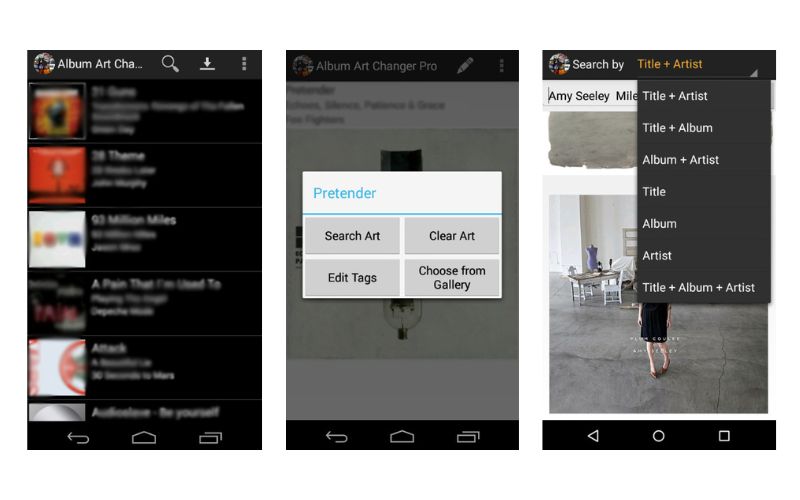 2. Melodista
Melodista is a great free application that enables you to change the cover art of your songs or iPhone music files. Apart from that, it also enables users to edit the cover art, title, artist, and album name of the songs on their iPhones. Moreover, the interface is easy-to-navigate, and you will not have a difficult time using it. Even non-tech-savvy people could navigate the program with so much ease. In this way, you can quickly recognize unfamiliar songs on your iPhone or iPad. Here is a list of advantages and disadvantages you can check from this program.
Pros:
The program is available in dark mode.
It supports many audio formats.
Folder playlists can be created and organized.
Cons:
Some tags cannot be edited, such as the artist.
Instances where songs crash.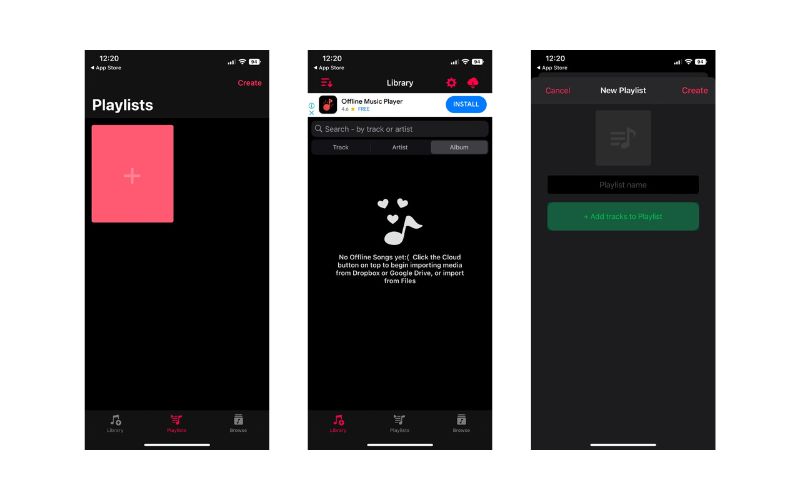 3. iTunes
If you do not want to download anything on your device, you can opt for a default application for iOS devices. iTunes can also help you change the album artwork of any song on your iPhone or iPad devices. All your offline downloaded programs can be recognized by the program. Therefore, you can make changes to them, such as changing metadata tags, art covers, converting, and many more. Provided your iPhone is connected to your computer device, you can access your songs from your phone to the computer.
Pros:
Read the downloaded songs from your iPhone.
Edit the metadata and tags of your songs.
Cons:
Music libraries are at risk of losing.
Adding music between different libraries is not possible.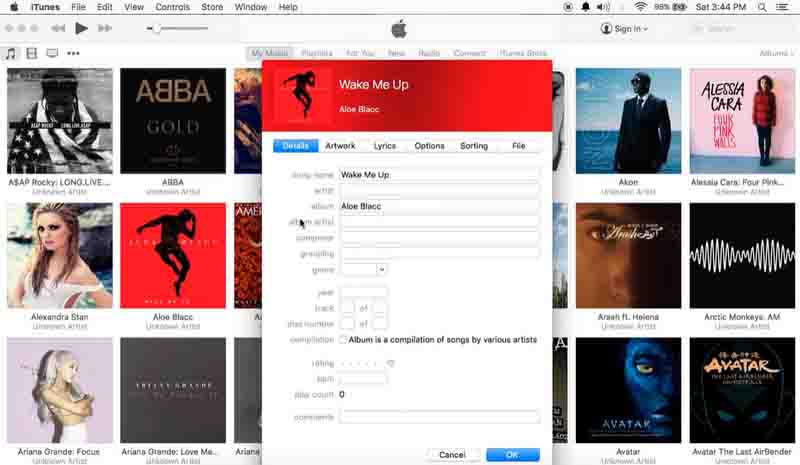 Part 2. Ideal Album Art Changer Apps for Computer
If you are the type of user that takes pleasure in using a widescreen, then the computer programs are ideal for you. In fact, there are a lot of benefits you can enjoy apart from the widescreen view. Some features that are not available in mobile apps are present in computer programs. Check out how to change album art on Mac or Windows using the below tools.
1. Vidmore Video Converter
Vidmore Video Converter is a versatile tool that enables you to change album art on Mac and Windows with great ease. In addition, users may change the metadata of their songs. That includes the title, track, artist, genre, year, and comment. Moreover, it accepts almost any audio and video file formats you add to it. User interface-wise, the tool can be handled by anyone, even with no prior experience.
Pros:
Add art cover from your computer pictures.
Edit title, artist, track, genre, etc.
Simple and easy-to-navigate interface.
Cons:
It does not enable batch editing of song art covers.
Here is how to change album art on Windows or Mac:
Step 1. Acquire the tool and launch
First, tick the Free Download button according to your computer OS and install it using the setup wizard. After that, launch the tool and familiarize yourself with the program.
Step 2. Access the Metadata Editor
Next, tick the Toolbox tab in the upper portion of the program. Then, a list of functions and features is revealed. From here, click the Media Metadata Editor.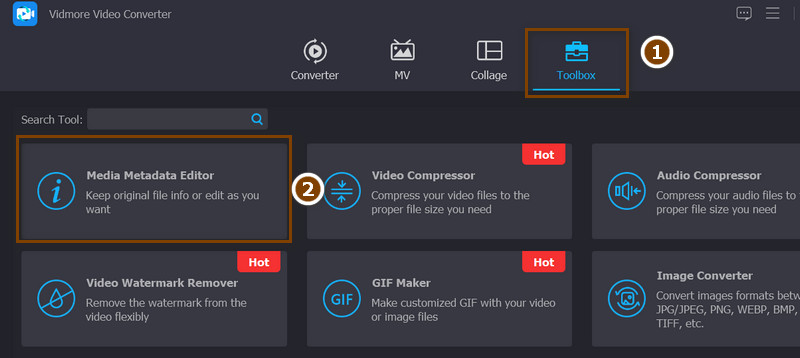 Step 3. Add a media file
Now, hit the add button from the center of the dialog box and look for your target media file from your computer folder. Once the file is successfully added, you will see the tags you can edit, including the artwork.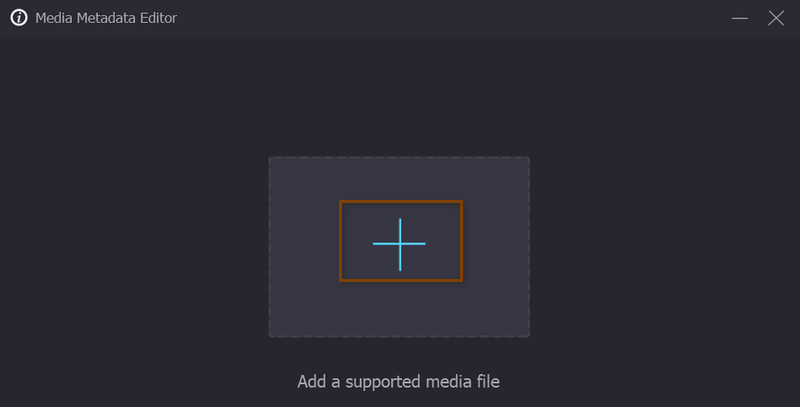 Step 4. Change the artwork cover
This time, hit the plus button in the cover frame, and your file explorer will appear. Select the appropriate picture and confirm the changes by ticking the Save button.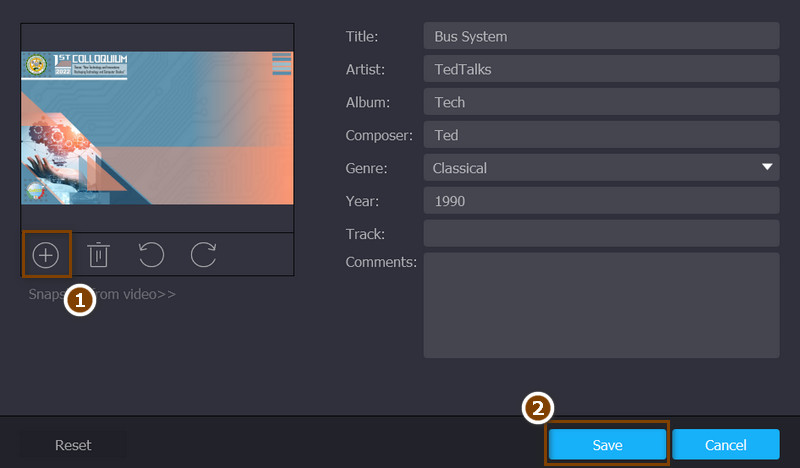 2. TagMP3.net
Another effective tool to help you change the art cover of your music files is TagMP3. This web-based program allows you to edit tags from the comfort of your browser. There is no need for you to download anything since everything is done online. However, since it is freeware, expect that there will be ads loaded into this site. Nevertheless, it is a great tool to change album art on Mac or Windows.
Pros:
Drag-and-drop interface.
No need to download applications.
Cons:
Ads are present in the actual processing interface.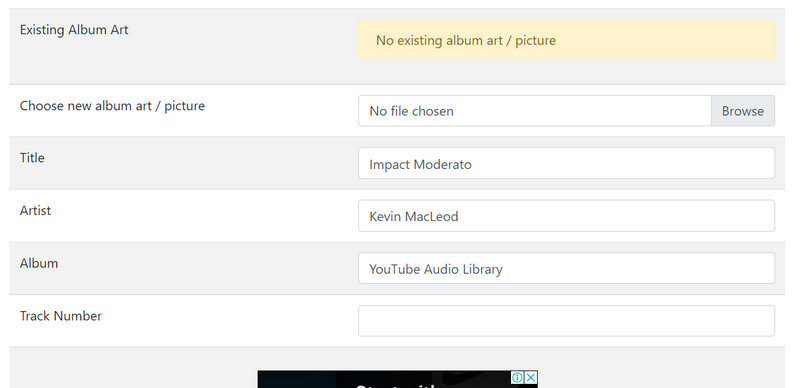 Part 3. FAQs about Album Art Changers
Can I use Canva for album covers?
Yes. You can create a Canva picture appropriate for the album and ensure that the picture size is fit for the album artwork.
Is it possible to add pictures in any format?
Yes. However, there are instances where the photo format needs to be accepted. It is best to use a general format for photos which is JPEG.
Can I edit album covers?
Yes. The album covers are the same as the pictures you see online. They do not have significant differences except the dimension. Therefore, you may find yourself editing using a typical photo editor.
Conclusion
There you have it! The five best programs to change album art for Mac, Windows, Android, and iOS devices. Also, an online tool is introduced so you can pick the right tool according to your preferences. Meanwhile, it is best to try each tool by yourself.