How to Split a Video Into Several Parts: 5 Solutions (2022)
Do you want to learn how to split an MP4 video into parts? Good thing! Because we have gathered the most recommended online and offline apps to help you split your video clips. Since numerous programs are circulating in the marketplace, you wanted to know the most reliable tools you can use. You better see this post as we discuss each tool's most accurate step-by-step process.

Part 1. Best Way to Split Video Into Parts: Windows and Mac
1. Vidmore Video Converter
The Vidmore Video Converter is the most effective tool for splitting a video into parts. If you seek a video editor that is simple to use and that can be downloaded for both Windows and Mac, you should consider this tool. It has the capability of editing audio, graphics, and video clips. As a result, there is little inquiry that it is the consumer's first option for editing.
Another benefit of this tool for all users is the user-friendly interface. And because of that, you will not have to spend a lifetime searching for the appropriate editing tools since you will be able to move among them with relative ease. Another good news about this program is its ability to save users valuable time. This excellent platform offers faster conversion on both audio and video files. So, with that, here is a straightforward demonstration of how to split the video into parts.
Step 1: Download the Video Splitter on PC
Click one of the Download icons at the bottom to initiate the process of installing and configuring the video editing program on your computer. Once that device's setup is done, the program will start running.
Step 2: Upload the Video Clip
Then, click the Add Files button in the Timeline's left upper corner. And after you click that button, it starts instantly importing files from your Folder. Additionally, you may quickly upload files by touching the Plus button in the window's middle section and clicking it to upload files.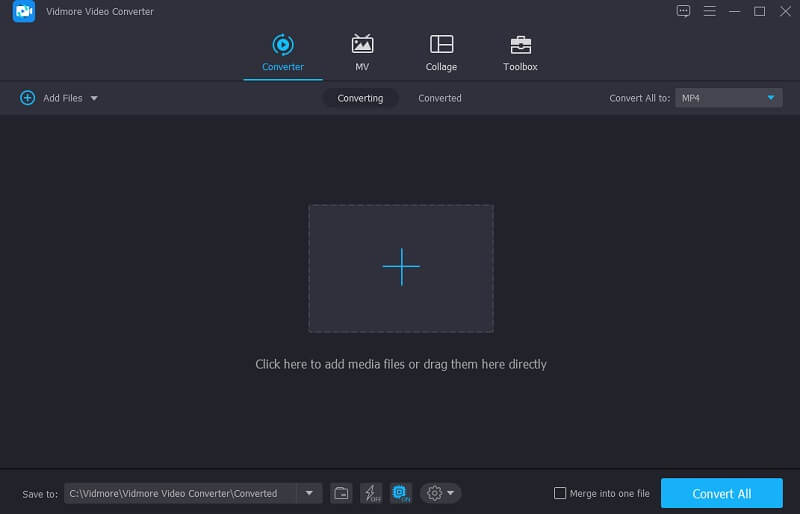 Step 3: Split the Video Into Parts
After uploading your video clip, go to the Scissor icon for you to be directed to the cutting section. Start splitting the video into parts by clicking the Fast Split button on the left lower part of the screen. State how many features you would like your video to be split. Once you are done, click the Save button.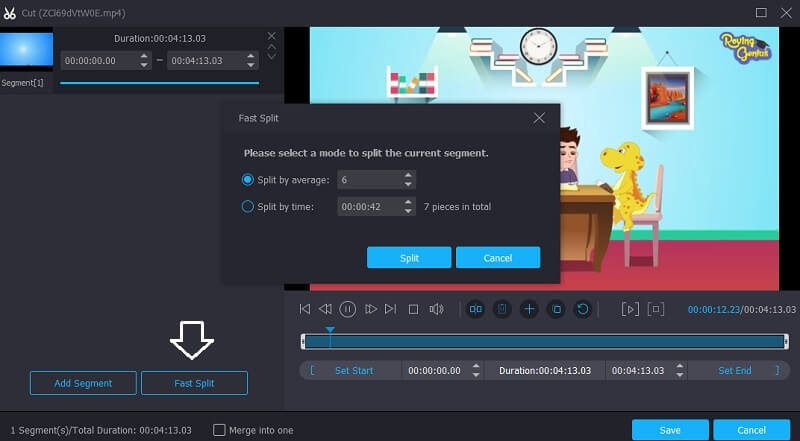 Step 4: Convert the Split Video
Once you've finished the preceding steps, click the Convert All icon in the bottom right of the screen to bring your file's adjustments to an outcome.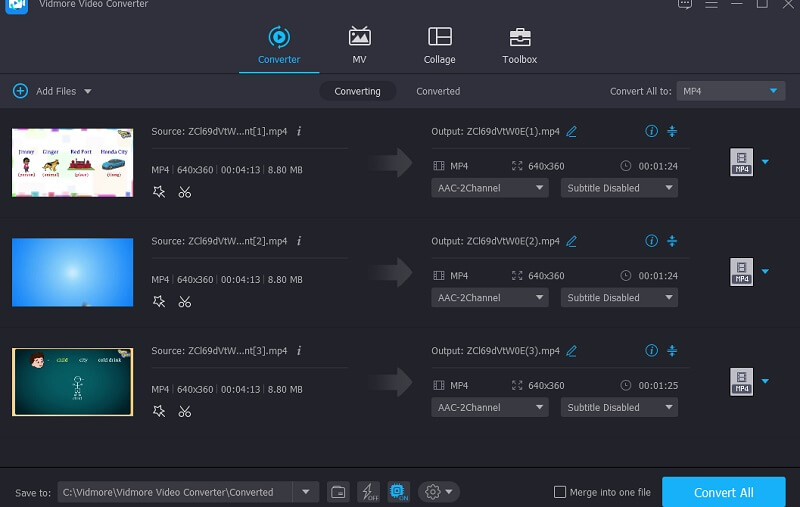 2. Windows Photos
With the help of the Windows Photos software, you may split videos into parts. It is a video editor that is embedded inside Windows. This tool is similar to Windows Movie Maker in terms of functionality in many ways. Producing and editing video on Windows is made easy by the Windows Photos program, which eliminates the need to download any additional programs. Despite the reality that this is a straightforward tool, it is adequate for splitting videos.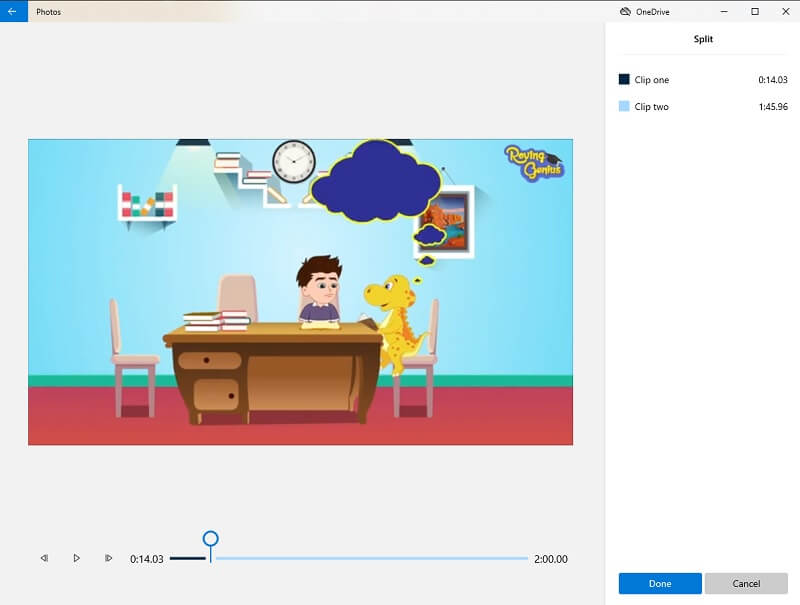 Pros:
It features a straightforward user interface.
It can make albums on its own.
Cons:
It is not capable of adding transitions to video clips.
3. VLC
VLC Media Player is one of the most well-known programs which supports different video formats. This tool also allows video streaming, video editing, and converting. Aside from its ability to play your favorite movies, it also allows you to split your videos into several parts.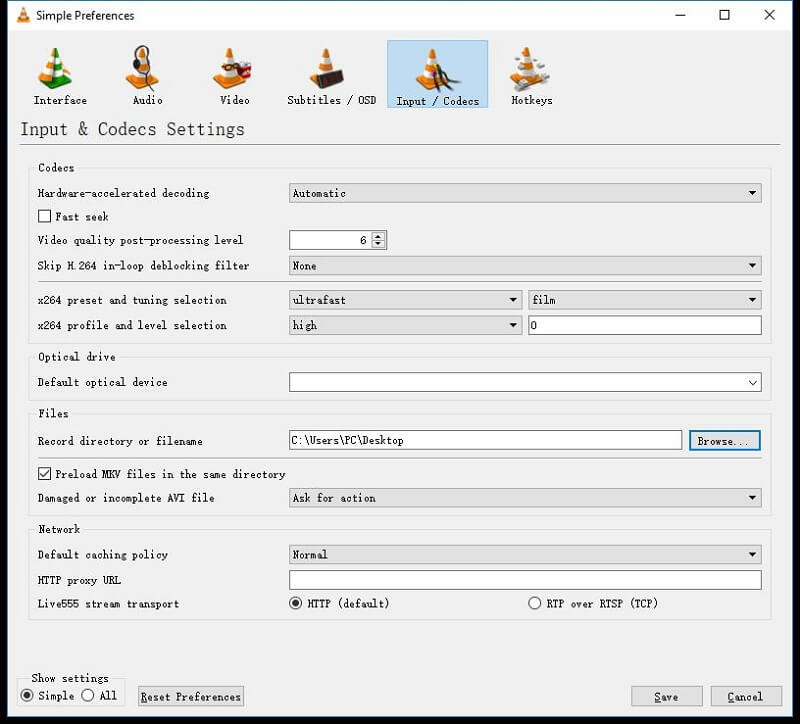 Pros:
You can use it for free.
It allows you to split even audio tracks.
It supports audio and video file formats without downloading any third-party apps.
Cons:
It is a bit complicated to navigate.
It doesn't allow you to play damaged video clips.
It requires you to download codecs at times.
Part 2. Other Ways to Split Video Into Parts
This part will show you the other ways to split your video into parts on your mobile device.
1. AndroVid
AndroVid is a versatile app you can install on your Android device. It is an excellent option to split the video into parts. Another good thing about this app is it is perfect for green-hand people. No wonder you can navigate this without any hassle. AndroVid is ideal for cutting, trimming, merging, and adding text and audio tracks to your video clips. That is why people who desire to be creative in their recorded videos use this app.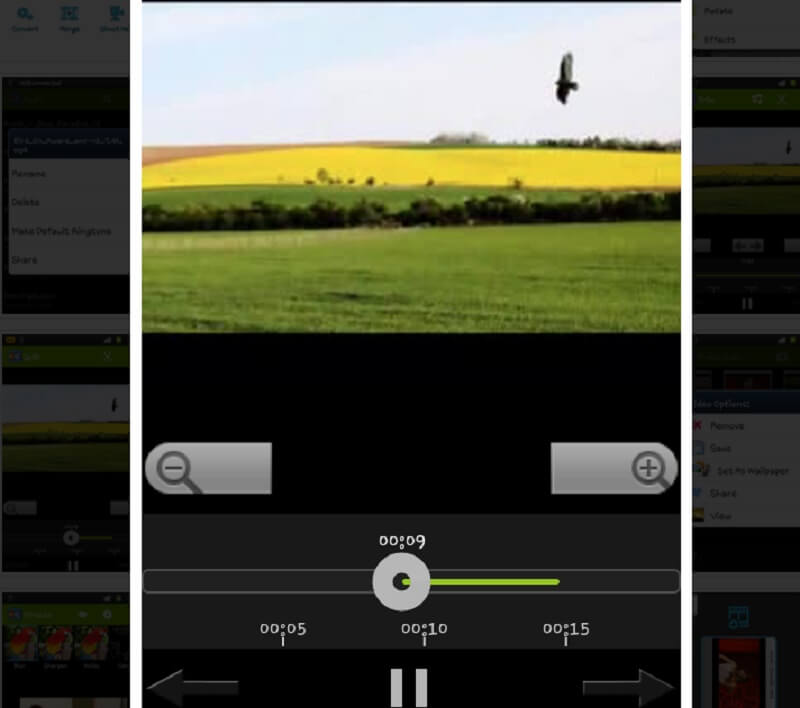 Pros:
It has powerful editing tools designed for Android devices only.
It is perfect for beginners.
It is fundamental to navigate.
Cons:
The free version offers limited editing features.
It is a bit complicated to use, especially on Tablets.
2. iMovie
One of the intentionally built programs for iOS devices is the iMovie. It has a version built for Mac and iPhone. This tool is very significant when it comes to user-friendliness. It allows you to enhance the quality of your video clips to make them more appealing. Aside from that, it also supports cropping, rotating, video transitions, and changing the speed of your recorded footage. That is why there is no doubt this tool can help you split your video clips into parts.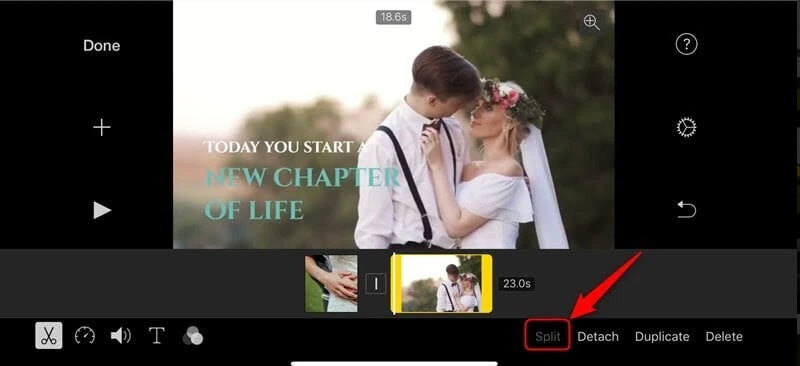 Pros:
It offers a simple interface.
It provides different filters.
It has a lot of audio tools.
Cons:
It only allows the merging of two videos.
Some editing tools are not supported.
Further Reading:
Walkthrough on How to Flip a Video Clip in Final Cut Pro and Featuring Helpful Tools
Best Online and Offline Split Screen Video Editor That You Can Try
Part 3. FAQs About Split Video Into Parts
Why does splitting a video in VLC sometimes crash?
There are times when VLC's editing tool crashes, but you can use the Vidmore Video Converter as an alternative one.
Can I split the video into parts online?
Definitely yes! You can go to Clideo, Kapwing, and 123 Apps. However, please know that this tool has limitations, especially in file size.
How to split the video into parts on Android using the Gallery?
Open your Gallery and select the video you want to trim. Then click the Pencil icon below the screen and immediately move the sliders until they are split into parts. Lastly, click the Save icon.
Conclusion
All the given tools above will help you split the video into parts. You don't need to spend a lot of time finding a suitable video splitter for Android, iPhone, Mac, and Windows devices because you can gather everything above. So without further ado, start splitting your video into several parts by installing one of the video editors above.