An Overview of VideoPad Video Editor [2023 Update]
VideoPad Video Editor is a robust video editing program that carries all the essential functionalities for creating a project. You can create a compelling video even without prior knowledge of editing videos. This program is designed for small, mid-size, and freelancers and is recommended for home and commercial use. Indeed, it is a great video editing program for creating visual content for the next level.
This post will present a comprehensive review and guide about the VideoPad Video Editor. Besides that, we will walk through all the things about it in detail. Moreover, this post will tell you whether it is worth the use.

Part 1. What is VideoPad Video Editor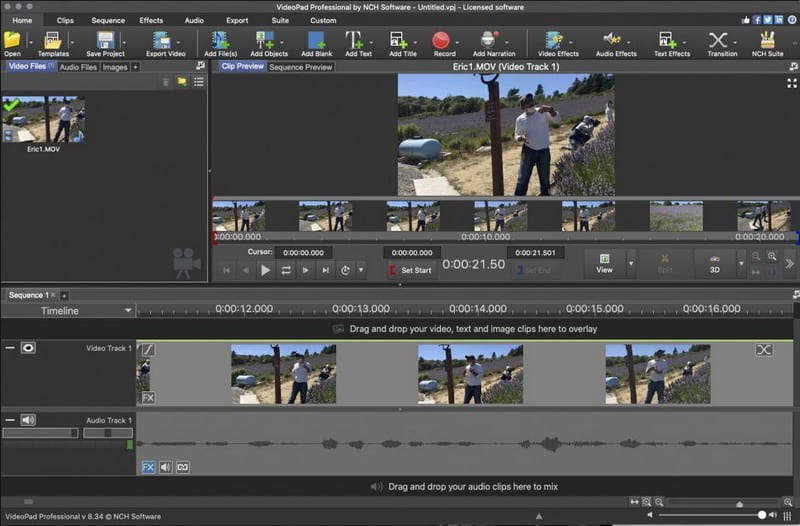 VideoPad Video Editor is commonly used to edit your video clips into one complete movie, where you can incorporate effects, transitions, and more. This program has a beginner-friendly interface that is recommendable for first-time or professional users. It can be used and accessible on Mac and Windows computers and supports several video import and export options.
VideoPad Video Editor supports various social media channels, allowing you to upload your created video output. Besides, it is free for non-commercial use; unlike some video editing applications, it would not embed a watermark on your finished projects. Through this program, you can create high-quality videos in mere minutes. Besides that, you can enhance your videos by applying visual effects, texts, transitions, overlays, and more. Also, it has a music library where you can access various sound effects, voiceovers, audio options, and more.
Other than previously mentioned functions, it provides video optimization, such as image insertion to videos, color adjustment, and modifying playback speeds of video clips. It has a drag-and-drop interface, enabling users to preview their working projects immediately.
Part 2. Key Functions of VideoPad Video Editor
This part will list the following key functions of the program. With that, you will learn what to look forward to in the program. Indeed, it has numerous key functions that are beneficial for video editing. To learn more about this, rely on the following information.
Users can share and upload their videos straight on Facebook and Youtube.
It provides several resolutions for exporting video output.
Users can save the file to their PSD, iPod, iPhone, or 3GP mobile devices.
It offers several visual effects and video transitions.
It is capable of editing three-dimensional videos.
It can reduce camera shaking, optimize videos, and enhance digital images.
It provides editing functions for audio production.
Users are allowed to mix music and import it.
Part 3. VideoPad Video Editor Tutorial
It would be better to gain a background in using VideoPad Video Editor. For that reason, you will learn how to control and see its various editing options, especially the key features mentioned. Without further ado, count on the VideoPad tutorial presented.
Step 1. To begin with, visit the program's official website to download it. Afterward, install the software on your computer for complete access. Then, run the program; you will see various options on the main interface. From the main interface, click the New Project, or Add Files on the upper left of your screen.
Step 2. It will automatically open your desktop folder, pick the video clip you wish to work on and undergo the editing process. Hit the Menu Bar, and you will see many options, such as Add Files, Add Blank, Add Text, Add Title, and more.
Step 3. You can use and do anything of your choice to any portion of the video by moving the cursor over the timeline. You can add Transitions, Texts, and anything else to your desired video part.
Step 4. You will see three various tracks: Video Track 1, Video Track 2, and Video Track 3. You can quickly customize your video' transitions, overlays, texts, and audio mixing through these tracks.
Step 5. Once satisfied and happy with the outcome, hit the Export button on the upper corner of your screen. After that, you can save your edited video output on your device or share it on social media channels it supports.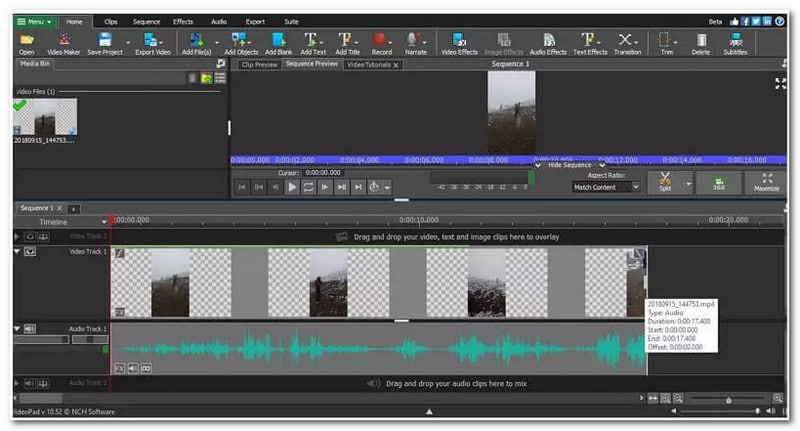 Part 4. Pros and Cons of VideoPad Video Editor
This section will present the advantages and disadvantages of the program. For that reason, you will know what to expect and what you might encounter when using the program.
Pros:
It supports several video formats.
It enables users to import files from desktop folders or social media channels.
It allows users to select their desired video format when exporting their output.
It is recommendable for beginners and professional users.
Cons:
It requires time to explore all its features, and some are challenging to understand, making it hard for first-time users to use.
The free version only offers limited features, which causes difficulty in finishing a video project.
There are instances that users experienced some problems when importing video outputs.
The program hangs or crashes when using advanced editing options and features.
It has a slow-importing process and takes time to render a video.
It only has a limited amount of visual effects.
The audio editing could be more straightforward, whether applied to all imported audio clips or only a portion.
Part 5. VideoPad Video Editor Alternative
If you are still searching for a different video editor, try another one that can meet your needs. With that, consider using Vidmore Video Converter, as it offers numerous editing options beneficial for video editing. This program has a built-in converter, collage makers, a section of various tools, and more. If you explore the program's features, you will be amazed at the amount it can offer.
If you wish to edit your video, the program provides options such as rotate & crop, effect & filter, watermark, and more. You can rotate your video clip from left to right, vertically and horizontally. Also, you can crop your video clip's frame if there are unwanted portions you want to remove. You can adjust the basic effects and apply a filter to your video clip to make the appearance more impressive. In addition, you can embed a watermark if you wish to protect your video clip from theft.
Other than the mentioned editing options above, this program enables you to apply a ready-made on your video clip. You can add text, keep the original video clip's sound, and add background music. Besides that, you can choose your desired video format, frame rate, quality, resolution, and more. Amazing, right? Indeed, Vidmore Video Converter can help you produce high-quality videos that captivate the audience's attention.
Part 6. FAQs about VideoPad Video Editor
Why does VideoPad take so long to export?
It takes time to render a video for different reasons: desktop hardware specification, the complexity of the video, and video export settings.
Is VideoPad free?
VideoPad comes with two versions: Home Edition and Master's Edition. The Home Edition costs $60, and the Master's Editing costs $5.50 monthly.
Can I use VideoPad for Youtube?
Yes, VideoPad Video Editor is recognized as one of the industry's leaders in Youtube for video editing. This program gives Youtube video editors access to plenty of essential features for producing and publishing content for Youtube.
Conclusion
As a first-time user, you may be searching to use VideoPad Video Editor. But regarding features, it falls short compared to modern video editors. So, we highly recommend Vidmore Video Converter, as it offers numerous editing options that are useful for video editing. Also, it provides several toolkits for advanced audio, image, and video editing in one section. Indeed, it is a powerful video editor that you should take advantage of.