DJI Drone: A Comprehensive Guide to Unraveling Everything
In the ever-evolving world of technology, drones have revolutionized how we capture photos and videos. With their ability to take to the skies, these remarkable flying devices have unlocked a new realm of visual storytelling and exploration possibilities. Drones have become the go-to tool to capture breathtaking aerial landscapes to dynamic action shots. One of the leading and most prominent drone manufacturers is the DJI drone, which this post will emphasize. In addition, it will present various applications related to DJI drones and a reliable program to make your captured video more stunning. If you are ready to learn, proceed to the following parts.

Part 1. All Things About DJI Drones
1. Introduction
DJI (Da-Jiang Innovations Science and Technology Co., Ltd.) is a foremost technology company renowned for its expertise in aerial vehicles, commonly known as drones. It became the world's largest drone manufacturer and pioneer in the consumer and professional drone industry. DJI aims to make aerial photography and videography more accessible and dependable, empowering users to shoot breathtaking aerial imagery quickly. Their drones are designed for various applications, including cinematography, photography, mapping, surveying, search and rescue, agriculture, and more. The company provides an extensive range of drones to cater to different user needs and skill levels. There are drones designed for entry-level models suitable for first-timers to high-end professional drones in the film and creative industries.
DJI drones are equipped with state-of-the-art technology, containing obstacle avoidance systems, GPS-based navigation, intelligent flight modes, and stabilized gimbals for smooth camera captures. These features ensure a safe and user-friendly experience while accomplishing stunning aerial visuals. Over the years, DJI has consistently pushed the boundaries of drone technology, setting industry and inspiring countless drone enthusiasts and more. They continue to innovate and expand their product offerings, making drone technology more accessible and contributing to various industries' advancements.
2. Models & Prices
This part will list out the following DJI drone models and their respective prices you should take advantage of. To get to know them, check out the following details.
1. DJI Mavic Air 2
DJI Mavic Drone Air 2 is a compact drone with advanced camera capabilities, including 4K video, 48M images, and up to 34 minutes of flight time.
Price: $799
2. DJI Air S2
It is a powerful drone with a 1-inch CMOS sensor for 20MP photos and 5.4K video, obstacle sensors, and intelligent flight modes.
Price: $999
3. DJI Inspire 2
A high-end professional drone with an interchangeable camera system can record up to 5.2K video and a maximum flight time of 27 minutes.
Price: $3,299
4. DJI Phantom 4 Pro V2.0
It is a professional-grade drone with a 1-inch CMOS sensor, 4K video, and 20MP photos infused with obstacle avoidance and a 30-minute flight time.
Price: $1,599
5. DJI Matrice 300 RTK
It is a commercial-grade drone designed for industrial applications with advanced AI capabilities, up to 55 minutes of flight time, and support for multiple payloads.
Price: $6,500
6. DJI Mini 2
DJI Mini drone 2 is an ultra-lightweight, portable drone with 4K video, 12MP photos, and a 31-minute flight time.
Price: $449
3. Purchase Channels
DJI drones are available for purchase through various channels, including:
DJI Official Website - You can buy directly from DJI's official online store, where you will find the latest models and accessories.
Authorized Retailers - DJI has an extensive network of authorized dealers and retail partners worldwide. Purchasing from authorized retailers ensures you get genuine products and access warranty and customer support services.
Third-Party Retailers - DJI drones are available through third-party retailers and e-commerce platforms. Ensure your purchase from reputable sellers to avoid counterfeit products.
4. How to Fly
Flying DJI drones is an enjoyable and thrilling experience, but it requires a responsible and safe operation. Here is an instructional guide on how to fly DJI drones safely and effectively you can rely on:
Step 1. Before taking your drone to the skies, thoroughly read the user manual provided by DJI. It will cover essential details about your drone model, including safety guidelines, flight modes, and how to operate it correctly.
Select an open area away from people, buildings, and obstacles. Avoid flying near airports, restricted areas, or areas with no-fly zones. Be mindful of local laws and regulations governing drone flight in your area.
Note: Ensure the drone's battery is fully charged and the firmware is current. The DJI Go, or DJI Fly app will help you check the battery level and prompt firmware updates if needed.
Step 2. Before take-off, check the drone for any loose components or physical damage. Inspect that the propellers are securely attached. Turn on the drone and the remote controller, and then allow the drone's GPS to acquire a strong signal before taking off.
Follow the instructions in the manual or the DJI application to start the take-off sequence. In most cases, you must push the throttle stick gently upwards to lift the drone off guard.
Step 3. Familiarize yourself with the basic flight controls, which typically include throttle (altitude), pitch (forward/backward movement), roll (side-to-side movement, and yaw (rotation). Begin with simple maneuvers like hovering in place to get a feel for the drone's responsiveness and stability.
DJI drones often have intelligent flight modes, such as Waypoints, Follow Me, Active Track, etc. Learn how to use these features effectively and safely.
Step 4. Always keep the drone within sight, especially if you are flying recreationally. It will help you maintain control and awareness of your surroundings. Avoid flying in adverse weather conditions, such as heavy rain, winds, and low visibility. Slowly descend the drone to the ground when it is time to land. Practice landing in an open area to avoid any potential hazards.
Note: Respect the privacy of others and follow local laws and regulations concerning drone flights. Keep informed about any regulations-related changes or updates to drone flying in your area.
Remember, safe drone flying is necessary for both your safety and the safety of others. Always prioritize safety, follow guidelines, and continue to improve your flying skills with enough practice.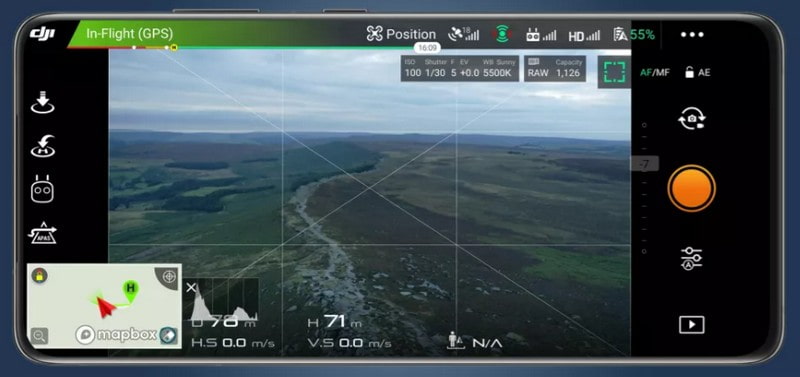 5. Common Accessories
DJI drones have a broad range of accessories available to improve your flying experience, enhance aerial photography, and ensure efficient and safe operation. Below are the standard accessories that are often available for DJI drones:
1. Extra Batteries
Additional batteries enable you to extend your flight time. It ensures you can capture more footage without waiting for a single battery to recharge.
2. Battery Charging Hub
A charging hub enables you to charge multiple batteries simultaneously, saving time and ensuring you have enough power for extended flights.
3. Memory Cards
High-capacity and fast memory cards are necessary for storing your images and videos captured during flights.
4. Carrying Case or Backpack
A dedicated carrying case or backpack offers a convenient and secure way to transport your drone, batteries, remote controller, and other accessories.
5. Propeller Guards
Propeller guards are protective frames that surround the drone's propellers. It reduces the risk of damage during flights, especially in tight spaces or when flying close to objects.
6. Remote Controller Accessories
DJI provides various remote controller accessories, such as sunshades, joystick protectors, and more, to improve comfort and usability during flights.
7. ND Filters
Neutral Density (ND) filters are attached to the drone's camera to reduce the amount of light entering the lens. They help accomplish more balanced exposure in bright conditions and make smoother cinematic shots.
8. Tablet or Phone Mount
A tablet or phone mount is attached to the drone's remote controller. It enables you to use a larger screen better to view the live feed from the drone's camera.
9. Gimbal and Camera Protection
The camera covers, or lens caps, help protect the DJI drone camera and gimbal during storage and transportation.
10. Landing Gear Extensions
The landing gear extensions raise the drone's landing gear, preventing the camera from touching the ground during landing or takeoff.
11. Range Extenders
The range extenders can improve the remote controller's signal range, which helps improve the connectivity between the drone and the controller.
12. Propeller Stabilizers
Propeller stabilizers prevent the propellers from moving during transportation, securing them from damage.
13. Propeller Blades
Replacement propeller blades are necessary in case of damage or wear to the original ones.
14. External Microphones
External microphones with a built-in camera can enhance audio quality during video recording for specific drone models.
The abovementioned information is some of the common accessories available for DJI drones. The availability of accessories may vary depending on the specific model of the drown you have. Ensure to purchase accessories from authorized dealers to ensure quality and compatibility.
6. Insurance
If you own a DJI drone, consider getting DJI drone insurance to protect your investment and potential liabilities. There are various types of insurance coverage available for drones. Consider deductibles, exclusions, coverage limits, and the insurance provider's reputation when looking for drone insurance. Some drone manufacturers, including DJI, may provide insurance options with insurance providers, so it is worth checking if they have any recommendations. It is necessary to pick the one that best suits your needs and the intended use of the drone.
The following are some common insurance options for DJI drones:
Liability Insurance - Liability insurance offers coverage if your drone causes bodily injury to third parties or property damage. This type of insurance is crucial as drone accidents can significantly damage property or even cause personal injury to bystanders.
Hull Insurance (Physical Damage) - Hull insurance covers damage to your drone. It includes coverage for crashes, accidents, or even drone theft. It ensures you can get your drone replaced or repaired in case of loss or damage.
Flyaway Coverage - Flyaway coverage is specific to drones and protects you in case your drone suddenly losses control and flies away, becoming irretrievable.
Commercial Use Coverage - If you use your DJI drone for commercial purposes, such as videography, or aerial photography, you may need specialized insurance tailored to your business needs.
Personal Injury Coverage - This type of insurance covers any injuries you might sustain while operating your drone.
Payload or Accessory Coverage - If your DJI drone carries expensive camera equipment or specialized payloads, you can opt for additional coverage to protect these valuable accessories.
On-Demand Coverage - Some insurance providers offer on-demand or pay-as-you-fly insurance, enabling you to get coverage only for the specific duration of your flights.
Before purchasing insurance, thoroughly read the policy terms and conditions to understand what is covered and what is not. Different countries have varying requirements and regulations for drone insurance, so comply with local laws when obtaining coverage.
7. Apps You Should Try
1. DJI GO 4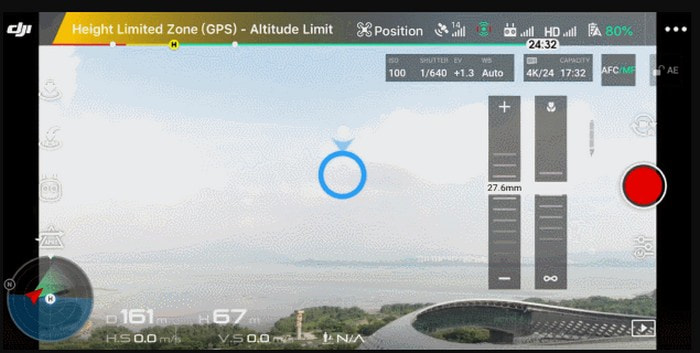 DJI GO 4 is an official application developed by DJI for their drones. It is specifically designed to work with various DJI drone models, including Mavic Series, Inspire Series, Phantom Series, and DJI Spark drone. This application enables pilots to monitor and control their drones during flights and access camera settings. Besides that, it will help them to view live video from the drone's camera and manage various flight modes and features. This application provides a user-friendly interface to control the drone's flight, including takeoff, landing, navigation, and altitude control.
Users can modify camera settings, such as resolution, exposure, frame rate, and white balance, to capture high-quality images and videos. It contains many intelligent flight modes, including TapFly, ActiveTrack, Gesture Mode, and Waypoints, which allow the drone to perform specific flight patterns and more. To ensure efficient and safe flying, users can access flight telemetry data, such as drone location, speed, battery level, and altitude. Besides that, it provides flight logging capabilities, recording necessary data about each flight, containing distance, flight duration, and more.
2. DJI Fly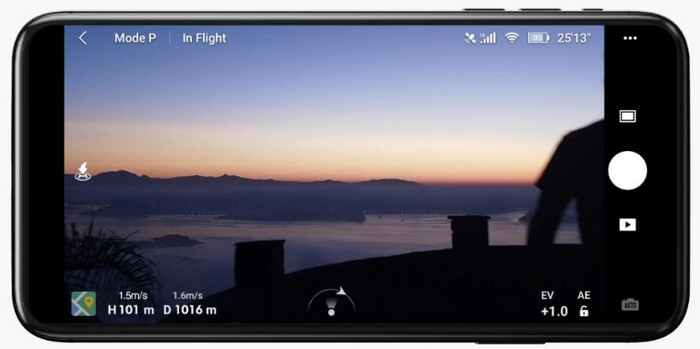 Another application developed by DJI IS DJI Fly, which is available for both iOs and Android devices. It is an application specifically designed for DJI's smaller, more compact drone models, such as DJI Mini 2 and DJI Mavic Air 2. It offers a lightweight and user-friendly flying experience for drone pilots. In addition, it has a straightforward interface and functionalities for efficiently controlling and capturing stunning aerial footage.
This DIJ drone application features QuickShot modes, enabling pilots to execute pre-programmed flight patterns that make cinematic and dynamic aerial shots. It offers a real-time live view from the drone's camera, enabling pilots to see what the drone is capturing as it flies. This live view helps users frame their shots accurately and create real-time adjustments for the best results. Besides that, it provides an intelligent flight mode, such as ActiveTrack, QuickShots, and SmartCapture, allowing the drone to follow subjects and execute impressive flight maneuvers autonomously. On top of that, it offers a flight tutorial feature to guide the users through the initial setup and flight procedure.
3. Autopilot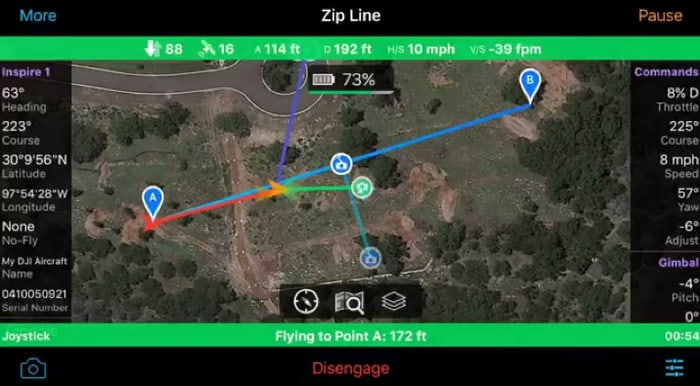 A sophisticated technology used in various vehicles, including drones, aircraft, ships, and even some cars, is Autopilot. It is designed to automate specific aspects of the vehicle's operation, reducing the human operator's need for constant manual control. The primary goal of Autopilot is to improve safety, efficiency, and convenience during transportation. In the context of aerial vehicles, like drones, autopilot systems offer automated control over many aspects of flights, including speed, navigation, etc.
Using Autopilot on DJI drones brings numerous benefits and features that improve the flying experience. It makes specific tasks more convenient and efficient. DJI's autopilot capabilities enable users to automate specific flight maneuvers and capture shots. It allows the drone to fly along a predefined path by setting waypoints on the map. This feature is valuable for aerial photography, surveying, and mapping, as it ensures accurate and repeatable flight paths. On top of that, it is used to execute smooth and stable flight movements, which are particularly necessary when capturing cinematic shots.
4. Litchi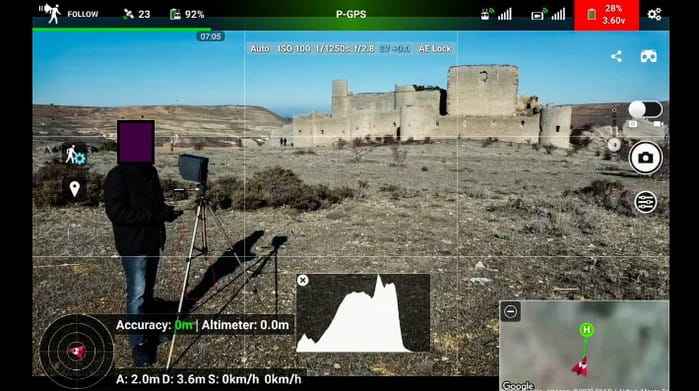 Litchi is a famous third-party mobile application for DJI drones designed to improve the drone piloting and aerial photography experience. It provides a range of advanced functionalities and flight modes beyond what the official DJI application provides. It is available for both iOs and Android devices and is compatible with many DJI drone models. This application enables users to execute precise waypoint missions, where the drone flies along a predefined path, stopping at specific waypoints, etc. With Litchi's Orbit mode, users can get the drone to circle a subject, creating impressive 360-degree panoramic shots.
Litchi provides a Virtual Reality (VR) mode that lets users experience the drone's flight from a first-person perspective. In addition, it contains a Focus mode, which allows the drone to maintain focus on a selected subject. The impressive part is that it enables the drone to capture panoramic photos, both vertically and horizontally automatically, and 360-degree sphere panoramas.
5. Vidmore Video Converter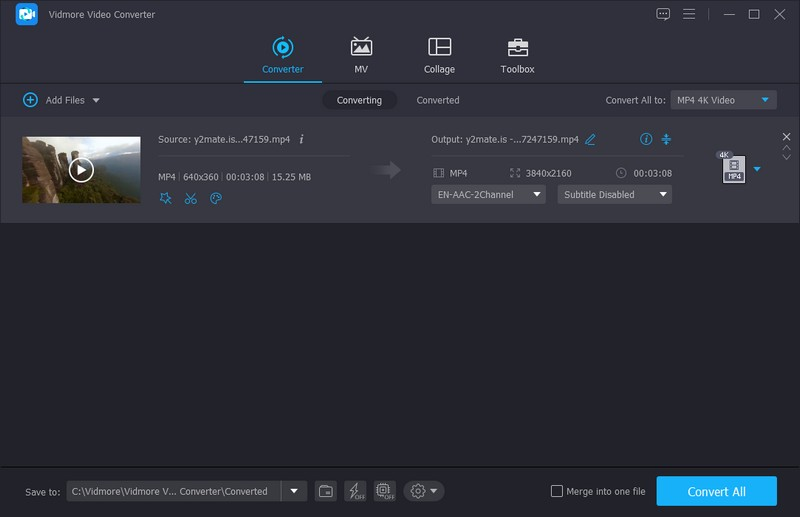 DJI drone is designed to capture both images and videos. The supported format of a drone typically refers to the types of files and data that the drone capture, store, and transmit. Drones can capture images in various photo formats, such as JPEG, being the most common and widely supported. Besides that, drones can record videos in different formats, such as MP4, MOV, and more. What if you plan to convert these files to another format? With that, Vidmore Video Converter is the key to achieving that.
Vidmore Video Converter mainly works as a converter infused with various built-in features. Speaking of converter, it supports batch conversion, helping you to save time and effort to convert one file to another. You can import as many drone video files as you want and convert them to your selected video format. Besides that, it has an option where you can pick your desired video quality and modify video parameters, such as frame rate, encoder, bitrate, and resolution. Impressive, right?
To make your captured video more precise and realistic, Vidmore Video Converter offers the following options to enhance video quality. You can upscale the resolution, optimize basic effects, remove video noise, and reduce video shaking. What it can do continues; it also offers valuable editing tools for polishing your captured video. You can rotate and crop, apply effects and filters, incorporate a watermark, subtitle, and more if you want to.
Vidmore Video Converter is truly exceptional as a converter and editor. Waste no time and install it on your computer now!
Part 2. FAQs about DJI Drone
Where are DJI drones made?
DJI drones are mainly manufactured in China. DJI operates numerous manufacturing facilities in China, producing a broad range of consumer and professional-grade drones.
Are DJI drones waterproof?
Unfortunately, DJI drones are not officially waterproof. They are not designed to be submerged in water or exposed to heavy rain. While some DJI drones, like the Mavic 2 Enterprise Dual, have an IP43 rating, which offers limited water resistance to splashes and light rain. However, they are not still fully waterproof.
Can you take a DJI drone on a plane?
Yes, you can take a DJI drone to a place. However, there are some necessary considerations and regulations to keep in mind. The factors that need to be considered are batteries, battery capacity, battery terminal drone size, airport security, and more.
What is the flight time of DJI drones?
The flight time of DJI drones varies depending on the model and the battery capacity. Usually, consumer drones have flight times ranging from 15 to 30 minutes on a single charge.
What is the cheapest DJI drone?
The Mini 2 is one of the cheapest and most affordable DJI drones. It is a compact, lightweight drone that balances features and price well, making it an excellent choice for beginners.
Can I fly a DJI drone indoors?
Yes! You can fly some DJI drones indoors. However, it depends on the model and the available space. Be cautious of obstacles and ensure that the drone's GPS is disabled in indoor environments.
Conclusion
DJI has solidified its position as a global leader in the drone industry. The DJI drones have undeniably transformed the world of aerial photography and videography. It encourages enthusiasts and professionals alike to capture breathtaking imagery from unique perspectives. Through this post, you have gained a lot of knowledge about all the things you must know about the best DJI drones. If you want to convert, upscale the quality, and edit your captured drone video file, you can rely on Vidmore Video Converter. Indeed, you can do a lot of things using this program.