TV vs. Projector: Which Offers the Best Viewing Experience?
A projector is an optical device that projects pictures, videos, or presentations onto a larger screen or surface. It is commonly used in various settings, including home theaters, conference rooms, classrooms, auditoriums, and outdoor events.
A TV, or television, is an electronic device that receives and displays broadcasted television signals or content from other sources. It often has additional features like built-in innovative capabilities, internet connectivity, and application support.
Do you wish to learn more about these products? If yes, we got your back. This post will present details about TV vs. Projector and their advantages and disadvantages. Besides that, it will introduce a program you can rely on to achieve the best visual experience. So what are you waiting for? Waste no time and read the following parts!

Part 1. Projector or TV?
This section will comprehensively present details about projectors and TVs you must know. It will list their respective advantages and disadvantages that you can expect from. Besides that, it will provide information about their differences in terms of usage and other factors. Are you ready to learn? If yes, check out the following details.
The details below are the advantages and disadvantages of both products:
Projector
Pros
Projectors can create massive screen sizes, providing a more cinematic and immersive viewing experience.
It can be used for home theaters, presentations, gaming, and outdoor events.
It does not take up permanent space on a wall or stand.
Most projectors enable you to adjust the screen size according to the available space, giving you more flexibility in the setup.
Cons
Projectors can struggle with image visibility in well-lit environments, as ambient light can wash out the projected image, reducing contrast and color vibrancy.
The distance and size of the room can affect the projector's throw ratio and impact the achievable screen size.
It has limited viewing angles, which means the image quality and colors may be inconsistent if viewed from extreme angles.
Setting up a projector involves aligning the lens, adjusting focus, and selecting the correct screen size and placement.
Projectors often have internal fans to cool down the lamp or other components, which can produce noticeable fan noise during operation.
TV
Pros
TVs are easy to set up, and when connected to power and input sources, they are ready to use without any additional adjustments.
It comes in various sizes, catering to different room dimensions and preferences.
They also have different designs, including ultra-slim models and those with integrated intelligent features.
Modern TVs have built-in innovative capabilities, providing access to streaming services, internet browsing, applications, and other online content.
Cons
TVs may offer a less immersive experience, especially for movie enthusiasts.
The TV screen can reflect light and cause glare, which negatively affects the viewing experience in certain lighting conditions.
TVs take up space on a stand or wall, which may not be ideal for individuals with limited room.
It is less portable due to its bulkiness and weight.
Let us move forward to the comparison details between a Projector and a TV:
Image Quality
Projector
High-quality projectors can deliver impressive image quality, especially in dark or dimly lit rooms. They often offer excellent color reproduction and contrast ratios, but some cheaper models might need higher resolution and brightness.
TV
TVs generally provide better image quality, especially with advancements in display technology like OLED (Organic light-emitting diode) and QLED (Quantum dot LED).
Pricing
Projector
High-quality projectors, especially those designed for home theaters, can be expensive. In addition, you should invest in a screen and audio system for a complete experience.
TV
TVs come in a wide price range, catering to various budgets. You can find affordable options with decent features and premium TVs with advanced technologies at a higher cost.
Screen Size
Projector
Projectors can display much larger images compared to TVs. They can make a cinematic experience with diagonally screen sizes ranging from 50 to 300 inches. But it still depends on the model and room conditions.
TV
TVs have size limitations, typically ranging from 24 inches to 100 inches diagonally. While larger TVs are available, they are more expensive and may not match the screen size potential of projectors.
Portability
Projector
Projectors are more portable than large TVs. Some models are lightweight and compact, making them easy to carry or move for presentations or movie nights in different locations.
TV
TVs are less portable due to their size and weight. They are generally meant to stay in one place or location when installed.
Brightness and Ambient Light
Projector
Projectors may struggle with ambient light, which can wash out the projected image, reducing its overall quality and visibility. They are best suited for dedicated home theaters or darkened rooms.
TV
TVs perform better in brightly lit environments as they are designed to combat reflections and glare, offering a clear and vibrant image.
Part 2. Some Purchase Options
This section will list the following brands and models of projectors and TVs you can purchase. Usually, they support TV and Projector 4K and other advanced features. Without further ado, please continue reading the following details.
Here are some projectors you can buy on the market:
Epson Home Cinema 5050UB
It is known for its impressive 4K resolution, high brightness, and excellent image quality, making it a top option for home theater enthusiasts.
Optoma UHD50X
A 4K UHD projector with fast refresh rates and low input lag, making it popular among gamers and home entertainment users.
BenQ TK850
It is an affordable 5K projector with high brightness and HDR support, suitable for sports and movie viewing.
LG CineBeam PH550
It is a compact, portable projector with a built-in battery and wireless connectivity, ideal for on-the-go entertainment and presentations.
Sony VPL-VW295ES
It is a high-end 4K projector with impressive color accuracy and advanced features, favored by home theater enthusiasts.
Here are some TVs you can buy on the market:
Sony A80J Bravia
It is a highly regarded OLED TV with exceptional image quality, featuring Sony's powerful image processing and support for 4K resolution.
Panasonic JZ2000
It is a flagship OLED TV with extraordinary image quality, designed for home theater enthusiasts and professional users.
Samsung QN90A Neo QLED
It is known for its impressive picture quality, high brightness, and advanced gaming features and provides 4K resolution, and uses Quantum Dot technology.
TCL 6-Series (R635)
A budget-friendly TV with great value for its cost, providing QLED technology, 4K resolution, and support Dolby Vision.
LG OLED C1
It is an OLED TV with excellent color reproduction, deep blacks, and wide viewing angles. It supports 4K resolution and features the latest webOs smart platform.
Part 3. How to Get the Best Visual Experience
Vidmore Video Converter is a powerful tool that enables you to convert and edit video files with ease. It is the ultimate solution for achieving the best visual experience with your video files. This excellent, beginner-friendly program is designed to convert, enhance, and edit videos effortlessly. It allows you to enjoy your media content in the highest quality possible. To get the best visual experience using Vidmore Video Converter, follow the steps below:
Step 1. To begin with, download and install Vidmore Video Converter on your desktop from the official website. After the installation, proceed to open the program.
Step 2. Click the (+) button from the Converter tab to import the video file you wish to convert and enhance for a better visual experience.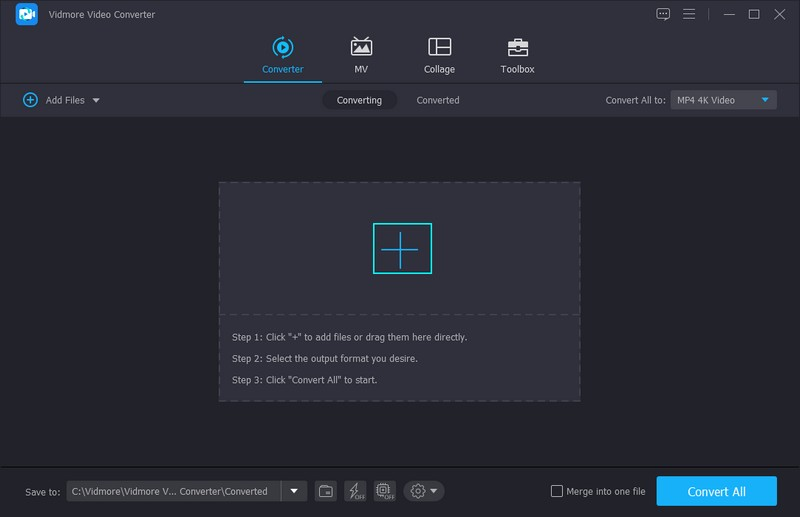 Step 3. When imported, head to the Profile menu and select your preferred output format for your video. You can pick the popular ones like MP4, MKV, MOV,AVI, and more.
To enhance the visual quality, hit the Cogwheel button and adjust video settings like resolution, frame rate, bitrate, and aspect ratio. Increasing the resolution and bitrate can help you improve the video quality. When settled, click the Create New button to save the changes, and you will be back to the converter section.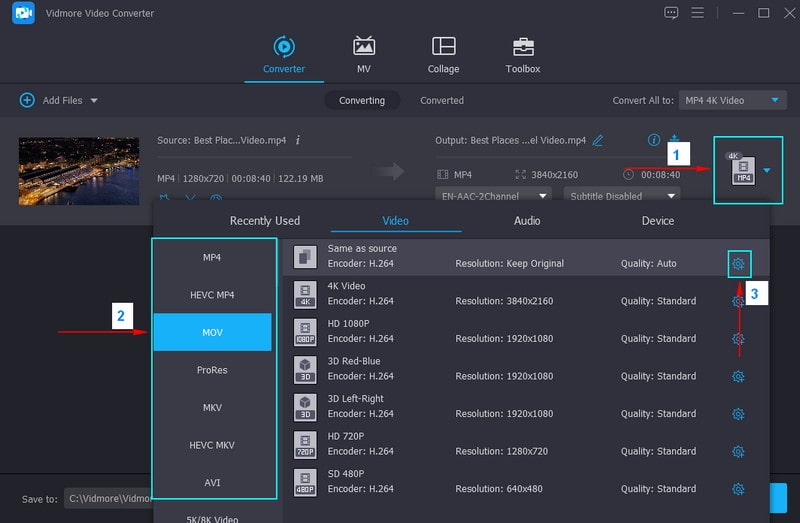 Step 4. Click the Paint button and put a checkmark beside the following options to enhance video quality. Here, you can upscale the resolution, optimize basic effects, remove video noise, and reduce video shaking. Once done, hit the Save button to apply the changes you made.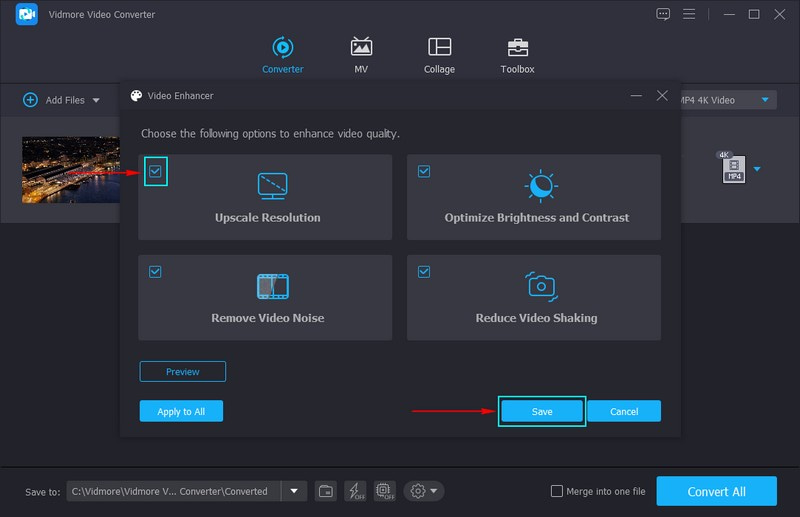 Step 5. If you want further editing on your video, press the Wand button to access the essential editing tools. You can crop, trim, apply effects and filters, embed a watermark and subtitle, and more if you want to.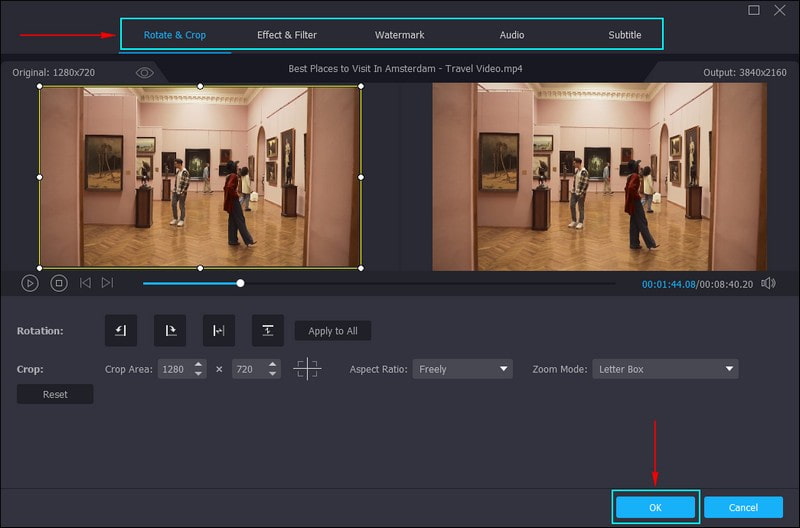 Note: Click the OK button in every editing option to apply the changes.
Step 6. Once satisfied, hit the Convert All button to begin the conversion procedure. The program will process the video with the selected settings and save it to your local folder. When the conversion is complete, you can enjoy the improved visual experience of your video.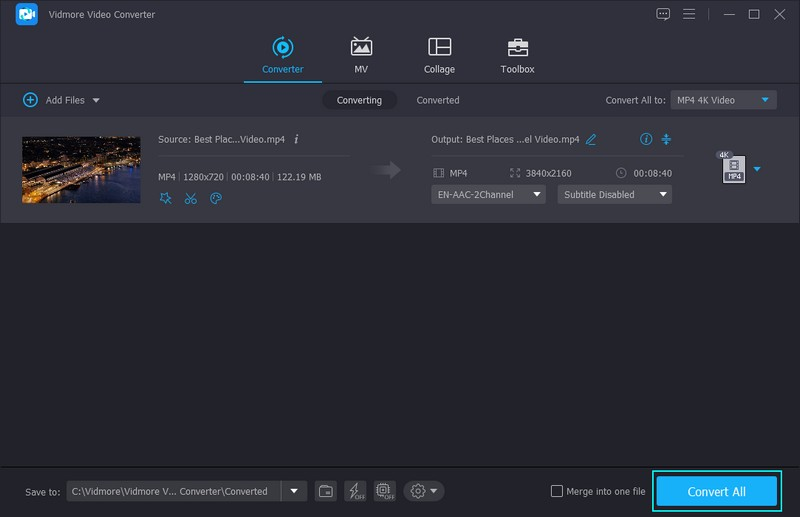 Part 4. FAQs about Projector vs. TV
Are 4K projectors as good as 4K TVs?
4K projectors and 4K TVs provide excellent image quality with a resolution of 3840x1260 pixels, commonly referred to as 4K Ultra High Definition. However, there are some differences in performance, which makes them different from each other.
Does a projector last longer than a TV?
The lifespan of a projector and a TV can vary depending on various factors, such as usage, quality of the device, technological advancements, and maintenance. But generally, projectors and TV are designed to have similar lifespans.
How much does it cost to replace a projector bulb?
For traditional lamp-based projectors, replacement bulbs can cost between $50 to $300 or more, depending on the quality and brand of the bulb. High-end projectors may have more specialized bulbs, which can be more expensive to replace.
What is the lifespan of a projector bulb?
The lifespan of a projector bulb for traditional lamp-based bulbs typically lasts between 2,000 to 5,000 hours. On the other hand, solid-state light sources like LED and laser bulbs can exceed 20,000 hours.
What is the difference between LED and OLED TVs?
LED TV use LED backlighting for the LCD panel, while OLED TVs use organic compounds that emit light once an electric current is applied.
Conclusion
Projectors are great for creating a theater-like experience with large screen sizes, making them suitable for dedicated home theaters or special events. On the other hand, TVs are more convenient for everyday use, providing better image quality and adaptability to different lighting conditions. Have you decided what to use, whether a projector or a TV?
But to get the best visual experience, you can count on Vidmore Video Converter. It can help you get the best video quality you desire to have!