Find out the Best DVD Projector & Way to Create a DVD by Yourself
DVD Projector is a versatile and convenient multimedia device that combines the function of a traditional projector with a built-in DVD player. It offers portability, space-saving benefits, and various connectivity options, allowing users to connect to other devices for multimedia playback. It can deliver an enjoyable viewing experience, making it a practical option for on-the-go entertainment and smaller settings. Do you want to learn about the best projector with a built-in DVD player?
This post will present projectors with built-in DVD players and teach you how to make DVDs yourself. Are you excited to learn all of these? If yes, scroll down, and keep reading.

Part 1. Can a Projector Play DVD
Most projectors can play DVDs with the help of an external DVD player. Projectors typically have many input options, such as VGA, HDMI, or composite video. Through the help of these input options, you can connect external devices like DVD players, laptops, gaming consoles, and more.
Part 2. Best Projector with Built-in DVD Player
This section will list some of the leading projectors with built-in DVD players you can rely on in the market. To get to know these products, check out the following details.
1. Fosa Mini Projector Portable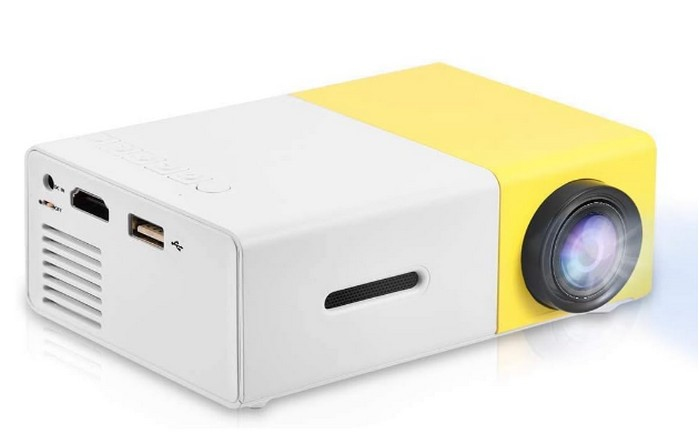 The Fosa Mini Projector Portable is a compact and versatile projector designed for portable entertainment. It contains a built-in DVD player, making it a convenient all-in-one solution for watching videos or movies. Besides that, it can play other content without additional external devices. One of the main highlights of this projector is its integrated DVD player. Through this, it enables you to play DVDs directly without the need for an external DVD player. Like many other modern projectors, the Fosa Mini Projector Portable uses an LED lamp as its light source. In addition, it offers a range of connectivity options, such as USB, HDMI, AV, and SD card slots. This feature makes it a convenient option for those who want a seamless and straightforward setup for watching their favorite videos or movies.
2. Pyle PRJSD188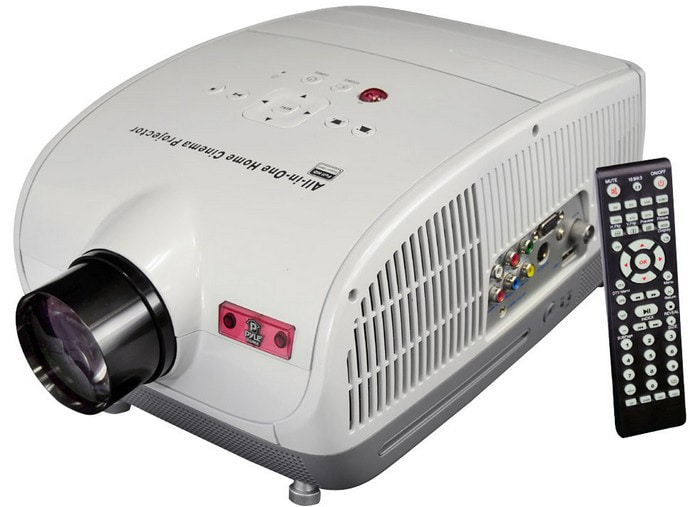 This projector is a compact and portable projector that is designed for convenient entertainment on the go. This outdoor DVD movie projector is designed to be compact and lightweight. It makes carrying around for outdoor movie nights, camping trips, or presentations easy. One of the main highlights of the Pyle PRJSD188 is its built-in DVD player. This feature lets you play DVDs directly without needing an external DVD player. With that, it makes it a convenient all-in-one solution for movie playback. Besides the built-in DVD player, this projector has additional input options, such as USB, AV, HDMI, and SD card slot. It lets you connect various external devices, including smartphones, laptops, gaming consoles, and more.
Part 3. How to Make a DVD by Yourself
If you want to make a DVD by yourself, there is reliable software you can count on, no other than Vidmore DVD Creator. This program is designed to help users to make DVDs from various video files, images, and audio tracks. It is typically designed with a beginner-friendly interface, making it easy for users to navigate the program and complete their DVD creation procedure smoothly. It enables users to convert and burn their media files into standard DVD formats. They can watch their favorite videos on DVD players and share them with family and friends.
Vidmore DVD Creator supports various video formats, such as popular ones like MP4, MKV, MOV, AVI, etc. Besides that, it also allows users to import audio files like MP3, AAC, WAV, and others. This software provides a selection of DVD menu templates from which users can select to customize their menus. These templates offer a polished and professional look to the DVD. In addition, users can personalize their DVD menu by incorporating text, music, and background images and making chapters for easy navigation. Vidmore DVD Creators aim to maintain the original quality of the videos and audio during the burning process, resulting in high-quality DVDs.
Below are the steps to learn how to make a DVD using Vidmore DVD Creator:
Step 1. Go to Vidmore DVD Creator's official website to download and install the program on your desktop. When installed, continue to open the software to begin the process.
Step 2. A display window will appear on your screen; pick DVD Disc as your disc type. In the next window, press the Add Media Files button to upload the video file you desire to burn.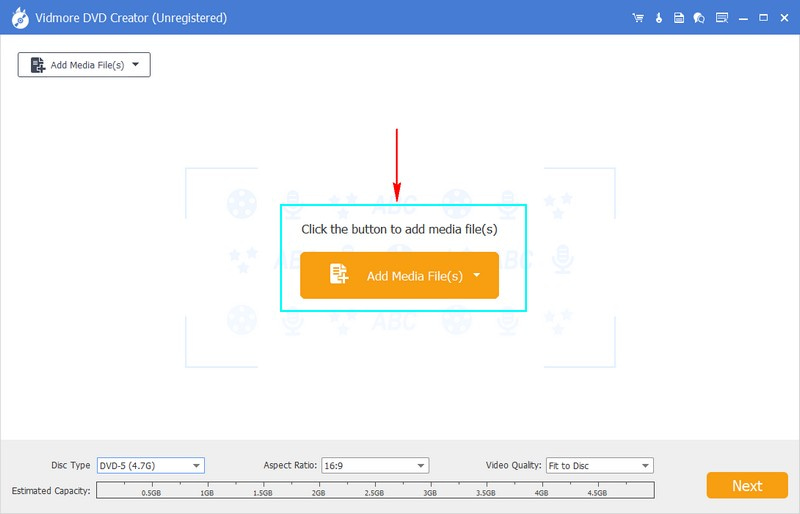 Step 3. Once the video file is imported, put a checkmark beside the box of your file. Before you proceed to the next window, you can edit and enhance the video file by going to the Power Tools button. Here, you can see Video Tools, where you can edit the video, audio, subtitle, clip, and more. Once done, click the Next button to save the changes.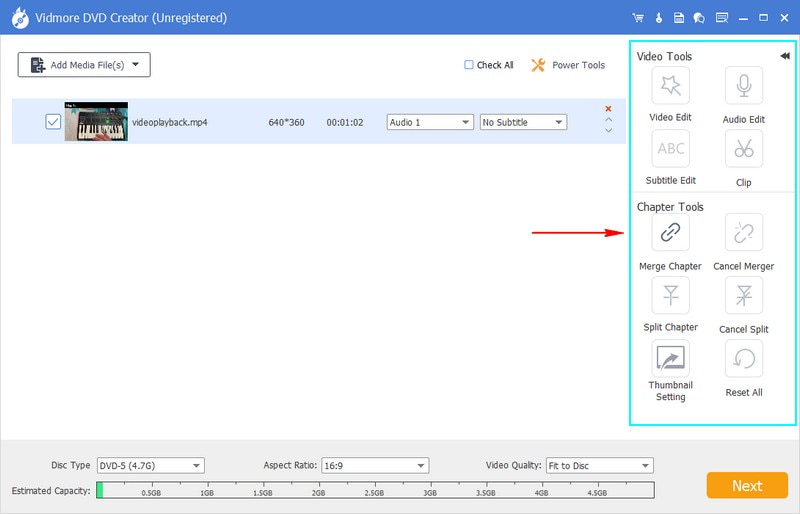 Step 4. In the last window, please pick your preferred template according to your liking. You can choose from Family, Holidays, Travel, Weddings, and others. Besides that, you can personalize your template by importing an image from your desktop folder. Next, under the preview screen, you can incorporate Background Music and an Opening Film by putting a checkmark beside the options.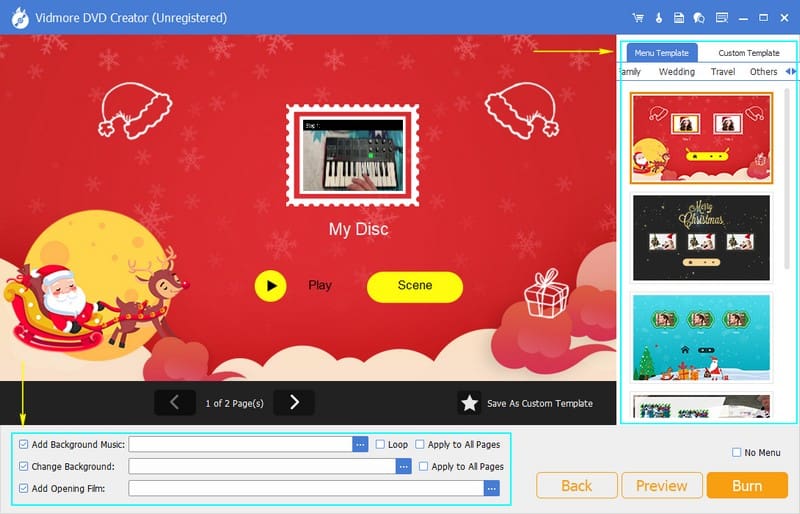 Step 5. Hit the Preview button to sneak in your created output. When satisfied, press the Burn button followed by the Start button to begin the burning procedure. Please wait a few seconds, and your created DVD output will be ready after a moment.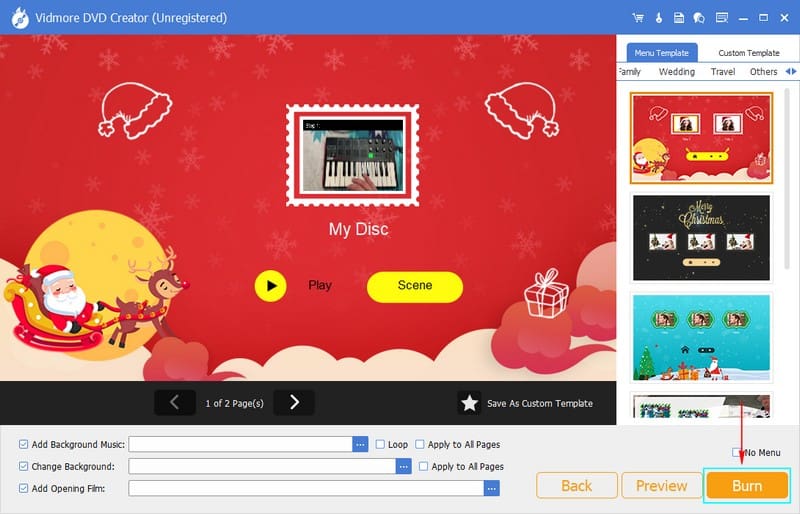 Part 4. FAQs about DVD Projector
Can you connect a dvd player to a projector?
Indeed! You can connect a DVD player to a projector because the projector comes with various input options like HDMI, VGA, or composite video. With that, it is possible to connect external devices like DVD players.
Will a USB DVD player work on a projector?
Yes, if your projector has a compatible USB port and the USB DVD player supports the essential power requirements and formats. You can connect the USB DVD player to the projector using a USB cable and navigate the DVD menu using the player's controls or remote.
Why won't my projector play movies?
If your projector does not play movies, ensure all cables are securely connected between the projector and the video source. In addition, ensure that the movie format is compatible with the projector. You must convert the video file to a compatible format if the format is not supported. Besides that, you can turn off the projector and unplug it from the power source. Wait for a few seconds, and then plug it back. Then, turn on the projector and try playing the movie you want to watch.
Can I connect external speakers to a DVD projector?
Yes, most DVD projectors come with audio output options, enabling you to connect external speakers or audio systems for better sound quality. External speakers can improve the audio experience, especially in noisy or larger environments.
What image quality can I expect from a DVD projector?
The image quality of a DVD projector depends on several factors. You must consider the projector's resolution, the DVD quality, and the viewing environment.
Conclusion
In this post, you have learned that playing DVDs on a projector is possible. Besides, you learned about the best projectors with built-in DVD players in the market. Most importantly, you have learned how to make a DVD using the powerful Vidmore DVD Creator. Undoubtedly, Vidmore DVD Creator can help you create your personalized or customized DVD with its following features!