All About 4K Projectors & Method to Turn Video to 4K
Welcome to the world of 4K projectors, where breathtaking visuals and immersive cinematic experiences come to life. A 4K projector takes home entertainment to a new level with its native 4K Ultra High-Definition resolution. It delivers unmatched image clarity, detail, and realism you would prefer to watch.
Do you have in mind what 4K projectors you can use? If not, we got your back. This post will present the details about 4K projectors and the best 4K projectors in the market. In addition, it will introduce a powerful program that can help you convert video to 4K resolution. So, what are you waiting for? Proceed to read the following information.

Part 1. What Does a 4K Support Projector Mean
A 4K resolution support projector is a projector that can display content in a resolution of 4K. In the context of projectors, resolution refers to the number of pixels displayed on the screen. And 4K resolution means a resolution of approximately 3840 x 2160 pixels, also called UHD.
4K projectors provide significantly higher image clarity and detail than lower-resolution projectors. They can project photos and videos with four times the number of pixels in traditional Full HD (1080p) projectors. With that, it will result in stunning visuals with clarity and sharpness even when projected on larger screens.
If you have 4K content, such as 4K movies or high-resolution images, a 4K support projector is the ideal option to enjoy the content's high-quality visuals fully. However, it is necessary to note that the projected content's quality also matters. Suppose the content is not originally in 4K resolution. In that case, the projector will upscale to fit the 4K output. But the actual improvement in image quality may not be as significant when displaying native 4K content.
Part 2. Is a 4K Projector Worth It
Whether a 4K projector is worth depends on your specific budget, needs, and preferences. Here are some factors to consider when deciding if a 4K projector is worth the investment:
Content
If you can access many native 4K content, a 4K projector can significantly improve image clarity and detail.
Viewing Distance
The closer you sit on the screen, the more you will benefit from the increased resolution of a 4K projector. If you have a similar room or plan to sit relatively close to the screen, the enhanced clarity of 4K might be more noticeable.
Budget
4K projectors tend to be more costly than lower-resolution choices. If you have a limited budget, you should weigh the cost against the improvement in image quality you desire.
Screen Size
If you prefer to project on a larger screen, a 4K projector screen can provide a noticeable difference in image quality compared to lower-resolution projectors. The higher pixel density in 4K resolution becomes more apparent when projected on a larger screen.
Upscaling Capabilities
Some 4K projectors are infused with advanced upscaling technologies that can enhance the appearance of lower-resolution content. If you have a lot of non-4K content, these upscaling features might justify the investment in a 4K projector.
Future-Proofing
If you prefer a projector that will remain relevant for years, investing in 4K is a good choice. As more 4K content becomes available, you will be ready to use it.
Part 3. Best 4K Projectors
This section will introduce the best 4K projectors you can rely on in the market. These 4K projectors are highly regarded for their features and performance. To get to know them, check out the following information.
1. Epson Home Cinema 5050UB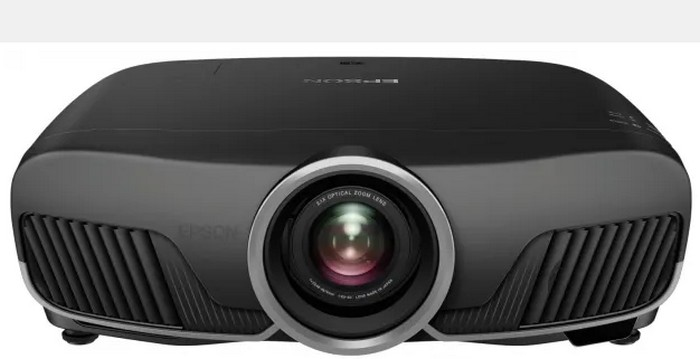 The Epson Home Cinema 5050UB, or EH-TW9400, is a high-performance 4K projector designed to deliver an exceptional home theater experience. It boasts advanced features and image-enhancing technologies, making it a famous option among home theater enthusiasts and series movie buffs.
This Epson 4K laser projector features native 4K Ultra HD resolution, ensuring stunning image clarity and detail for a truly immersive viewing experience. Epson's projector is famous for its exceptional color accuracy, lens-shift functionality, and high contrast ratio. This projector is an excellent option for those seeking a premium home theater projection experience.
2. Sony VPL-VW295ES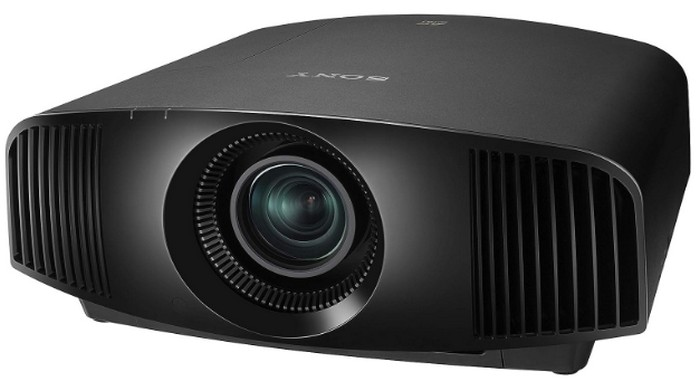 As part of Sony's lineup of premium projectors, the VPL-VW295ES is designed to deliver a truly cinematic experience in the comfort of your home. This Sony VPL-VW295ES is a high-end 4K home theater projector known for its exceptional image quality, impressive performance, and advanced features.
This projector boasts native 4K Ultra HD resolution, offering four times the pixel count of traditional Full HD projectors for impressive clarity and lifelike detail. In addition, it provides excellent image quality, impressive brightness, and vibrant colors. It is known for its accurate color reproduction and deep blacks, making it suitable for home theater enthusiasts. This Sony 4K projector is well-regarded among home theater enthusiasts and professional reviewers for its impressive image quality, accurate colors, and excellent performance.
3. LG CineBeam HU85LA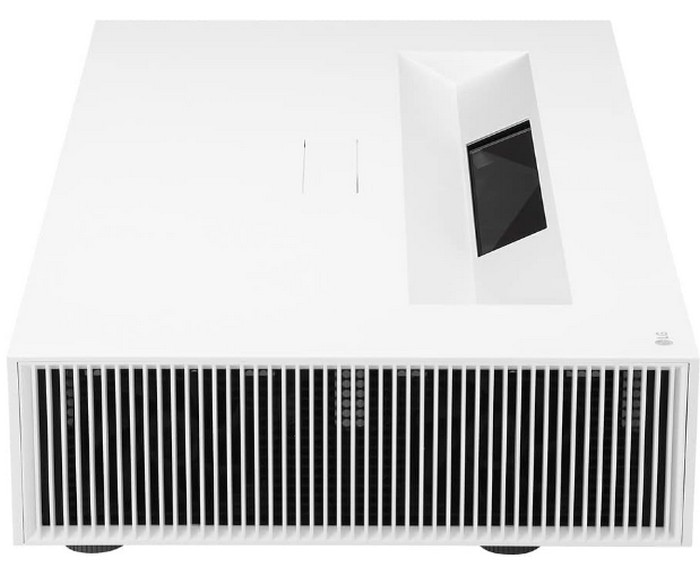 If you are looking for a versatile and space-saving projection solution without compromising image quality, The LG CineBeam HU85LA is a good choice. Its 4K resolution, ultra-short-throw capabilities, and smart TV functionality make it ideal for various home entertainment setups. The projector comes from LG's CineBeam series, known for its portability, compact size, and ultra-short-throw capabilities. For convenience and flexibility, you can place the projector close to the screen or wall. It can project large images even when placed just inches from the screen or wall, reducing the need for ceiling mounting or extensive installation.
This LG projector 4K uses laser diode technology as its light source, offering more consistent brightness, a longer lifespan, and better color accuracy. It comes with integrated speakers, which are decent for casual viewing. But for an optimal audio experience, using external speakers or soundbar is recommended.
4. JVC DLA-NX7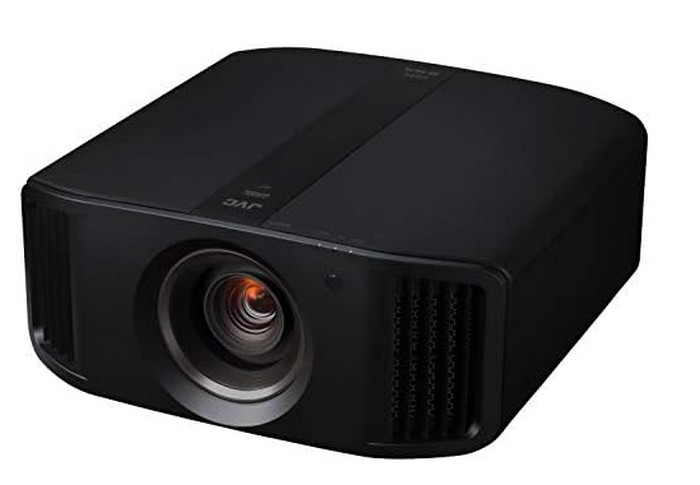 The JVC DLA-NX7/DLA-RS2000 is a high-end 4K home theater projector renowned for its exceptional image quality and precise color reproduction. It is designed to deliver a top-tier cinematic experience for enthusiasts and professional users. This projector features native 4K Ultra HD resolution, offering detailed and sharp visuals for a truly immersive viewing experience. It boasts a high native contrast ratio, resulting in deep blacks and excellent shadow details, improving the overall picture quality.
The impressive part about this projector is its high-quality lens system to ensure sharpness and image clarity across the entire screen. JVC DLA-NX7/DLA-RS2000 is one of the best home theater projectors to create an immersive and reference-level home cinema experience.
5. Optoma UHD65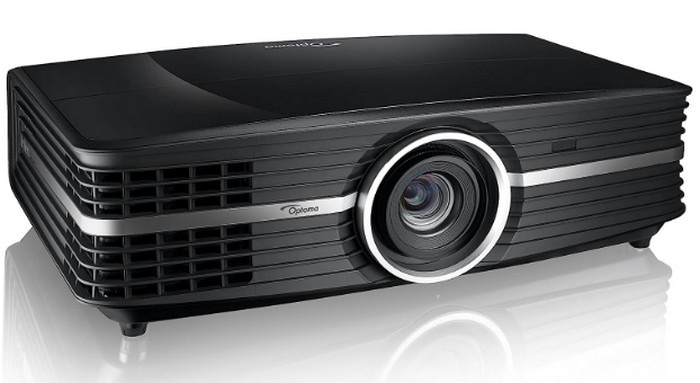 The Optoma UHD65 is praised for its excellent image quality, bright and vibrant colors, and competitive pricing. It strikes a good balance between performance and affordability. For that reason, it makes it a famous choice for those seeking a high-quality 4K projector for their home theater or gaming setup.
This popular 4K home theater projector is known for its impressive picture quality, high brightness, and wide color gamut. It offers high brightness levels of up to 2,000 lumens, making it suitable for both darkened home theaters and rooms with some ambient light. This Optoma 4K Projector provides a relatively low input lag necessary for responsive and immersive gaming experiences.
6. BenQ TK850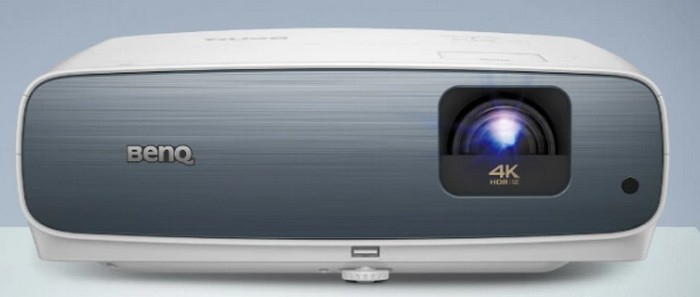 Another feature-rich 4K home theater projector known for its bright image, vivid colors, and versatility is BenQ TK850. It is designed to deliver an impressive cinematic experience for movie enthusiasts and sports fans. For that reason, it makes it a popular option for various entertainment needs. This projector provides high brightness levels of up to 3,000 ANSI lumens, making it suitable for well-lit rooms and outdoor use.
This projector is known for its 4K resolution, high brightness, and dedicated sports mode, improving sports enthusiasts' viewing experience. On top of that, BenQ Projector 4K provides excellent color accuracy and sharpness at an affordable price point.
Part 4. How to Turn Your Video to 4K
Vidmore Video Converter is a versatile and beginner-friendly video conversion program that handles various video formats and resolutions, including converting videos to 4K resolution. With its powerful features and intuitive interface, Vidmore Video Converter lets you quickly and efficiently convert videos to 4K and other resolutions.
Vidmore Video Converter supports converting videos to 4K resolution (3840 x 2160 pixels) from various input formats. For that reason, it offers you a higher level of image clarity and detail. It supports numerous video formats for both input and output, ensuring compatibility with almost all popular video file types. On top of that, you can customize various video and audio settings, such sa resolution, frame rate, bitrate, codec, and more. You can fine-tune the output according to your needs or requirements. Are you ready to turn your video to 4K resolution using Vidmore Video Converter? If yes, proceed to the steps below.
Step 1. Head to the official website of Vidmore Video Converter, download the program and follow the installation instructions to set it up on your desktop. After that, launch the program after the installation.
Step 2. Press the Add button from the Converter tab on the main interface to import the video you wish to convert to 4K resolution. Select the video file from your desktop's storage and click Open to add it to the conversion queue.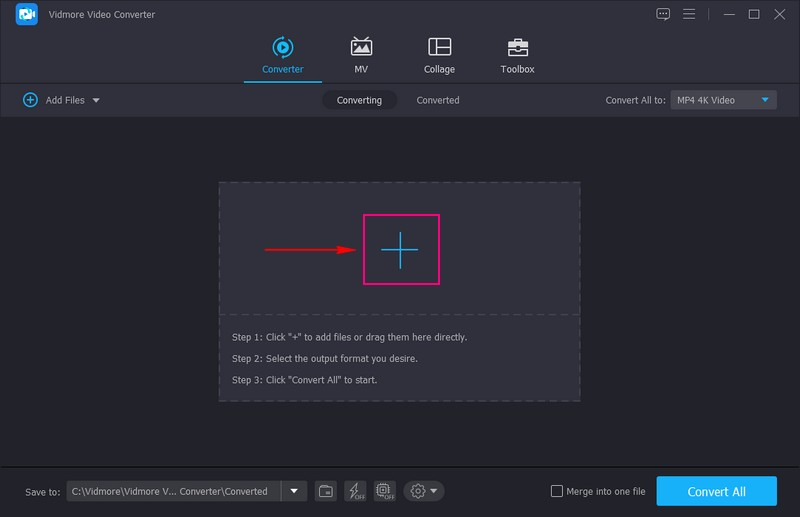 Step 3. Look for the drop-down menu on the right corner of your imported video file and click it. In this menu, you will see numerous formats with video resolutions you can select from. You can select MP4, MOV, MKV, WEBM, and more which support 4K resolution. After selecting your preferred format, choose the 4K video from the video resolution selection.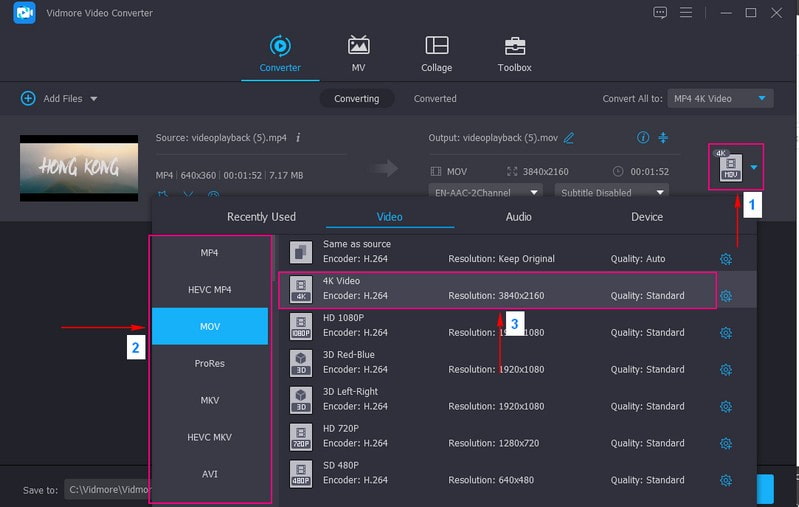 Step 4. If you want to fine-tune the 4K video output, click the Cogwheel button, and adjust the settings based on your needs. You can modify the Video's Encoder, Frame Rate, Bitrate, and more. Besides that, you can modify the Audio's Encoder, Sample Rate, Channel, and Bitrate if you want to. When done, hit the Create New button to save the changes.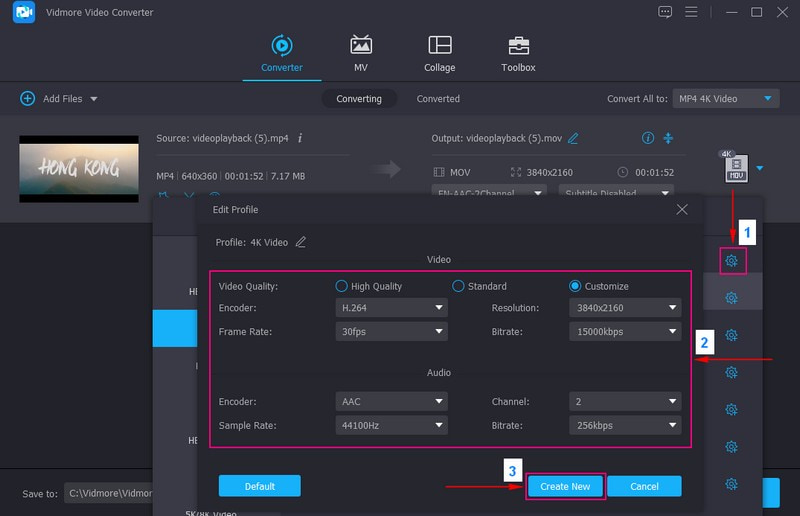 Step 5. You are back to the converter section. To successfully turn your video to 4K, press the Convert All button to initiate the process. After that, the program will convert the video to 4K resolution according to your selected settings.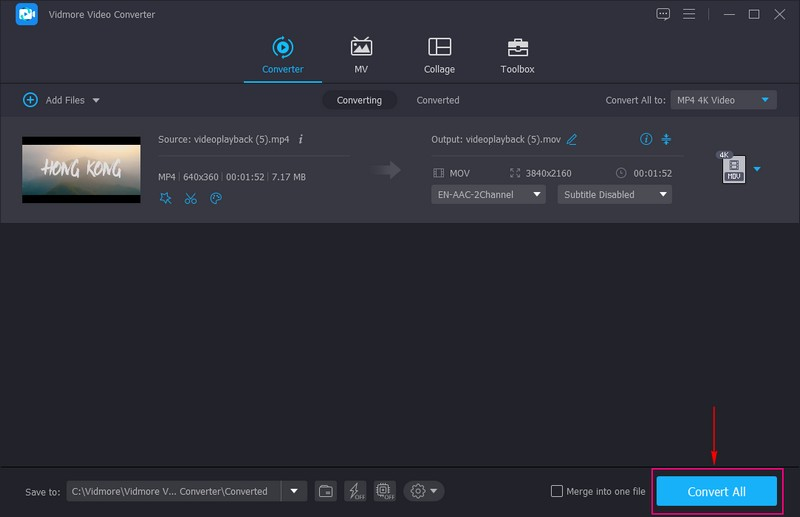 Part 5. FAQs about 4K Projector
Are 4K projectors really 4K?
4K projectors, in most cases, are not true native 4K. They use various technologies to achieve a 4K-like resolution. However, these projectors' underlying panels or chips might not have the full 4K pixel count.
Are 4k projectors as good as 4K TV?
4K TVs provide a less immersive experience than the 4K projectors. For a projector to deliver an accurate 4K picture is a little complicated, as many more affordable options use an upscaling trick called 4K Enhancement Technology. However, it still does not deliver the same image quality as most 4K TVs.
Can a 1080p projector run 4K?
No, a 1080p projector cannot natively run 4K content. A 1080p projector has a resolution of 1920 x 1080 pixels. It does not have the physical hardware to display the higher resolution of 4K content, which is 3840 x 2160 pixels.
What is Vava 4K Projector?
Vava 4K Projector is a popular home theater projector manufactured by VAVA, a technology company known for its video and audio products. It is designed to deliver a high-quality and immersive home cinema experience with native 4K Ultra HD resolution.
What is the best budget 4K projector?
The BenQ TK800M is one of the popular budget-friendly 4K projectors that provide good value for their price. It features native 4K resolution and utilizes DLP technology to deliver clear and sharp visuals.
Conclusion
4K projectors offer a remarkable home theater experience with their native 4K resolution. It offers four times the pixel count of Full HD projectors for more detailed and sharper images. Whether you are a movie enthusiast, a gamer, or simply looking for a larger-than-life screen, a 4K projector is a good choice. This post presented a 4K home theater and a 4K gaming projector you can rely on. Besides that, it introduced a program that can turn your video into a 4K, which is the Vidmore Video Converter. Please install the program on your computer to learn more about what it can do and offer.