Uncover WFP Meaning, Viewer & Converter [Credible Details]
Filmora project files are created and saved within the program, which stores all the details about a video editing project. The details about the video editing project include the media files, timeline edits, transitions, effects, and other settings. What is this file extension that contains all this information?
This post will provide thorough details about WFP and its meaning. In addition, it will present a detailed guide to viewing and converting WFP using various programs. Without further discussion, check out the following parts.

Part 1. WFP Meaning
When you work on a video project in Filmora, you can save your progress as a project file. This file serves as a container that holds all the settings and elements of your project. By saving your project as a Filmora project file, you can quickly return to it later and continue editing or creating changes as needed.
Filmora project files typically have the .wfp file extension. They are designed to be opened and edited within the Filmora program. However, it is essential to note that these project files are not the final video files themselves. Instead, they serve as a blueprint for your video project, enabling you to create adjustments and edits.
What does WFP stand for? It stands for Wondershare Filmora Project File. These files contain project information, like a timeline with one or more video tracks. In addition, it includes project settings, like titles, animations, transitions, special effects, and edits. It stores audio and video settings for the project, such as the bitrate, channel, encoder, frame rate, sample rate, and resolution.
It is necessary to note that WFP projects save references to music and video files but not the file themselves. Therefore, you must also copy the referenced files to transfer a project.
Part 2. Pros & Cons of WFP Files
This section will present the advantages and disadvantages of the WFP files. With that, you will learn what to expect from the project file. Without further ado, check out the following details presented.
Pros
It stores all the information about a video editing project, like media files, audio tracks, transitions, effects, and editing settings.
It stores video and audio settings for the projects, such as encoder, resolution, channel, sample rate, frame rate, and bitrate.
Users can save their work and reopen the projects in Wondershare Filmora for further editing.
It comprehensively represents the project's timeline and all the applied edits, making it convenient to continue working on the project later.
Users can export it to various multimedia formats Filmora supports, including MP4, AVI, MKV, MOV, GIF, and MP3.
Cons
It is only designed as a file extension for Wondershare Filmora.
Users cannot open or edit the Filmora project file to other applications, programs, or devices.
Users must convert it to another widely supported file format to play on other smartphones, programs, or devices.
If you convert this file to another format using Wondershare Filmora, the output file will have an embedded watermark.
Part 3. WFP Viewer
Wondershare Filmora project files are saved with the .wfp file extension. To view and work with WFP, you would typically use the Wondershare Filmora program. This program is known for its balance between user-friendliness and feature-rich functionality. It is famous for users looking to create and edit videos without extensive technical experience or knowledge. It offers a free version with limitations and a paid version that unlocks advanced features and removes watermarks from exported outputs.
Filmora is specifically designed to open, edit, and export project files created within the program. By opening the project file in Wondershare Filmora, you can view and make changes to your video project. The changes you can make to your project are the following: editing the timeline, adding or removing media files, applying effects, and modifying settings.
To view a Filmora project file, count on the following details presented:
Step 1. Suppose that you already have Wondershare Filmora installed on your desktop device. To begin with, you must open Wondershare Filmora on your computer. After that, you will be directed to the program's main interface.
Step 2. Head to the top menu bar, click the File menu, and select Open Project.
Step 3. Locate the WFP project file you wish to view and select it.
Step 4. The Filmora program will open the project, displaying the timeline, media assets, effects, and other elements you have incorporated into your project.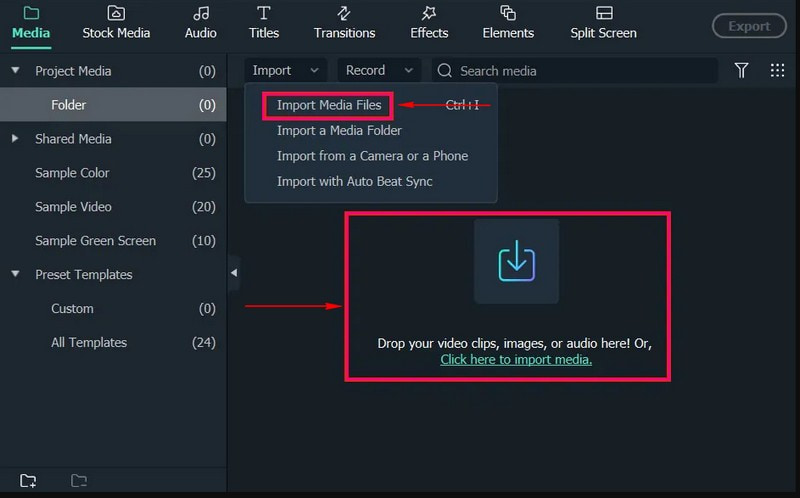 It is important to note that WFP files are not intended to be opened or viewed by an external program. They are proprietary to the Filmora program and are meant to be opened and edited within the Filmora environment.
Part 4. Best WFP Converter You Should Not Miss
Are you searching for a reliable method to convert WFP to another file format? If yes, we got your back; Vidmore Screen Recorder is for you. This program is designed for capturing and recording your desktop screen activities. It allows you to create high-quality video recordings of your screen, along with audio, to capture tutorials, gameplay, streaming videos, and more. As mentioned, it can record anything presented on screen. Therefore, you can record a WFP file project from Filmora and save it into another file format supported by the program. Impressive, right?
Vidmore Screen Recorder allows you to pick a specific area or the full screen for recording. In addition to screen recording, you can enable the computer's system audio or external microphone. With that, you can record system sounds, online streaming audio, or add voice narration to the recordings. So are you ready to start recording the WFP from Filmora and then save it to a widely supported format? If yes, rely on the steps provided.
Step 1. Visit Vidmore Screen Recorder's official website and download and install the program on your computer.
Step 2. Launch the program, and you will see various recording features from the main interface. The primary recording feature you will need is the Video Recorder.
Note: Before opening the recording feature, open Filmora first and prepare the WFP file you want to convert.

Step 3. Return to Vidmore Screen Recorder and run the Video Recorder feature to start the recording procedure. First, select your preferred screen size, depending on Filmora's player window. Here, you can pick Full or Custom, selecting a fixed region or a specific region or window.
Next, turn on the Webcam and Microphone to add your face and voice to the recording. Then, turn on the System Sound button to record the WFP sounds. When settled, click the REC button and play the WFP file to begin recording your screen.

Step 4. If you want to stop for a while, press the Pause button. Once you want to continue the recording again, press the Resume button. Once you have recorded the playback of the WFP file, press the Stop button colored in red to end the recording.
Step 5. After ending the recording, you can preview the captured video from the window player. Also, if you want to remove unnecessary parts of the recorded video, you can trim it. Once satisfied, tick the Save button to export and save the recorded WFP file to another format. Finally, you have converted or saved WFP to another format you desire!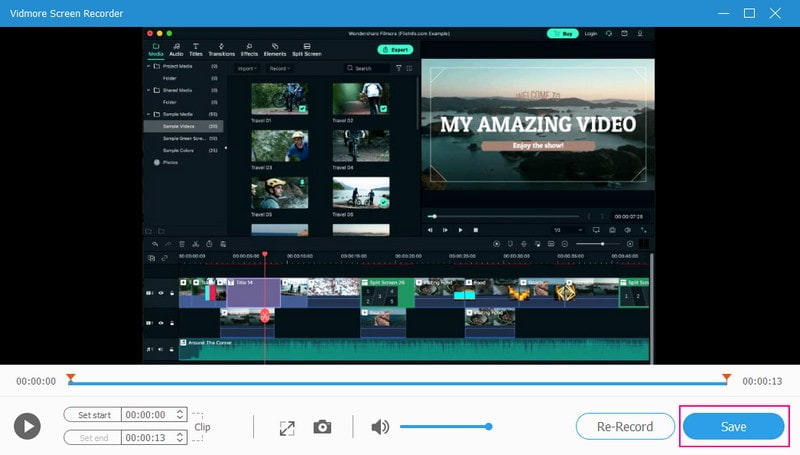 Part 5. FAQs about WFP Meaning
What is the Filmora file size?
A Filmora project file can range from a few kilobytes to several megabytes. However, the file size can be larger for more complex projects with plenty of high-resolution media files and effects.
How to convert WFP to another format in Filmora without a watermark?
Filmora is classified into two, the free version and the other one is the paid version. So if you want to convert WFP to another format in Filmora without a watermark, you have to avail the paid version.
How to convert WFP to another format without a watermark?
The program you can rely on to convert WFP to another format without a watermark is Vidmore Screen Recorder. It is impressive that it allows you to record screen activities and save them to your desired format without a watermark embedded.
How to save WFP as MP4 in Filmora?
Open the Filmora project, hit the Export button, and select MP4 as the output format. Depending on your liking, you can modify the various export options, such as bitrate, quality, and resolution. After that, choose a destination folder, and initiate the exporting procedure.
Can I edit the WFP file on a different computer?
You can edit WFP files on a different computer once Filmora is installed. Transfer the .wfp project file to the other computer, open it in Filmora, and resume editing your project.
Conclusion
You have learned what is WFP and what are the ways to do to view and convert it. You can use Filmora to view the WFP file. Besides that, you can rely on Vidmore Screen Recorder to record WFP and save it to another format. In addition, it has annotation tools you can use to add text, arrows, shapes, and highlights to your recordings. So what are you waiting for? Install it on your computer and enjoy the features it offers!