AVCHD to DVD Converter – How to Burn AVCHD to DVD without Losing Quality
When you have taken videos with Sony digital camcorders, you can get some AVCHD videos. Whether you need to backup the MTS or M2TS videos, or even share the excellent videos with your friends on a smart TV. How to burn AVCHD to a standard DVD disc without losing quality? The article compiles the 6 most frequently used AVCHD to DVD converters to burn MTS/M2TS videos to DVD with ease.

Part 1: Best AVCHD to DVD Converter to Burn MTS to DVD with Ease
When you want to convert AVCHD to DVD and Blu-ray disc with the original quality, customize the DVD menu/template/frame/button, or even edit the AVCHD videos, Vidmore DVD Creator is a versatile DVD burner to create a desired DVD disc within clicks.
Burn MTS, M2TS, MP4 and any video from AVCHD camera to DVD discs.
Customize the DVD menu, template, button styles, text content, font, etc.
Advanced video editing features to crop, enhance and watermark videos.
Tweak the video codec, TV standard and the other for a high quality DVD.
Step 1: Download and install AVCHD to DVD burner, you can launch the program on your computer. Select the DVD Disc button and click the Add Media File(s) button to import the AVCHD videos into the program. Then you can click the Next button to continue.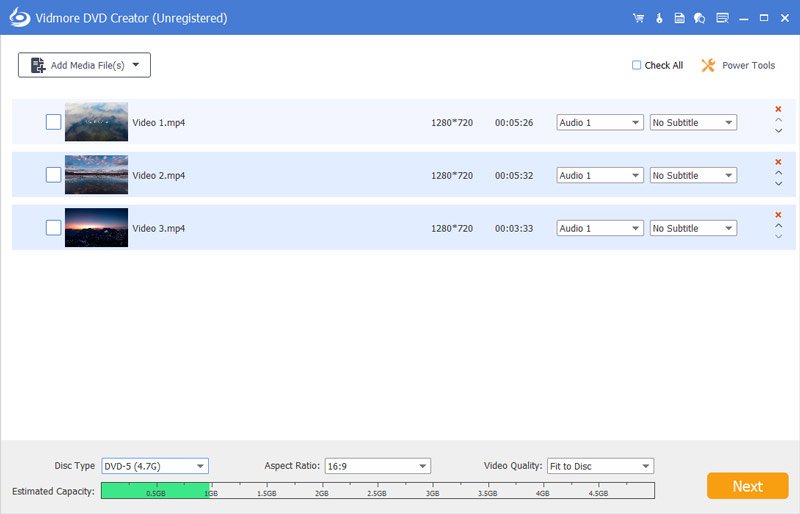 Step 2: If you need to further edit the AVCHD videos, you can click on the Power Tool button to rotate the video, trim the unwanted parts, edit the desired subtitles, merge chapters and even set thumbnails. Save the desired effect and click the Next button.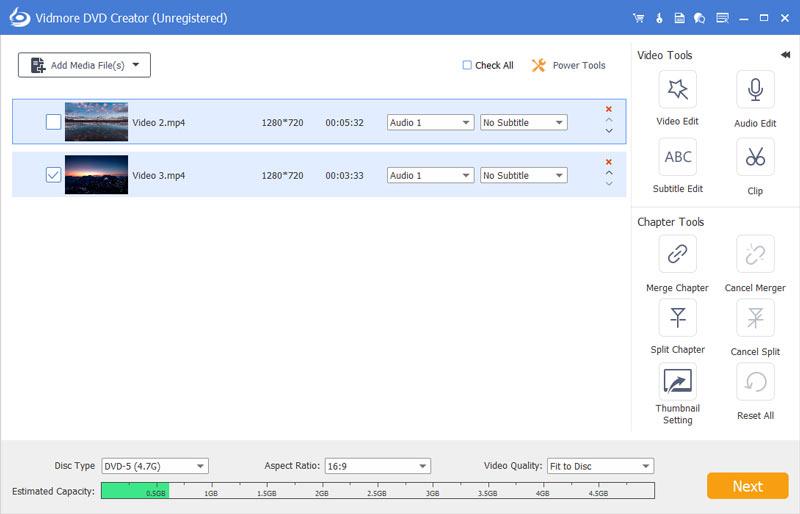 Step 3: When you want to burn AVCHD to a standard DVD, just select the Menu Template menu to choose a preset DVD menu, or even choose the Customize Template menu to make a desired one. Of course, you can also change background music and more.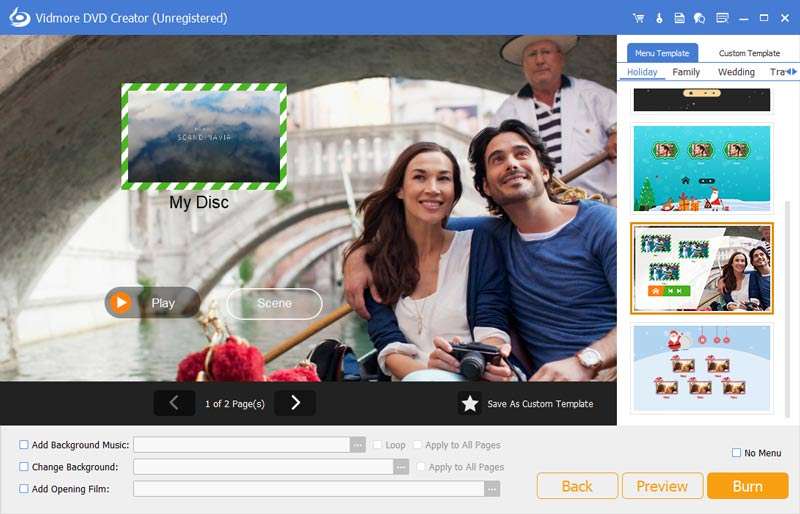 Step 4: After personalizing your DVD project, you can click on the Burn button to enter into the Settings window to select a destination, make burn settings, or even select playback mode. Now you can click the Start button to burn AVCHD to DVD accordingly.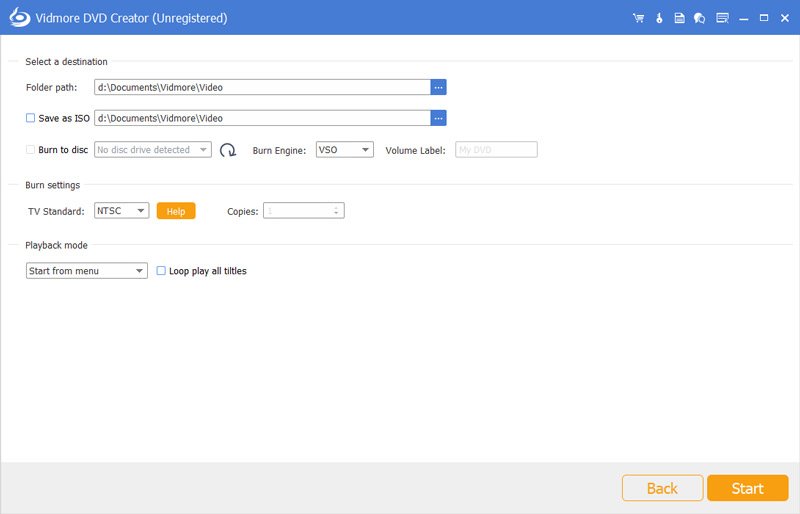 Part 2: Top 5 AVCHD to DVD Freeware to Convert AVCHD to DVD
1. WinX DVD Author
WinX DVD Author is one of the most popular AVCHD to DVD converter freeware that provides customizations for creating a standard DVD, with a relatively fast and good output DVD discs.
Pros:
Customize background image, buttons, audio, chapter, and even text.
Choose a desired aspect ratio and add letterbox for videos of different ratio.
Allows users to add subtitles in SRT subtitle for each input video.
Cons:
It takes a long period of time to convert the AVCHD videos to DVD.
Not able to add custom soundtracks to videos in DVDs directly.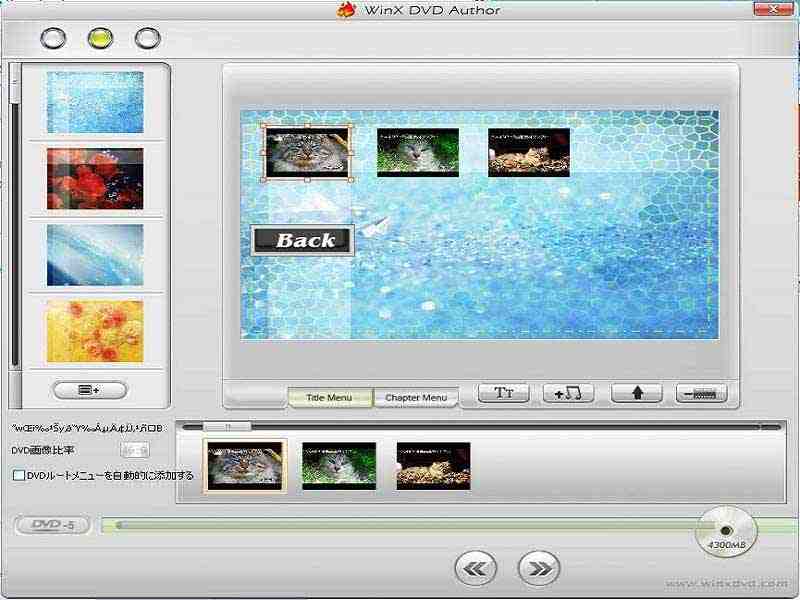 2. DVDStyler
DVDStyler is another free AVCHD to DVD burner that uses FFmpeg for video encoding. Similar to the other program, it supports NTSC/PAL DVDs, DVD-5 and PDVD-9, and even allows you to control aspect ratio.
Pros:
Easy to use interface for creating custom DVDs from MTS/M2TS videos.
Customize DVD menus from different templates to modify the background.
Provide lots of customizations for DVD with light on the sources.
Cons:
There are some other programs bundled with the crapware DVDStyler.
It is unable to convert AVCHD or other video files to Blu-ray disc.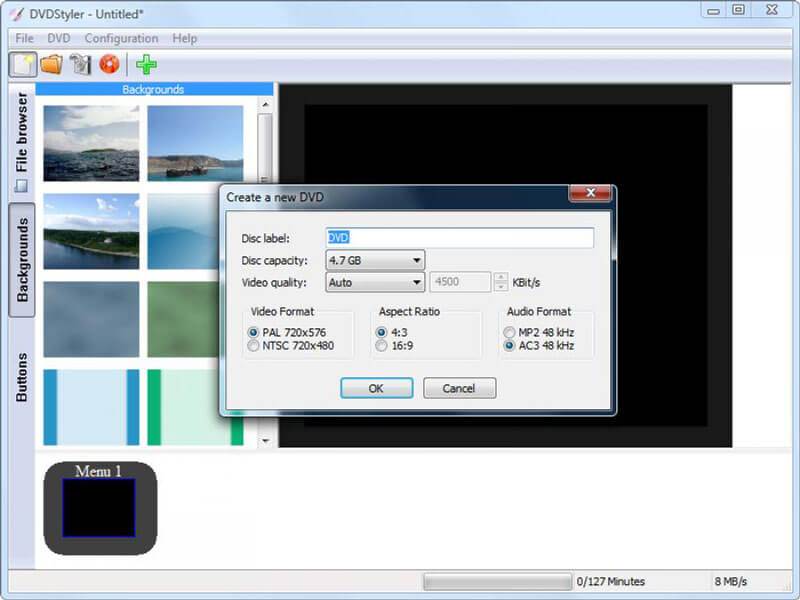 3. ImageBurn
ImageBurn is an easy to use AVCHD to DVD converter that burns and reads of DVDs, as well as CDs and ISOs. You can make a standard DVD from six different modes and 13 different settings tabs.
Pros:
Supports multiple types of formats like BIN, CCD, CDI, CUE and so on.
Burn and convert AVCHD video to DVD disc, ISO files and others easily.
Adjust AVCHD files, labels, set restrictions, and make bootable image.
Cons:
Create ISO images on discs, not on flash drives or other removable disks.
It takes a period of time to burn a large DVD for more than 1GB AVCHD.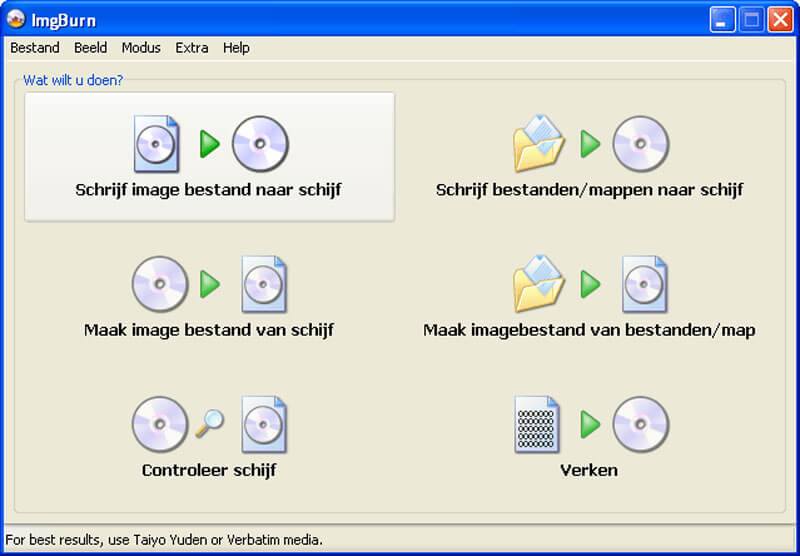 4. InfraRecorder
InfraRecorder is a portable and open source AVCHD to DVD burner, which is able to burn data CD/DVD, music CD, video, create and burn disc images in various formats, create backup copies and more.
Pros:
Create DVD disk copies on the fly, or even from temporary disk images.
Provide Creation and recording of CUE, BIN and ISO format disk images.
Burn AVCHD to a standard DVD disc with sessions, subtitles and more.
Cons:
It does not support HD DVD or Blu-ray disc with a high video quality.
Lack of the advanced features to tweak the burning process to perfection.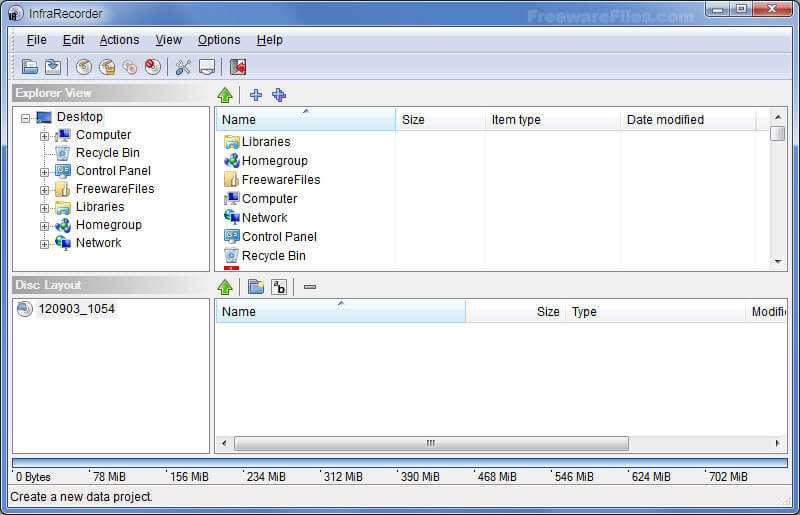 5. AVStoDVD
AVStoDVD is an open source AVCHD to DVD converter that has advanced burning features and customization options. It enables you to burn multiple videos to DVD discs, DVD folders and even ISO files.
Pros:
Take advantage of the FFmpeg library for most of the video formats.
Customize the subtitle, audio, DVD menu and others for standard DVD.
Tweak the aspect ratio, bitrate, 2-pass encode and even batch process.
Cons:
Poor user-interface and there are so many customizations and options.
Need to install extra software to burn to DVD disc or output as ISO files.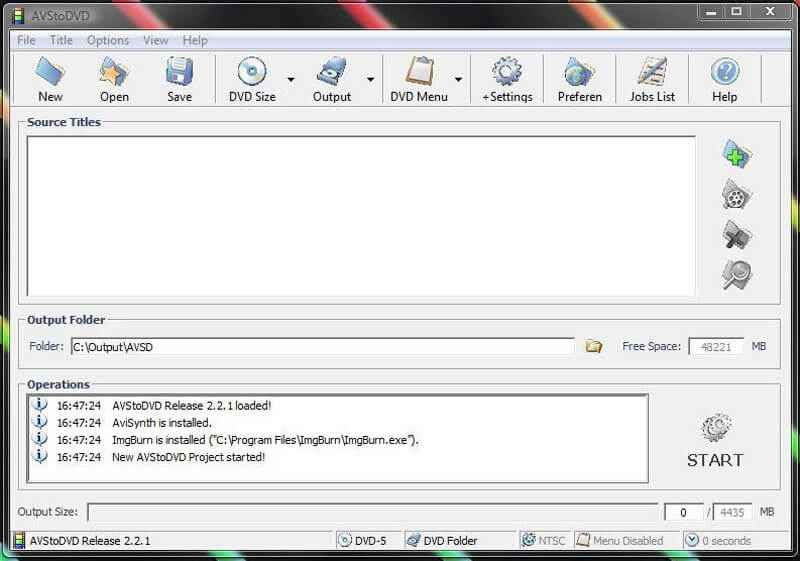 Part 3: FAQs about Converting AVCHD to A Standard DVD
1. What is an MTS/M2TS Format?
AVCHD camcorders use MTS and M2TS as the video container formats, which mainly support 480I, 720P, 1080I, and 1080P HD Videos. The M2TS format is a specialized method to transfer MPEG-1, MPEG-2, and MPEG-4 video into a different stream. When you want to backup the AVCHD videos with original quality, you should convert AVCHD to DVD instead.
2. Why Do You Need to Convert AVCHD to DVD?
When you have a large number of videos, how do you know which are your best memories? If you need to share the videos from AVCHD camera, how to play the recorded HD or 4K video on large screen TV? Of course, you can burn AVCHD to DVD, or even burn them to Blu-ray disc. As for the case, you can always find the desired AVCHD video with high quality.
3. Why the AVCHD Videos are Better in Video Quality?
A standard DVD resolution is 720x480. It may also include 720x576, 704x576, 352x576, 352x288, 704x480, 352x480, 352x240 or even 352x288. On the other hand, the AVCHD video resolutions are 1920x1080, 1440x1080, 1280x720, 720x480 and more. It is the reason that you can burn AVCHD to Blu-ray disc in order to get a better video quality.
Conclusion
In order to create a standard DVD disc from the AVCHD cameras, you can learn more about the best AVCHD to DVD converters to a burn DVD disc. When you want to make a DVD disc with customized menu, template, text and more others, you can choose a desired one according to the review from the article.