A Method to Play Cassettes in Car to Enjoy the Vintage Vibe
Welcome to the world of nostalgia and vintage audio! Playing cassette tapes in your car lets you take a trip down memory lane and experience the charm of analog music. Despite the shift toward digital audio, there are still existing car cassette players in the market. Car cassette players are infused with AM/FM tuners, auxiliary input, and Bluetooth connectivity. Do you want to know what they are?
This post will introduce the leading car cassette players in the market and present a solution if your car does not support playing cassettes. To learn more about these, continue reading the following details.

Part 1. Can I Play a Cassette in a Car
You might be wondering if you can play a cassette in a car. To answer your question, yes, you can play a cassette in a car, but only if your car has a cassette player. Many older cars, especially those manufactured before the mid-2000s, had a built-in cassette player as a standard feature. Cassette players were commonly used to play music or audio recordings from cassette tapes.
Part 2. Best Car Cassette Players in the Market
Car cassette players were less popular than they were due to the advancement of digital media and modern audio technologies in cars. The good thing is that some options are still available for those who prefer to use cassette players in their cars. Some of the best car cassette players in the market are the following:
1. Dual DC505iBT

Dual DC505iBT is a car radio with a cassette player and Bluetooth connectivity. Besides that, it is a more advanced car stereo with a CD player and auxiliary input.
2. Sony CDX-GT270MP

This model provides a detachable faceplate for added security, an auxiliary input, and a cassette player.
4. JENSEN MCR-100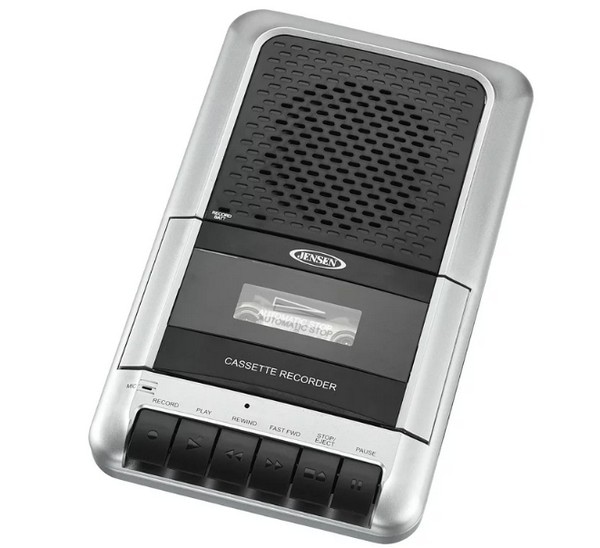 The JENSEN MCR-100 is a compact car cassette player with a front-loading design and straightforward playback controls.
5. Pyle PLRCS19U

It is a basic car stereo cassette player with a built-in AM/FM radio and auxiliary input for connecting external devices.
Part 3. What If Your Car Doesn't Support Playing Cassettes
Cassettes use an analog audio format, not a digital one like modern file formats, like MP3, WAV, and more. The audio on a cassette tape is stored as an analog waveform, representing it by varying electrical signals on the tape. As a result, there is no specific file format associated with cassette tapes. The audio quality on cassette tapes can vary depending on the recording quality, tape condition, and playback equipment. Therefore, if your car does not support playing cassettes, recording the audio content from the cassette is best. Afterward, transfer the recorded analog audio format to your computer and use a conversion program. We highly recommend Vidmore Video Converter to help you convert it into a digital format.
Vidmore Video Converter is a simple yet powerful conversion program that supports various inputs convertible to hundreds of digital formats, including MP3 and WAV. Although the program's name suggests it is a video converter, it also works as an audio converter. In addition, it enables you to modify the audio parameters, such as bitrate, channel, codec, and sample rate. With its 50× break-neck conversion speed, you can assure fast, high-grade output without significantly losing quality.
Please refer to the instructional guide below and learn how to play cassettes in a car through converting.
Step 1. First and foremost, visit the Vidmore Video Converter from the official website. From there, download and install the program to have complete access. When installed, launch the program.
Step 2. Navigate to the Converter tab and click the (+) button to add the recorded audio content from your local file.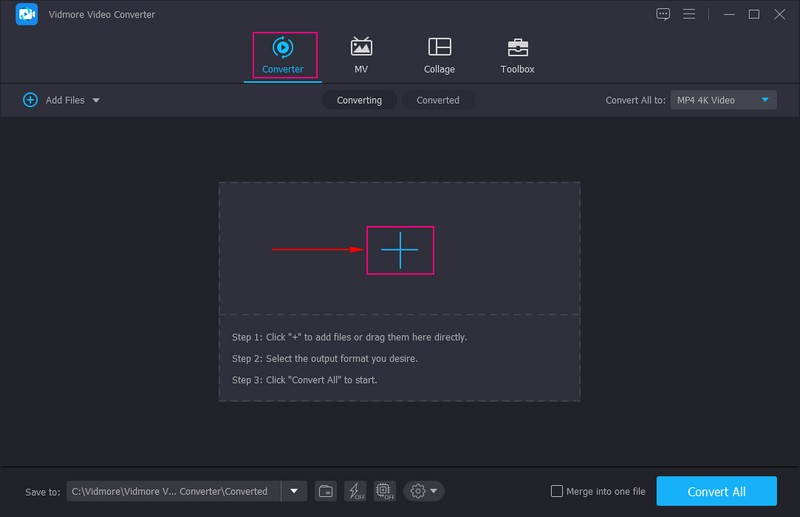 Step 3. Go to the Convert-All to drop-down menu, and click the Audio tab. Pick your desired format on the left-hand side, like MP3, AAC, FLAC, WAV, and more.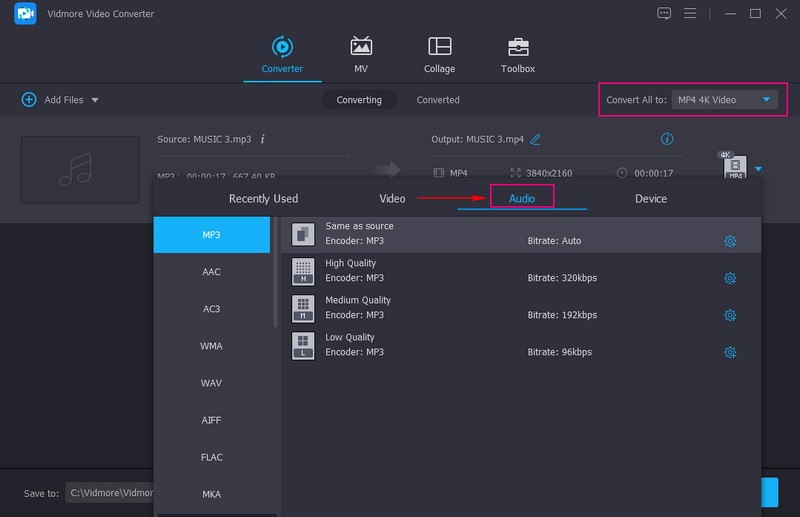 Step 4. Optionally, click the Cogwheel button to modify the audio parameters, such as Encoder, Bitrate, Sample Rate, and Channel. Once settled, click the Create New button to save the changes.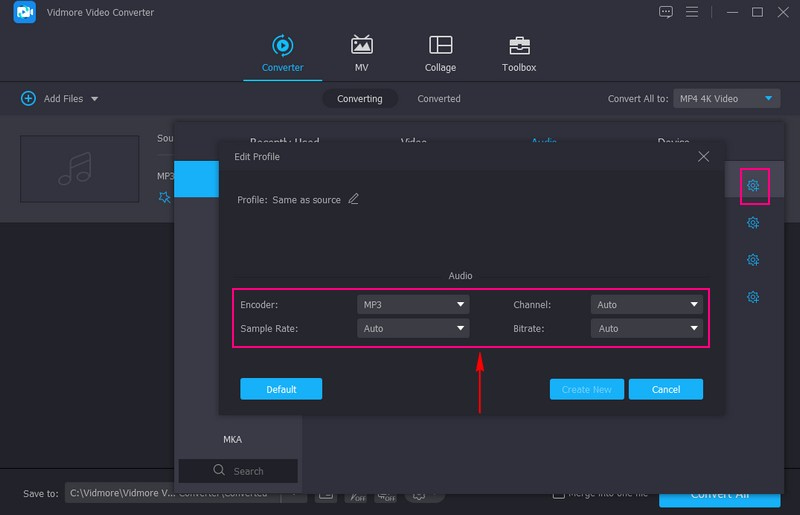 Step 5. Hit the Convert All button to initiate the conversion procedure. Once done, locate the folder from where you save the converted file and transfer it to a USB.
Then, insert the USB drive into your car's USB port, and enjoy listening to your cassette tapes in a digital version.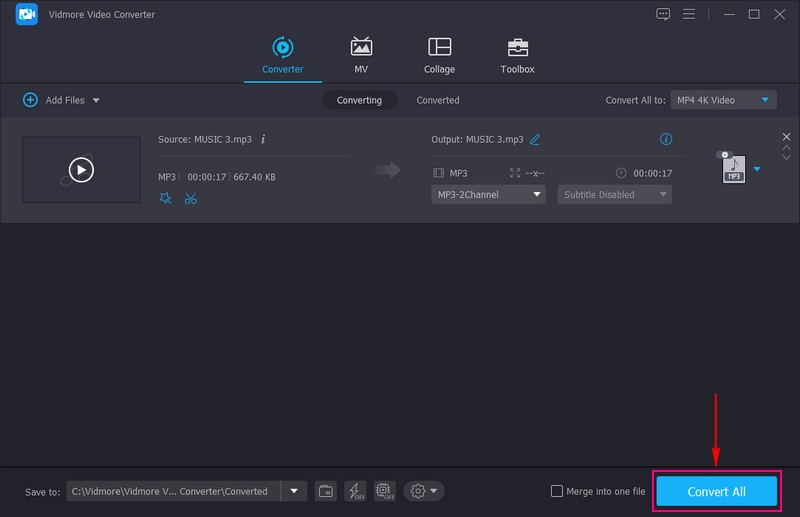 Part 4. FAQs about Playing Casette in Car
How to clean a cassette player in a car?
First, you must gather the essential supplies, like alcohol, cotton swabs, compressed air, and cassette head cleaning solution. Ensure that the car's ignition is turned off, and remove any cassette tape that may be inserted into the player. Then, remove excess moisture and clean the cassette's player exterior, head, pinch rollers, and capstan.
Is AM/FM cassette CD player a car stereo?
Yes, AM/FM cassette CD player is a car stereo system combining many features in one unit. It can receive AM and FM radio broadcasts, cassette tapes, and CDs. It is a type of car stereo that offers a range of audio options for listening to various music sources.
How to fix a cassette player in a car?
Before attempting fixes, check if the car's ignition is turned off and remove the cassette tape from the player. Verify if the cassette player is correctly connected to the car's power supply and audio system. Try using different cassette tapes to determine if the issue lies with a specific cassette. Inspect the cassette player for any visible mechanical problems or obstructions. Test the various functions of the cassette player, such as play, rewind, fast-forward, and eject. Lastly, reset or reboot the cassette player, and see if it works.
Can I still buy a car with a built-in cassette player?
As technology has shifted towards digital media, most new car models no longer have built-in cassette players. However, you may be able to find older used cars or specific models that still have cassette players.
What should I do if my car's cassette player gets stuck with the cassette tape?
It is necessary to turn off the car's ignition and avoid forcing the tape. You must consult the car's user manual or seek professional assistance to remove the cassette tape and resolve the problem safely.
Conclusion
Cassette players for cars have become less common recently due to advancements in digital media. Fortunately, there are still cassette players in the market that you can find and add to your car. For instance, if your car does not support playing cassettes, consider recording and converting it to a digital file format. With that, rely on Vidmore Vidmore Converter to achieve your task. It has many features besides a converter that benefits a user like you. What are you waiting for? Explore it now!