The Car Blu-ray Players for Ultimate In-Car Entertainment
A car Blu-ray player adds a touch of luxury and enjoyment when you are on a short commute or long road trip. It takes your road trips to a whole new level, providing an exceptional cinematic experience right from the comfort of your vehicle. Do you want to know what portable Blu-ray players are for a car?
This post will introduce portable Blu-ray car players and an installation guide. Besides that, it will present a guide to creating a Blu-ray disc with high quality. Without further ado, check out the following details.

Part 1. Portable Blu-ray Players for Car
This section will list the following portable Blu-ray players you can add to your vehicle. Despite being a Blu-ray player, they are still different regarding features. Introducing some famous portable Blu-ray players explicitly designed for car use:
1. WONNIE 17.9" Large Portable Blu-ray Player
The WONNIE 17.9" portable Blu-ray player is an excellent option for a larger display. The size is suitable for larger vehicles like SUVs or minivans. The screen provides a resolution of 1366x768 pixels and holds various disc formats, including Blu-ray, CD, and DVD. It also contains a car headrest mount holder and remote control, making it easy to control playback from a distance.
2. DBPOWER 12" Portable Blu-ray Player
If you are looking for a portable Blu-ray player for a car that supports 1080p full high-definition resolution, DBPOWER 12
3. PUMPKIN 12.5" Dual Screen Portable Blu-ray Player
This dual-screen portable Blu-ray player supports 1080p full high-definition playback and has built-in speakers, headphone jacks, and AV output. The player is region-free for Blu-ray discs and compatible with various disc formats, USB, and SD cards. It also comes with a remote control for easy navigation. It is perfect for families or groups, including two 12.5 screens that can be easily mounted on the car's headrests.
4. Sylvania 10.1" Swivel Screen Portable Blu-ray DVD Player
The Sylvania portable Blu-ray player features a 10.1' swivel screen, enabling you to modify the viewing angle for the best position. It supports full high-definition playback and has a built-in rechargeable battery for cordless use. Besides that, it supports USB and SD card playback and contains two headphone jacks for private listening.
5. NAVISKAUTO 10.1" Portable Blu-ray DVD Player
This player features a high-definition 1024×600 display and supports full high-definition 1080p video playback. It has a car Blu-ray player headrest, making it easy for rear passengers to attach to the back of the seat. It is compatible with various formats, such as Blu-ray discs, CDs, DVDs, and multimedia files from USB or SD cards. In addition, it provides anti-shock protection to ensure uninterrupted viewing during bumpy rides.
Part 2. How to Install Blu-ray Player in a Car
Installing a Blu-ray player in a car requires careful planning and execution to ensure a safe and functional setup. Here is the guide on how to install a portable Blu-ray player in your car:
Step 1. First, choose the location where you want to install the Blu-ray player in your car. The standard location is the back of the headrest, so passengers can comfortably view the screen. If your Blu-ray player has a car mount holder, attach it securely to the chosen location. Follow the manufacturer's instructions for proper installation.
Step 2. Connect the car charger to the Blu-ray player. Most car chargers plug into the car's 12V accessory socket. Ensure the power cable is neatly tucked away and does not obstruct the driver's view.
Step 3. Connect the Blu-ray player to the car's audio/video system for better sound and a larger display. The standard options include HDMI or RCA cables, depending on the available ports on your Blu-ray player and the car's audio/video system.
Step 4. Place the Blu-ray player in the car headrest mounts securely to prevent it from moving during the ride. Ensure that the screen is visible and easily accessible to passengers.
Step 5. Before hitting the road, test the Blu-ray player to ensure it functions correctly and that the audio and video connections work as expected. You can modify the screen position and volume according to your preference. In addition, ensure all the cables and mounts are correctly secured to prevent any hazards in case of sudden accidents and stops.
Part 3. How to Create a Blu-ray Disc With High Quality
Vidmore DVD Creator is a powerful, beginner-friendly program designed to help you create high-quality Blu-ray discs. This program allows you to create Blu-ray discs from various media files, such as music and video. Besides that, it enables you to burn your favorite videos and memories onto Blu-ray discs, making them playable on a stand-alone Blu-ray player or even with a computer.
Vidmore DVD Creator offers a selection of pre-designed Blu-ray menu templates that you can select from to add a professional touch. You can customize the menu by incorporating background music, images, and personalized text to create a unique Blu-ray experience. This program ensures high-quality output for the Blu-ray discs, preserving the source files' original audio and video quality.
Below is the step-by-step process to learn how to create a Blu-ray disc with high quality using Vidmore DVD Creator:
Step 1. Download and Install Vidmore DVD Creator from the official website. Once done, launch the program on your computer to get started.
Step 2. A display will appear on your screen; select Blu-ray Disc as your disc type. In the next window, click the Add Media Files button to import the video file you want to create.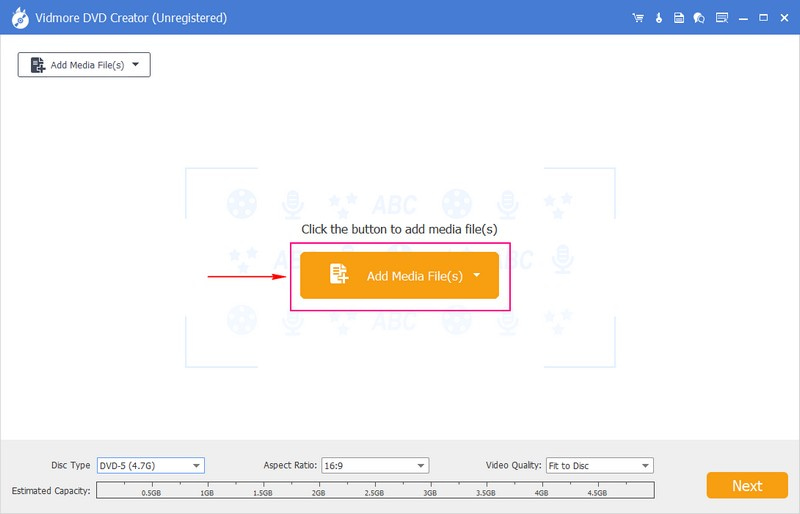 Step 3. Once the file is uploaded, put a checkmark beside the box of your video file. Before you proceed to the next window, optionally, you can edit and enhance the video file by heading to the Power Tools button.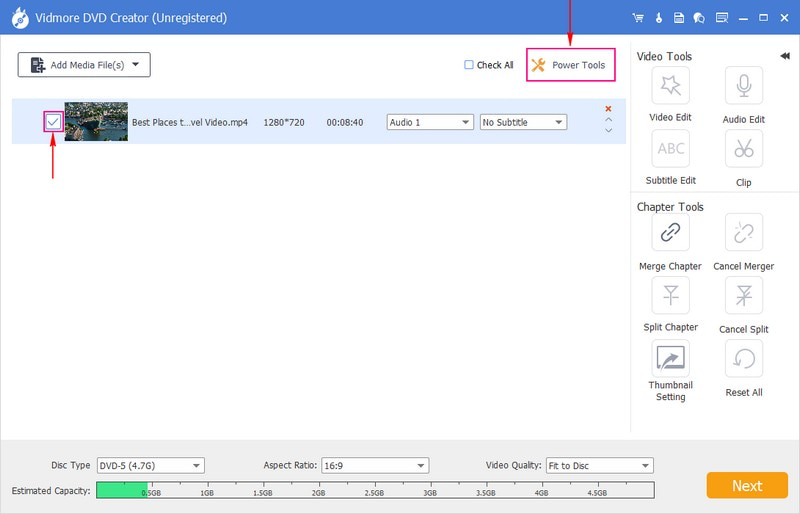 Step 4. In the last window, please select your preferred template according to your liking; it has Holiday, Wedding, Travel, Family, and more templates. Besides that, it allows you to personalize your template by importing an image from your local drive. Under the preview screen, you can incorporate Background Music and an Opening Film by putting a checkmark beside them.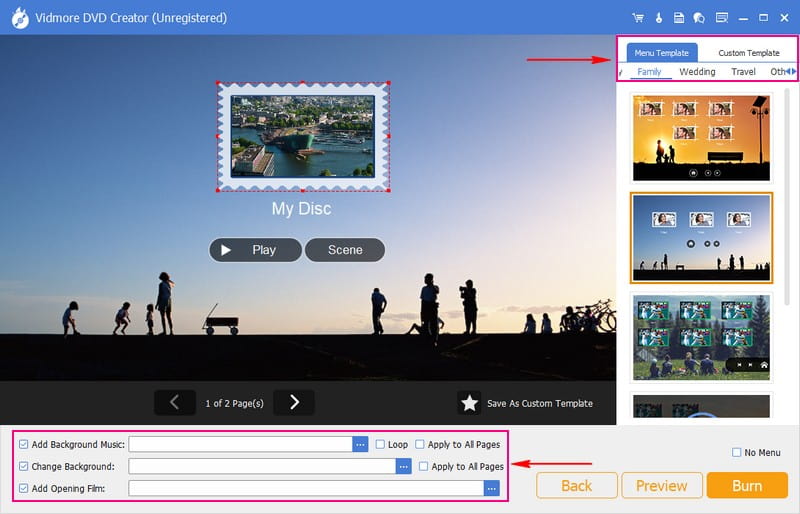 Step 5. Hit the Preview button to have a sneak with your output. When satisfied, click the Burn button to start the burning procedure.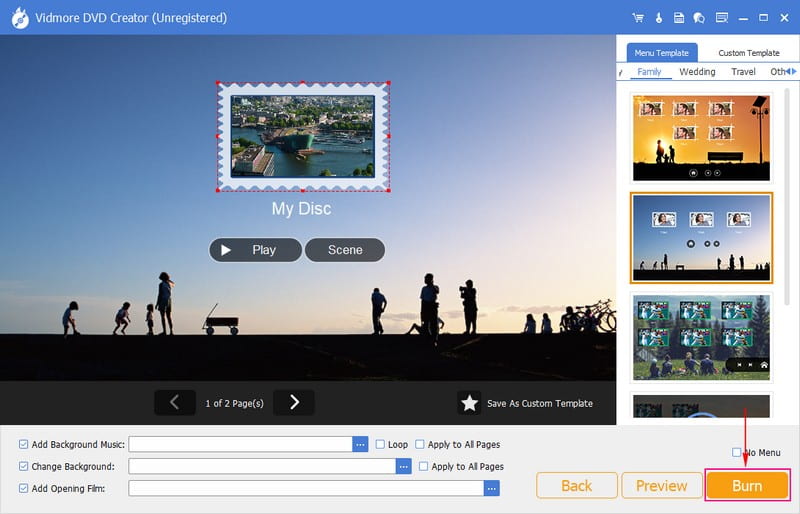 Part 4. FAQs about Car Blu-ray Player
Do car DVD players play Blu-ray?
Unfortunately, DVD players do not play Blu-ray discs because car DVD players are specifically designed to support DVDs and CDs. These players use a red laser to read the data on the discs, which is compatible with DVD and CD formats.
How much is a portable Blu-ray player?
The price of a portable Blu-ray player depends on the brand, features, screen size, resolution, and additional functionalities. The entry-level portable Blu-ray players with a smaller screen and fewer features cost $100 to $150. The premium portable Blu-ray player with larger high-definition screens, multiple playback options, and advanced features cost $250 to $400 or more.
What SUVs have DVD players?
The SUVS with DVD players are Chevrolet Suburban and Tahoe, Ford Expedition, Chrysler Pacifica, Toyota Sequoia, and more.
Can a car Blu-ray player be used with headphones?
Yes, most car Blu-ray players have a built-in headphone jack, enabling passengers to enjoy the content with headphones.
Can I connect a car Blu-ray player to the car's audio system?
Some car Blu-ray players have audio output options that enable you to connect them to the car's audio system. It allows you to enjoy the audio through the car's speakers for a more immersive sound experience.
Conclusion
Blu-ray player in a car brings the magic of high-definition entertainment to your vehicle. It offers a thrilling and immersive experience for passengers during car journeys. With safety in mind, using the Blu-ray player responsibly is necessary, ensuring it does not distract the driver. To create a high-quality Blu-ray disc, rely on Vidmore DVD Creator. It allows you to customize your Blu-ray discs using its unique features!