How to Play Regular DVDs and CDs with A Blu-ray Player – Here is the Ultimate Guide
Can you play DVDs on a Blu-ray player? I got answers from Quora that the Blu-ray player has backward compatibility. But I still not able to play DVDs on Blu-ray player, what should be the reason?
Yes. Blu-ray player does play DVDs and CDs. Whether you need to buy a Blu-ray player for general DVDs and Blu-ray disc, or have problems when playing the DVDs with a Blu-ray player, you can learn more from the ultimate guide from the article.

Part 1: Can Blu-ray Players Play DVDs and CDs
The Blu-ray players can play DVDs without any barrier. Since the Blu-ray player supports both blue and red lasers, the devices that enable you to read data will definitely be designed with all backward compatibilities. Besides the general DVDs in the original resolution, Blu-ray manufacturers also support the up-scaled 1080P/4K HD videos. Of course, you can simply insert a DVD or CD into the Blu-ray player. It will detect the disc type, activates the red laser assembly, and adjust the reader immediately.
Part 2: Why Cannot Play DVDs with Blu-ray Player
1. Can Blu-ray Player Play All-Region DVDs?
No. With the basic intentions of maximizing profits and protecting copyright status, there are limitations for playback capabilities of DVDs and Blu-ray discs purchased from other countries. Because of the different disc encoding, the Blu-ray players play DVDs that originate from that home region.
There are some methods to hack Blu-ray player for all region DVDs, but the methods should be different from model to model. Just search for the exact type of Blu-ray player and follow the instruction.
2. Can Blu-ray Player Work with DRM Protected DVDs?
No. When there is DRM protection for DVDs, you might not able to play the DVDs on a Blu-ray player, or find the movies funky. Just copy the DVDs with a DRM remover, or extract the movies from DVD as a digital file format.
There should be a copyright inscription within the hub of the disc, the package comes in a plastic case with 2-3 spades and is sealed in cellophane, or there is a copyright notice at the beginning of the film.
3. How to Solve the Cannot Play DVD Error Message?
If there is an error message that Cannot Play DVD on the TV screen when you playback the DVD movies, here are some methods to fix the problem for playing the DVDs on Blu-ray player.
Make sure the DVDs are not DRM protected, lower the screen resolution to 480P or 480I, install an extra codec to the DVDs, or connect the smart TV to your computer by using a component video cable.
4. Can I Play DVDs from Blu-ray Drive with WMP?
As the default media player on Windows 10, Windows Media Player is not compatible with the Blu-ray contents, even if you have a Blu-ray drive. If you want to play Blu-ray on Windows Media Player, you have to download related a codec to turn Windows Media Player into a Blu-ray player on your computer.
Part 3: How to Play DVDs with Blu-ray Player
Just as mentioned above, you can play DVDs with a Blu-ray player. But choose a desired Blu-ray playing tool is important to make sure a high image quality and lossless sound effect. Vidmore Player is a versatile Blu-ray player for DVDs, Blu-ray discs, and 4K videos. Moreover, you can also adjust the effects, go to the chapter you want, choose the subtitle, switch the audio track, even you can take a snapshot while playing.
Seamless Blu-ray and DVD playback with the original image quality.
Provide a navigation menu to play the DVD movies on PC with ease.
Support DVD/DVD folder/ISO file, as well as the 3D/4K DVD files.
Choose the desired subtitle and audio track for DVD playback.
Step 1: Download and install the Blu-ray and DVD player, you can launch the program on your computer. Insert the desired DVD into your computer or use the external Blu-ray drive.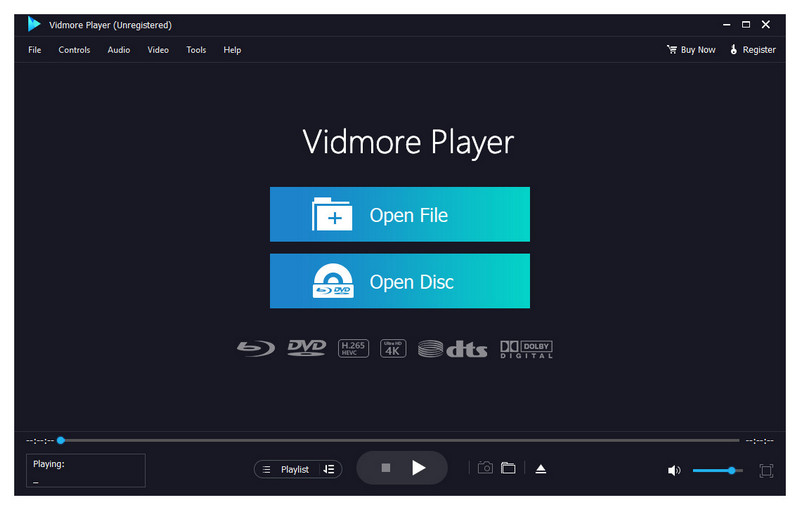 Step 2: Click the Open Disc icon to load the DVD into that program. You can also choose the DVD folder or ISO file by clicking the Open Disc button to playback the DVD content.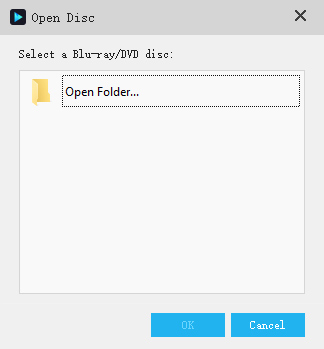 Step 3: After that, the Blu-ray player will play DVDs automatically. You can choose the desired subtitle and audio track in the menu, then click the Play Movies button to start playing the desired part of the DVD.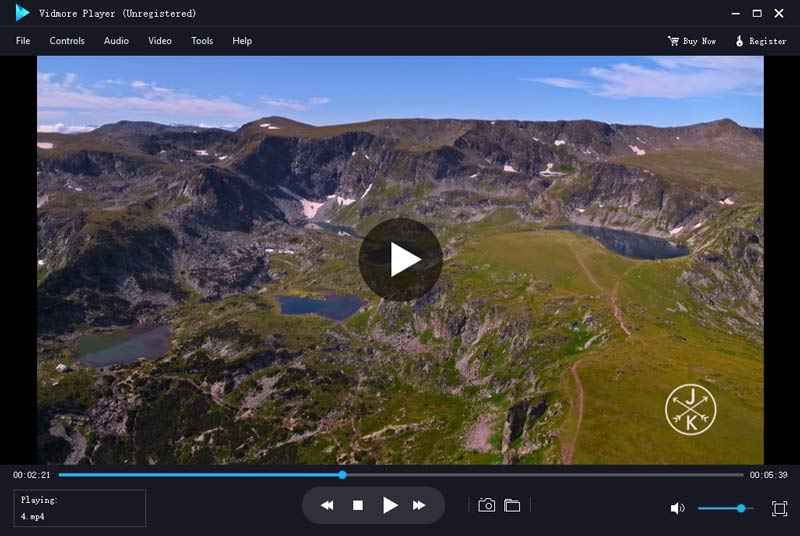 You May Also Want to Know: Blu-ray VS DVD.
Part 4: FAQs of Blu-ray Players Play DVDs
1. Is It Possible to Play A Blu-ray Disc on A DVD player?
No. Just as mentioned above, you can play regular DVDs on Blu-ray discs. But it is impossible to play a Blu-ray disc on a DVD player. The Blu-ray disc requires a blue laser to read the information that is different from the red laser of DVD. Blue lasers produce a shorter wavelength light beam, which is needed to focus on the smaller pits of a Blu-ray Disc.
2. How to Play DVD from Blu-ray Player via VLC?
VLC does not offer direct support for Blu-ray discs and DVDs. Here are the settings to play Blu-ray discs and DVDs with VLC. Download the keys database and AACS dynamic library from https://vlc-bluray.whoknowsmy.name/. Go to CProgramData, create a new folder and name it aacs, copy the downloaded KEYDB.cfg file, and head to CProgram FilesVideoLANVLC to put the downloaded libaacs.dll file into this folder.
3. Should You Choose Blu-Ray Player for Playing DVDs?
Blu-ray player supports general DVDs and Blu-ray discs that can support up 7.1 channel audio, lossless 5.1, or even stereo LPCM High-Capacity disc up 100 GB great for TV or anime series box-set. Moreover, it also supports 4K HDR playbacks, different language audio tracks, and a better scratch-resistant than DVDs. It should be a nice choice to play DVDs on a Blu-ray player with the original quality.
Conclusion
It is not difficult to answer the question about playing DVDs on Blu-ray player. But not all the DVDs are workable with Blu-ray players, such as the DVDs from a different region, DRM protected files, and the DVD playing software. Just learn more about the requirements and choose Vidmore Player as the default Blu-ray player for DVDs.