(Blu-ray vs DVD) Top 10 Differences Between Blu-ray and DVD
Blu-ray and DVD are 2 kinds of data storage formats which mainly used for entertainment like movies and video games. You may be familiar with DVD and get lots of DVD movie discs collected. Compared with DVD, Blu-ray is a relatively new way to store media files.
Nowadays, almost all new movies and games are saved by Blu-ray and it seems like that Blu-ray has totally replaced the old DVD. Surely we all know that Blu-ray can offer a better visual experience with higher video resolution. Is Blu-ray really better than DVD?

What's the difference between Blu-ray and DVD? Here in this post, we will give you a detailed introduction of Blu-ray and DVD. You can know the main differences between them, such as storage capacity, image resolution, video quality, player compatibility and more.
Part 1: Blu-ray vs DVD - 10 Main Differences Between Blu-ray and DVD
As it mentioned above, in many parts like storage capacity, laser technology, image resolution, audio formats and disc construction, Blu-ray is very different to DVD. At the first part, we like to guide you know more information about Blu-ray and DVD. After that, you can get a basic understanding about these two data storage formats. Then we will show you top 10 differences between Blu-ray and DVD.
What is Blu-ray
Blu-ray, also known as Blu-ray Disc (BD), is a new optical disc format which mainly used to enable recording and rewriting, play high-definition video, and store large amounts of data. It is developed by the Blu-ray Disc Association (BDA).
Compared with traditional DVD, Blu-ray can carry over five times the storage capacity. It offers up to 25GB on a single-layer disc and 50GB on a dual-layer disc. What's more, a Blu-ray disc has the capability to store 1080p HD videos. You should know that, the standard DVD can only store 480p videos. So there is no doubt that, Blu-ray can give you more depth, a wide range of color shades, and more details while playing.
Blu-ray relies on the Blue Laser technology and sophisticated compression to store high definition videos. DVD utilizes the Red Laser technology. In fact, Blu-ray is built to supersede and replace the DVD. It provides with better quality and more storage capacity. There two competing formats don't play nicely together. You can't play a Blu-ray disc with a DVD player.
What is DVD
DVD (Digital Video Disc) is an optical disc that widely used for storing and viewing movies and other data. It can save more data than a standard compact disc. One standard DVD is single-side and single-layer disc. It holds 4.7GB storage, and single-sided, double-layer disc is capable of holding 8.5GB - 8.7GB. Compared with CD, DVD has a larger storage capacity.
DVD can be played repeatedly without reducing the video quality. A standard DVD disc can hold over 2 hours of video in 720p resolution, with MPEG-2 compression. It can be supported by almost all computer-based DVD drives.
10 main differences between Blu-ray and DVD
| | | |
| --- | --- | --- |
| Comparison | Blu-ray | DVD |
| Storage Capacity | A standard single-layer Blu-ray disc can hold about 25GB of data. Dual-layer Blu-ray disc can store 50GB of data. Blu-ray disc has a larger storage capacity than DVD. | Single-layer DVD disc can store about 4.7GB of data. Dual-layer DVD can save files as much as 8.7GB. |
| Video Quality | 1920 x 1080 resolution | 720 x 480 resolution |
| Laser Technology | Blue Laser (405 nm) | Red Laser (650 nm) |
| Data Transfer Speed | 10.08 Mbps | 54 Mbps |
| Player Compatibility | Blu-ray player can play standard Blu-ray and DVD discs. | DVD player can't play Blu-ray disc. |
| Availability | Blu-ray is mainly used to store new movies and games. Some old movies are not available in Blu-ray format. | Almost all old movies are available in DVD format. |
| Usage | Data storage, High-definition video (1080p) high-definition audio, Stereoscopic 3D, PlayStation 3 games, PlayStation 4 games, Xbox One games | Store animations, movies, and all types of videos. |
| Cost | Expensive | Cheaper |
| 3D | Support | DVD doesn't support 3D |
| HDMI Video/Audio Output | Native HDMI video outputSupport up to 8 channels and Dolby Atmos and DTS X | UpscalingSupport up to 6 channels |
You can easily know the main difference between Blu-ray and DVD from the comparison chart above. Besides the standard, you may be also interested in HD DVD. Compared with the common DVD, HD DVD can store 15GB of data on a single layer. HD DVD supports VC-1, H.264 and MPEG-2. Blu-ray supports H.262/MPEG-2 Part 2, H.264/MPEG-4 AVC and VC-1 H.265. So here you can tell that, Blu-ray can offer a higher image quality than the HD DVD.
Part 2. Best Blu-ray Ripper to Rip Blu-ray Disc for Better Playback
As we mentioned above, nowadays, almost all new movies are stored with Blu-ray disc. After purchasing some Blu-Ray movies, you can enjoy a high quality visual experience. But you have to rely on a Blu-ray player to play the Blu-ray disc for you. Do you also have the need to view Blu-ray movies on computer or portable iOS/Android devices?
In fact, you can rip Blu-ray disc to some popular video format like MP4, MOV, AVI or MKV for better playback on mobile devices. Here comes the question, how to rip Blu-ray to MP4 file while still keeping the original image quality?
Here we strongly recommend the powerful Blu-ray disc ripping software, Vidmore Blu-ray Monster to help you extract high quality movies from a Blu-ray disc with ease. It guarantees that there won't be any image or sound quality loss during the Blu-ray ripping. What's more, it enables you to convert Blu-ray to any popular video file like MP4, MOV, FLV, AVI and more according to your need.
Best Blu-ray Ripper
Rip Blu-ray movie to a video or audio file with high image/sound quality.
Rip full Blu-ray disc to ISO and folder with its original structure with 6x faster speed.
Convert Blu-ray disc to 4K or 1080p HD video format like MP4, AVI, MKV, MOV and more.
Powerful editing features to edit and personalize Blu-ray movie instantly.
Advanced transcoding and encoding technology to rip Blu-ray with 100% original quality.
Rip Blu-ray disc to MKV or MP4
Step 1. First, you need to free download and install this Blu-ray to video ripping software on your computer. Just double-click the download button and follow the instructions to do it. Then insert the Blu-ray disc to your computer.
Step 2. When you enter the main interface of this Blu-ray ripper, click the big "+" icon to analyze Blu-ray videos automatically. Here you can also click "Load Blu-ray" to select and import the source Blu-ray movies.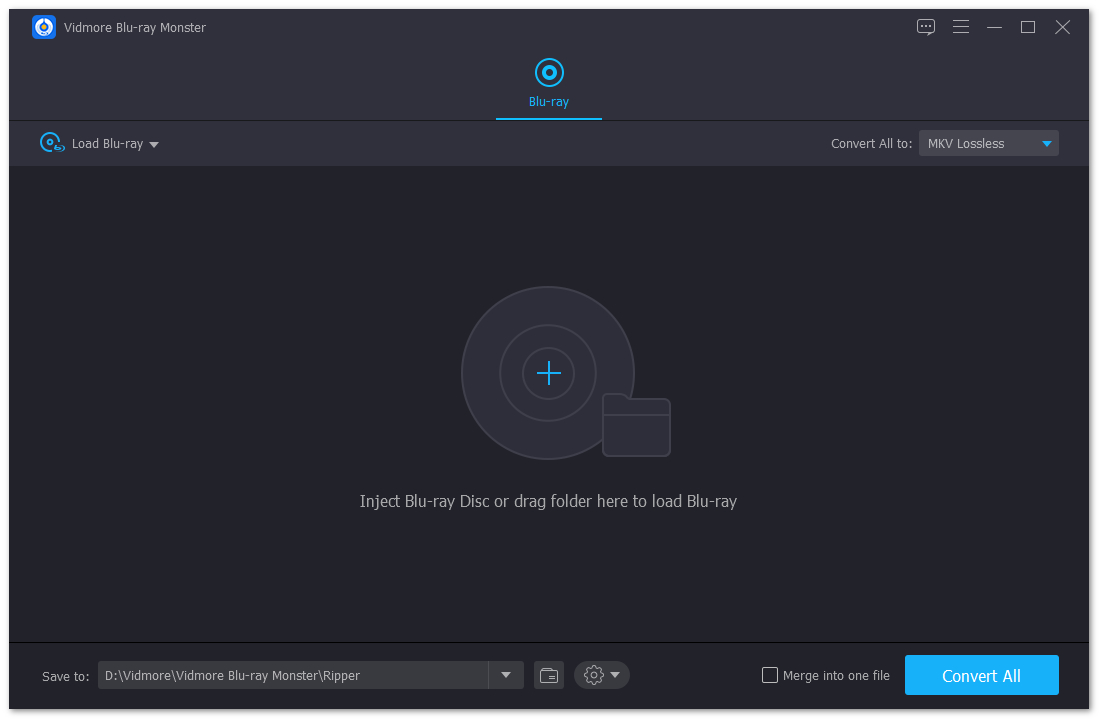 Step 3. Click the "Rip All to" option on the top-right to select the suitable output format for the ripped Blu-ray movies. During this step, you are allowed to rip Blu-ray to MKV or MP4 as you like.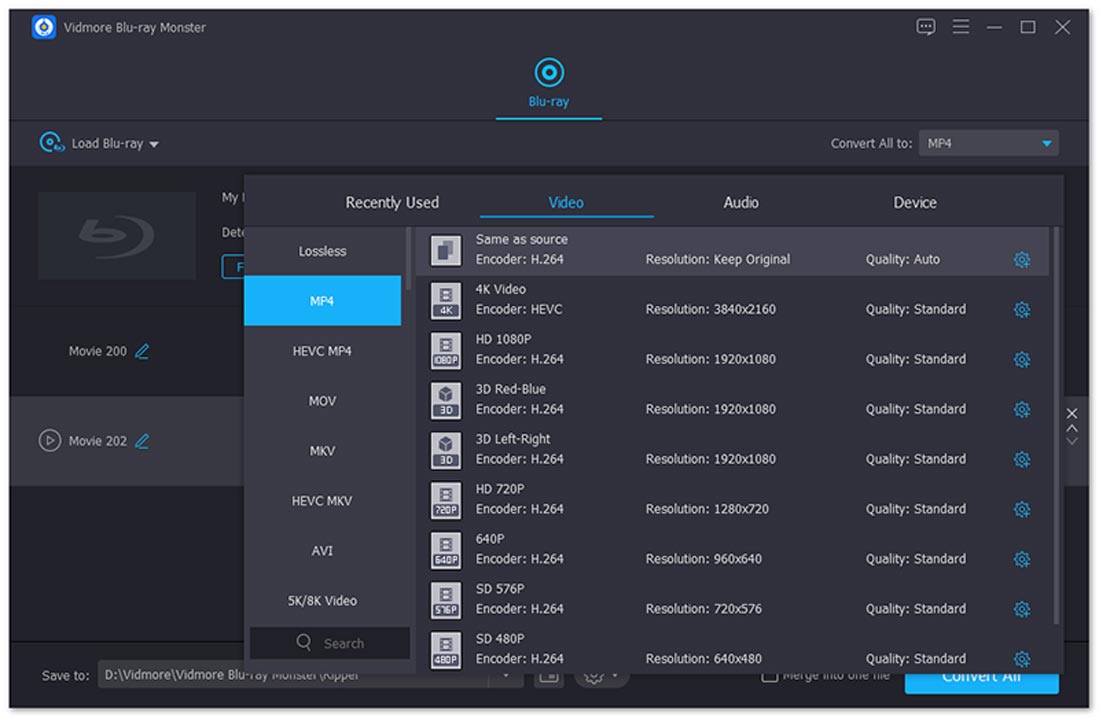 Note: MKV Lossless is the default output format when you want to rip Blu-ray disc to a digital video format. It can give you the exactly original video quality of Blu-ray movies. More importantly, ripping Blu-ray to MKV can keep all the subtitles and audio tracks of the original Blu-ray disc.
Step 4. You can select a suitable save path from the bottom-left "Save to" option. After all these operations, you can click "Rip All" button to start the Blu-ray ripping process.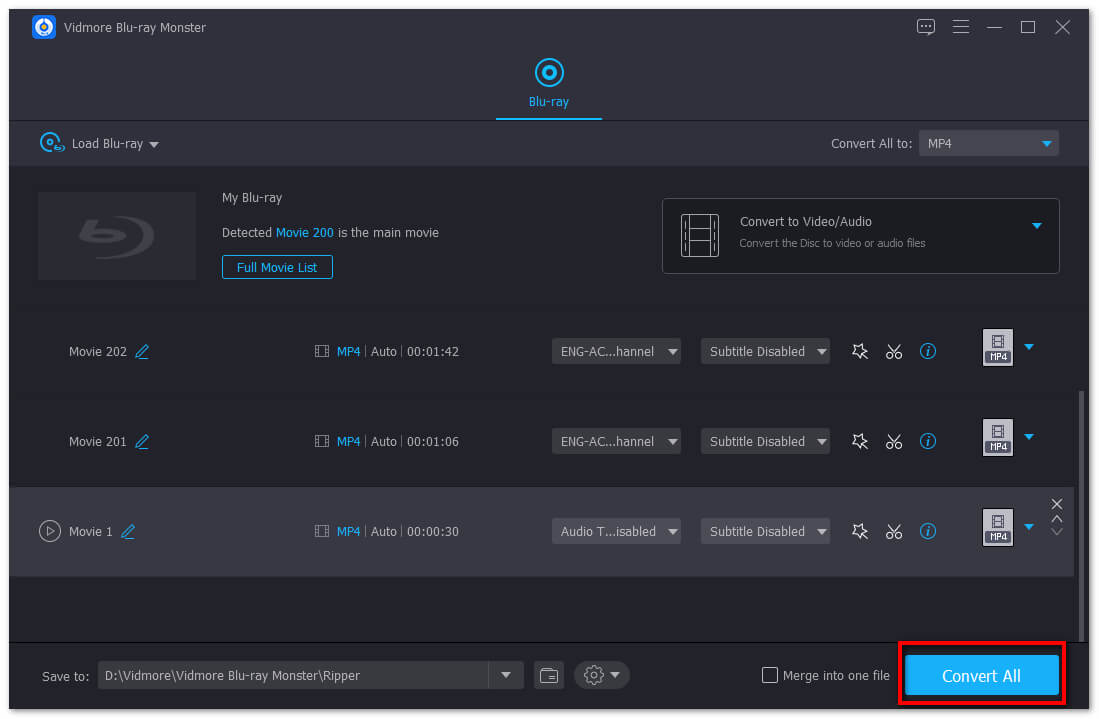 This Blu-ray Ripper has the capability to rip Blu-ray disc faster with higher success rate. Within just a few clicks, you can easily convert Blu-ray to MP4 or MKV with high quality. What's more, it carries many useful editing features to help you edit video, adjust effects and improve video quality. You can free download it to rip your Blu-ray disc.
Part 3. Some FAQs about Blu-ray and DVD
We like to share some frequently asked questions about Blu-ray and DVD in this part. Check if you have the same questions. After reading them, you can learn more information about Blu-ray and DVD.
Will Blu-ray replace DVD?
Yes, Blu-ray has more advantages and will replace the traditional DVD. Because the Blu-ray format has received broad supports from the major movie studios. That means nearly all new-released movies will be published in Blu-ray format.
Will Blu-ray player be compatible with DVD?
Blu-ray has beat DVD and win the format war. As it mentioned above, nowadays almost all new-released movies and video games are carries in Blu-ray. But you may still have many DVD collections. So you will wonder, if the new Blu-ray player can support and play the old DVD discs.
Yes, new Blu-ray player will be able to play DVDs. Many leading electronics companies like Sony, Pioneer, Sharp, Panasonic, Philips, Samsung, LG and more have demonstrated some Blu-ray player products that can read/write Blu-ray discs, DVDs and CDs with a BD/DVD/CD compatible optical head. So you can get the backwards compatibility on new Blu-ray player.
How many region codes does Blu-ray have?
Blu-ray has 3 region codes including A, B, and C. A refers to Americas, East and Southeast Asia.B for Africa, Europe, Oceania, Middle East, French territories, Greenland.C for Central and South Asia, Mongolia, Russia, and People's Republic of China.
Does Blu-ray require internet connection?
No, you don't need an internet connection for the Blu-ray disc playback. You can directly insert it into your Blu-ray player for the playing. Internet connection will be needed if you want to download new new extras, watch movie trailers and some value-added features.
How do you store thousands of DVDs?
If you have many DVDs, you can use special DVD storage boxes to keep them in separate categories and keep them in a cool and light-free place as much as possible. You can use a non-woven fabric or an alcoholic cotton pad to wipe its surface gently at regular intervals.
Conclusion
We have mainly talked about Blu-ray vs DVD in this post. You can learn some basic information about Blu-ray and DVD. What's more, we tell you 10 main differences between Blu-ray and DVD clearly. You are also recommended a powerful Blu-ray ripper to help you rip Blu-ray disc to any popular video or audio format based on your need.
If you get a lot of DVD disc collections, you can also choose to rip DVD to MP4, MOV, AVI, MKV, FLV or other formats. Here we strongly recommend an easy-to-use DVD to video ripping tool, DVD Ripper to help you get the job done. It enables you to rip DVD in 1:1 quality. You can free download it to rip your DVD discs.