Top 9 Webinar Platforms and Reviews in 2023
Under the impacts of COVID-19, more and more people are choosing to work remotely. Remote work is rapidly growing across all sectors, for which the location of workers is not important any more, but the work coordination and efficiency is. More companies than ever rely on webinar software platforms to proceed daily rountine. In this post, we will share the top 9 high-rated webinar platforms for business or education.

Part 1. What Is Webinar Platform
Webinar software platform is better defined as the online or web-based platform for holding a lecture, meeing, seminar or live presentation. The webinar platform lets the presenter to give, receive and discuss information in real time. During the webinar, participants can share document, audio and app with the other webinar attendees. Many webinar platforms have the ability to share the webinar recording to YouTube or other video services.
Part 2. Top 9 Popular Webinar Platforms
1. GoToWebinar
GoToWebinar is a webinar platform used for marketing, training and corporate communications. GoToWebinar is built to be reliable, fun and simple to use for professionals and companies. During the webinar, you can participate in polls, raise your hand and ask the event speaker a question.
Pros:
Hold reliable and stable webinars, even if 500+ people are attending.
Good for multi-user scenarios, multiple hosts, switching between presenters.
The host can send email invitation to attendees right from the application.
Offer the annotation tool to circle or point out important words, phrases or images.
Cons:
The webinar recording has to be converted. The audio quality is poor.
When recording, it doesn't show webcam and screen at the same time.
The webinar platform is expensive. The system froze quite on certain browsers.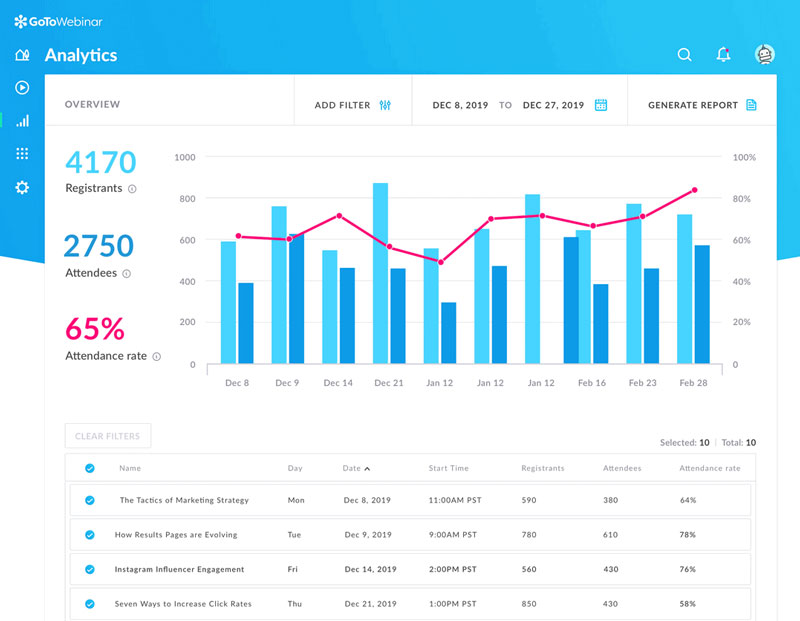 2. ClickMeeting
As a web-based webinar platform, ClickMeeting brings the power of webinars to organizations of any size. You can host business meetings, online classes, training sessions, as well as any online webinar events. ClickMeeting will view and export details info about a particular webinar and anylyze data on individual participants, for better improving your webinar performance and contents.
Pros:
The user interface is straight forward, and doesn't require people to download an application.
It does not only provide verbal and visual interaction, but also a chat-based textual interaction.
Customize branding options like add logo, change webinar page color and design waiting room.
Provide in-webinar insights for understanding and improving customer experience.
Cons:
Sometimes there are lags in webinar when using ClickMeeting on Android devices.
Though it doesn't require any downloads, a new updated version of Adobe Flash is needed.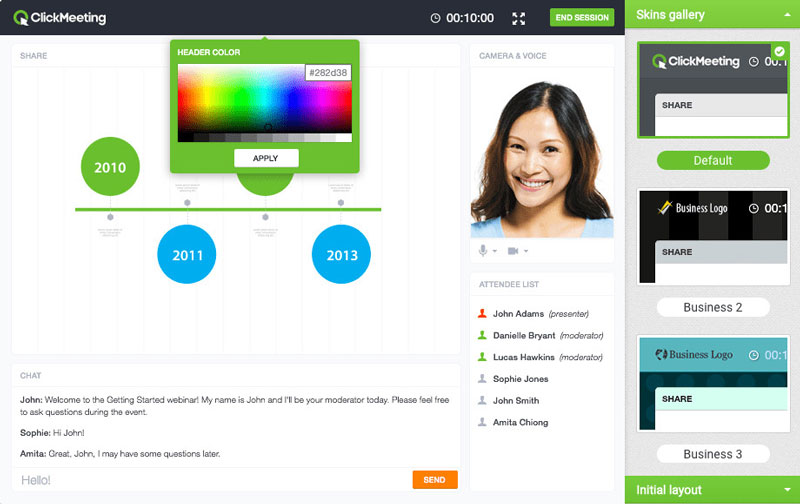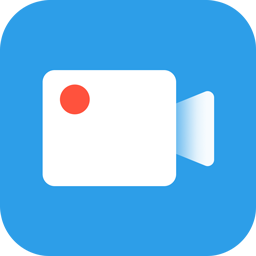 Best Webinar Recorder
Record webinars and select the specific area for recording.
Select audio source from system sound or microphone audio.
Export to MP4, MOV, WMV, etc., for playback on other device.
Available on Windows 11/10/8/7 and macOS.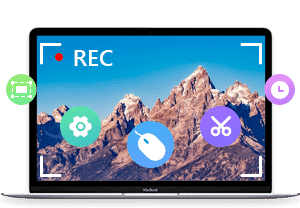 3. Demio
Demio is the hassle-free webinar platform for marketers and small businesses. It makes automated and live webinars, registration pages, webinar replays, and everything else all in one place. During the Demio webinar, you can get high engagement through a modern chat, ask questions, post interactive polls, view handouts, as well as launch calls-to-action.
Pros:
It is easy to operate with the clean and visually appealing display.
Attendees don't have to register with an account to enter the webinar.
Customer service is excellent and offers both Help posts and live support chat.
Cons:
There are lags when hosting webinar with over 100 participants.
Recording video or audio doesn't work well on Windows 7/8.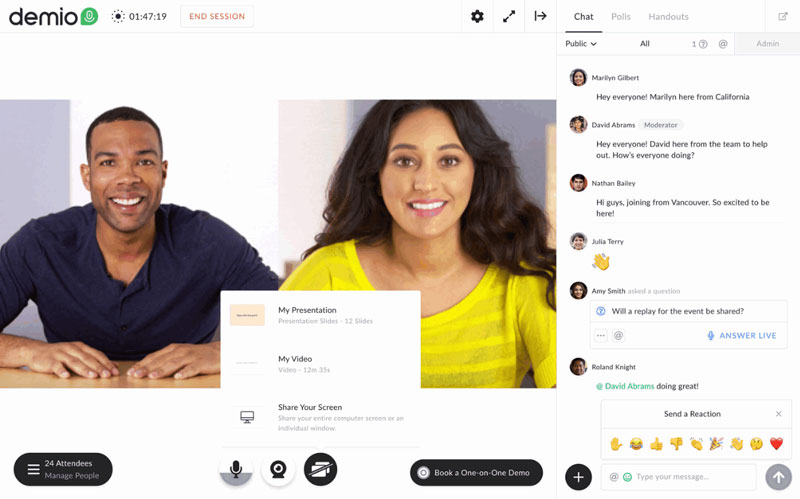 4. Zoom
Zoom is the most popular webinar platform with breakout rooms, for hosting video and audio conferencing, chats and webinars across desktop, mobile and room system. You can host online webinars with up to 100 interactive video participants. The number of attendees ranges from 100 to 10,000(view-only). What's more, Zoom enables you to stream your webinars across social channels through YouTube Live, Facebook Live, and custom service integrations.
Pros:
It supports different operating systems such as Windows or Android.
It is easy to use and intuitive for scheduling online webinars and meetings.
The host can invite attendees to the webinar in Zoom using a custom registration URL.
The video and audio quality of webinar is very good. It makes clear sound and HD videos.
Cons:
Mobile app and audio quality are not as good as website platforms.
Stable internet connection is needed for Zoom to avoid delays.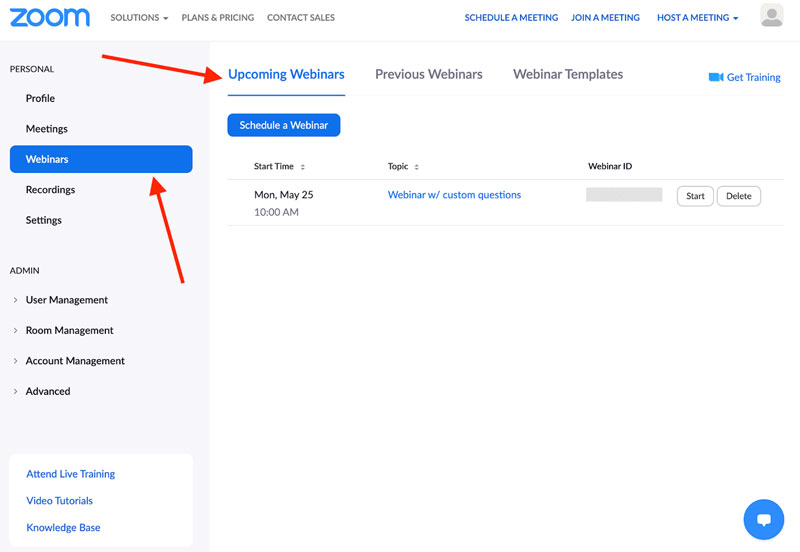 Check details to record Zoom meetings on computer.
5. Livestorm
Livestorm is an open source and browser based online webinar conference platform used to share real-time live streams. With Livestorm, you can freely host live webinars, remote meeting, online courses, product demos, customer training, and internal communication. With the beautiful registration page and personalized email sequence for reminders and follow up messages, Livestorm makes it easy to create a webinar in a few minutes. (Learn more about Livestorm Recorder here)
Pros:
It is easy to use with an enormous compatibility and some outstanding features.
The analytics is great and allows users to export everything for better webinar effects.
There is no need for attendees to download software for the on-demand webinar.
Cons:
You can't copy over the attendees from my previous webinar to the next webinar.
It only allows the host to start and end the webinar session.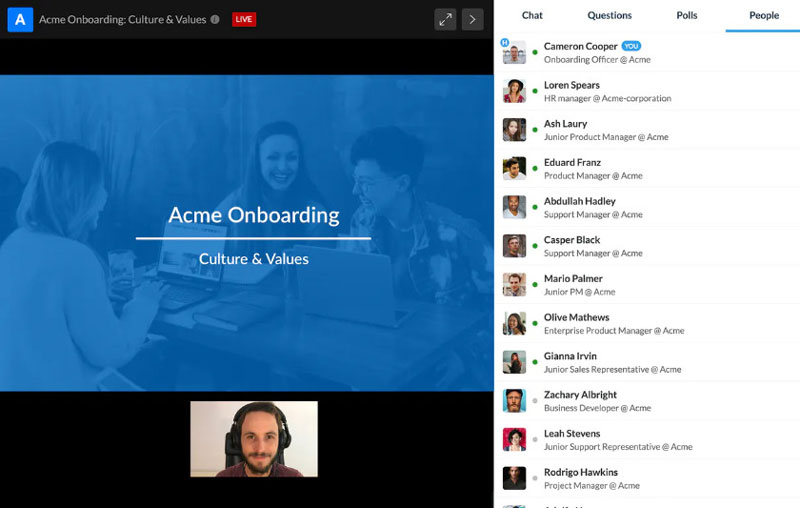 6. WebinarJam
WebinarJam is the most advanced webinar platform in the world that helps dozens of entrepreneurs to start webinar and back up the talking points. With WebinarJam, you can broadcast your webinar, webcam, screen share or a PowerPoint presentation in super high quality. WebinarJam support all portable devices like desktop, laptop, tablet or phone.
Pros:
It allows you to reach up to 5000 people in one webinar without breaking the bank.
It is priced lower than any other webinar software and cost $39/month.
You are allowed to schedule a series of reminder notification via email or phone text.
Cons:
When hosting WebinarJam on Google Hangouts, it is a lot more complicated.
You need to sign up for hosting your webinar event.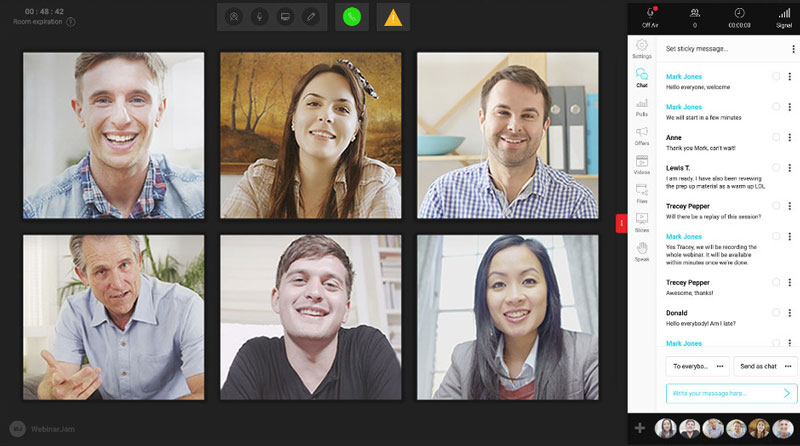 7. EverWebinar
Different from other live webinar marketing platforms, EverWebinar uses a unique way for people to create pre-recorded webinars that look and feel live. Using the unique scheduling system, you can select specific days of the week and time zooms based on the benefit of your audience.
Pros:
This webinar platform is intuitive, simple and easy to sign up.
Stream the webinar to YouTube channel or Facebook Live.
Start live chat with the attendees in the chat box where you can embed polls and special offers.
You can customize the landing pages like colors, text copy, images, logo, upload video, etc.
Cons:
Attendees need to sign up to view the webinar video right away.
There is time limit for holding webinars in the free trial version.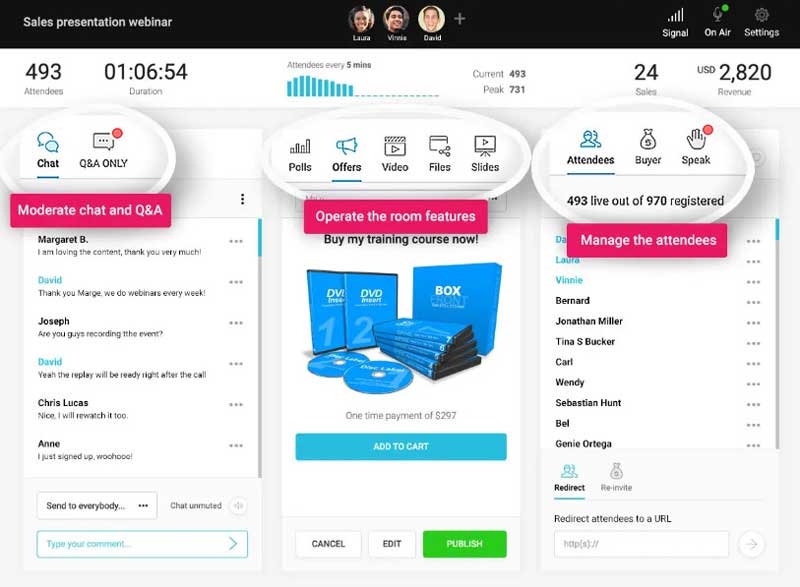 8. WebEx
Cisco WebEx is the leading webinar platform for holding webinars, video conferencing, online meetings, screen share that keep your business moving forward. After the meething ends, Webex can immediately email these transcripts or recordings out to everyone who attended the meeting. Webex provides both desktop and mobile apps that lets you take full control of the webinar from your web browser.
Pros:
Webex allows the host to view a list of all the meeting's participants.
Easy to connect with web app or standalone app. You can schedule a meeting with Webex.
The call me feature makes it easy so you don't have to dial a super long meeting passcode.
Cons:
The notification popup seems to be lacking.
Customer support is limited on the free and starter plans.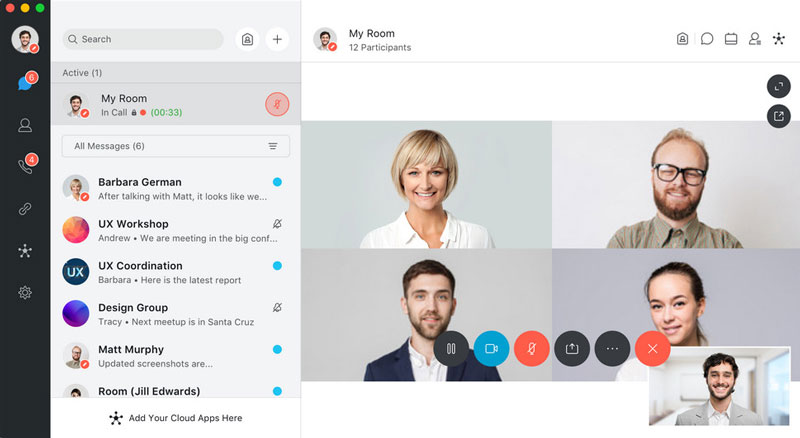 9. Google Hangouts Meet
Google Hangouts Meet is the professional webinar conferencing platform that is free for everyone. This safe and reliable business business conference service gathers everyone together. Enterprises, schools or other organizations can broadcast webinars to up to 100,000 viewers.
Pros:
The attendees can attend the webinar through any web browser or Google Meet app.
Google Meet will adjust the internet speed to ensure you enjoy high quality video calls.
Google's Speech to Text technology provide real-time subtitles for all participants.
Cons:
It was made for medium-sized groups, not for large groups or corporate use.
Google Hangouts Meet requires a stable and relatively high bandwidth.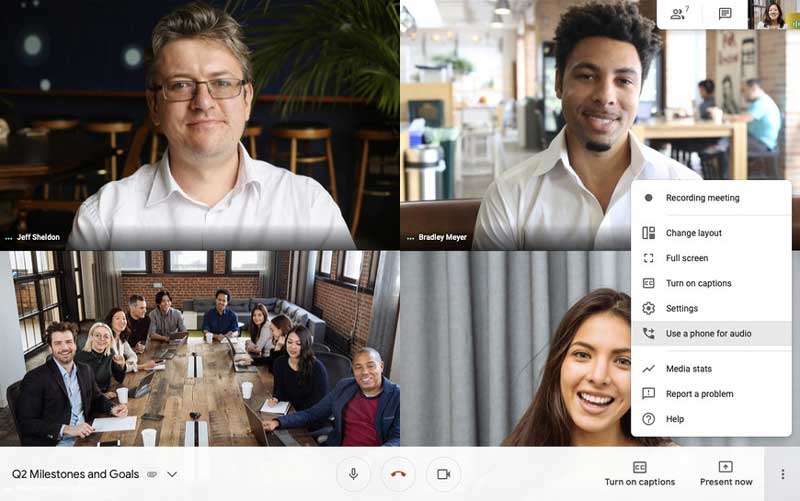 Part 3. FAQs of Webinar Platforms
1. Can teams be used for webinars?
Yes. Microsoft Teams can host webinars for thousands of people at one time. It also supports holding calls with up to 250 participants.
2. How many people can join a Teams meeting?
Microsoft Teams allows up to 250 people to join a single Teams meeting. But you can only view the 4 latest active participants in a video call.
3. Do I need to be on camera for a webinar?
No. In most cases, you don't have to show face on the webinar. You can participate the webinar simply using the audio button or chat function.
4. Does Microsoft have a webinar platform?
Yes. Microsoft Teams is a webinar platform that enables scheduling and hosting webinars for large audiences.
Conclusion
This article summarized the top 9 webinar hosting platforms and reviews. Through the comparison, hope you can find the best webinar for your business. Vidmore Screen Recorder is the best webinar recorder to capture the live webinar and save it to the local computer. If you have any questions, please leave us a message.