Record AnyMeeting Conferences as You Like
AnyMeeting, a frequently used online meeting solution, allows you to host or attend meetings anywhere, anytime. You can use it on both desktop and mobile devices. It seems very convenient for participants to contact others. And the free plan of AnyMeeting provides various features for its users, which is actually enough for small business.

But have you ever forgot what your boss said during the online meetings? Or did you ever find it hard to attend the webinar that you have expected for so long, just because some so-called emergencies came up.
To solve these problems, all you need is a screen recording tool to record AnyMeeting Conferences. However, the built-in recorder on AnyMeeting is for pro users, which means you have to pay $12.99 per month to enjoy its full function.
Is there another alternative to record the meetings? The answer is yes, now let me show you how to record AnyMeeting conferences and webinars.
Part1. 5 Steps to Record Your AnyMeeting Conference
Maybe you think that the built-in recorder offered by AnyMeeting might be easier to use, cause you don't need to download an extra recorder. But you should know that it's not free. And even if you're a pro user, the recordings will be removed automatically once your membership expires.
So here we recommend you Vidmore Screen Recorder, a powerful and professional web conference recorder which can help you to record computer screen and online meetings with high image quality.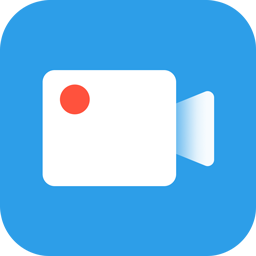 Vidmore Screen Recorder
Record AnyMeeting conferences with any screen size.
Record any audio from AnyMeeting, as well as your voice from microphone.
Take a screenshot of the whole screen or the AnyMeeting window.
Add text, arrows, shapes and other effects to your AnyMeeting recording video.
Work with Windows 10/8.1/8/7 and Mac OS X 10.10 or above.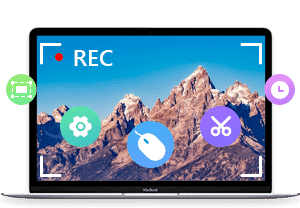 Step 1: Download and install Vidmore Screen Recorder. After launching the recorder, click "Video Recorder" to record an AnyMeeting video.

Step 2: Select the screen area you want to capture - Full or Custom. If you want to record the screen of a certain part, you can just click "Custom" gt; "Select region/window". Usually while recording a conference, the system sound and microphone should be recorded as well. Just turn the slider on, and your voice will be recorded easily.

Step 3: After adjusting your recording settings, you can click the icons above "Microphone" to set the output format, hotkeys and mouse effects for your recording. After modifying the preferences, don't forget to click "OK" to save changes.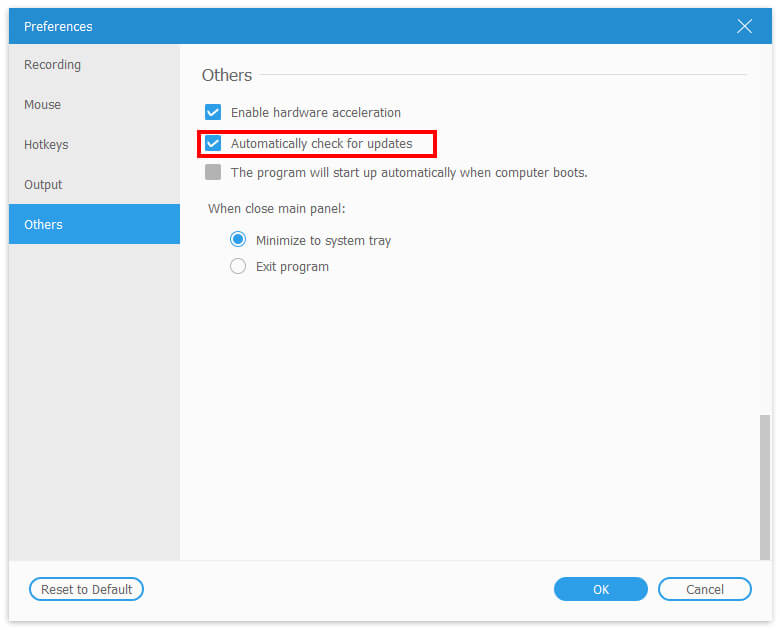 Step 4: You actually can just skip Step 3 after the settings of recording area and audio, and click the red "REC" button directly to start recording. You can pause, take screenshots, set record length, and even add real-time drawing tools while recording AnyMeeting conference. You can add text, arrows and shapes to your recording, which is helpful for you to recall the vital points when you review the meeting.

Step 5: Once your meeting is over, just click the stop button and the preview of the recording will show up immediately. Now you can trim your video by setting the start and end time for your clip, then save it to your computer.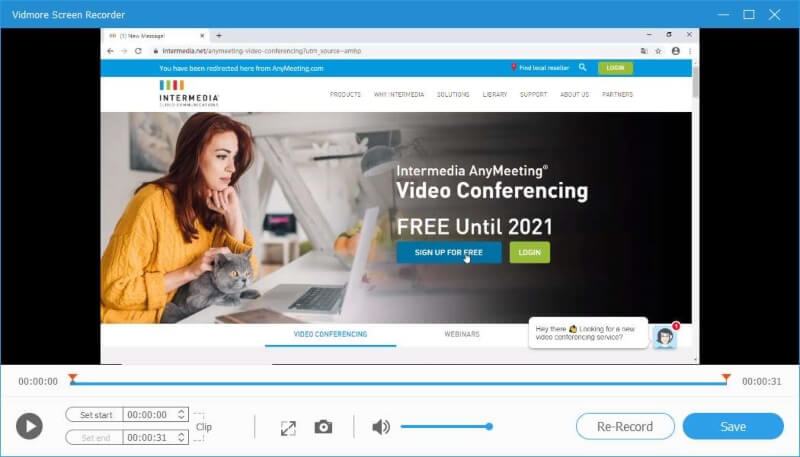 Part 2. FAQs of Recording AnyMeeting
Q1: How can I record AnyMeeting conferences on iPhone or Android devices?
In fact, Apple provides iOS users a built-in screen recording tool on iOS 11 and later. You just need to run the AnyMeeting and initiate Screen Recording on iPhone directly. As for iOS 10 and earlier, you can use a third-party app.
Different Android devices may vary. So your phone perhaps do not have a built-in recoder. But still you have to record videos on Android.
Q2: How long does it take for a recording to finish processing through the built-in recorder of AnyMeeting?
Usually it takes less than 1 hour for a recording to process and save. Once processed, you can play, share and download the video.
Q3: How long does it take to download a recording from AnyMeeting?
It depends. If your internet connection is not good or the size of recording is too large, the time for downloading can be affected.
Q4: Where can I find the recording I've already saved with Vidmore Screen Recorder?
If you need to find the recording you saved before, just open the "Recording history" on the lower-left corner of main interface. There, you can play, rename, share or delete your meeting records as you like.
Conclusion
Via Vidmore Screen Recorder, you can record and edit HD AnyMeeting video conferences with ease. Moreover, you can even set a task schedule to start recording the meeting and webinar automatically. That means you will never miss a meeting when you have other work to do. Enjoy your AnyMeeting time with no worries.