6 Best Messenger Call Recorders Worth You to Use on Computer and Mobile
This article will share a top list of Messenger call recorders for computer and mobile. Today, we have more ways to communicate with our friends than ever before. In addition to phone call, instant messaging apps become increasingly attractive. That is because they are not only free to send messages, but also provides video and audio calls. Many people even use Messenger call to keep in touch with colleagues. To avoid information loss, you'd better mast some Messenger call recorders.

Part 1: Top 2 Messenger Call Recorders on Desktop
Top 1: Vidmore Screen Recorder
Though Facebook Messenger was designed for mobile devices, it allows you to make video and audio calls on computer now. If you prefer to record Messenger calls on PC, Vidmore Screen Recorder can meet your need.
Main Feature of the Best Messenger Call Recorder
Record video and audio calls on computer.
Provide extensive useful tools, like annotation.
Preview the Messenger call recording with built-in media player.
How to Record Facebook Messenger Call on PC
Step 1. Install the best Messenger call recorder
Open the call recorder once you install it to your PC. There is a specific version for Mac users. Then pick Video Recorder to move on. If you just want to record audio call, choose Audio Recorder instead. If you like, you can set hotkeys, output and more in the Preferences dialog. Log in your Facebook account in Messenger and find the contact you want to call.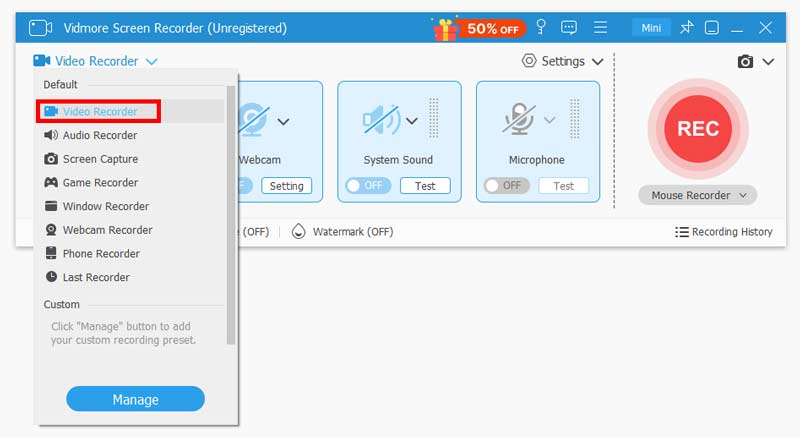 Step 2. Record a video call
You can see four options, Display, Webcam, System Sound and Microphone, to record corresponding sources. You can turn on or off each option based on your need. Click the REC button once the video call starts. During recording, you can add text and paintings on it with the Edit feature.

Step 3. Save call recording to computer
When your Messenger call is done, click the Stop button. Then you will be presented the preview window. View the call recording and click Save to save it to your hard drive. The Clip feature is used to cut unwanted frames.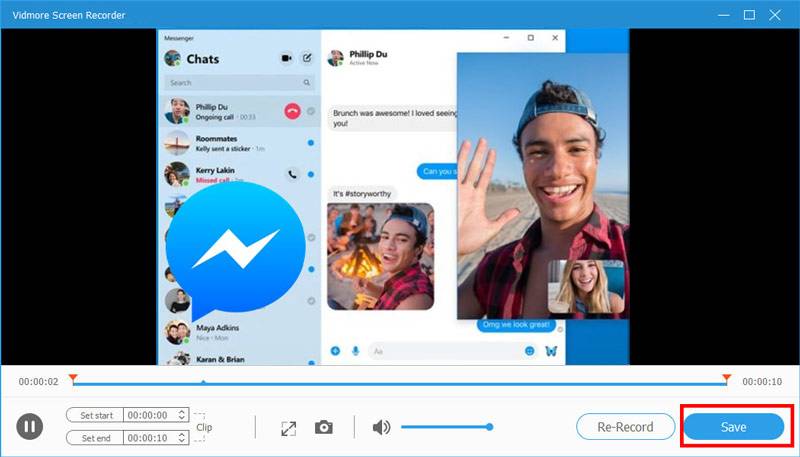 You can also use this tool to record Skype calls, FaceTime calls, WhatsApp video calls and more.
Top 2: Vidmore Free Online Screen Recorder
Vidmore Free Online Screen Recorder is a good option for beginners to record Messenger calls on computer. It is free and does not need installation.
Basic Features of the Best Online Messenger Call Recorder
Record video calls online for free.
No watermark, signup or other limit.
Record Messenger calls in high quality videos.
How to Record Messenger Call Online
Step 1. When you want to record a video call in Messenger, open a browser and visit https://www.vidmore.com/free-online-screen-recorder/. Click Launch Free Recorder to get the launcher.

Step 2. Set the recording area by hitting the Monitor icon, and toggle on both System audio and Microphone to make sure the checkmarks appear.

Step 3. Go to Messenger and begin a video call. Next, press the REC button to start recording it. Wait for the call to finish and click Stop button. Then download the call recording file.

Part 2: Top 4 Messenger Call Recorder Apps on iPhone/Android
Top 1: AZ Screen Recorder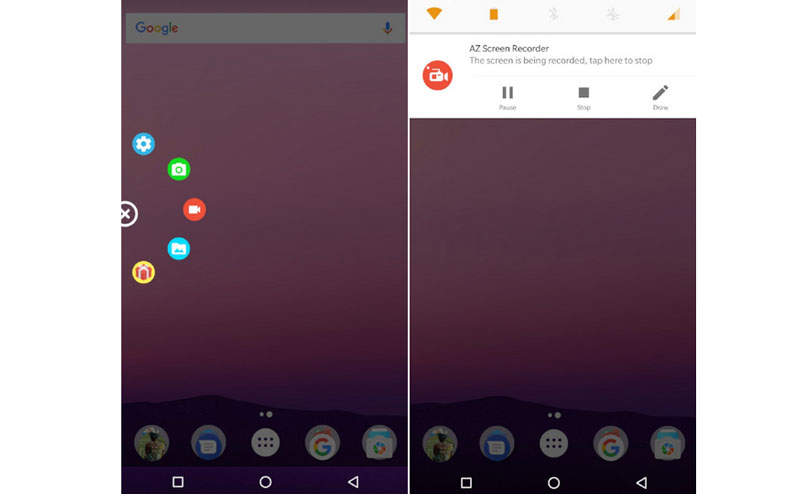 Platform: iOS and Android
Price: Free with in-app purchase
AZ Screen Recorder is a Messenger call recorder app for both iPhone and Android devices. It is free to download in Play Store and App Store, but you have to subscribe for the full featured version.
Pros
Record video calls on mobile device.
Support multiple recording sources.
Stream screen to social media.
Edit call recordings directly.
Cons
It is only available to the latest systems.
Top 2: ADV Screen Recorder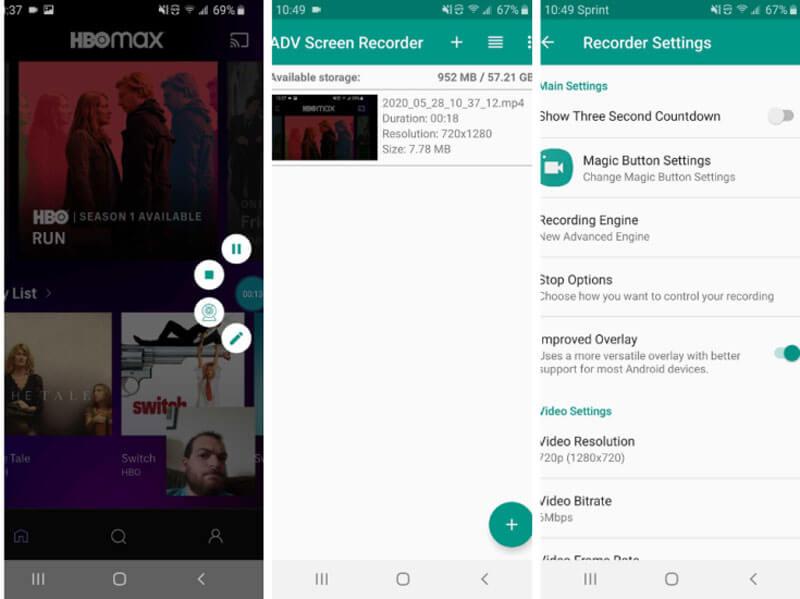 Platform: Android 5.0 and up
Price: Free with ads and in-app purchase
ADV Screen Recorder is a versatile Messenger call recorder for Android users. It lets you record everything on your screen, draw on it in real time, and edit call recordings directly and more.
Pros
Record with two engines.
Full control the call recording.
Draw on the fly with your favorite color.
Cons
The video editor is too basic.
The advanced engine requires upgrade.
Top 3: Mobizen Screen Recorder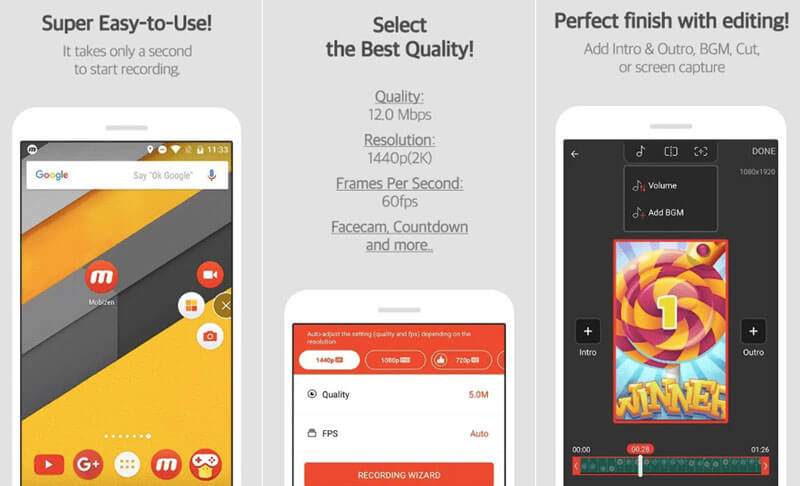 Platform: Android 4.4 and up
Price: Free with ads and in-app purchase
If you are using an old phone and wish to record Messenger calls, Mobizen Screen Recorder is a good choice. It works well on old Android devices. Moreover, it can record video calls in full HD videos.
Pros
Record video calls up to 1080p.
Save call recordings to external memory.
No root requirement.
Cons
It adds watermark to recordings.
This app is a bit large.
Top 4: Record It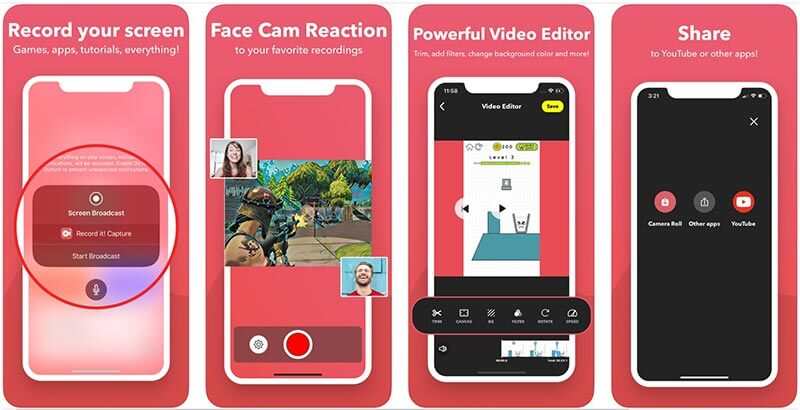 Platform: iOS 11.0 and above
Price: Free with in-app purchase
As its name indicated, this Messenger call recorder is a simple way to save your video calls to your iPhone. After call recording, you can edit it or share it to YouTube directly. Moreover, the basic features are free.
Pros
One tap to record video call.
Support face-cam recording.
Include a video editor.
Cons
Video share is limited to 3 minutes.
Part 3: FAQs of Messenger Call Recorder
Are Messenger calls private?
Yes, Messenger calls are private, so you'd better get the permission if you want to record it.
Why is my call recorder only recording me?
Firstly, check the volume of your phone and upscale it. Then you can try another call recorder app and make sure it supports both sides.
Can you record calls on Android 10?
Android 10 is built in a screen recorder and you can use it to record your video calls directly.
Conclusion
This article has reviewed top 6 Messenger call recorder applications for computer and mobile devices. If you wish to save your conversations, pick your favorite tool and do it right now. Vidmore Screen Recorder, for example, is pretty easy to use and able to produce high quality recordings. If you have better recommendations, please write them down below this post.