How to Record iOS Screen with Sound in Simple Clicks
Pictures speak thousands of words, and videos speak thousands of pictures.
Whether you want to teach others to set up a new app on iPhone, or explain the step-by-step guide to show your friends on iPad, video presentation is the relatively straight forward means. Moreover, video with sound explanation is the assistant.
That prompts you to seek ways of recording iOS screen with sound.
Recording your iPhone or iPad screen with sound comes in handy, specially the iOS 11 update.
Follow the detailed guide mentioned below to know how.

Part 1. How to Record iOS Screen with Sound via Screen Recording
Screen recording with voice is incredibly convenient on iPhone and iPad running in iOS 11 and later.
One of the biggest benefits of iOS 11 updates is the built-in recording feature, Screen Recording. It lets you record the whole screen with audio from phone system and voices from your microphone. Here's how.
Note: For iOS devices running in iOS 11 onwards, you will need the professional screen recorder app for iPhone to record screen with sound.
Step 1. Add Screen Recording into Control Center
Open the Settings app on iPhone, go to Control Center and tap Customize Controls. Scroll down to find Screen Recording and tap the green circle to add the recorder into Control Center.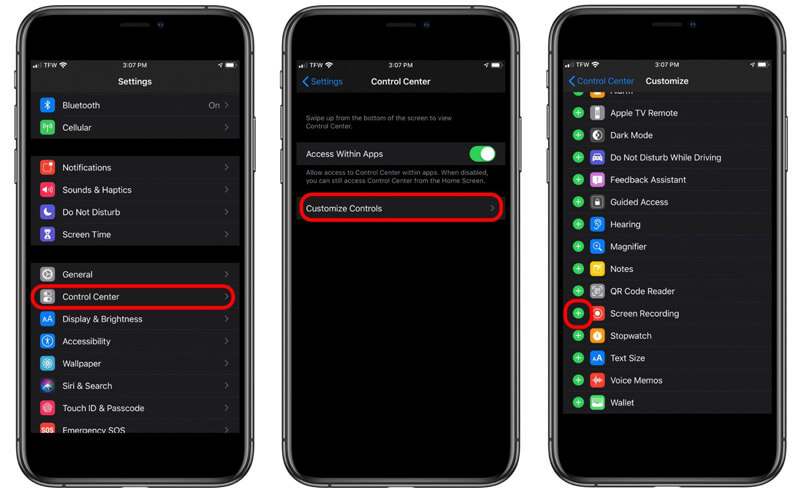 Step 2. Record iOS screen
Swipe up from the bottom edge of any screen (swipe down from the top-right corner of the screen on iPhone X or later or iPad with iOS 12 or later, or iPadOS) to find Screen Recording icon.
Press deeply on the record button and tap the Microphone to record iOS screen with your sound from microphone.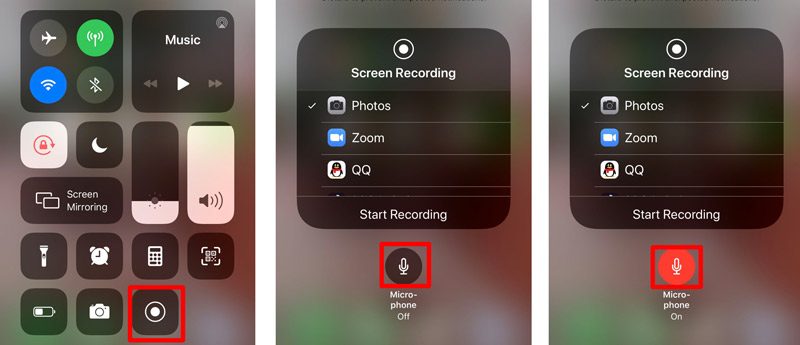 Then tap the grey record option from Control Center to start recording your iOS screen. What you need to do is to do the operations (Like make a FaceTime call, watch YouTube Videos, make the settings on iPhone/iPad, etc.) on iPhone and it will capture the whole actions.
Tap the red blinking record button or tap the red status bar at the top of your screen to stop the screen recording.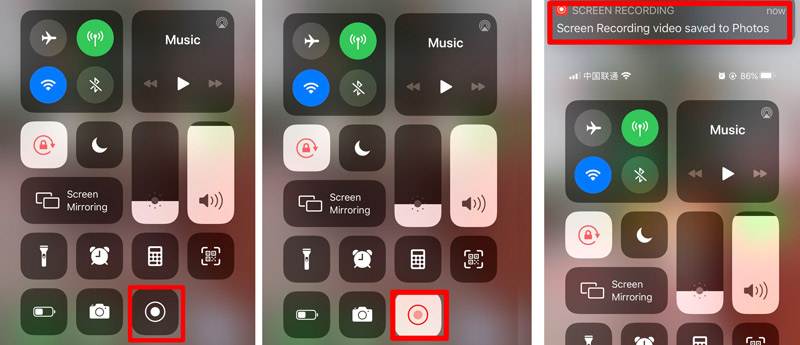 After that, you can go to the Photos app to find your screen recording in the Photos app.
Note
Screen Recording will record the internal audio from your phone automatically. If you do no want to record the sound from phone itself, just volume down your iPhone to keep silent. Otherwise, do not forget to volume up it.
While using the built-in screen recorder on iPhone or iPad, the screen recording will be rejected by the incoming or outcoming calls. In brief, Screen Recording will not record the phone calls.
Part 2. How to Record iPhone iPad Screen on Mac via QuickTime
The second way to record iOS screen with sound is old, but it does work via QuickTime. Maybe you have known that QuickTime can record screen on Mac, but it can be also the tool to record your iPhone or iPad screen with sound. All you need to prepare:
● An iOS device running iOS 8 or later
● A Mac running OS X Yosemite or later
● Lightning cable or 30-pin connector.
Now, let's streamline the process.
Step 1. Connect your iPhone or iPad with Mac with the lightning cable.
Step 2. Run QuickTime on Mac and click File from the top menu to select New Movie Recording.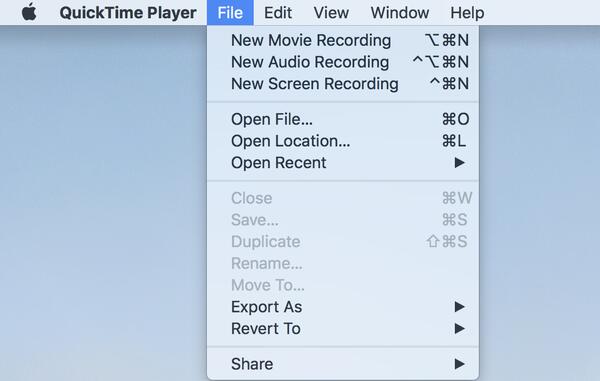 Step 3. Click the arrow next to the record button in the QuickTime to choose your iPhone/iPad name from the camera list.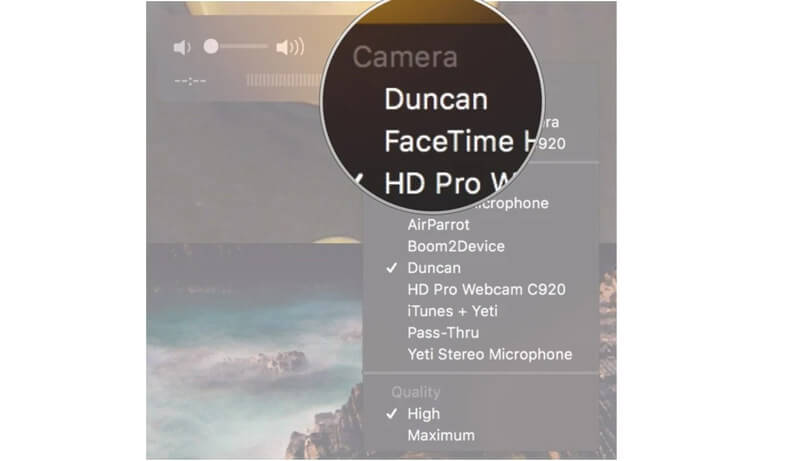 Step 4. Then your iPhone will be mirrored into Mac via QuickTime. Click the Record button in QuickTime to start recording the screen of iOS device.
Step 5. Click the Stop button in QuickTime to finish your recording.
Step 6. Click File int the Menu bar to choose Save.
Then you should give the name and set the destination to export the iOS screen recording video on Mac.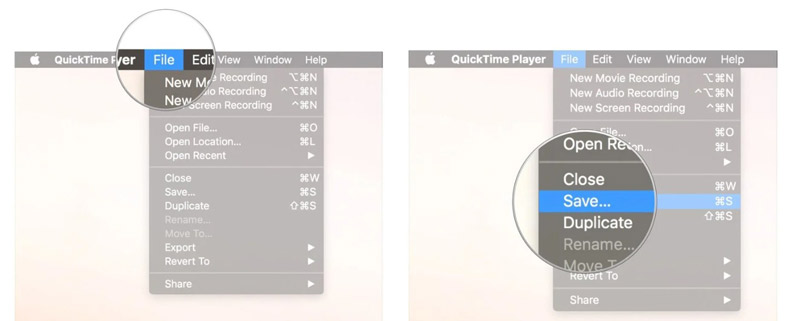 The iOS screen recording will be saved as MOV format, and you had better convert MOV to MP4 for editing or playing on your device.
Part 3. Bonus Tip: Record Any Screen and Sound on Computer
To make a video tutorial of settings on iPhone or iPad can be achieved. However, if you want to record the video calls, or want to make your own vlog videos, you are recommended to record on computer. It does not record you in a big screen, but lets you record the video stably.
Vidmore Screen Recorder is the screen capture software you cannot miss on computer.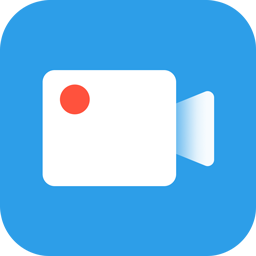 Best HD Screen Recorder
Record video with sound from internal system and microphone.
Record VoIP phone calls on computer.
Record the webcam to create the picture-in-picture videos.
Capture the sound or voice only without any screen.
Record screen on Windows and Mac computer easily.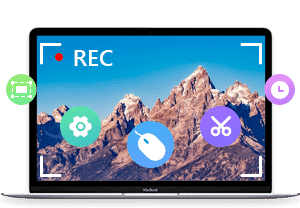 Get the details to use the screen recorder to record VoIP calls in this software.
Part 4. FAQs of Recording iOS Screen with Sound
iPhone screen recording no sound?
While you recording iPhone screen, make sure the silent button is not enabled. Moreover, you can adjust the volume-up button to record the internal audio. For recording sound from microphone, you just need to enable it by forcibly tapping the screen recorder from Control Center.
Can you record a phone call on an iPhone without installing any app?
No, you cannot. As a result of country and state-specific laws, Apple does not install any built-in recorder to record the phone calls. For recording the phone calls, you need seek for some workarounds and installing the call recorder app is one of them.
Does recording FaceTime calls notify the other person?
No. While you record FaceTime calls on iPhone via Screen Recording or on Mac via QuickTime, the other person will receive no notification. Only Snapchat sends the alert while you record the video call.
Conclusion
Screen Recording is the built-in feature that you can record iOS screen. Moreover, it gives you the options to record the internal audio and microphone sound. One drawback of screen recording is that it does not allow phone call recording. Moreover, Vidmore Screen Recorder provides you a more elaborate way of making a video tutorial or recording online videos on computer, instead of iPhone or iPad.
Do not hesitate to share this post with more friends if it does help you.
Let me know by leaving your comments if you have any ideas about this topic.