How to Record a Zoho Meeting with or without Host Permission
Zoho Meeting is an online conference service that is designed for companies with teams in different places or countries. With it, colleagues and business partners can collaborate in real time and closely together. It offers a 14-day free trial. After that, you have to choose a subscription plan including free plan with limited features and several paid plans. This article intends to show you how to record a Zoho meeting.

Part 1: How to Record Zoho Meeting as a Host
First of all, the free plan does not offer the meeting record in Zoho, but this feature is available to all paid plans. More importantly, you can record a Zoho meeting if you are the host or get the permission from host.
Step 1: Open Zoho Meeting desktop client and create a new meeting.
Step 2: Once the meeting begins, click the Start Recording button on the left hand column or top ribbon. When you are done recording, click Stop Recording.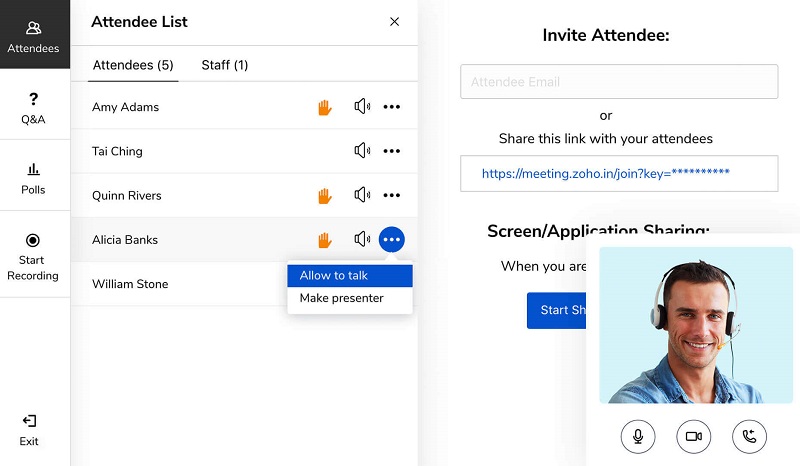 Step 3: After recording, go to My Recordings tab from the home interface. Then you will get all recordings and play them immediately. It offers Share and Download for each recording.

Part 2: Best Ways to Record Zoho Meeting without Host Permission
Method 1: Record Zoho Meeting without Host on Desktop
As mentioned previously, you cannot record Zoho meetings without a host account or permission. Does that mean you cannot save your meeting? The answer is no and Vidmore Screen Recorder can help you.
Key Features of the Best Meeting Recorder for Zoho
Record Zoho meetings without host permission.
Save important meetings without notification.
Take schedules to record Zoho meetings automatically.
How to Record a Zoho Meeting without Host Permission
Step 1: Install meeting recorder
Launch the best recorder for Zoho Meeting after you install it on your PC. There is a specific version for Mac. Choose Video Recorder from the home interface to move on. Open Zoho Meeting app.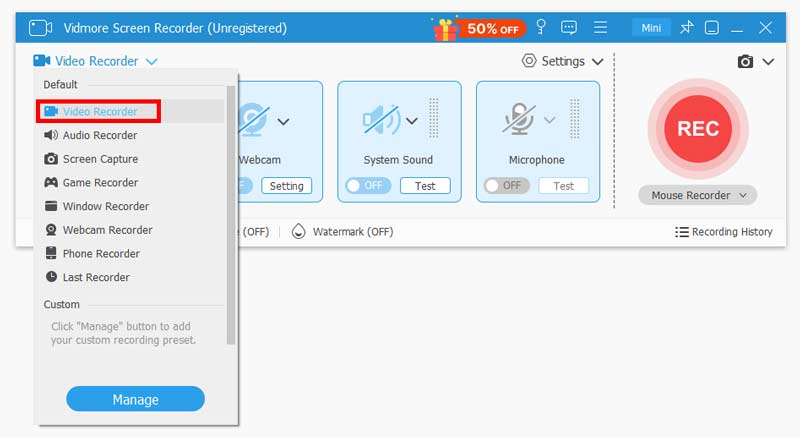 Step 2: Record a Zoho meeting
Choose Custom, pick Select region/window and click the Zoho meeting app. If you do not want to capture your face, disable Webcam. Then select the audio source, like System Sound and/or Microphone. Click the REC button to start recording a Zoho meeting.
Tip: To automatic record a Zoho meeting, click Take Schedule in the main interface, name it, set Start time and other options, and click OK to confirm it.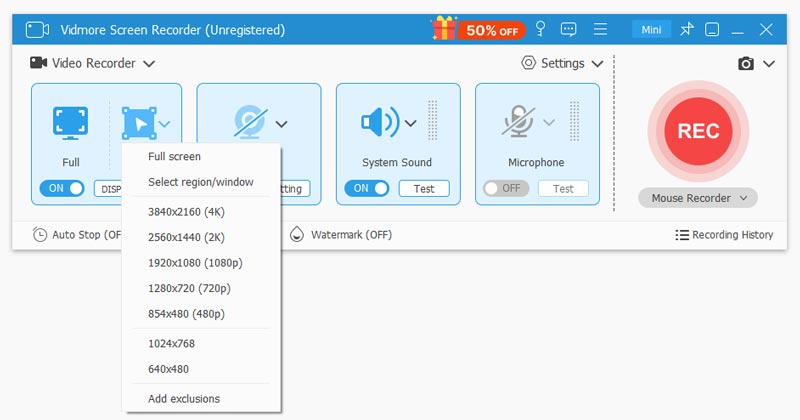 Step 3: Export meeting recording
When you want to stop recording, click the Stop button. Then you will be presented the preview window. Play it and click the Save button if you are satisfied.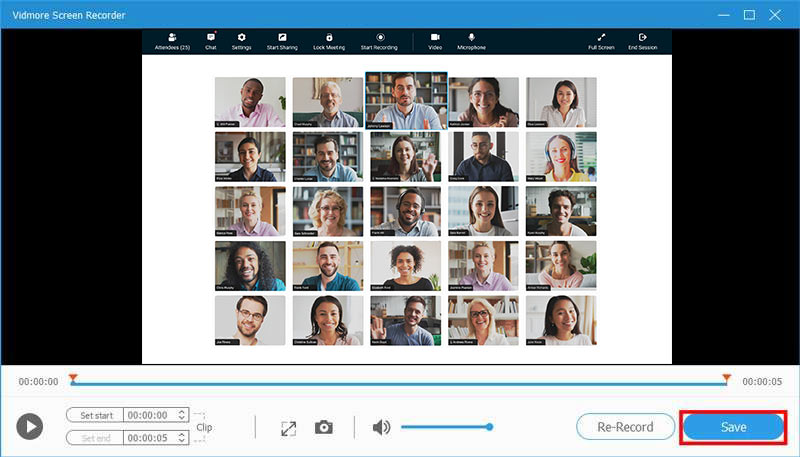 With the help of the Screen Recorder, you can also capture a meeting in Microsoft Teams, record sessions in TeamViewer, and more effortlessly.
Method 2: Record Zoho Meeting without Host Online
Another way to record a Zoho meeting without host permission is Vidmore Free Online Screen Recorder. It is as powerful as some desktop meeting recorders.
Record a Zoho meeting without installing software.
Completely free of charge.
No watermark or length limit.
Save meeting recordings in HD videos.
How to Record a Zoho Meeting Online
Step 1: Open https://www.vidmore.com/free-online-screen-recorder/ in a browser and click Launch Free Recorder to download the launcher.

Step 2: Click the Recording Area option and set the recording region based on your meeting. Then turn on or off the Webcam, System audio, and Microphone according to your situation.

Step 3: Hit the REC button on the launch to begin recording the Zoho meeting that you just joined. Wait for the meeting to finish and click the Stop button. Then decide to download the recording to your computer or share it on social media directly.

Part 3: FAQs of Zoho Meeting Recorder
How do I record a Zoho meeting on my phone with audio?
Though Zoho Meeting offers an app for iOS and Android respectively, it is not a good idea to record a meeting on mobile device. That is due to the small screen. You'd better cast your phone to computer and record it.
Is Zoho Meeting secure?
Zoho Meeting is a secure video meeting service. According to Zoho, it puts your privacy first. You can lock your meetings for conducting private meetings online and controlling the entry of participants.
What is Zoho webinar?
The webinar is a feature of Zoho for users to invite large number of audiences from different places. It is a good way to spread awareness, perform online classes, and more.
Conclusion
This guide has told you how to record a Zoho meeting no matter you are the host or a participant. The built-in recording feature is the easiest way to do it if you are the host of the meeting. However, Vidmore Screen Recorder can help you capture Zoho meetings as a participant secretly. Plus, it is pretty easy to use. If you have other questions related to Zoho Meeting, please leave a message below this post.