Exceptional Applications to Invert Color Online and Offline
Some users want to invert the color of their videos for some reason. One of the reasons is that some people have impaired vision, where they can't see things clearly. Also, inverting colors helps those color-blind people see the videos better and fantastic. In that case, if you are interested in inverting the color of your videos, this article will give you the necessary information. We will introduce several color invert applications you can utilize. In this post, we'll walk you through some of the top free and paid media players and video editing software programs that make it simple to invert colors in videos. The process isn't complicated at all. So, let's proceed.

Part 1: Definition of Color Inversion
Color Inversion means changing the color of something, like a video or an image. A classic black-and-white film negative is made into a recognizable image/video by inverting it, which makes the dark portions light. For instance, color inversion is currently primarily employed to create a playful aesthetic with the aid of programs. When you invert a black-and-white film, the white pixels become black pixels and vice versa. When you invert the colors in a movie, it becomes clear which areas of the shot are overly bright or underexposed, allowing you to precisely change the Brightness, Contrast, Highlights, or Shadow settings. Additionally, figuring out a unique approach to weave the negative picture effect into your video can lead to a great outcome.
Part 2: Easiest Method to Invert Video Color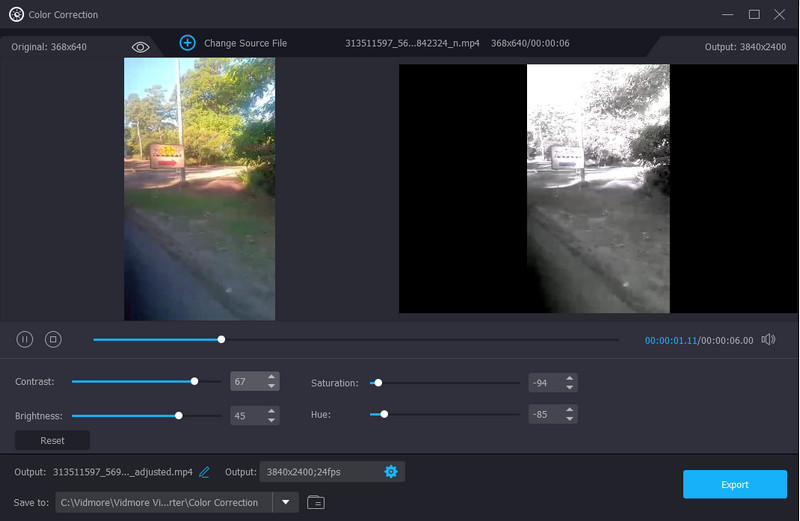 If you want an easier method to invert video color, use Vidmore Video Converter. It can help you invert your video color manually by adjusting your video's saturation, contrast, brightness, and hue. This downloadable application offers a simple interface and straightforward procedures for editing your video, which is perfect for non-professional users. In addition, you can invert your video for free. While inverting video color, you can also change your video's frame rate, output format, resolution, zoom mode, and encoder. Moreover, this Video Converter Ultimate is available on both Windows and Mac computers, making it accessible to all users. So, if you want to experience all these features, you must try this application immediately.
Part 3: 3 Invert Color Applications You Can Try
VLC Media Player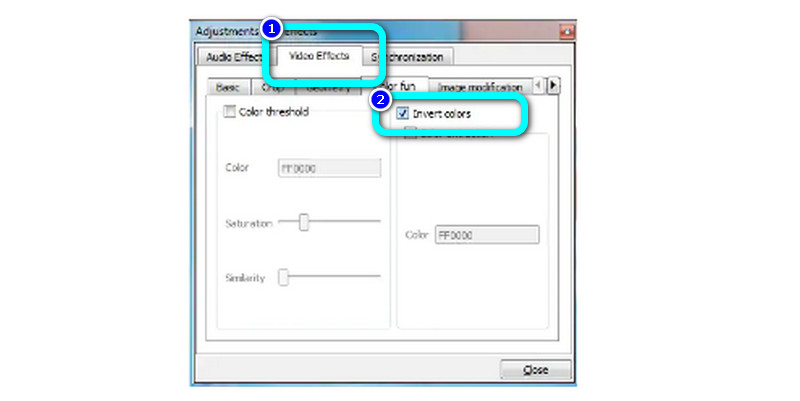 A well-known cross-platform VLC Media Player allows you to do more than just watch videos. It can also quickly invert the color of your video. You may access the Adjustments and Effects window by clicking the Show Extended Settings icon in the VLC's toolbar next to the playback controls. Depending on your VLC version, pick the Colors or Color Fun tab after opening the Video Effects tab. The video will automatically be reversed if the Invert Colors or Negate Colors checkbox is selected. Then, to save your changes, go to the File menu and choose the Convert/Save option. You can also access this application on Windows, Mac, Linux, Android, and more. This way, you can invert the color of your video. However, if you only want to invert some part of the video, you must cut it first because VLC can only invert the whole video.
FlexClip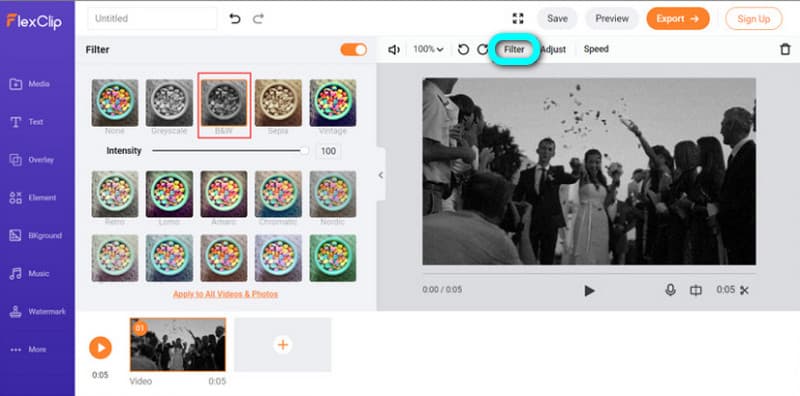 An easy-to-understand online video editing tool you can utilize is FlexClip. It can invert color online. This software offers numerous options for altering videos. Using a variety of filters may effortlessly invert the video's color. Additionally, users can divide, crop, add text to, and modify the color of videos with these applications, among other features. Additionally, this program has many built-in filter effects, including a B&W filter. Applying this kind of effect will make your video appear to be a positive monochrome image video. Also, it has an intuitive interface and easy steps, making it more suitable for all users. However, using the free version can only produce a 480p video resolution. You have to purchase a subscription plan if you want a higher resolution.
Final Cut Pro

Using Final Cut Pro is an additional method for inverting video color. Simply select Invert from the Channel submenu by clicking the Channel menu item under the Video Filters menu. You might try looking for the Invert effect in the Effects Browser in Final Cut as an alternative. Additionally, since you may flip any mask you apply over the footage you're processing, you can employ masks to simulate the appearance of a certain kind of film, like 35mm or 16mm negatives. The type of effect you're aiming to produce will determine which way of inverting the colors you employ in Final Cut Pro, as replicating night vision is somewhat different than simulating the look of film negatives.
Part 4: How to Invert Color on Computer Without a 3rd Party App
In this part, you will see the common ways to invert color on your computer.
Use Magnifier as Color Inverter
Step 1: Hold the Windows + S button on your keyboard to proceed to the search box. Then, type Magnifier.
Step 2: Click the Setting symbol from the Magnifier tab. Then, scroll down and check the Invert color option.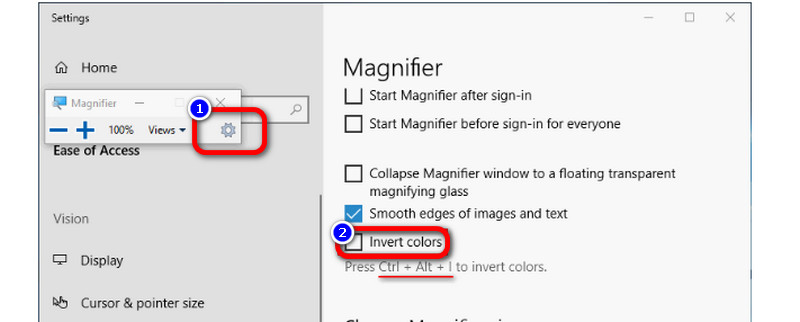 Tips
If you want to disable the inverted color, press the Ctrl + Alt + I button on your keyboard.
You can also close the Magnifier to disable the inverted color.
Invert Color Using Color Filter
Step 1: Navigate to the Setting app and search the Color Filter function.
Step 2: Then, turn ON the color filter option. Wait for a second, and you will see that your screen will turn into dark mode.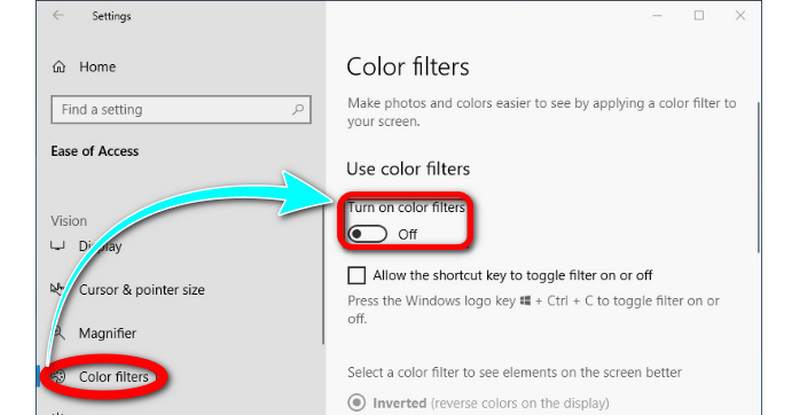 Part 5: FAQs about Color Inversion
1. How to invert color on iPhone?
Launch Settings. Select Smart Invert or Classic Invert under General > Accessibility > Display Accommodations, then tap Invert Colors. The colors of the screen then instantaneously change. Follow the steps above to reverse the inverted color setting on an iPhone and restore the colors to their default values. To disable the function and restore the device's colors to their default state, tap the invert option once more.
2. Is inverting the same as a dark mode?
Yes, they are. Some operating systems and applications have a function called 'dark mode' that switches the default bright colors of the user interface for darker ones. These dark hues are more suited for use at night and to prevent eye strain. The user can manually change the hue or have it done automatically, depending on ambient light or the time of day.
3. What are the preferred methods to invert video color?
The highly recommended method to invert video color is using Vidmore Video Converter. It allows you to invert video color by changing the video's brightness, saturation, contrast, and hue. This way, inverting your video color is easy.
Conclusion
There are numerous ways to invert video color online and offline. But if you want an easier way to invert color, we recommend you use Vidmore Video Converter.