Discover How to Post a Reel on Instagram Story & Edit Instagram Reel
Instagram Reels is a built-in feature that allows you to make and share short, entertaining videos on the Instagram platform. They offer a fun way to express yourself, showcase creativity, and connect with your audience through short, eye-catching videos. Were you ever wanted to show off your fantastic Instagram Reel? This post is here to help you do that. Let's walk through how to post a Reel on Instagram Story to showcase your favorite moments in a whole new way!

Part 1. How to Share Full Reel on Instagram Story
Have you ever wanted to share an entire captivating Reel with your followers but wondered how to make it happen? With that, today is your lucky day.
Below are the steps on how to share the full Reel on Instagram Story:
Step 1. Open the Instagram application using your smartphone. Click the (+) button and select Reel from the options presented.
Step 2. Click the (+) button and select Reel from the options presented. You can shoot a video or upload it here from your phone gallery. Afterward, click the Next button and Share the footage.
Step 3. Locate your uploaded Reels. Once found, press the Airplane button and click the Add to Story.
Step 4. When you are done, click Your Story at the bottom to share your Reels to Story successfully.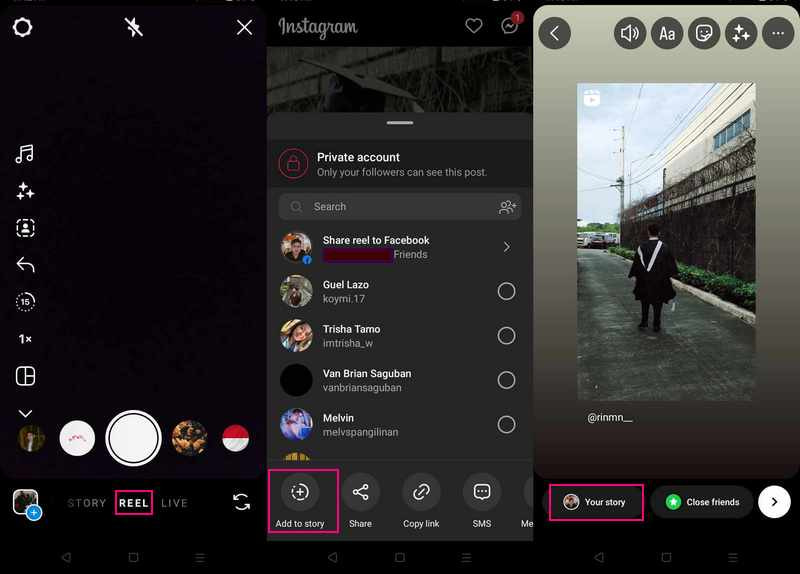 Part 2. How to Repost Others' Reels on Instagram Story
Have you ever stumbled upon a jaw-dropping Reel that you cannot wait to share with your followers? Reposting other Reels onto your Instagram Story is a fantastic method to spread love and showcase impressive content.
Below are the steps on how to repost Reels on Instagram Story:
Step 1. First and foremost, run the Instagram application using your smartphone.
Step 2. Press the Reels button at the center-lower corner of the screen.
Step 3. Find a Reel you would like to share on your Instagram story. Afterward, press the Share button on the left corner of the screen.
Step 4. Pick Add to story, and the reel will appear on your Instagram Story Editor. Make the edits you would like and click Your Story on the lower-left part of your screen.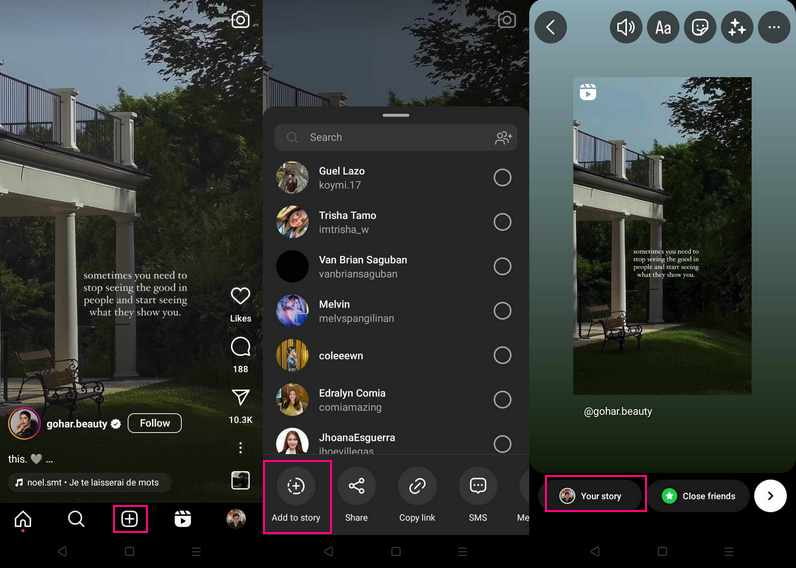 Bonus: Best Video Editor for Instagram Reel Making
Are you looking for the ultimate video editing tool to craft extraordinary Instagram Reels that leave a lasting impression? We highly recommend Vidmore Video Converter, your go-to solution for elevating your Reel-making game. With its comprehensive features and beginner-friendly interface, Vidmore Video Converter is the best video editor. It will help you transform your raw footage into remarkable Reel masterpieces. Get ready to unlock a world of creativity and seamless editing that will set your Instagram Reels apart. Let us delve into the fantastic features that Vidmore Video Converter brings to your content creation journey!
Step 1. The first thing you must do is download the program from the official website. After downloading, install the program on your computer for complete access. When installed, proceed to run the program to start editing your footage.
Step 2. Navigate to the MV tab from the top menu bar. On the lower-right of the interface, click the Add File button to import your footage.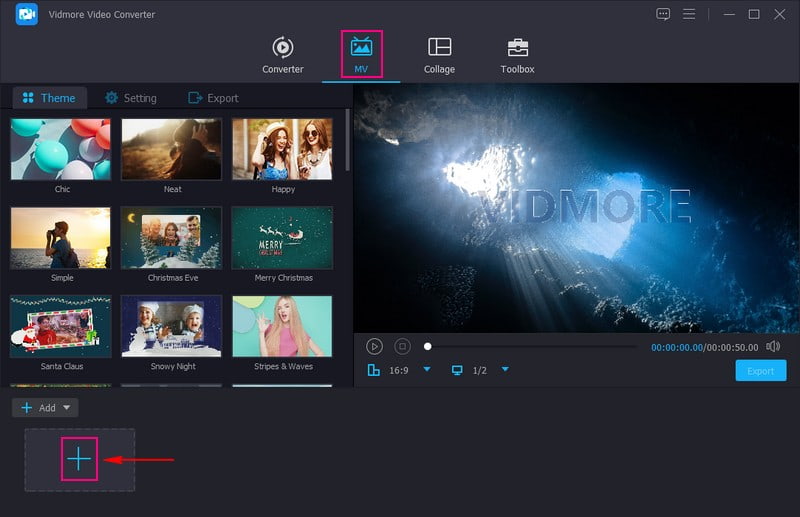 Step 3. Click the Edit button above the imported file section to open the editing features. You can access editing features, such as Rotate & Crop, Effects & Filters, Watermark, and Audio.
Go to Rotate & Crop button to rotate your footage to the right and left rotate, and horizontally and vertically flip. In addition, you can remove unwanted parts by cropping from the preview screen or crop area.
If you want to improve the look of your footage, go to Effects & Filters, and change the basic effects. On the right side, select a filter suitable for your footage, according to your liking.
Move to Watermark if you prefer to add a watermark, whether a text or image, on your footage.
If you wish to make your footage lively, head to Audio to change the volume and delay based on your need.
Note: In each editing feature you use or apply, ensure to click the OK button to save the changes you made.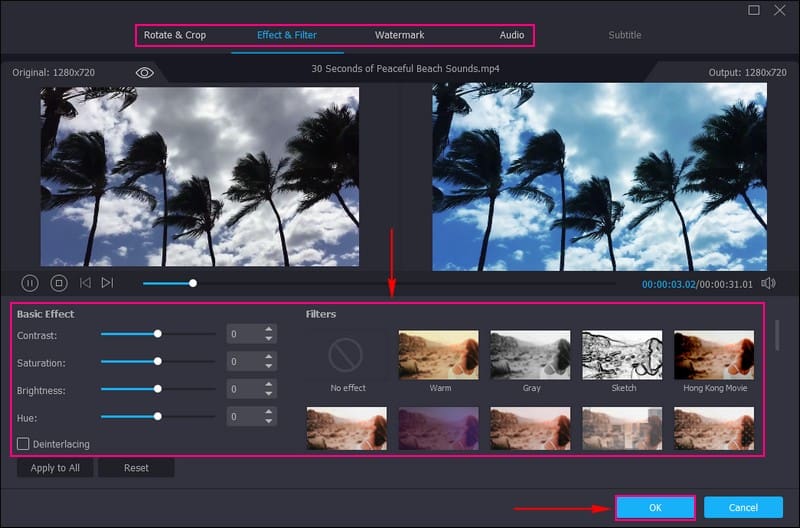 Step 4. You are back to the MV interface. On the left corner of the interface, you will see Theme, Settings, and Export options.
Go to Theme and select one that most likely captures your attention. You can pick Neat, Happy, Simple, Christmas Eve, Merry Christmas, Santa Claus, Snowy Night, and more here.
Move to Settings and add Start and End Title, which will appear on your footage's beginning and ending parts. In addition, you can keep the original audio track or background music. To enable each option, ensure to put a checkmark beside them.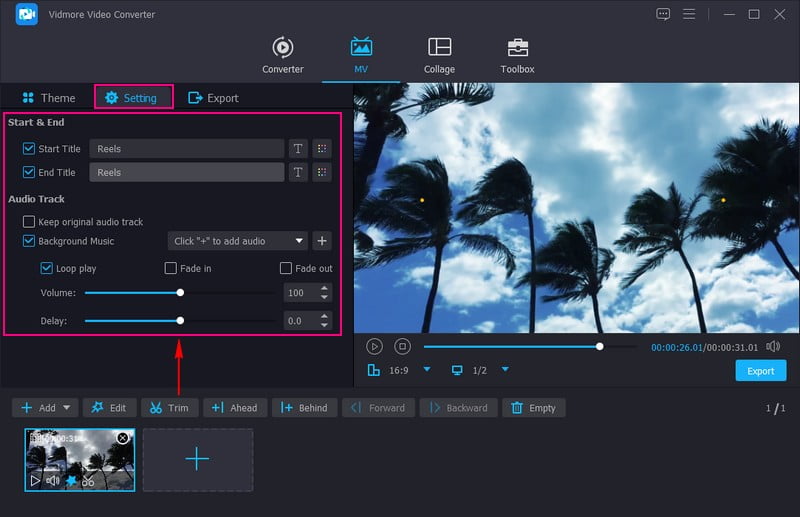 Step 5. Once satisfied with your output, go to Export. Here, you can change the format supported by Instagram Reels, such as MP4, MOV, and GIF. Besides that, you can select your preferred Resolution, Frame Rate, and Quality. When done, press the Start Export button to process your Reel video, which you will upload on Instagram.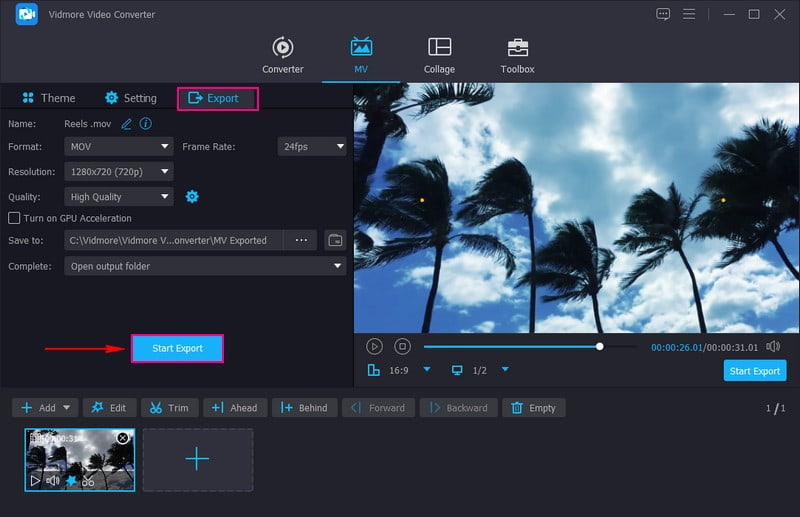 Part 3. FAQs about Posting a Reel on Instagram Story
Instagram Reel vs. Story?
Instagram Stories enable users to post content that lasts twenty-four hours and can be viewed only by their followers. On the other hand, Instagram Reels enables users to make short, entertaining videos that can be up to 90 seconds long. In addition, it can be viewed by anyone on the application.
Why can't I add a reel to my Instagram story?
You need to check if your Instagram application is updated. The outdated system might cause issues like Instagram Reels not showing or Stories not working when using the application. You can update your device to resolve the problem.
How do you post a reel on a story but not on a feed?
You need to turn off the share-to-feed option to post reels on the Instagram story without posting on your feed. You can find this option before clicking the Share button when posting a reel using the Instagram application.
How long can an Instagram Reel be?
Instagram Reels can be between 16 to 60 seconds in length. This soft format encourages users to share engaging and concise content.
How can I increase engagement on my Instagram Reels?
Use captivating visuals, relevant hashtags, and trending music to increase engagement on your Instagram Reels. Interact with comments, collaborate with other creators, and maintain a consistent posting schedule.
Conclusion
Sharing your cool Reels on Instagram Story can be a fantastic way to catch your follower's attention. It encourages you to produce creative content and share it in a more dynamic and engaging format. Remember, Instagram is a platform for self-expression and connection. Knowing how to add Reels to Instagram Story is just one way to enrich your content and engage with your followers.
To produce more compelling content, you can use Vidmore Video Converter to edit your Reels, which you will post on Story. When posted, you will indeed receive many likes!