Discover the Best 3D Projectors for an Immersive Viewing Experience
3D projectors provide an immersive and captivating viewing experience beyond traditional 2D displays. It lets you enter the heart of your favorite movies, games, and presentations. 3D projectors have revolutionized how we perceive visual content, from advanced active shutter and passive polarized technologies to holographic projection. How does a 3D projector work?
This post will present details on how 3D projectors work, the best projectors with the 3D feature, and more. Besides that, it will teach you how to create a 3D movie using dependable software. Are you ready to learn more about these? If yes, scroll down, and continue reading.

Part 1. How 3D Projector Works
A 3D projector, also known as a stereoscopic projector, is a device that can display pictures and videos with three-dimensional depth perception. It creates the illusion of depth by simultaneously projecting two slightly different images onto the screen. When viewed with the appropriate 3D glasses, the human brain merges two images into one, making the perception of three-dimensional depth.
To learn how a 3D projector works, check out the following details:
1. Dual Projection
A 3D uses two separate image sources to simultaneously project two slightly different images. These images are typically created using 3D content or a specialized program. It generates two perspectives of the same scene, one for the right eye and another for the left eye.
2. Polarization or Active Shutter Glasses
The audience must wear special 3D glasses to view the 3D content correctly. There are two common types of 3D glasses for projectors use with 3D projectors:
◆ Active Shutter Glasses
These glasses have liquid crystal shutters over each eye. The projector sends alternating frames for the right and left eye. After that, the glasses rapidly open and close the corresponding shutter in sync with the frames to direct the correct image to each eye.
◆ Passive Polarized Glasses
These glasses have differently polarized lenses for each eye. The projector emits two images with different polarizations, and the glasses separate these images so the eye sees only the intended perspective.
3. 3D Projection Techniques
These are various techniques used for 3D projection, such as:
◆ Anaglyph
An older method uses red-cyan or red-green glasses to filter the different perspectives. The projector displays the two images superimposed in different colors, and the 3D glasses for the projector separate them for each eye.
◆ Active Shutter Projection
The projector rapidly switches between right-eye and left-eye frames. The active shutter glasses synchronize with the frames to send the appropriate image to each eye.
◆ Polarized Projection
A projector with a polarizing filter projects the two images, each with a different polarization direction. The polarized glasses filter the light, enabling each eye to see the correct image.
4. Synchronization
For active shutter glasses, synchronization between the projector and glasses is crucial. It is usually accomplished through infrared signals or other communication methods.
Part 2. Top 3 Projectors with 3D Feature
1. Epson Home Cinema 5050U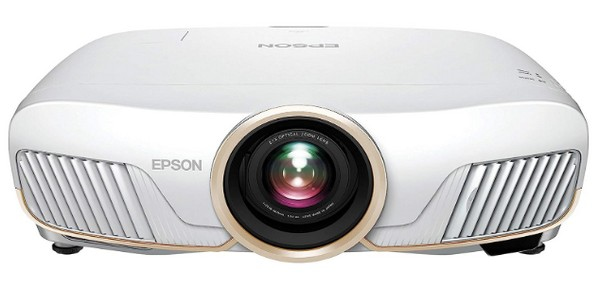 This Epson 3D projector was well-regarded for its high-quality image projection, color accuracy, and 3D performance. It supports various 3D formats and comes with two pairs of active 3D glasses, enabling you to enjoy 3D content straight out of the box. This projector has a high resolution (4K enhancement) and dynamic contrast ratio, making it suitable for 2D and 3D content.
2. BenQ HT3550

If you are looking for a popular home theater projector known for its excellent image quality and good 3D performance, BenQ HT3550 is for you. It features various 3D formats and comes with two pairs of DLP Link 3D glasses, which are generally less expensive than active shutter glasses. This projector's color accuracy and overall image quality make it a favorite choice for 3D enthusiasts.
3. Optoma HD39HDR

If you want a projector that is not expensive, the Optoma HD39HDR is perfect for you; it is a budget-friendly option with solid 3D capabilities. It provides sharp image quality and high brightness, making it suitable for indoor and outdoor use. This projector supports 3D content and has a built-in speaker, making it a convenient option for portable setups.
Part 3. How to Play 3D Movies on Your Projector
To play 3D movies on your projector, you will need a compatible 3D projector, 3D content, like movies or videos, and the appropriate 3D glasses. Once settled, follow the instructional guide presented below:
Step 1. First and foremost, ensure that your projector supports 3D playback. You will need 3D movies or videos to play on your 3D projector. It can be in various formats, such as Blu-ray 3D discs, Blu-ray ISO files, 3D MVC (Multiview Video Coding), 3D SBS (Side-by-Side) videos, or 3D streaming content.
Step 2. Connect your input device to the projector using an appropriate connection like HDMI. Ensure the source device supports 3D output and is set to output in the correct 3D format. Access the projector's setting or menu and locate the 3D options. Depending on the projector model, you must select the appropriate 3D format, like Side-by-Side, Frame Packing, or Top-Bottom, to match the 3D content you are playing.
Step 3. Wear the appropriate 3D glasses that match the technology used by your projector. Ensure that the glasses are fully charged or in good condition. Then, play the 3D movie or video on your source device. The projector will display the 3D content, and the glasses will help separate the right-eye and left-eye images for the 3D effect.
Step 4. Some projectors enable you to modify the depth or intensity of the 3D effect. Experiment with these settings to find the level that suits your needs or preferences.
Step 5. When everything is set up correctly, sit back and enjoy the 3D movie display on your projector.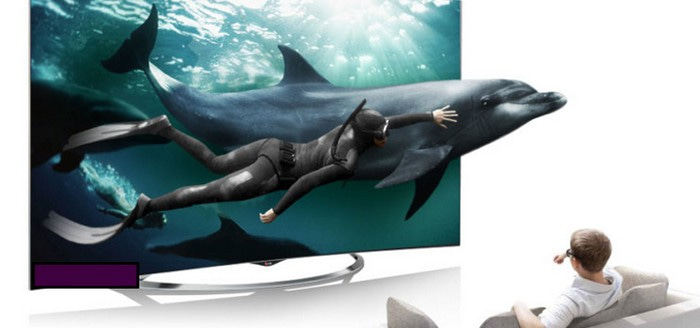 Part 4. How to Create a 3D Movie Easily
If you are looking for a program to help you create 3D movies easily, we highly recommend Vidmore Video Converter. This program is infused with several toolkits, including 3D Maker, the perfect tool to create a 3D movie. It offers two techniques to present separate images to each eye: the Anaglyph and Split-Screen, which create an illusion of depth perception. The Anaglyph is relatively easy to implement and can work with standard displays. On the other hand, Split-Screen provides better color reproduction and image quality.
This 3D Maker allows you to select your preferred format, such as MP4, MOV, MKV, AVI, WMV, WEBM, and more. Besides that, you can pick your desired quality, whether High, Standard, or Low. The impressive part is that you can access the program's basic and advanced editing. Amazing, right?
Without further discussion, let's dive in on how to create a 3D movie easily using Vidmore Video Converter's 3D Maker:
Step 1. First, download and install Vidmore Video Converter from the official website. Once installed, proceed to run the program on your computer.
Step 2. Navigate to the Toolbox tab, and look for 3D Maker, the primary tool you will use to create a 3D movie.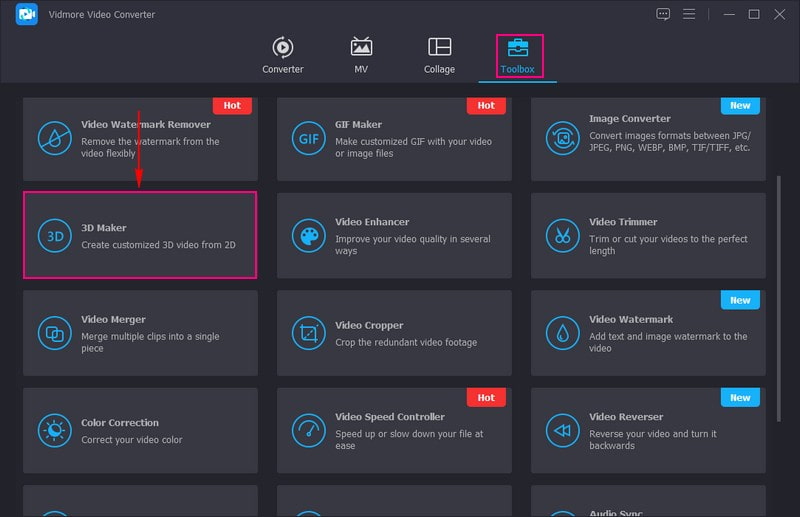 Step 3. A window will appear where you will import the video you want to transform into a 3D movie. Hit the (+) button, select the video, and you will be directed to the main 3D maker settings.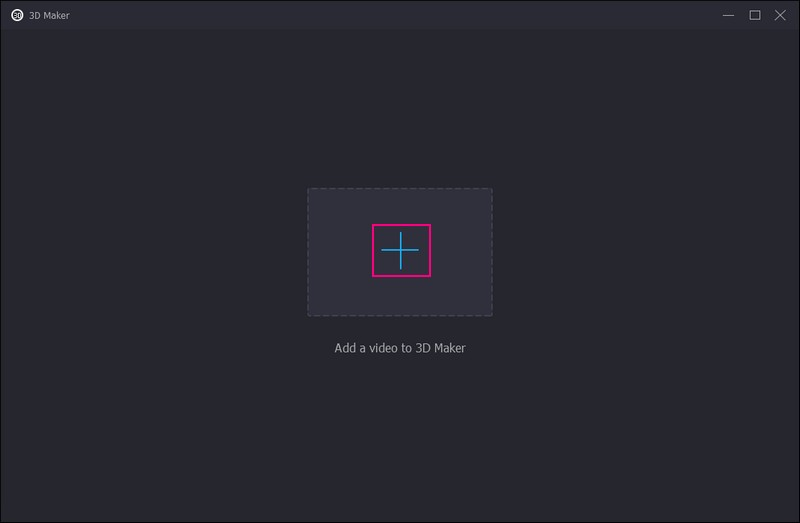 Step 4. Pick whether Anaglyph or Split Screen according to your preferences. If you mark Anaglyph, click the drop-down menu, and select your preferred output, like Red/Cyan Anaglyph (Full Color), Red/Cyan Anaglyph (Monochrome), and more. If you mark Split Screen, hit the drop-down menu, and choose your preferred output, like Side-By-Side (Full), Top and Bottom (Full), and more.
Here, you can modify the Depth by moving the pointer to the right and left from the bar line. Head to the Format drop-down menu to select your desired video output format. From the Quality drop-down menu, please select High from the list presented.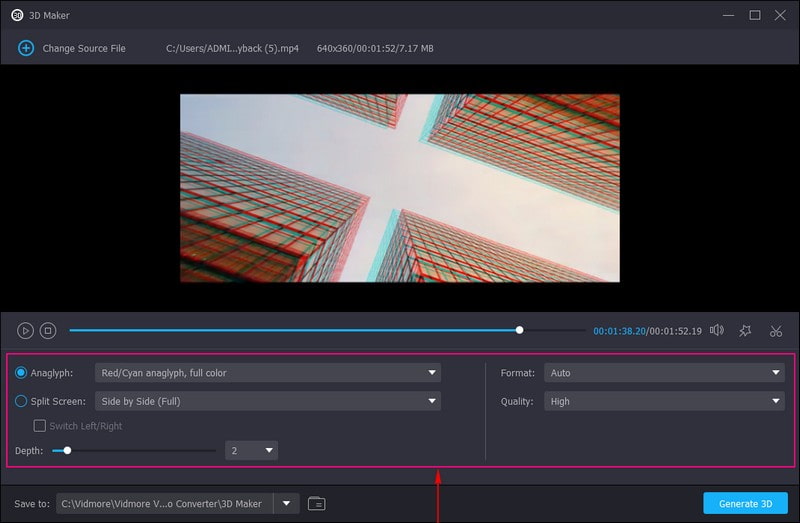 Step 5. If you want to do further editing to your movie, click the Wand button, which will direct you to the main editing section. Here, you can Rotate & Crop, add Effects & Filters, embed a Watermark, incorporate Audio, and apply Subtitles if you want to. Once done, ensure to hit the OK button to save the changes. In addition, if you want to leave out an unneeded portion in your video, click the Scissors button to do your task.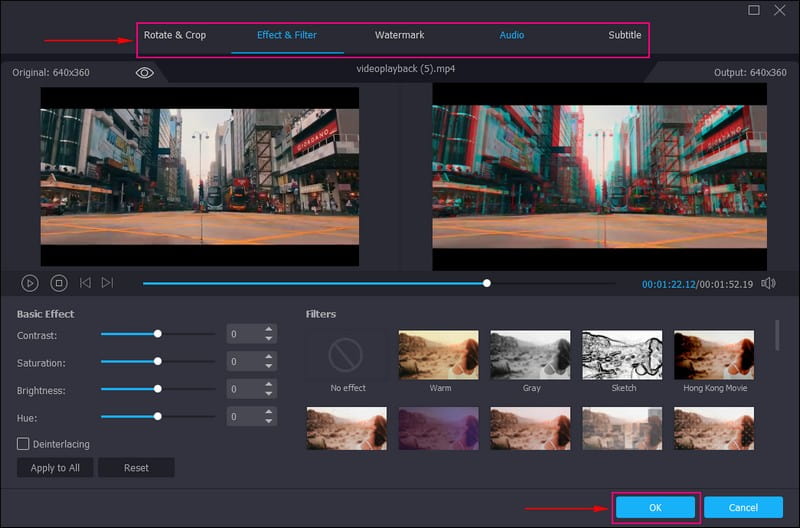 Step 6. When you are satisfied with the look of your movie, hit the Generate 3D to begin the process. After that, your 3D movie will be saved on the local drive, and you will proceed to watch it.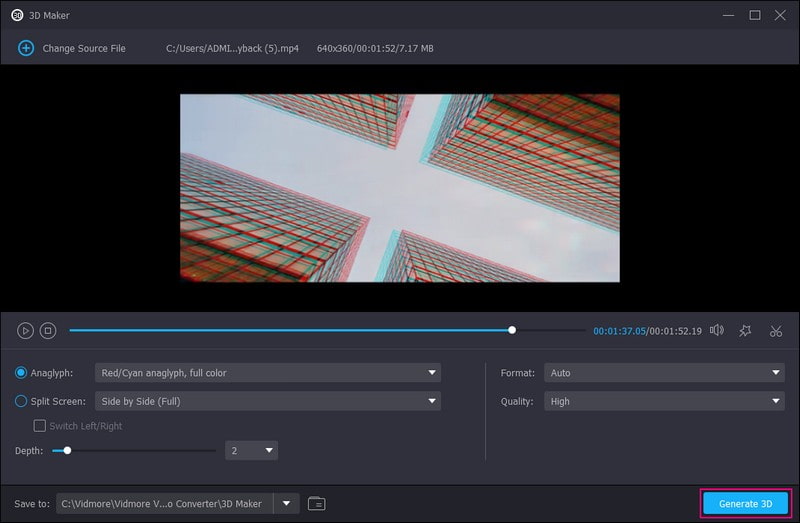 Part 5. FAQs about 3D Projector
Can any projector play 3D?
No, not all projectors can play 3D content. A projector must have specific hardware and support for 3D playback to play 3D content. Two main types of projectors can handle 3D content, which are 3D-Ready Projectors and 3D-Enables Projectors.
How to convert a normal projector to 3D?
Link a video device that displays 3D content to the projector using an appropriate HDMI cable that supports 3D compatibility. You must configure the projector and video device to work with 3D content when the connection is made. However, most devices will require you to enable 3D output from the video device and pick the appropriate input mode on the projector. When both the projector and video device are configured correctly, you can enjoy 3D content on your projector.
How to pair 3D glasses with an Epson projector?
First, turn on the projector, set the image source to HDMI, and then project a 3D image. After that, slide the power switch on the 3D glasses to the On position. Move the glasses within 10 feet of the projector, then hold the Pairing button on the glasses for at least three seconds. The status light on the glasses flashes red and green. Once the pairing is accomplished, the light turns green for ten seconds and then turns off.
What is a hologram projector 3D?
A hologram projector 3D is a type of display technology that creates the illusion of a three-dimensional image without requiring special glasses.
What is a passive 3D projector?
A passive 3D projector is designed to display 3D content using passive polarized 3D glasses. Unlike active 3D projectors that require battery-powered active shutter glasses, passive 3D projectors use non-powered passive glasses similar to the ones used in 3D cinemas.
Conclusion
3D projectors are advanced display devices that provide an immersive and captivating viewing experience. This post presented the best 3D projectors to display 3D movies indoors or outdoors. Besides that, this post taught you how to create a 3D movie with the help of Vidmore Video Converter. This program offers two techniques used in 3D to present separate images to each eye.