FLV Player – 8 Best Methods to Play Adobe Flash Videos on Windows and Android
What are the best FLV players to view the Adobe Flash videos on different devices, especially on Windows and Android Phone? FLV is one of the most frequently used video formats for online social media sites, such as YouTube, Vimeo, Metacafe and more others. Just learn more details from the FLV media player review from the article and choose the desired one according to your requirement.

Part 1: 5 Best FLV Players to Watch Adobe Flash Videos
Top 1: Vidmore Player
Vidmore Player is a versatile FLV media player that enables you to play videos, DVD/BD disc, folder and ISO files. It provides a high quality image playback and perfect sound processing. Moreover, you can also adjust audio/video track, channel, subtitle, effects and screen size.
Support FLV, MP4, MOV, MP3 and others with 1080P/720P/4K UHD.
Provide advanced audio decoding, like Dolby, DTS, AAC, TrueHD, etc.
Choose the desired subtitle, audio track, image effect and more settings.
Use the shortcut key to take a quick snapshot while watching the movie.
Offer customized controls for title, chapter, and playback of DVD movies.
Top 2: VLC Media Player
VLC Media Player is a popular open source FLV player for Windows 10 and multimedia framework written by the VideoLAN project. It offers a powerhouse of configuration options, strong user base and active official forum. (What if VLC won't play DVD?)
Support FLV files, as well as DVDs, VCDs, and various streaming protocols.
Stream over networks and to transcode multimedia files and save the video.
Allow for multiple films to play one after the other with the playlist functions.
Tweak video and audio playback with the best audiovisual experience.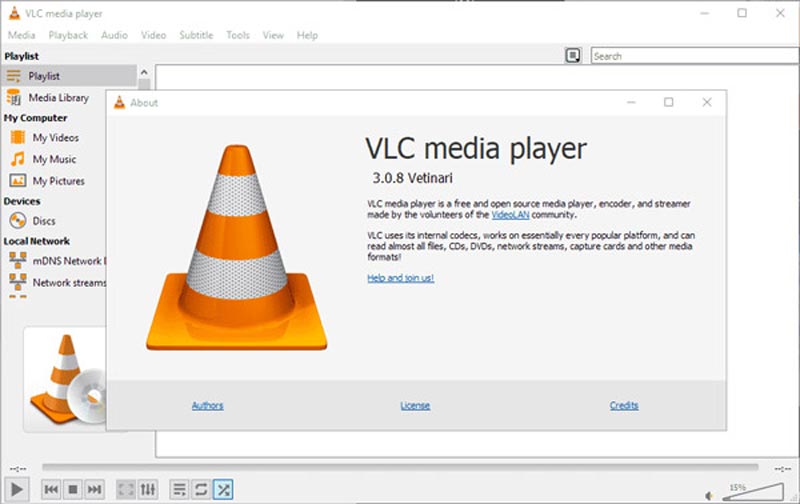 Top 3: Any FLV Player
Just as the name of the FLV media player, Any FLV Player is a lightweight and free video player. You can also upload the videos to social media sites or take advantage of the integrated Publish to Web feature.
Play FLV video without complicated Flash authoring tool and others.
Share and post FLV video files to website or video blog within clicks.
Integrate any video to website with the Publish to Web feature easily.
FLV Meta information injection feature to add the FLV Meta data.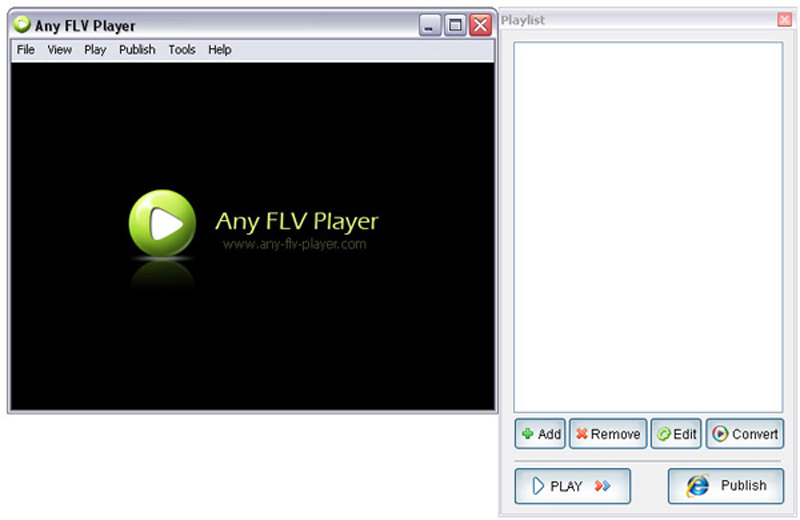 Top 4: KMPlayer
KMPlayer is a heavy-duty FLV file player pack with all sorts of option and settings, including the FLV, 3D and VR files. Moreover, you can also access to an important array of features to enjoy audiovisual experience.
Extensive screen control menu allowing you to modify the screen ratios.
Settings for audio syncing, repeating sections, skipping sections, etc.
Apply a wide range of video filters, audio/video capturing and more others.
Provide quick playback and a fully sinkable and customizable interface.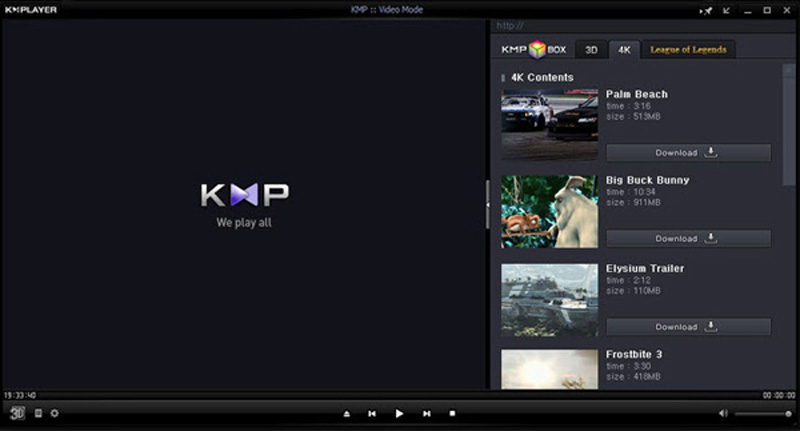 Top 5: Moyea FLV Player
Moyea FLV Player is another free FLV player for Windows that has great convenience to play the FLV files. It organizes the media files, support full screen mode, and quick thumbnail picture capturing.
Allow you to create a playlist and add FLV videos to Favorite folder.
Support playback of local files as well as streaming playback from an URL.
Multiple playing modes such as full screen, shuffle, single repeat, etc.
Enable you to manage your imported FLV videos so as to make it clearer.
Part 2: 3 Best FLV Players on Android Phone and iPhone
Top 6: Nova Video Player
Nova Video Player is an open source FLV media player for tablets, phones and Android TV devices. It has hardware accelerated video decoding for most devices and video formats.
Videos from all sources integrated into a unified multimedia collection.
Provide multi-audio tracks, multi-subtitles and video/audio settings.
Automatic online retrieval of movie and TV show descriptions.
NFO metadata processing for descriptions and posters.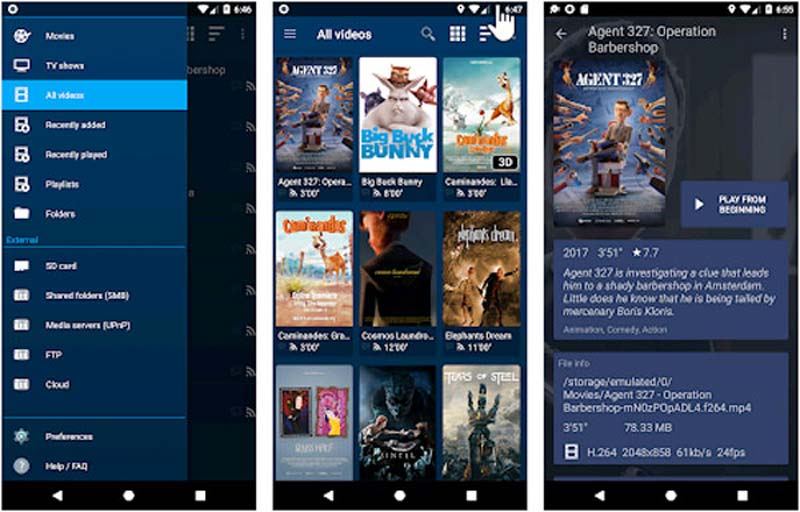 Top 7: VM Player Lite
VM Player Lite is a versatile FLV player that supports all high-quality video formats or 4K/ultra HD video files of high quality. You can also apply slow motion and fast motion with an excellent video quality.
Cast the videos for Chromecast free of charge on the Android devices.
Automatically detect the videos and manage the files on your SD card.
Control the video volume, play graph, and brightness on simple sliding.
Enable you to protect the video files with password-protected folder.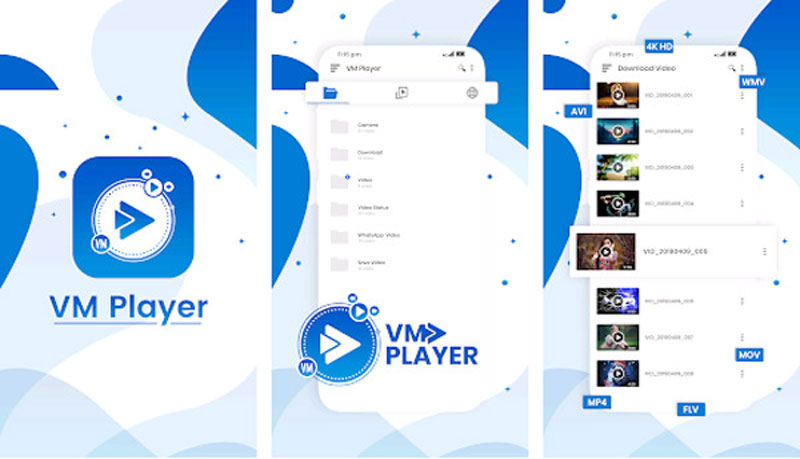 Top 8: PlayerXtreme HD
PlayerXtreme is more than an FLV player, but also an audio player and online streaming player. When you download the FLV player, you can play and sync with your phone and tablet with ease.
Play most of the audio and video formats, including the Adobe FLV files.
Allow subtitles on steroids, such as Closed Captioned, SRT, SMI, TXT, etc.
The 6th Gen hardware accelerated core produces vibrant video and sound.
Stream the FLV videos directly from your PC, NAS drive or website easily.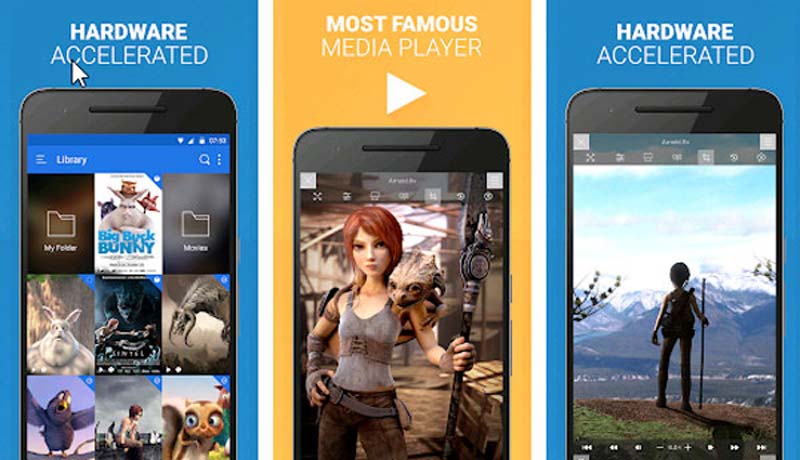 Don't miss: How to add subtitle to video
Part 3: FAQs about How to Play FLV Files
1. What is An FLV File?
FLV is a popular file format used by Adobe Flash Player and Adobe Air to store and deliver the synchronized audio and video over the Internet. It is widely used for online streaming sites. But if you need to play the FLV videos on other devices, you need to have an FLV player instead.
2. Why Cannot Open FLV Videos with Above FLV Players?
If you cannot use the above FLV players, you can change a different suffix to find whether it works. You should research the real letter/number combination to determine the file format. Of course, you can also repair the video, or choose a professional FLV player to find whether it works.
3. How to Fix Live Streaming FLV Files out of Sync?
When the FLV file plays back at the wrong speed or out of sync, you need to fix the timestamps manually. Of course, you can close the other programs and update the graphic card drive to have another try. To make sure a better playback experience for the FLV videos on Windows and Mac, you can choose the Vidmore Player as the default FLV player instead.
Conclusion
Whether you need to play the FLV on Windows, Mac, Android phone or even iPhone, you can learn more about the review for the 8 best FLV players from the article. Most of the FLV media players enable you to enjoy the movies free of charge. In order to get the best audio-visual experience for the FLV files, Vidmore Player should be the ultimate solution you can take into consideration.