How to Play Video in PowerPoint + Ways to Fix Video Not Playing
PowerPoint is an excellent presentation program that enables users to make stunning projects. One of the great features of PowerPoint is the ability to insert videos into presentations. It offers two ways to add videos, from embedding a code from online sources and through saved videos in a folder. This post will teach you how to play videos in PowerPoint. Also, it will present some ways you need to do if you encounter your video is not playing. So what are you waiting for? Proceed to the following information.

Part 1. How to Play Video in PowerPoint
This section will present a step-by-step process for playing videos using the program. It will assist you in playing a video from online sources and a saved video. Without further discussion, learn how to play the video in PowerPoint below.
1. For Online Videos
Step 1. To begin with, open PowerPoint using your desktop device. Once the program is opened, head to the Insert tab and select the Video button followed by Online Video.
Step 2. Insert window will appear on your screen. Here, add the link to the video you will use or want to add from online sources.
Step 3. A few minutes will be required to upload a video into the slide, which you can see on the left corner of your screen. It is also required to have a fast or stable connection to load the video quickly. Once done, you can play the video after a click or automatically based on your preferred method.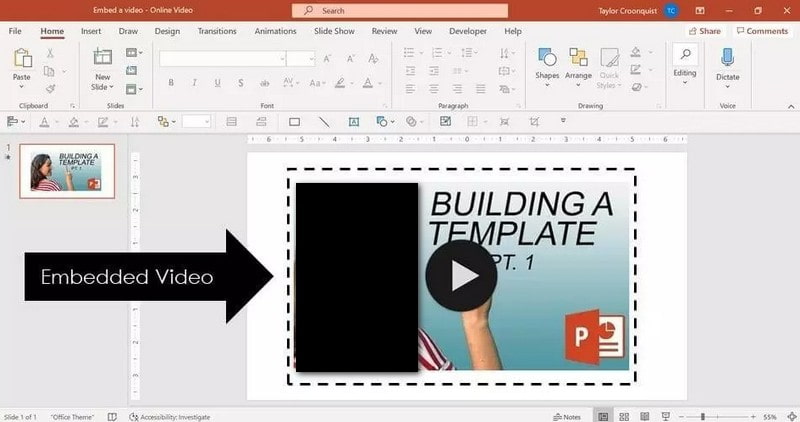 2. For Videos on PC
Step 1. Hit the Insert tab on the upper left corner of your screen. Next, select the Video button from the drop-down menu and pick Video on My PC, which is the option to add your video.
Step 2. The browser window will appear on your screen. The next thing you will do is search for the video you want to add or use. Once found it, click the Insert button to place your video on the slide.
Step 3. The video will be imported on the slide, with a playback menu, and can control the volume. If you want to play the video in full-screen mode, you can do that too. In addition, if you want to add another slide, head to the menu bar and click on the New Slide.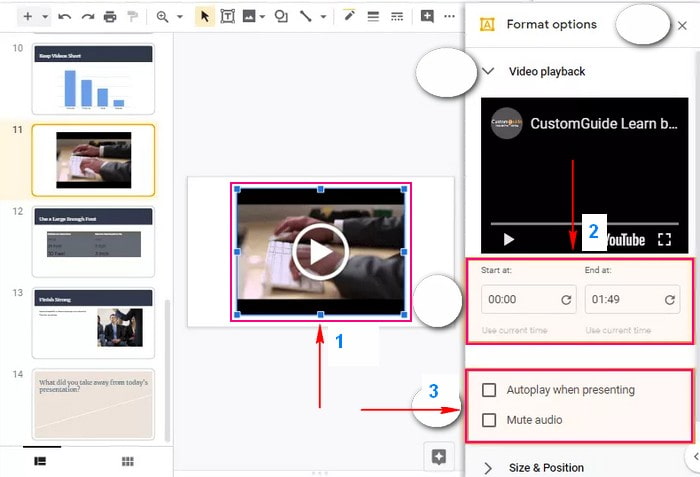 Part 2. How to Make a Video Play Automatically in PowerPoint
When you present your presentation, you may want your video to play automatically as soon as the slide appears. PowerPoint has a feature that enables users to play videos automatically once the slide, where the video is located, flashes on the screen. Do you want to know how this feature works? If so, we got your back, as we will teach you how to make a video play automatically in PowerPoint.
Step 1. Press on the video you want to auto-play. The video you selected will be highlighted with white marketing around the edges. If you cannot select the video by pressing it, it means the video was added with a master slide. To edit that, head to the top menu hit View, and then Slide Master. After that, look for the master slide with the video you want.
Step 2. With your chosen video, go to Video Format and then Playback, which will appear on the top menu bar, which is additional items.
Step 3. Under the Playback tab, look for the Start button, and a drop-down menu list will appear. From there, select the Automatically option, and your video will be automatically played when the slide is displayed on your screen.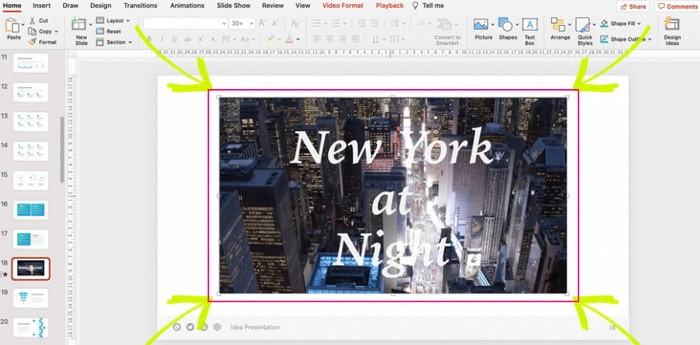 Part 3. Why PowerPoint Video Not Playing and How to Fix
You have created an impressive PowerPoint presentation, and you press F5 to test it before presenting it to your audience. Everything looks fine; however, PowerPoint cannot play the video you added or embedded. Most of the time, this issue happens because of using an unsupported video format or wrong settings. If you encounter the same problem, go through the solutions below to learn how to fix the PowerPoint video not playing issue.
1. Check Video Format
If you imported a video not supported by the program, the video cannot be played, or there is no audio. For instance, if your video file extension is .SWF; this type of video file cannot be played on the program.
2. Redownload the Video
If your PowerPoint supports the video file format but still cannot play, there might be an issue with your video. You cannot play the video on the program for various reasons, such as corrupted storage location, missing specific files, etc.
3. Check PowerPoint Playback Settings
If you cannot find any problem with your video, you must proceed to check the PowerPoint playback settings. You can play the video automatically or wait to click it before it starts playing. With that, you must ensure the program is set to play the video according to your input mode or expectation.
4. Embed the Code for Youtube Videos
You need more than copying and pasting the link if you use a video from an online source, like Youtube. Instead, you must embed the video's code in your presentation.
5. Compress PowerPoint Media
If you are using a large video file, Powerpoint might have difficulty managing it. With that, consider compressing the video file you have added to your presentation. To do that, go to File, followed by Info, and then the Compress Media menu. You will see three options, which are Presentation quality/ Full HD (1080p), Internet quality/ HD (720p), and Low quality/ Standard (480p).
Part 4. Best Video Player for Windows & Mac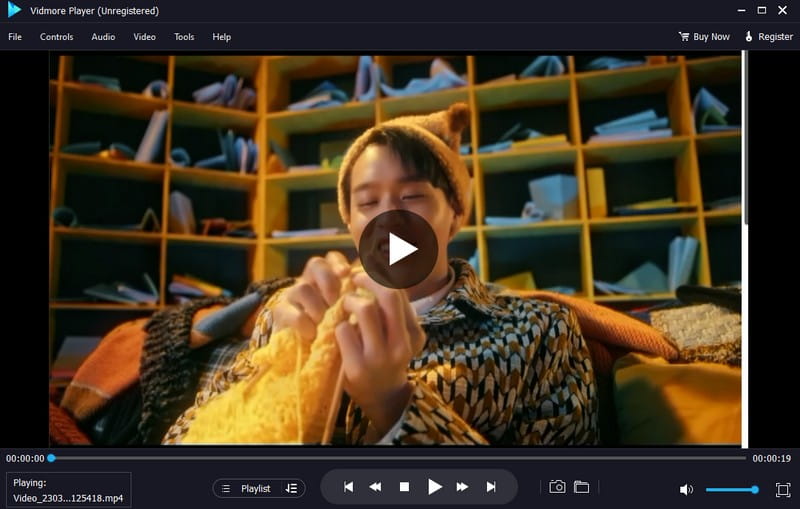 You want to play your video without encountering a problem, without worrying if your video file is supported. Therefore, you must pick a program that provides the best viewing experience. Do you have in your mind what video player you will use? If so, we highly recommend Vidmore Player.
Vidmore Player is a program that can play losslessly on Blu-ray or DVD, folders, ISO files, and several video formats. It supports Blu-ray disc types, such as B9-9, BD-25, BD-5, and more. It also supports popular audio and video formats, such as AVI, WMV, MP3, MOV, MPEG, MP3, and more. On top of that, it offers high-quality image playback and perfect sound processing.
You can also take a screenshot while viewing, which will be saved on your desktop folder. Besides that, you can adjust the video's volume according to your preference. Besides that, you can watch your video in different screen modes for a better viewing experience. In addition, you can add subtitles, modify effects, audio, and video track. Also, it offers customized options to control multimedia playback. Amazing, right?
Undoubtedly, Vidmore Player is the best program you can rely on to play videos without experiencing an issue.
Part 5. FAQs about Playing Videos in PowerPoint
What are the supported video formats of PowerPoint?
The PowerPoint's suported video format are MP4, WMV, SWF, MPG, MPEG, AVI, and ASF.
What video format works best in PowerPoint?
The recommended video format for newer versions of PowerPoint is MP4 video format.
Is there a time limitation for videos inserted in PowerPoint?
Fortunately, there is no time limitation for videos in PowerPoint. However, you might experience a bit of lag if you use a long video.
What is the file size limit of PowerPoint videos?
The size limit for embedded videos is 50-100 megabytes, and for WAV files is 100 kilobytes.
How do I change the quality of a video in PowerPoint?
Head to File, Export, and then Create a video. After that, pick your desired quality, whether Ultra HD (4K), Full HD (1080p), and more.
Conclusion
Adding a video to your PowerPoint presentation is a nice touch that will make your project look more professional. However, users experienced some issues with PowerPoint videos not playing, and this post helped you resolve the problem. In addition, you can count on Vidmore Player to watch your videos without experiencing a problem. To have complete access to the program, remember to install it on your computer and get started.