Convert AMR to MP3 Through 4 Online and Offline Programs
We know that AMR provides excellent quality audio tracks. It is very particular on the encoding speech, which makes the audio excellent. On the other hand, this type of file format doesn't perform well on most devices. That is why others are switching to other standard formats which can play on most devices. And one of these file types is MP3. The MP3 is the universal audio format used due to its compatibility. Therefore if you also want to make your AMR file compatible on most devices, learn how to convert AMR to MP3 by reading the post below.

Part 1. Free Way to Convert AMR to MP3
1. Vidmore Free Online MP3 Converter
Vidmore Free Online MP3 Converter is the program you must use if your storage space is total. There is no additional space on your device for any other software to run. You can use this online tool on both Mac and Windows-based computers. Vidmore is available online for you to use at your convenience and is free of charge. Vidmore is a free internet service that you may use whenever convenient for you. Even though it is an online audio and video converter, it supports a wide range of file types. Examples of these formats include M4A, MP3, AAC, WMA, AIFF, AC3, and several more. It also allows you to have complete responsibility for the converted item you create quality.
In contrast to other internet converters that have file limitations, Vidmore Free Online MP3 Converter does not impose any constraints. We've also provided a walking procedure for your convenience to convert AMR to MP3.
Step 1: Proceed to the Vidmore Free Video Converter portal to get started. Please download the installer by clicking on the Add Files to Convert option. Access to the online tool will become available when the launcher has been installed.
Step 2: The AMR file must be added first by clicking on the Add files to convert button twice in a row to begin the process. You may work more effectively by modifying multiple audio tracks simultaneously if you include clips into your workflow.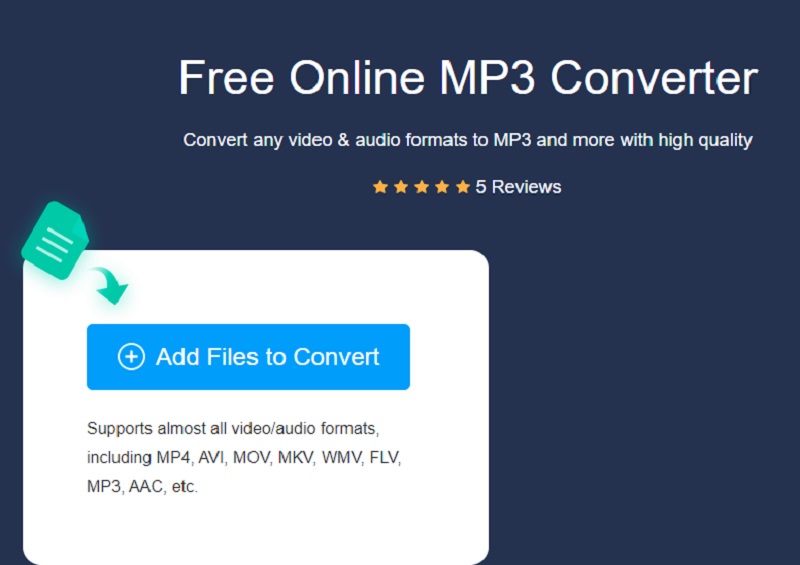 Step 3: After adding the AMR file on the central display screen, click the MP3 below.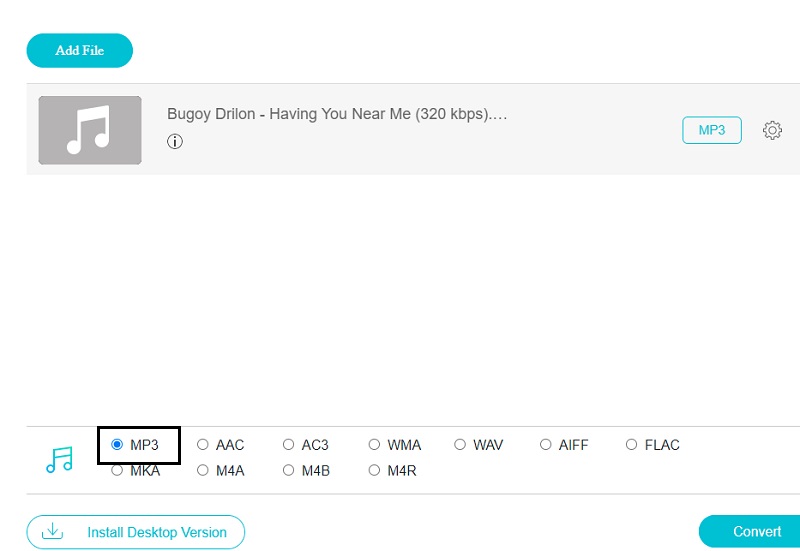 After choosing the MP3 format, you can take control of the settings of your audio track. Go to the Settings icon on the right side of the screen and navigate the Sample Rate, Channel, and Bitrate. When you are finished editing the audio quality, click the OK button.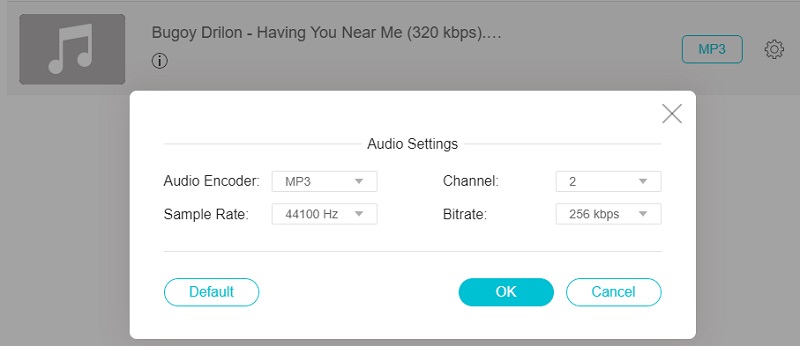 Step 4: Since Vidmore Free Online MP3 Converter is a pure converter, you can now download it to your Folder. Just press the Convert icon on the lower portion of the screen and choose the destination folder of your file. Once you have chosen, tap the Select Folder button.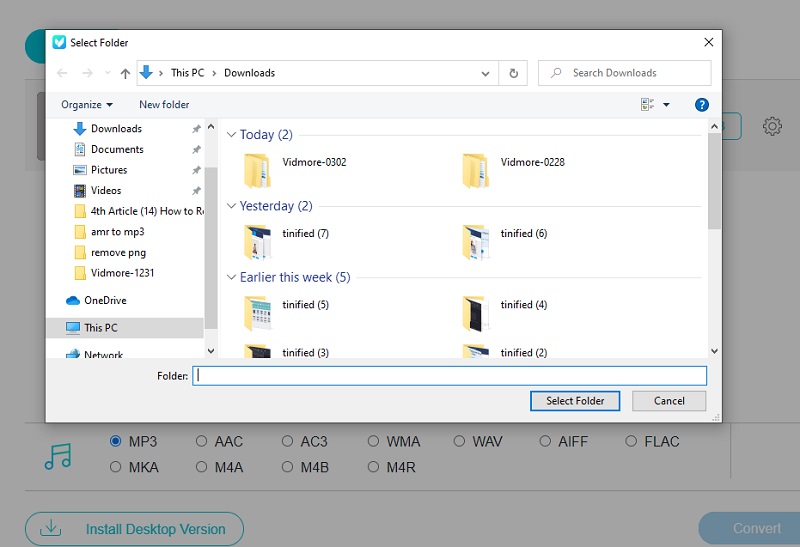 2. Audacity
If you desire to convert AMR to MP3, you may also use Audacity's freeware program. This program is one of the most highly desired tools accessible for modifying different files, and it is available for free. Using this free program, you may work with audio files and adjust their sound. There are no hidden costs, ads, or other prohibitions of any type in this store. Consequently, if you want to ensure that your audio recordings are compatible with almost all devices, pay special attention to how Audacity convert AMR to MP3.
Step 1: Install the Audacity software on your device. You'll also need to download the FFmpeg library for Audacity, which will allow you to input your AMR files. Following the Library installation, you may drag and drop your AMR files into Audacity.
Step 2: Next, right-click the AMR file and choose File from the drop-down menu. Select Export as MP3.
Step 3: Finally, make any necessary adjustments to the format choices and press the Save button. You may also make changes to the metadata associated with your file. You may continue with the conversion by clicking the OK button after you are through with it.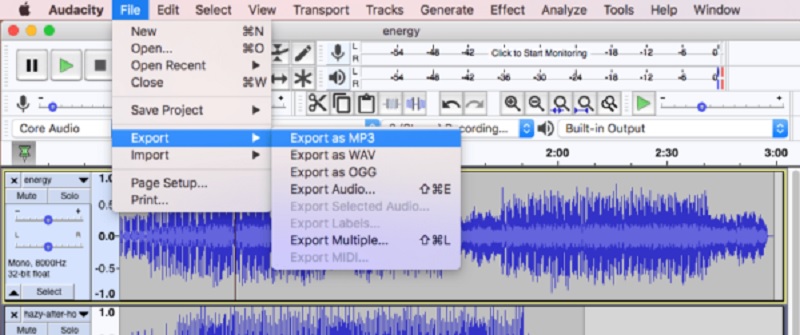 3. Windows Media Player
The Microsoft Windows Media Player, usually known as WMP, is a multimedia player developed by Microsoft. It is Microsoft's fully functioning media player, with any version of Windows at no further cost. It enables users to see pictures, listen to music from a CD or an audio file, and play video content. The Windows Media Player is fond of performing practically every kind of video and audio file format available on the market. MP3, WAV, WMV, WMA, and a slew of other audio formats are instances of this. It can not only play music and video files, but it can also convert them.
Therefore, if you want to understand how to convert AMR to MP3, you should pay close attention to the instructions provided here.
Step 1: In Windows Media Player, you may import AMR files. If you want, you may search for your AMR file and then drag and drop your file into the library to validate that the file has been converted. You would then notice an Organize icon in the top left of your Menu bar, from which you would select Options, and afterward the RIP Music option.
Step 2: Choose Rip Music from the drop-down menu from the newly opened window, then scroll down and select Change from the drop-down menu. Choose a location for the modified file's final destination.
Step 3: Finally, click the Format button and choose a format from the drop-down menu. Scroll down and select MP3 as the audio format. Also, you may modify the bitrate of the clip as needed.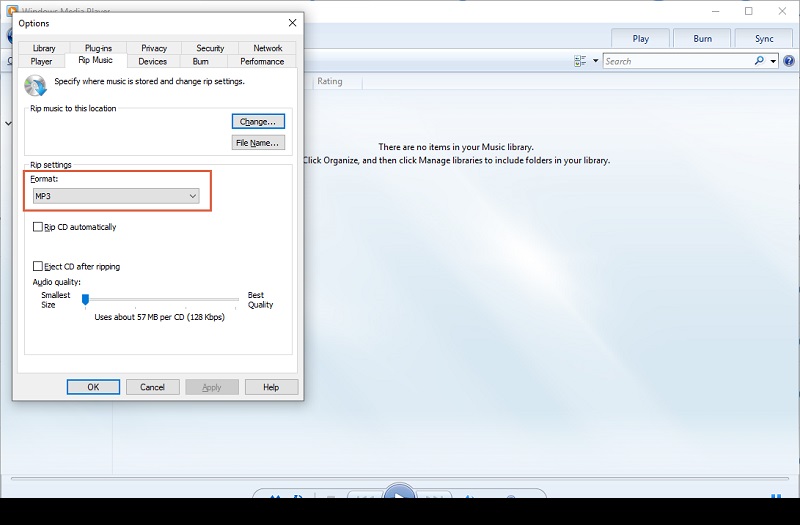 Part 2. Best Software to Convert AMR to MP3
It would help if you used Vidmore Video Converter to convert AMR to MP3 without sacrificing quality. This tool works optimally on Mac and Windows-based computers. Vidmore gives you the freedom to choose the file type you want since it handles over 200 audio and video formats. Additionally, this program's user-friendly design helps you quickly access functions and editing tools. As expected, even amateurs can do it without difficulty.
By browsing to the settings in Vidmore Video Converter, you may adjust the video's quality. Finally, you will have no issues even if there is no network connectivity since it will continue to work well.
Step 1: Download the AMR to MP3 Converter
Start by installing the app on the computer's hard drive. To proceed, choose Free Download from the drop-down option. Following that, you should wait for the conversion tool to finish its task.
Step 2: Add the AMR File on the Screen
Following that, choose Add Files and go to the AMR file in your Folder. Additionally, you may expand your options by selecting the Plus sign, which appears in the center of the primary screen.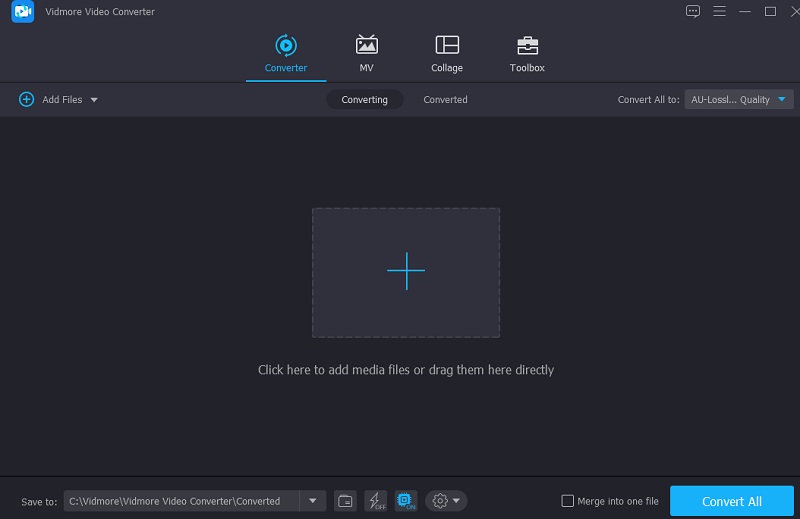 Step 3: Choose the MP3 Format on the List
To customize your AMR file formats, click the arrow key in the upper-right corner of the clip, followed by the Audio option at the top of the window. After that, locate and pick the MP3 file type by clicking on it.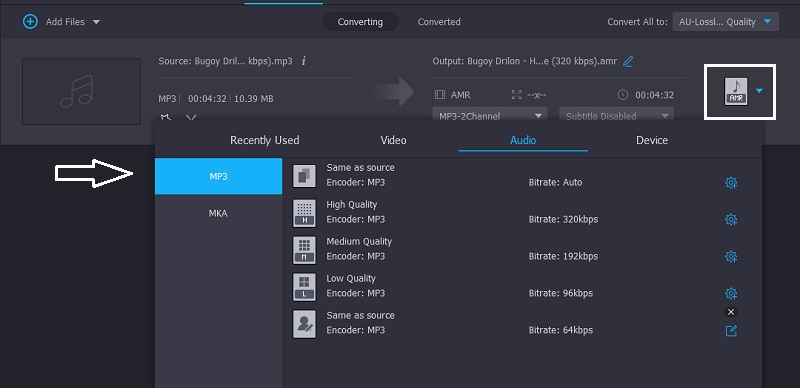 Additionally, you may adjust the audio's quality by changing the audio's Channel and Bitrate. Click the Settings symbol in the format's right-hand corner. Once you've completed modifying the audio quality, click the Create New option to save your changes.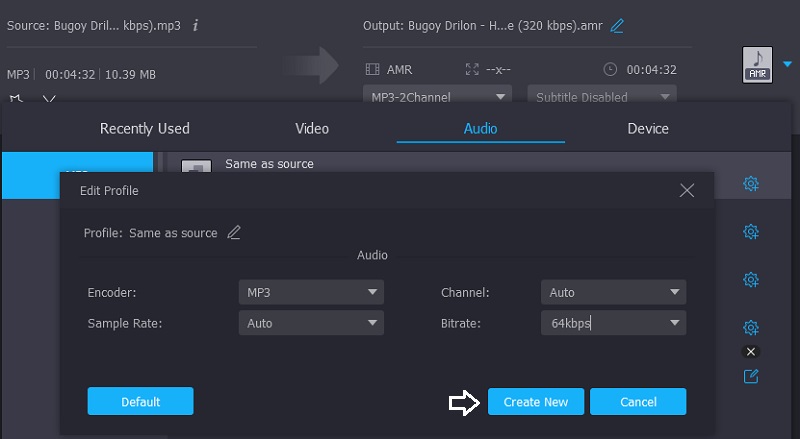 Step 4: Convert AMR to MP3
After you've performed all of the actions outlined earlier, click the Convert All icon to quickly apply the changes you've made.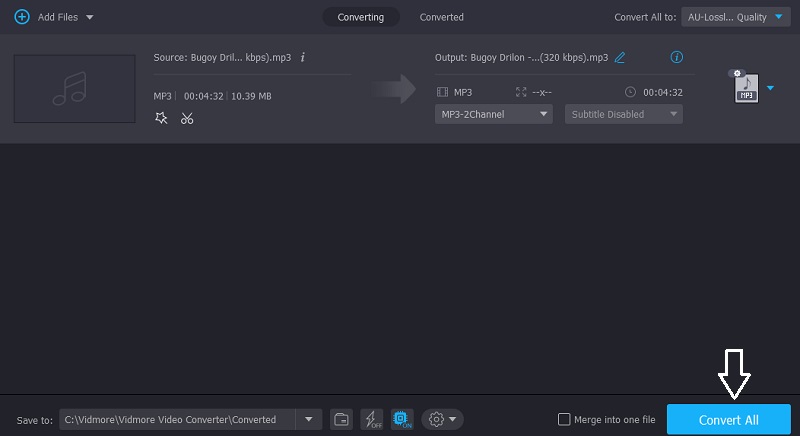 Further Reading:
Convert RAM Files to MP3 with Best Audio Converters Available
Trim MP3 Files Using the Best Tools for Web, Desktop, and Mobile
Part 3. AMR vs. MP3
What is an MP3 format?
MP3 is the most widely used format for encoding audio files. Nearly any player can play MP3 files on every platform. Even though the audio quality is sacrificed in the compression process, the impact on the average user is small, and the file size is often less than the original size.
What is an AMR file?
In its initial use, this format was developed to compress speech data. It is capable of adjusting the bit rates of recorded audio files. Voice is actively encoded and decoded using AMR as it is sent via broadcast channels, a new development.
Part 4. FAQs of Converting AMR to MP3
What is the advantage of AMR format?
AMR can adapt to a range of network circumstances dynamically. AMR also delivers high-quality speech at a reasonable cost and with a high level of reliability.
How are MP3 and AMR different?
Even though MP3 is perhaps the most widely used audio format, it is inefficient in encoding speech compared to AMR. Yet, the AMR format is superior for storing speech and is chosen despite its lack of widespread hardware and software compatibility.
What is the highest quality of an MP3 format can be?
MP3 files with the most excellent quality have a bitrate of 320 kbps at 16 bit. MP3s may be encoded at bit rates as low as 96 kbps.
Conclusion
Through the given online and offline AMR to MP3 converters above, you will now enjoy playing your favorite audio tracks on almost all devices without being restricted to the file formats. That is why it is required to use the software version of an audio converter, the Vidmore Video Converter, to help you convert your files in just a snap.