3 Methods to Convert FLAC to WMV
Most of you are curious if you can convert an audio file in FLAC format into a video file in WMV format. Luckily, you found this How-To article to end your curiosity. Yes, you can convert FLAC to WMV fast and easily using these online tools and software. But the question is, how? While reading this How-To article, you will see the best ways to convert FLAC to WMV. Read now!

Part 1: Best Way to Convert FLAC to WMV on Desktop
Vidmore Video Converter is software that can effortlessly convert images, videos, and audio into numerous formats. It provides more than 200 formats plus devices. As the FLAC to WMV converter, you can use it to accomplish it, and add the metadata information for the WMV video file.
Besides, its MV features lets you add video and images with the FLAC background audio to create a WMV video file. Its GPU acceleration lets you complete the conversion at 60X faster than other tools in the market.
Furthermore, since you are looking for steps to convert FLAC to WMV, we will show you how to use Vidmore Video Converter. We provide easy and simple steps, and you will use them as a guide. See the steps below:
Step 1: Open Vidmore Video Converter, and you will see its main interface.
You will see the Converter, MV, Collage, and Toolbox in the upper center part. Below Converter, you will see the Plus icon to add the file.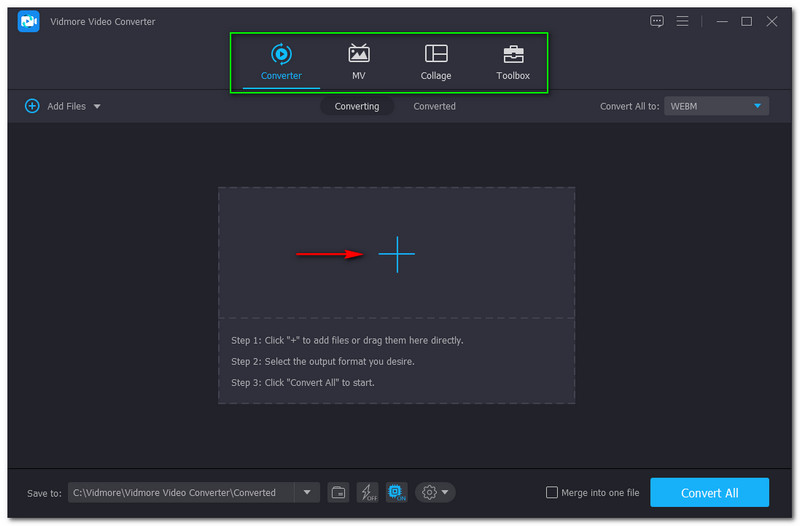 Step 2: There are two options to add files; the first option is to tap Add Files on the upper-left side of the main interface. Next, tap the Plus icon in the middle part. Now, add your FLAC file from your computer.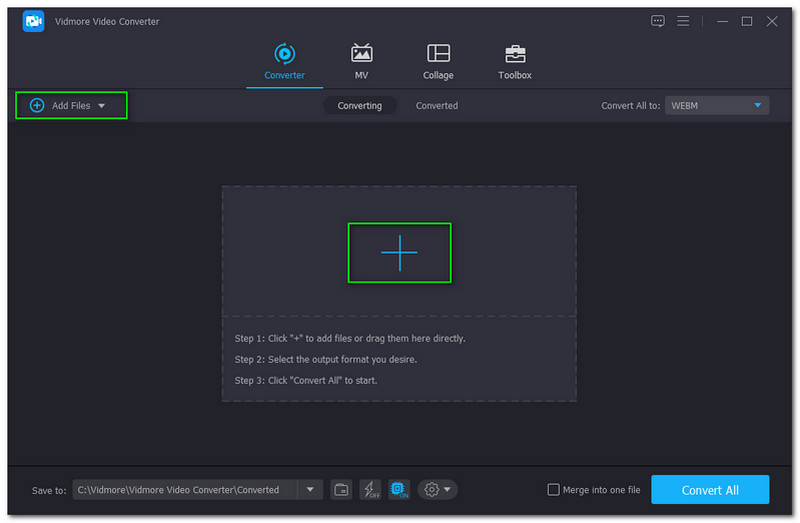 Step 3: After the file is added, tap the Convert All To button, choose the Video then find or search the WMV output format on the left side of the panel. Next, select Resolution from SD 480P to HD 1080P.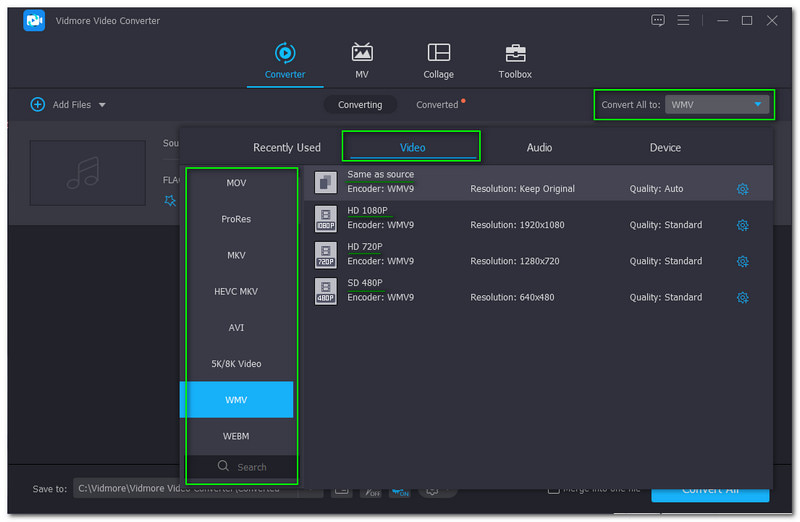 Step 4: You can Rename the output file by tapping the Pencil icon beside the output file. If there's nothing, you want to change. Look at the bottom-right corner, and you will see the Convert All button. Then, click it.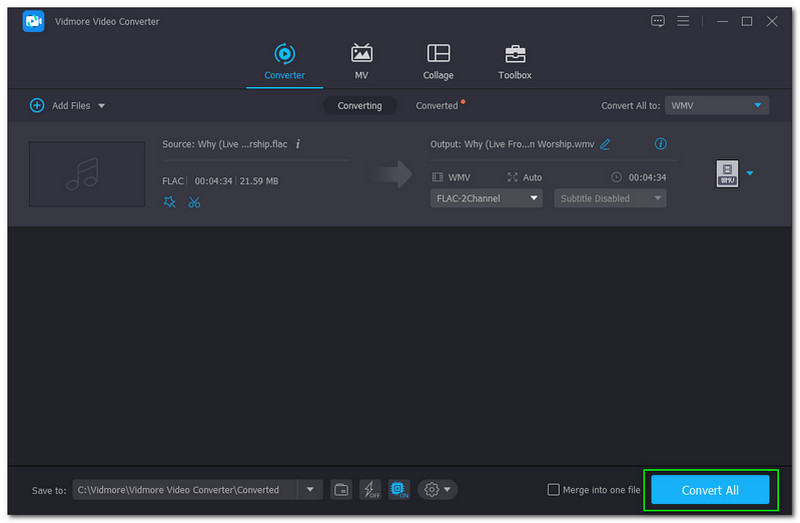 Step 5: Please wait for a while, and once the conversion process is done, a Converted File Folder from your computer will appear. After that, you can start playing your WMV file format.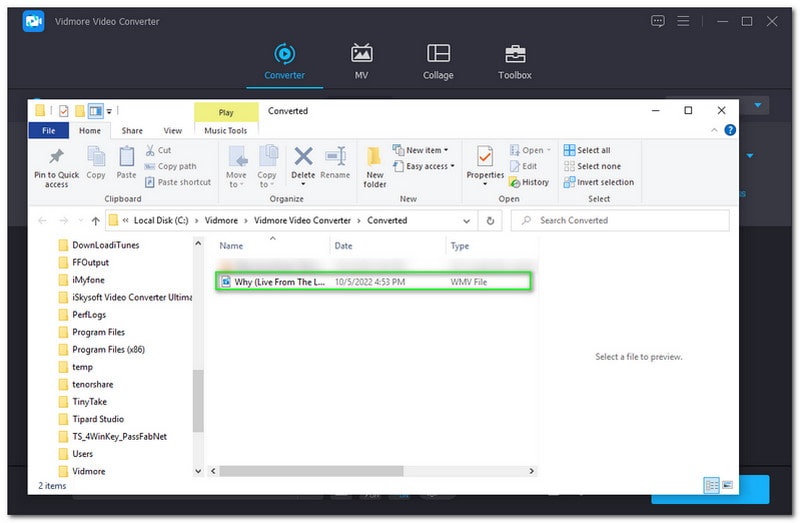 What do you think of the steps you have read above? It is simple and easy, right? To add, Vidmore Video Converter is not focusing only on the converter. It also offers many features, such as making a music video and more.
Part 2: Other Ways to Convert FLAC to WMV
Vidmore Free Video Converter Online
Vidmore Free Video Converter Online is the most suggestable converter that can convert FLAC to WMV. Yes, it is accessible, yet you can enjoy all its supported formats including FLAC, WMV, MP3, and more. Furthermore, it is advisable for every user and makes your converting process much more manageable. Under this description, you will see the simple ways to convert FLAC to WMV using Vidmore Free Video Converter Online.
Step 1: Open the official page of Vidmore Free Video Converter Online. Then, you will automatically see Add Files to Convert.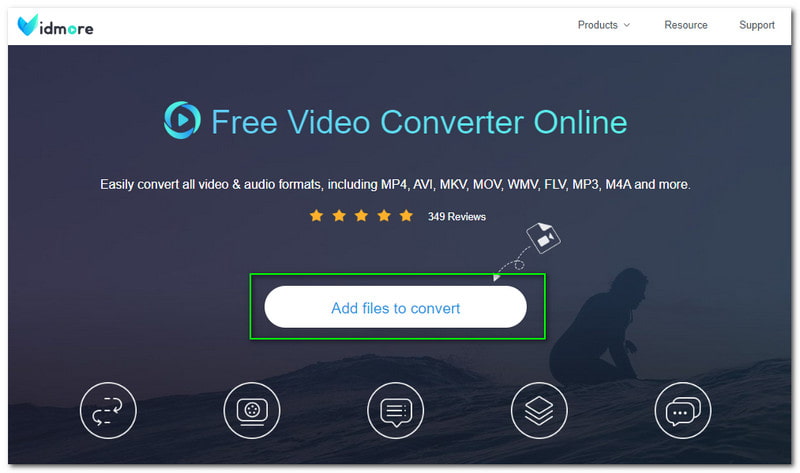 Step 2: Download its Launcher, and after that, select a FLAC file on your computer. Next, you will proceed to the next panel. Below, find the WMV format and choose it as your output format.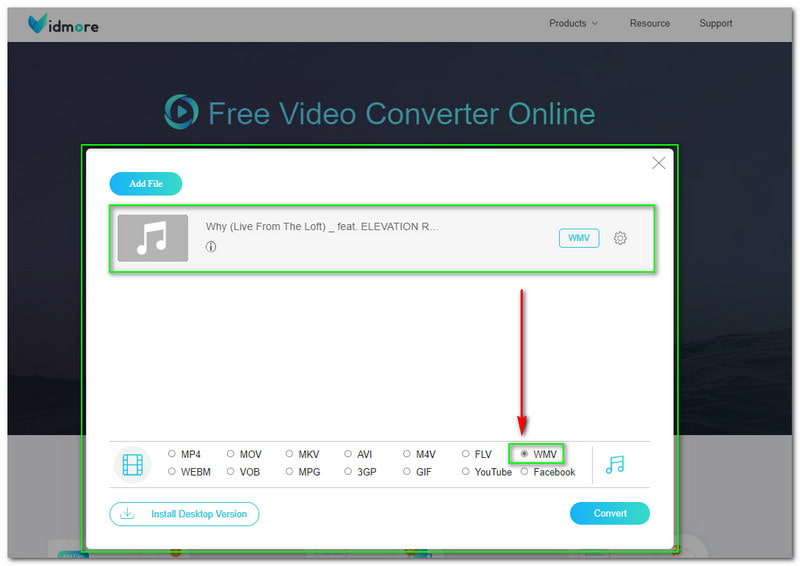 Step 3: On the bottom-lower part of the panel, you will see the Convert button. Click that to start the conversion process, and you can save your output file in just a few seconds.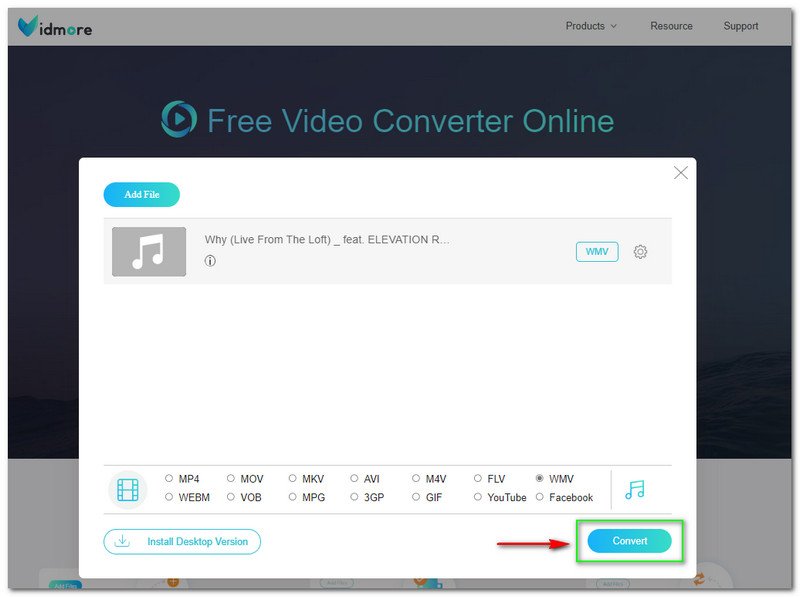 Easy, right? Using three steps, you can successfully convert FLAC to WMV. What are you waiting for? Try Vidmore Free Video Converter Online now, and it will not cost you money because it is free to use. Plus, no software is needed. You can directly convert on its official page.
Surely, if you need to edit the FLAC files, you will need a FLAC editor like Vidmore Video Converter to edit it further.
Online-Converter
Online-converter is a free-to-use online FLAC to WMV converter tool. It is convenient and lets you convert in just a minute. Moreover, it lets you add files easily; you can use five ways to add files in Online-Convert. You can Drop Files or Choose Files from your PC. Or, add files from Dropbox and Google Drive. Lastly, you can Enter the URL of an image.
In this part, we will show you steps on how to convert FLAC into WMV using Online-Converter. Please see the steps below and feel free to use them as a guide when you decide to use Online-Converter.
Step 1: Go to the main page of the Online-Converter, and you will see the Video Converter. Click it, and you will proceed to another option. Then, select Convert to WMV.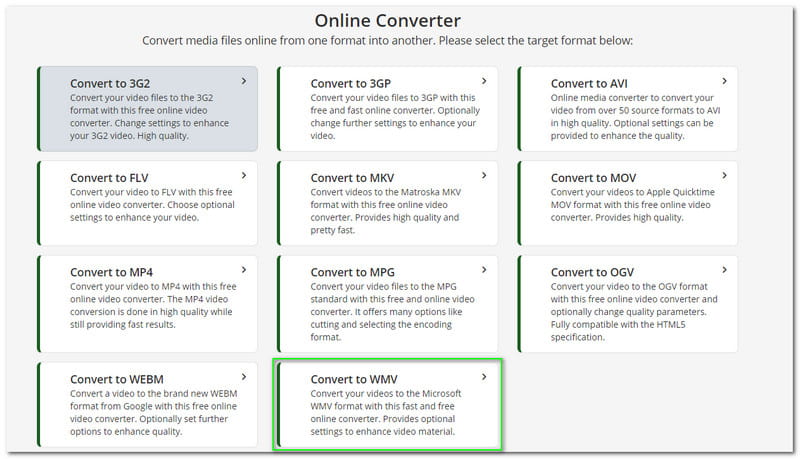 Here, if you want to convert FLAC to MP3 and other audio files, just select Audio Converter.
Step 2: You will proceed to another panel. There are many options for adding files. But in these steps, we will select the Choose Files from your computer.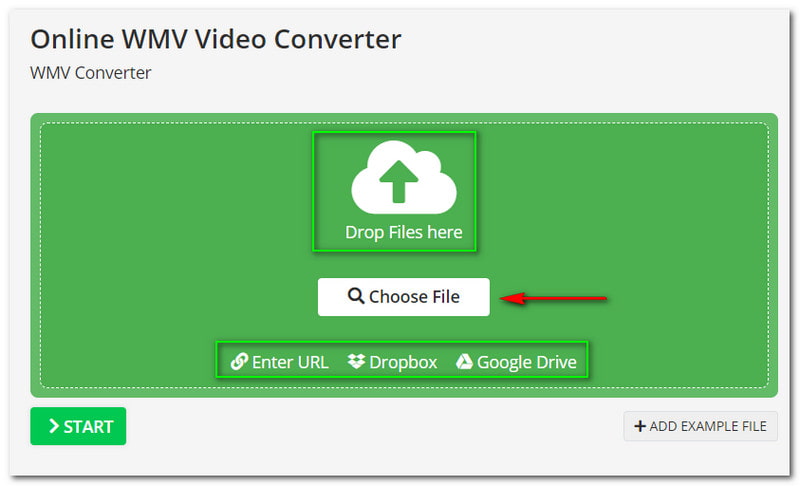 Step 3: Once your FLAC file is added, Online-Converter lets you change the Optional Settings, like Choose a Preset. Also, you can customize the Optional Video Settings, etc. After that, click the Start button at the bottom.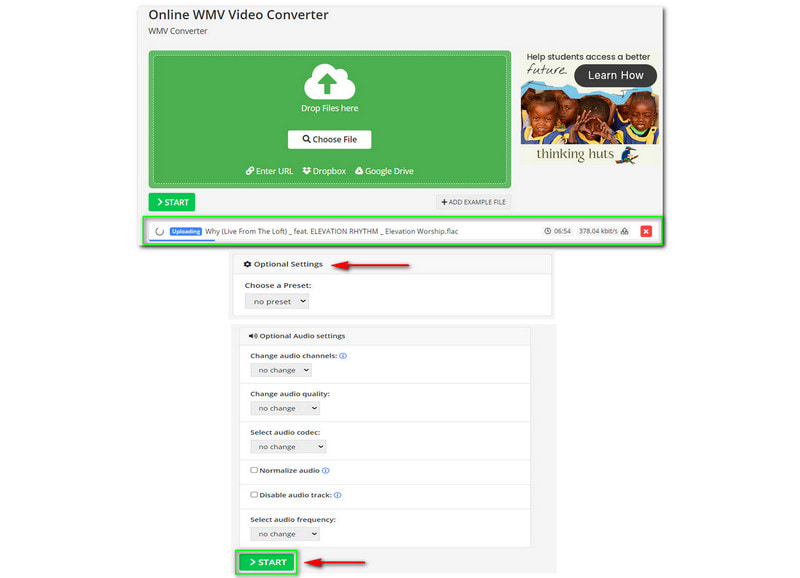 That is it! You now have to convert your FLAC file into WMV. Nevertheless, the disadvantage you will experience using Online-Converter is it consumes too much time to upload your files, especially if the file has a big file size.
Part 3: FAQs of FLAC to WMV
How to open a FLAC file?
You can use VLC Media Player or download other FLAC players, because that is the default program for opening a FLAC file. To add additional information, FLAC is unpatented and compatible with TAPI, Telephony Application Programming Interface. But, it is not subject to Digital Rights Management or also known as DRM.
What is the WMV file format?
WMV stands for Windows Media Video. It is a popular file format, and it is a widely supported video format. Furthermore, it has the power to compress the file size using a codec. As a result, the file will be easier to manage and still maintain the quality of the video.
Is it safe to convert the FLAC file to WMV file format?
We can assume that converting FLAC audio files into WMV video format is safe, especially if you use the correct online tool or software. You can use a lot of converter tools and software, but choosing the right tool will make your conversion process more straightforward.
Conclusion:
This How-To article proves that converting FLAC files into WMV format is fast and easy. With the use of the right tool, it helps you convert FLAC to WMV without compromising the quality. Moreover, may all these guides and steps help you a lot. We will see you again in our next How-To article!