Easy WAV to AU Conversion Using the Practical Audio Converters
Waveform Audio File format, universally accepted as WAV files, is an audio format. Two famous companies developed this format, namely, Microsoft and IBM. Its primary purpose is to stream raw and uncompressed audio on Windows PC. It can contain compressed audio files, but it is rarely used for this purpose. That said, it is often used as a lossless audio format, preserving high sound quality.
But have you asked yourself how you can play your WAV files on Sun systems? That is the purpose why this post is created. We will teach you how to convert WAV to AU for easy playback on Sun systems. Learn the guidelines on how to get this done and the tools you can immediately use to achieve it.

Part 1. What are WAV and AU Files
WAV or WAVE is a widespread audio format developed jointly by Microsoft and IBM that could contain both compressed and uncompressed audio. Although it was initially known as uncompressed, it still supports lossy compression with the help of an audio compression tool. In fact, it supports Windows and Macintosh, and you can easily manipulate this format without encoding and decoding requirements. The only concern is that it consumes too much memory space due to its high sound quality.
If you are considering converting WAV files to AU, here are some of the things you need to know about this format. Sun Microsystems introduced AU files used on Sun and Unix-based machines, later accepted on audio programs like QuickTime and Adobe Audition. Furthermore, it is an audio file developed by Audacity. This format is proprietary that Audacity can only view. Nevertheless, you can edit your WAV files in Audacity and access the powerful audio editing features by converting your WAV to AU files.
Part 2. How to Convert WAV to AU Quickly
1. Vidmore Video Converter
One of the recommended tools available online is Vidmore Video Converter. This is the best choice when it comes to converting WAV to AU files. Moreover, it has the fastest conversion rate having the ability with the help of its hardware acceleration feature. The tool works well with any OS, supporting both Mac and Windows systems. On top of that, it offers a custom profile functionality that allows you to change the audio/video settings.
With it, you can produce a high-quality output according to your preference. Aside from that, it comes with innovative tools where you can trim videos, adjusts volume, sync audio, edit metadata, and so much more. To help you convert WAV to AU, follow the simplified procedure below.
Step 1. Launch the WAV to AU Converter
To start, grab the app's installer by clicking any of the Free Download buttons provided below. Now, select the OS download link appropriate for your computer and install it using the setup wizards. Then, launch the tool to see its running interface.
Step 2. Import a WAV file
After that, upload a media file by clicking the Plus sign symbol in the main interface. It will open a folder on your computer. From here, please search for your target audio files and select them to upload. On the other hand, you can drag and drop your chosen file to upload conveniently.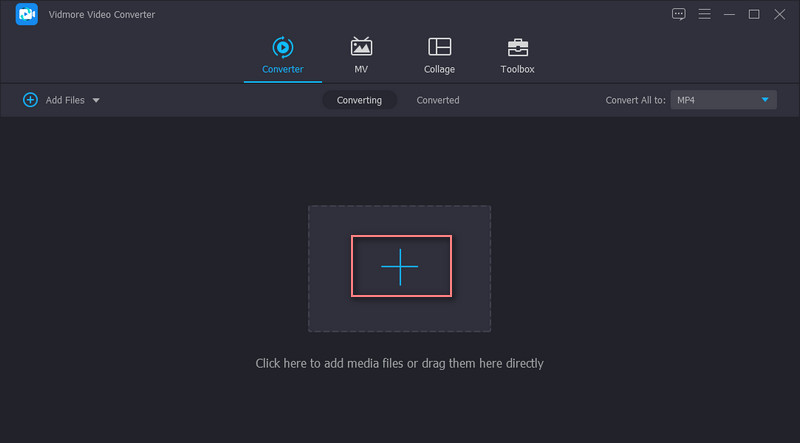 Step 3. Select an output format
Now, navigate to the Profile menu and select your desired output format. Go to the Audio tab and select AU from the audio formats list to transform WAV to AU file. You can then modify the output to your desired quality by clicking on the Gear icon. From here, alter the sample rate, bitrate, channel, etc. Then, click the Create New button to add the new audio profile.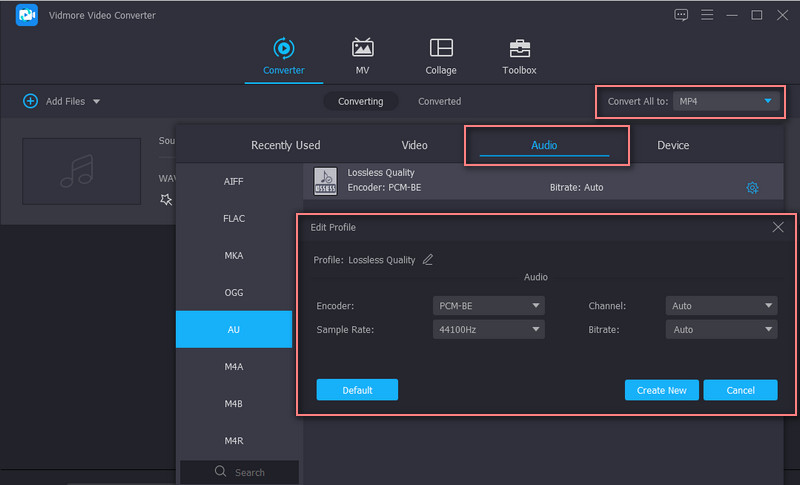 Step 4. Save the final version of the audio
Once you are done setting the quality, select a file directory where you wish to save the final version of the file and hit the Convert All button. When the conversion session finishes, you can preview the playback from the folder that will appear.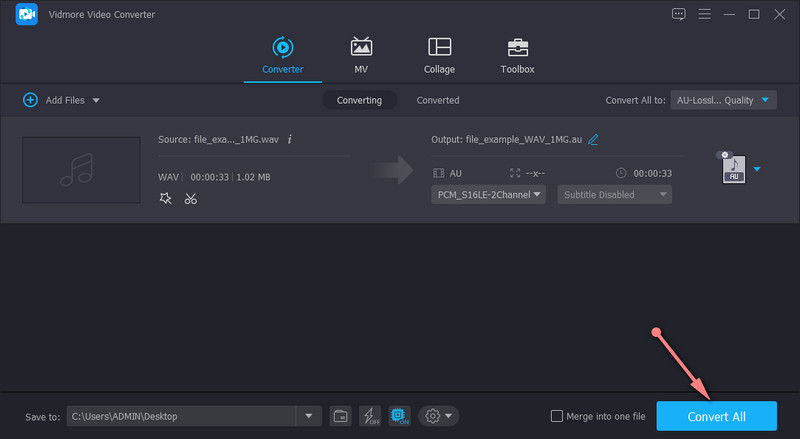 2. FILEZIGZAG
FILEZIGZAG offers a convenient and efficient way to convert WAV to AU. You do not need to download and install an extra program to accomplish your conversion tasks. There is a wide selection of audio formats to choose from: AU, AAC, AC3, AIF, AIFC, FLAC, and many more. Apart from that, you also do not have to register for an account to use the tool. Provided that you have a browser and stable internet connection, you can freely convert WAV to AU without having a problem at all. Above all, the tool enables you to convert in bulk without size and number constraints. Not to mention, you can them to different file formats simultaneously and freely download them on your local drive.
Step 1. First off, visit the tool's official website using a browser on your computer.
Step 2. Once you get to the page, drag and drop the files you wish to convert in the program's interface.
Step 3. Scroll down the page to see the converting interface and select an output format from the Target format drop-down menu. From here, select AU and hit the Start Converting program below.
Step 4. After a short while, the converted audio should be ready to download. Click the Download button associated with the file to get a copy, and you are done.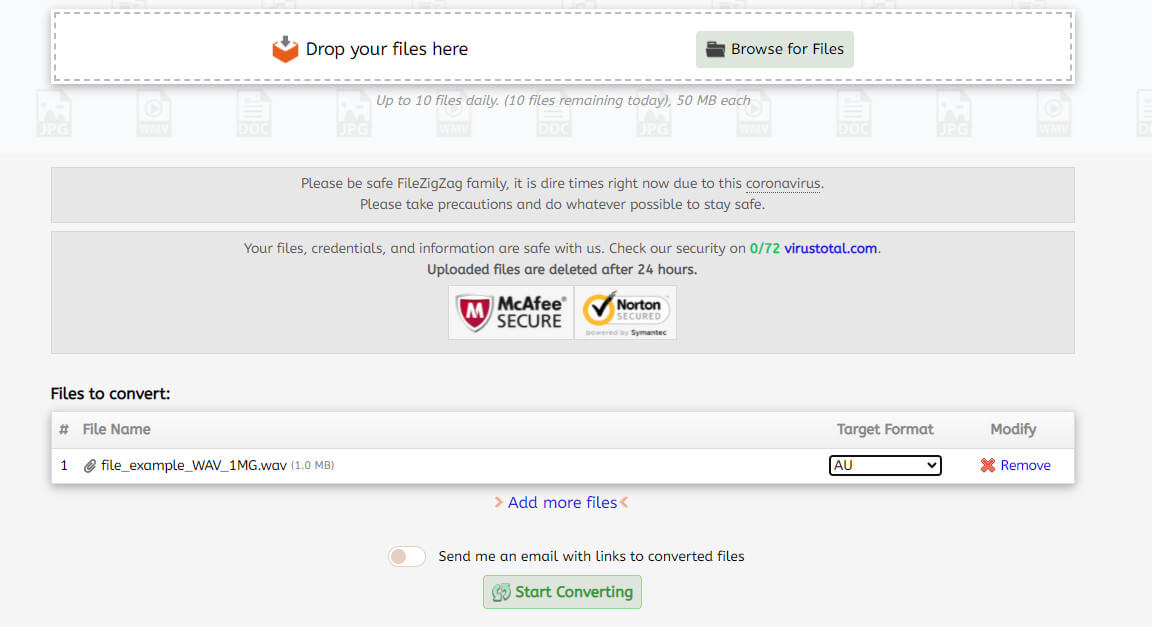 Further Reading:
How to Convert WAV to AAC Even Without Paying a Single Penny
How to Make a WAV File Smaller Using the Online and Offline Tools
Part 3. FAQs on WAV to AU Conversion
Is WAV audio good?
WAV is the audio format you should consider picking when it comes to sound quality. It can retain the original data from the original recording. However, WAV files usually consume larger space compared to other file types.
How can I play AU audio files?
As stated, several audio programs are accepting this audio format. This includes RealPlayer by RealNetworks, Adobe Audition, and Apple QuickTime Player.
Can I convert AU to MP3?
Yes. Numerous programs can help you achieve this conversion task. The only thing you need to consider is the conversion quality. For this, you can rely on Vidmore. It allows you to convert WAV to AU and transform AU to MP3 with lossless quality.
Conclusion
Converting WAV to AU is not that complicated to do. Using the tools mentioned above, you can convert multiple files effortlessly. Moreover, you can choose between the online and offline methods depending on your needs. You may also pick the tool which is more convenient for you. Unless you do not want your conversion interrupted by the internet connection, a desktop tool such as Vidmore Video Converter is the most suitable program. Yet, if downloading a program is not your cup of tea, then an online tool like FILEZIGZAG is for you.